Completing paid online surveys can be an easy way to make extra money on the side. But it's fair to say that not all online survey websites are equal.
One free and trustworthy survey site to know about is OpinionWorld Australia. It is easy to join, simple to participate in, and offers worthwhile rewards. Basically, you get paid to have an opinion. Is there anything easier than that?

You might be saying, whoa there. There has to be a catch, right? Getting rewarded just for having your say might sound too good to be true.
Top Australian Paid Survey Picks:
Start earning cash by joining some or all of our top Australian paid surveys now!
TIP: These legitimate sites are free to join. We recommend you sign-up for multiple Australian paid survey sites in one go for the best chance to earn more cash and rewards.
What Is OpinionWorld Australia?
OpinionWorld is an online market research company that connects feedback from consumers with brands and companies looking to refine their marketing strategy. The site has been operating in Australia for a number of years.
In this OpinionWorld review, we'll showcase how this paid survey site works, and provide tips on maximising your earnings. We're taking a comprehensive look at the OpinionWorld Australia survey website to tell you everything you need to know.

Read our OpinionWorld review and you'll quickly realise there is much more to it than the average online survey site!
As a global survey company, OpinionWorld has been around for decades under many different names. Previously owned by Dynata LLC, it's now backed by Survey Sampling International (SSI). As a trustworthy and legit survey site, it's not surprising to learn that many people have been using this service (and making money online with it) for a long time. OpinionWorld boasts many active users in Australia, and further afield.
OpinionWorld is one of Australia's most trusted online survey sites. With high payouts, direct to Paypal, OpinionWorld is a must join paid survey website. Join here.
How OpinionWorld Works
In Australia, OpinionWorld rewards users for completing online surveys using a points-based rewards system. Essentially, each time you complete an OpinionWorld survey or review, you'll earn points. The number of points you receive will depend on the length and complexity of the survey you responded to, but we'll get into that later.
Once you earn enough points, you can turn them into cash with PayPal or choose to redeem them for airline miles, gift cards, and vouchers.
That's it! Simple, right?
You can get started by creating an OpinionWorld account. User accounts are free, easy, and quick to sign up for. All you have to do is provide profile information, including your name and email address. In all, joining OpinionWorld should take you less than five minutes. Once you've signed up and your account has been confirmed, you can start taking surveys and earning reward points.
Aside from Octopus Group, OpinionWorld Australia offers users some of the highest-paying surveys available right now. In our experience, it offers higher earning rates than global sites like Swagbucks, Survey Junkie, Toluna and it's comparable to Ipsos iSay.
If you're looking to make money online through paid surveys, OpinionWorld Australia could offer a solid opportunity cost for your time.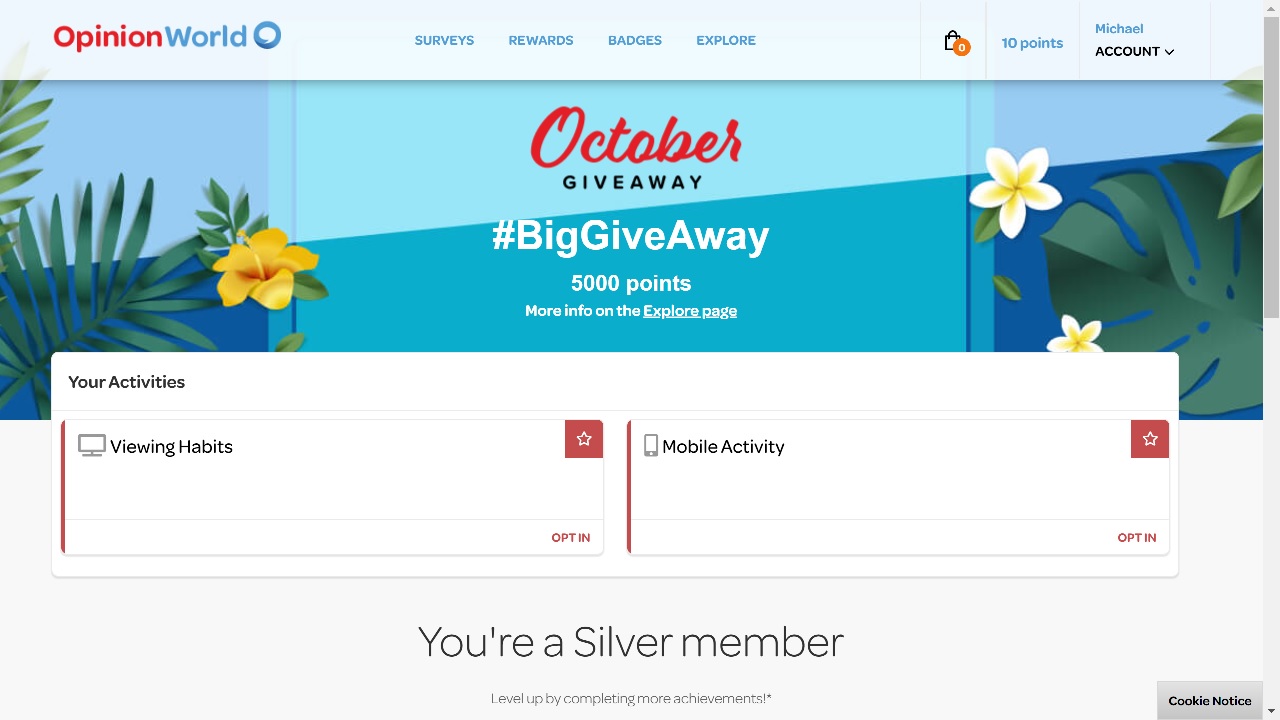 Is OpinionWorld Legit or a Scam?
If you've read this far, you might be wondering whether OpinionWorld is legit or a scam. It's a natural concern to hold, given some less than scrupulous research companies target Australians.
Fortunately, OpinionWorld is 100% a legitimate survey service, and it's entirely safe for Australians to use. It's been around for a long time and has earned its reputation.
As a genuine market research company, OpinionWorld abides by a range of Australian and global data security guidelines. Like all research companies operating locally, they are also bound to act in accordance with Australian privacy legislation. They have undertaken not to sell or misuse users' personal information, and they won't share your information with a third party without your consent. If you'd like to know more, you can delve into their privacy policy.
All in all, it's clear that OpinionWorld Australia is a legit way to make a little extra money on the side, and not a scam.
How Much Can You Earn With OpinionWorld in Australia?
For every online survey or task you complete with OpinionWorld, you'll earn points, which can then be converted to an equivalent in Australian Dollars. In simple terms, the points you earn are worth $0.01 cent each. That means when you get to 100 points, you make $1.00.
As a member, you can typically expect to receive between 50 and 300 points for completing a review or survey (between $0.50 and $3.00.). That's on the higher side of survey earning rates when compared with other market research companies that operate in Australia.
When you've earned $10, you can cash out your points for money and rewards. The surveys typically take between 10 and 15 minutes to complete, which means you can make up to $8.00 an hour on average (provided there are enough surveys for you to take).
OpinionWorld Australia also offers extra rewards to help increase your earnings, which we'll get into below.
Who Can Join OpinionWorld Australia?
Australians aged 18 or over who have an email and PayPal account can sign up for OpinionWorld. While there are other options to redeem your points, OpinionWorld requires you have access to a PayPal account regardless.
If you don't have a PayPal account already, don't worry. It's easy to set one up, and the process only takes a few minutes.
So, what types of people will get the most out of OpinionWorld Australia? This paid online survey site could suit many different types of users. It could be a worthwhile option for commuters, who want to make some money on the side whilst on the go. Or it might suit students who don't have time for a regular job. Many retired or semi-retired users find paid survey sites a convenient way to earn rewards, along with people looking to save cash via frugal living.
How to Sign up for OpinionWorld Australia
Signing up for OpinionWorld Australia is a quick and easy process that's free for everyone. Simply go to opinionworld.com and click the "sign up" button. Then enter your information.
You will be asked to provide profiling information such as your name, email, and birthday. If you prefer, you can also sign up via social media.
Shortly after you register, you will receive a link to an application form in your inbox. Follow it and fill out the document to confirm your membership.
OpinionWorld Australia requires users to provide demographic and behavioral information via "My Profile". The more you complete the "My profile" section, the more relevant the surveys they send you will be to your interests and your lifestyle. Completing your profile will also help you get bonuses later on and avoid survey screenouts.
From there, you can start looking for relevant surveys to complete or wait for OpinionWorld to send you survey invites over email. You can also complete activities to earn extra points and raise your membership level.
Does OpinionWorld Have a Loyalty Program?
Like many other online survey sites, OpinionWorld has a unique incentive program. It encourages members to stay active on the site with a series of achievements.
These are divided into levels ranging from bronze to diamond. Each has its tasks required to reach them. The higher you go up, the more tasks you have to complete to advance.
Each level comes with perks, including higher points earning bonuses. For example, all a member has to do to achieve bronze status is sign up, while a gold member must complete 50% of their profile, consistently take surveys for two weeks, and complete 10 of the offered activities.
If you want to retain your membership level, you have to stay active. If you don't, you will go back down quickly. This is a clever incentive from OpinionWorld, as it encourages users to maintain activity. Lose your level, lose your perks.
In addition to the incentive scheme, OpinionWorld Australia offers a more traditional loyalty program. It often hands out point bonuses to active members and typically gives 10 points extra for every 10 surveys completed. Complete 50 surveys, and you'll receive 100 bonus points.
These extra earning opportunities set OpinionWorld apart from other online survey sites.
How Do OpinionWorld Points Work?
The redemption structure of OpinionWorld Australia is pretty straightforward. Like many survey sites, OpinionWorld offers a points-based rewards program.
You can earn points in many ways. This includes completing surveys online (there's no mobile app), submitting reviews, product testing opportunities, watching videos, and reviewing advertisements. Sure, OpinionWorld won't make you rich, but it's relatively easy to earn rewards.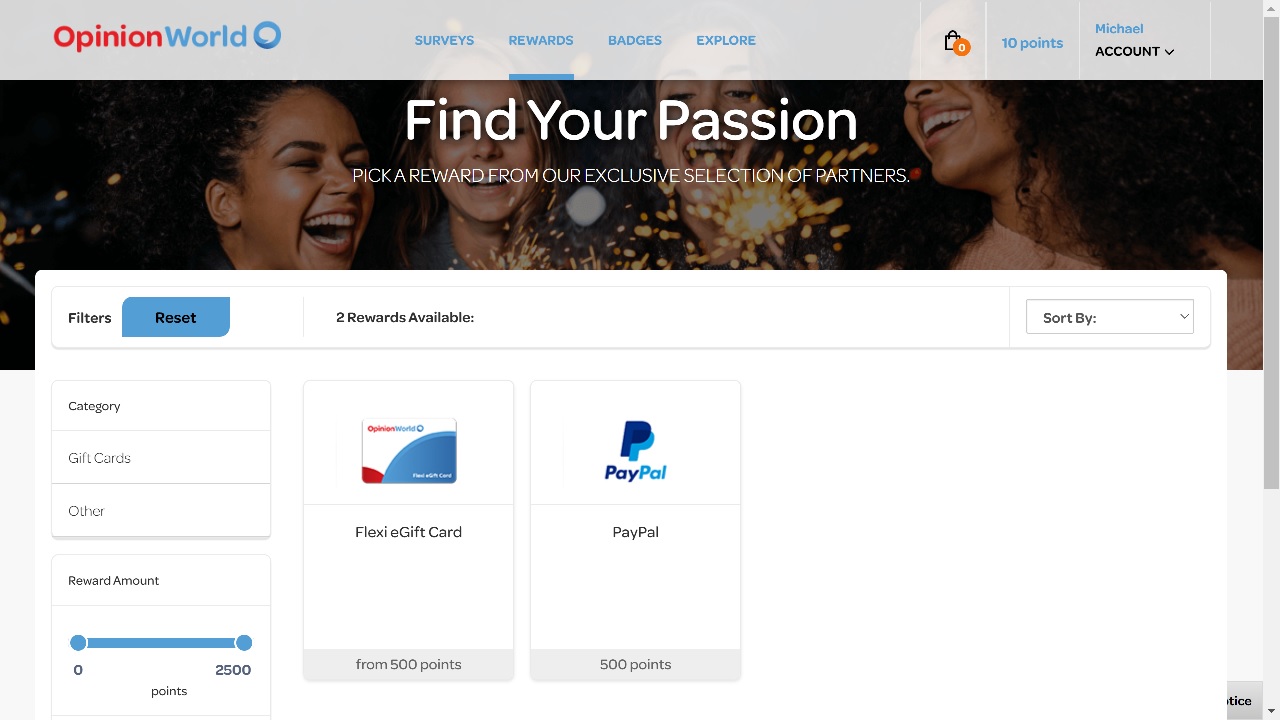 OpinionWorld Australia Points To Cash Ratio
So what is an OpinionWorld point worth, and how many do you need to cash out? In simple terms, 1 point is equal to 1 cent. Therefore, 1000 points are the equivalent of $10.
While that may seem like a lot, it really doesn't take that long to rack up points with OpinionWorld. There are so many opportunities that you'll hit the 1000 points mark before you know it.
Once you've hit the $10 mark, you have several options for your compensation. You can redeem your points through PayPal, a virtual Visa Prepaid card, or even for e-gift cards for Target and Amazon. Bear in mind that if you opt for physical gift cards, it will take you longer to receive them as they will have to be sent to you in the mail.
But that's not all of the reward options OpinionWorld offers. You can also redeem your points for airline miles and even make donations to charity.
With many different options for redeeming your points, don't be surprised if you find yourself coming back again and again to claim more.
Do OpinionWorld Points Expire?
All good things must come to an end, and sadly, this is also the case with OpinionWorld Australia rewards points. After a year your points will expire, and possibly sooner if you leave your account inactive.
You can prevent point expiry by regularly logging in and claiming your money as soon as it is available. Since OpinionWorld offers a relatively low minimum payout threshold in comparison to other Australian survey sites, this should be relatively easy to do. You can also collect your points on a periodic schedule.
Once you turn your points into cash, you have 30 days to redeem them, or OpinionWorld will reclaim them. Once you've picked a reward for your points, you can't undo it and pick another, so be sure you know what you want.
How To Get the Most Out of OpinionWorld Australia
Online survey sites won't typically make you rich, but you can earn a few dollars on the side. Like anything, with OpinionWorld, you'll get out of it what you put in.
The best way for Aussie users to get the most out of this online survey site is to stay active. Continually update your profile, watch your email for new survey invitations, and complete as many tasks and activities as possible. The more you participate, the more money you will make.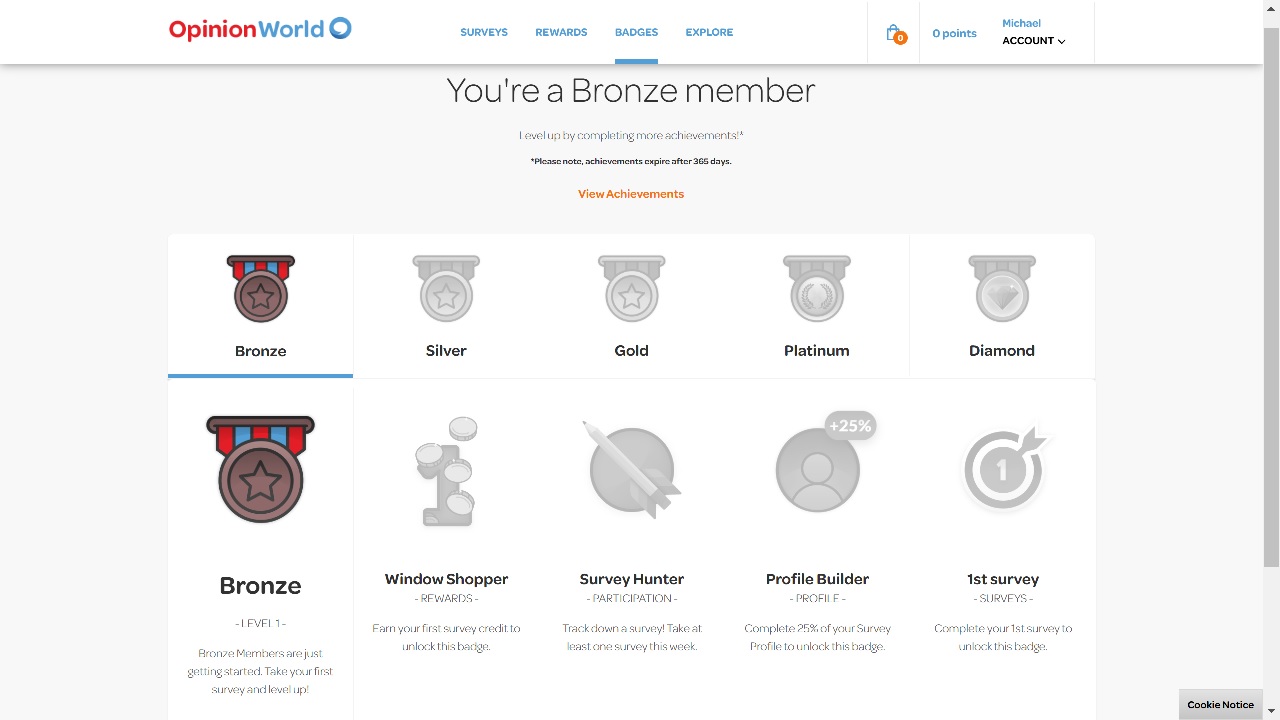 Try to advance through the levels as quickly as possible, in order to unlock the best bonuses. If you become inactive for a while and lose a level or two, try to get back up to where you were. The higher your level, the more perks (and earning opportunities) that you will see.
If you stay on top of your online survey invitations and activities, you'll make way more cash than if you just complete one questionnaire every once in a while.
If you're serious about using OpinionWorld, we recommend integrating it into your weekly or even daily routine. There are a lot of rewards waiting for you.
What Are the Advantages and Disadvantages of OpinionWorld Australia?
Now you know how OpinionWorld works and how to sign up. But before you do, let's talk about the pros and cons of this service, so you know exactly what you're getting into.
Advantages
Disadvantages
Not the highest earner: While survey earn rates are high, on average they are lower than Octopus Group, and at times, Ipsos iSay.
No mobile app: With no OpinionWorld Australia app, it can be hard to complete surveys on the go. Fortunately, many other survey sites offer apps. Discover them here.
Points expire: Users who don't stay active on the platform can be exposed to points expiry.
Customer Service: OpinionWorld's customer service help desk leaves a lot to be desired. Many users report delays in accessing assistance.
Limited FAQ information: The OpinionWorld website doesn't offer a lot of information for prospective users.
Payment Speed: While most payments are processed in a reasonable timeframe, some users report slow payment issues.
Other Paid Survey Sites Like OpinionWorld Australia
Highest Paying Online Surveys
Redemptions start at $20 AUD
Paypal, gift cards, 'Gifties'
Redemptions start at $5 USD
OpinionWorld vs Octopus Group
Users of OpinionWorld won't have access to as many surveys as Octopus Group users. Expect one survey a week with OpinionWorld versus one a day with Octopus. The earn rate will also be lower than market leader Octopus. Having said this, it is still worthwhile having OpionWorld in your survey mix.
OpinionWorld vs Swagbucks
You'll likely earn more per survey and enjoy the focused look and user-friendliness of Opinionworld over Swagbucks. While OpinionWorld does have a broad range of activities, the main play is paid surveys, whereas Swagbucks is more of a Get-Paid-To (GPT) site.
OpinionWorld vs Toluna Influencers
OpinionWorld is similar in many aspects. Both are worthwhile in their own right. Toluna wins for its broader range of redemption offers.
OpinionWorld vs Survey Junkie
Survey Junkie wins for its range of earning opportunities and low redemption threshold. Is OpinionWorld still worthwhile? Yes – You'll see different surveys and opportunities across these two survey platforms.
In Conclusion: Is OpinionWorld Australia Worth It?
After looking at our OpinionWorld Australia review, you're likely asking yourself, is this site worth my time? It's clear that OpinionWorld could offer solid rewards for those who want to make extra income online by sharing their opinion.
OpinionWorld will suit people who like to take surveys and are able to update their profiles regularly. It doesn't take much effort, and the benefits can add up. Plus, you'll unlock additional earning opportunities if you stay active and reach the top of the loyalty program.
As a leading global survey site backed by SSI, OpinionWorld Australia offers competitive bonuses and extras. Flexible rewards mean users have more ways of redeeming rewards than many other survey sites.
As long as you are an Australian aged 18 or over, you can make cash on the side with OpinionWorld. Companies typically want feedback from all ages and genders, so the wider OpinionWorld keeps its net, the better it can cater to its clients.
At the end of the day, OpinionWorld Australia is a legit, safe, and secure service for Australian users. While there are a couple of minor downsides, these are minor when compared to the perks and benefits.
Overall, OpinionWorld is a quality way to earn a little money online. It's easy, it's fast, and it's free. Ready to sign up? Why not give OpinionWorld a try!
OpinionWorld Australia Frequently Asked Questions (FAQs)
Is OpinionWorld legitimate?
OpinionWorld is 100% a legitimate survey service. It's entirely safe for Australians to use and not a scam. As a global survey company, it's been around for a long time.
How do you earn money from OpinionWorld Australia?
When you get to 100 points, you make $1.00. You can expect to receive between 50 and 300 points for completing a review or survey (between $0.50 and $3.00.)
Do OpinionWorld Australia Points Expire?
After a year your points will expire, and possibly sooner if you leave your account inactive.
Who Can Join OpinionWorld?
Australians aged 18 or over can join OpinionWorld. It's free, easy, and convenient to sign up.
While you're here: Subscribe to our newsletter for the latest tips, deals and news. It only takes a few seconds and we respect your privacy: