Completing online surveys can be an easy way to earn extra cash while working from home, but which survey sites are worth your time?
Leading global survey site Toluna Influencers is a great way to get paid for your opinion. Plus, right now they are offering 500 bonus points for Australians who sign up for free.
In this guide, discover how Toluna Australia offers consumers a chance to get paid for having their say.
Read our Toluna Australia review to learn what we love, and find out how it stacks up against similar sites in Australia. Plus, learn how to create a free Toluna account right now.
Top Australian Paid Survey Picks:
Start earning cash by joining some or all of our top Australian paid surveys now!
TIP: These legitimate sites are free to join. We recommend you sign-up for multiple Australian paid survey sites in one go for the best chance to earn more cash and rewards.
Toluna Australia overview
Toluna Group is one of the world's largest market research companies. It boasts over 36 million community members in over 70 countries, generating an eye-watering 15 million survey responses each year. Locally, Toluna Australia has been operating for over 10 years, providing reassurance that the company is trustworthy and most definitely not a scam.
Offering a number of different ways to earn, and an app that allows you to complete surveys on the go, Toluna can be a fun and flexible way to earn a little extra cash for your opinion.
Users are nicknamed "Toluna Influencers". By filling out surveys and interacting with forums and polls, Toluna Influencers help companies and brands better their services and products in the future, as well as having a say on important issues.
In return, Toluna Australia users are rewarded with money for online surveys, reviews, and activities completed. There are even potential rewards for contributing to the growing Toluna online community. Overall, provided you feel the time cost is worth it, joining Toluna Influencers can be a win-win situation for all parties involved.
Take online surveys and get awarded points that you can exchange for cash or rewards. It's quick, easy, and free to join Toluna here.
How exactly does Toluna Australia work?
It's simple to start earning money with Toluna. And the best thing? It's entirely free to sign up.
First, you'll first need to create a Toluna login. Then, complete the required profiling and demographic information. Once you've filled out the profiling questions, you're ready to start earning points for having your say.
Toluna Australia will send online survey opportunities your way – you can find any new paid survey opportunities on your dashboard. Completing surveys and activities will earn you a specific number of Toluna points.
Once you earn a significant number of points, you can cash out for rewards. Conveniently, this includes cash direct to your PayPal account.
Is Toluna legitimate and safe?
Yes! When it comes to paid survey sites, Toluna Australia is entirely trustworthy. There are a number of indicators that confirm Toluna is a safe and legit website.
Firstly, as one of the largest survey panels operating globally, Toluna takes data handling and privacy very seriously. Australian members can take comfort from the fact that Toluna holds membership of Australia's industry research body, The Research Society (formerly AMSRS), and actively complies with Australian privacy legislation.
Furthermore, in our experience, Toluna payouts are reliable. This fact is backed up by Toluna reviews from consumers in Australia and further afield.
Of course, since Toluna is completely free to join, even if you dislike the service, there's no risk of wasting any money – you can simply cease participating.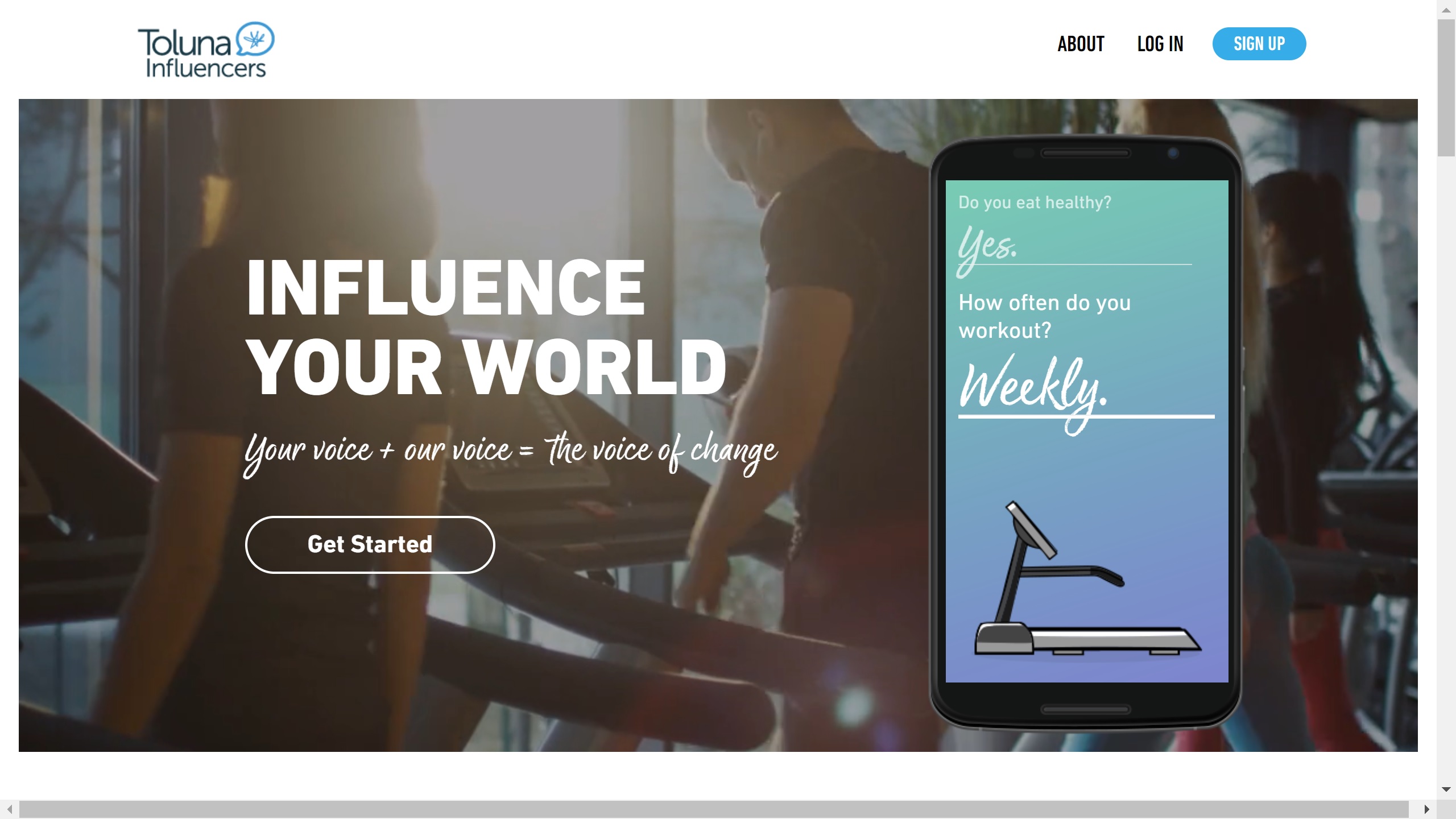 How to make money with Toluna
Generating modest rewards with Toluna Australia is pretty simple, but it's important to stress that the platform won't make you rich. Here's a brief overview of how it all works.
Paid online surveys
When it comes to making money with Toluna, paid online surveys are the main jam.
It's very easy to find online survey opportunities on the Toluna website. Your main page on the Toluna Australia website (the dashboard) will display a selection of the best surveys available to you. It will also feature the daily polls that you can answer for 15 points each.
Sometimes, you may open a survey only to find that you do not qualify. This is known as a screen out and it's common to all market research projects, simply because brands are looking for specific demographics to survey. When this happens, you'll receive a quota full message after answering screening questions, to avoid wasting further time.
Other ways to make money with Toluna
If you are struggling to find surveys, there are a number of other ways to earn money online with Toluna Influencers.
Creating polls
If you have a question you'd like to ask your fellow Toluna influencers, you can create a poll. Not every poll will earn you rewards, but if you start one that garners a fair amount of attention, you will have a chance to receive a 500 point bonus.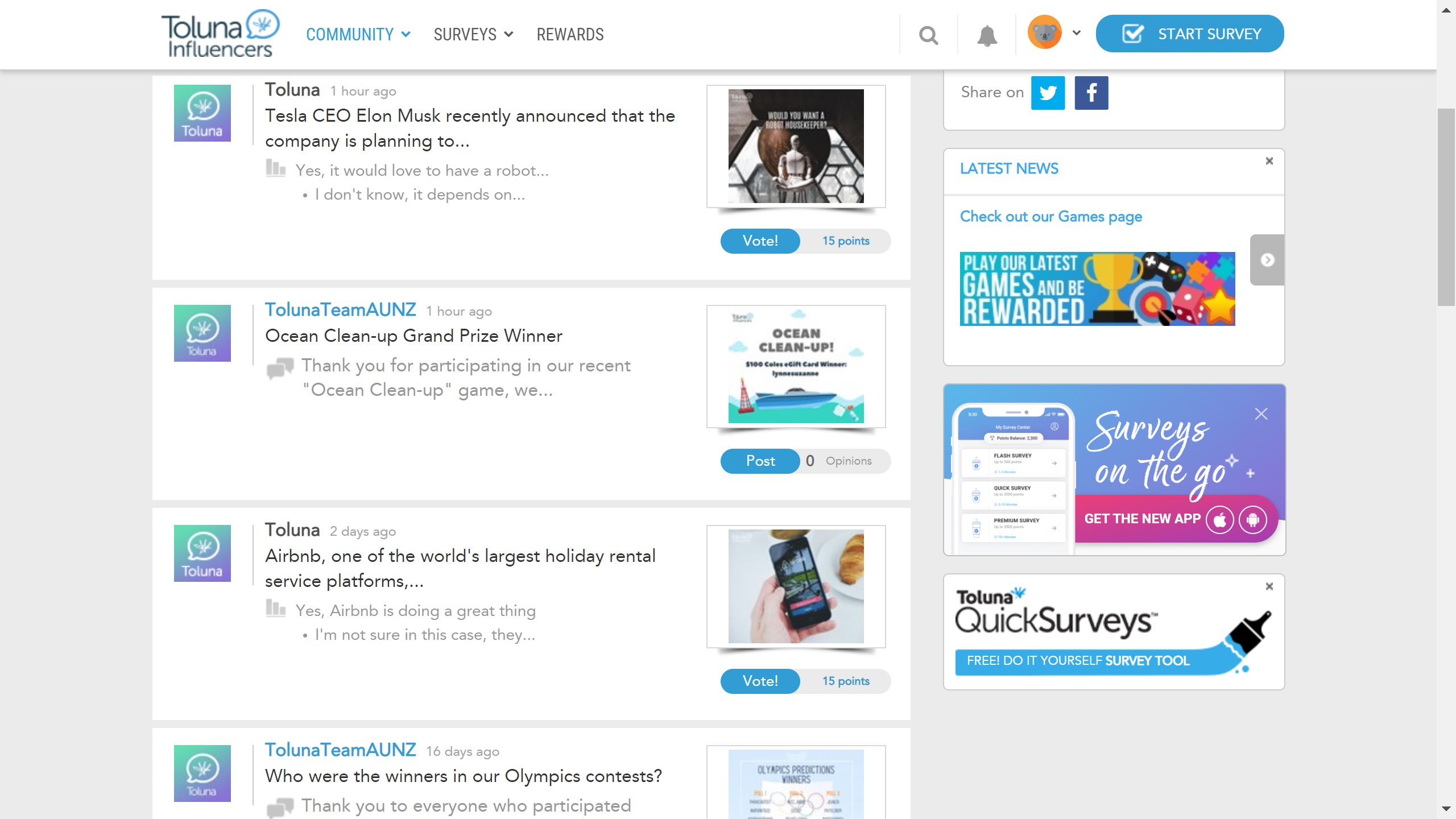 Sponsored polls
Toluna Australia's homepage features a selection of sponsored polls. All you need to do is vote, and they will automatically reward you with 15 points!
Thumb-It
Thumb-It is a fun feature that's unique to Toluna and designed to engage the portal's users. It is similar to a poll but instead has a "thumbs up" and "thumbs down" option that users can use to answer your question. Like polls, you do not automatically receive Toluna points for creating a Thumb-It; you will only receive them if it gains enough traction.
Topics
Topics are more open-ended than polls or Thumb-Its. They are essentially a forum thread; you create a discussion topic, and the Toluna community will share their thoughts. Like Thumb-Its and polls, you can also receive a point bonus if your topic gets big enough.
Referrals
When you refer a friend to Toluna Australia, you will automatically receive 500 points! This will only work if your friend goes through with completing their profile, so if you want to earn those points, you will want to make sure you refer someone genuinely interested in joining Toluna and actively participating.
With referrals, you can earn by inviting up to 10 friends per month, with each referral bringing in the equivalent of $1.66 worth of Toluna points. Bear in mind that if you refer a friend who doesn't reside in the same country as your registered Toluna account, you may not receive the referral benefit.
Toluna games
If you're bored of filling out surveys and can't think of an exciting poll or forum topic, Toluna offers a few games that can help you earn points. These games are constantly changing, but one that stays constant is the "Daily Toluna Wheel." This game speaks for itself; simply spin the wheel once per day, and if you're lucky, you'll win some points.
Redeeming Toluna points
Once you've grown your points balance, you'll have the opportunity to cash out your stash via the Toluna rewards centre.
There are three different options for redeeming your points: Paypal, gift cards, or "gifties". Bear in mind that Toluna points expire after 16 months, so you should aim to cash out as often as you can.
Redeeming for PayPal cash
When it comes to online survey rewards, I usually always opt for a PayPal account redemption opportunity. The reason? Since it's the equivalent of cold, hard cash, this redemption option is as flexible as it gets.
To redeem your Toluna points in this way, you must have a registered PayPal account. You'll need 61,000 points to redeem for a $20 AUD PayPal reward. Toluna says it can take up to 4 weeks to process payment.
Redeeming for gift cards
Toluna Australia offers a range of gift cards from leading brands. The offerings can vary, but at the time of writing, they include The Good Guys, Coles, Priceline, and more. Gift card options start from 29,500 points for a $10 AUD redemption.
Gift cards are delivered as e-vouchers by Toluna's rewards partner, Prezzee. Your e-voucher will be delivered to the email address associated with your Toluna account.
Redeeming for Gifties
Gifties are a reward category that's unique to Toluna. What are they? Essentially, by choosing to cash out your rewards this way, you'll receive entries into sweepstakes to receive bigger prizes. Gifties can be redeemed with a lower point minimum than the other options, but there is the risk of essentially wasting your points if you don't win.
That said, redeeming for Gifties might make sense if you have a stash of points with imminent expiry, but you don't meet the payout threshold for other redemption options.
Keep in mind that one point is only the equivalent to 1/30th of a cent, so you will receive one dollar for every 3,000 points you earn.
How much can you actually earn with Toluna surveys?
Since online surveys are the key focus of the Toluna Influencers panel, it's here that you'll make the bulk of your earnings.
Of course, as with any paid survey website, Toluna Australia can't guarantee any set amount of income. It's best to be realistic about how much you can actually earn. The number of surveys you will receive, and the points you will earn per survey can vary depending on the person and the number of market research projects that are live at any one time.
However, there are a few different factors that may determine how much money you can potentially earn and cash-out through Toluna. This includes your demographics and behaviours.
Average payout range per survey
The number of Toluna points you will earn for providing your opinion depends entirely on the length and complexity of the survey.
Profile surveys, for example, are worth a low 100 points, or just a little over three cents. That isn't very much, but not only are these surveys short and simple, keeping your profile information up to date can lead towards getting higher-paying surveys in the future.
Standard online surveys can reward up to 3,000 points (the equivalent of $1 AUD). Since each online survey will display the estimated amount of time it will take for you to complete it, you can decide beforehand if it will be worth your time.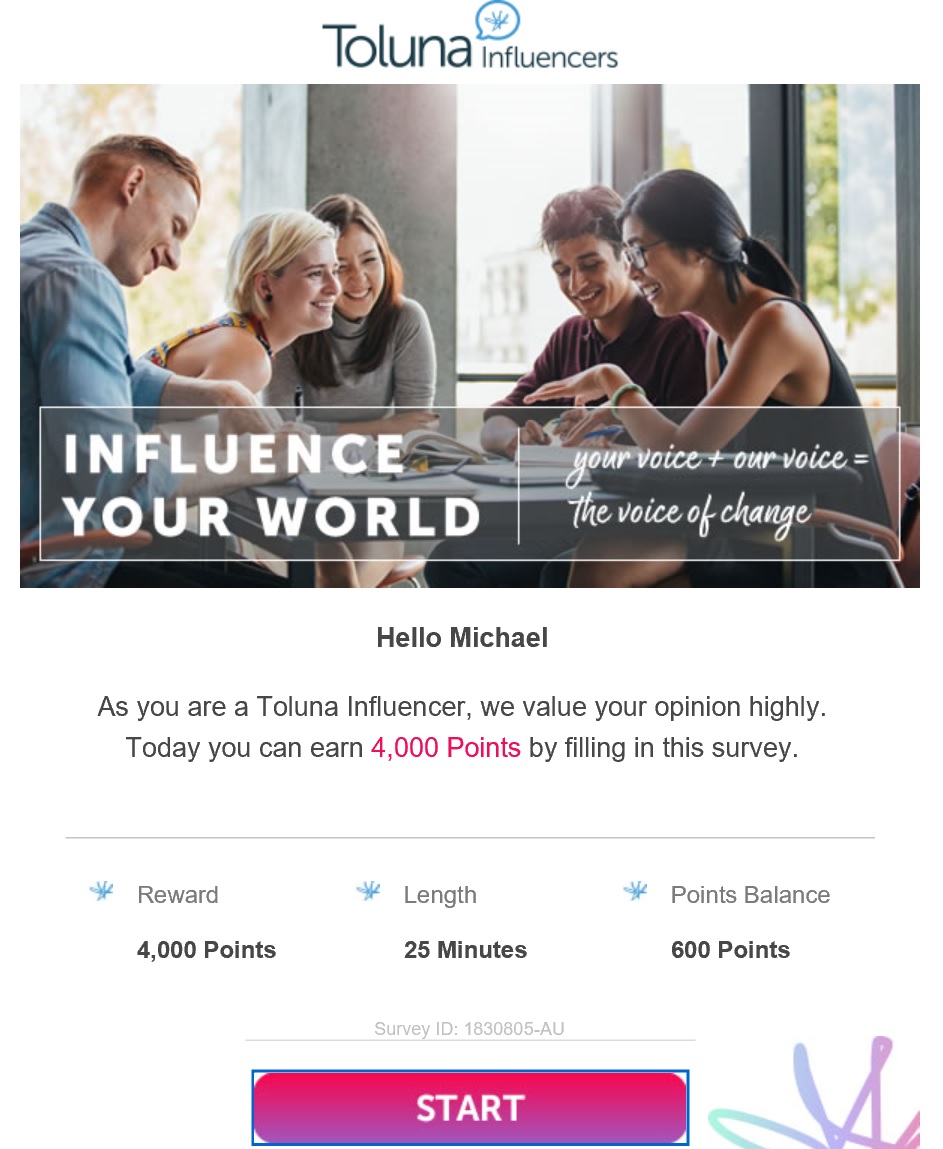 Frequency and regularity of surveys
Again, there's no easy answer here. The frequency and regularity at which you will receive Toluna Australia survey invites will depend entirely on your demographics and behaviors. This can vary from person to person. Toluna cannot guarantee any set number, especially if you have not completed all of your profile surveys.
However, according to most reviews, Toluna tends to send surveys reasonably often compared to other paid survey websites. And even if you aren't receiving surveys constantly, there are plenty of other methods of participating on Toluna.com
Payout threshold
The minimum amount of Toluna points to cash in will vary depending on your payment method.
To cash in with Paypal, you must have earned at least 30 dollars or 95,000 points. If you prefer to receive a gift card, you will need to make at least 10 dollars or 30,000 points. The minimum payout for gifties is much smaller, usually somewhere between 50 and 500 points.
Once you have chosen your payment method, the processing period can range from a few days to a few weeks.
How can I join Toluna?
Signing up for Toluna Australia is easy. Either download the app or head on over to the website on your desktop browser and click "Sign Up".
In addition to a unique username and a secure password, they will ask for your first and last name, gender, zip code, email address, and phone or mobile number.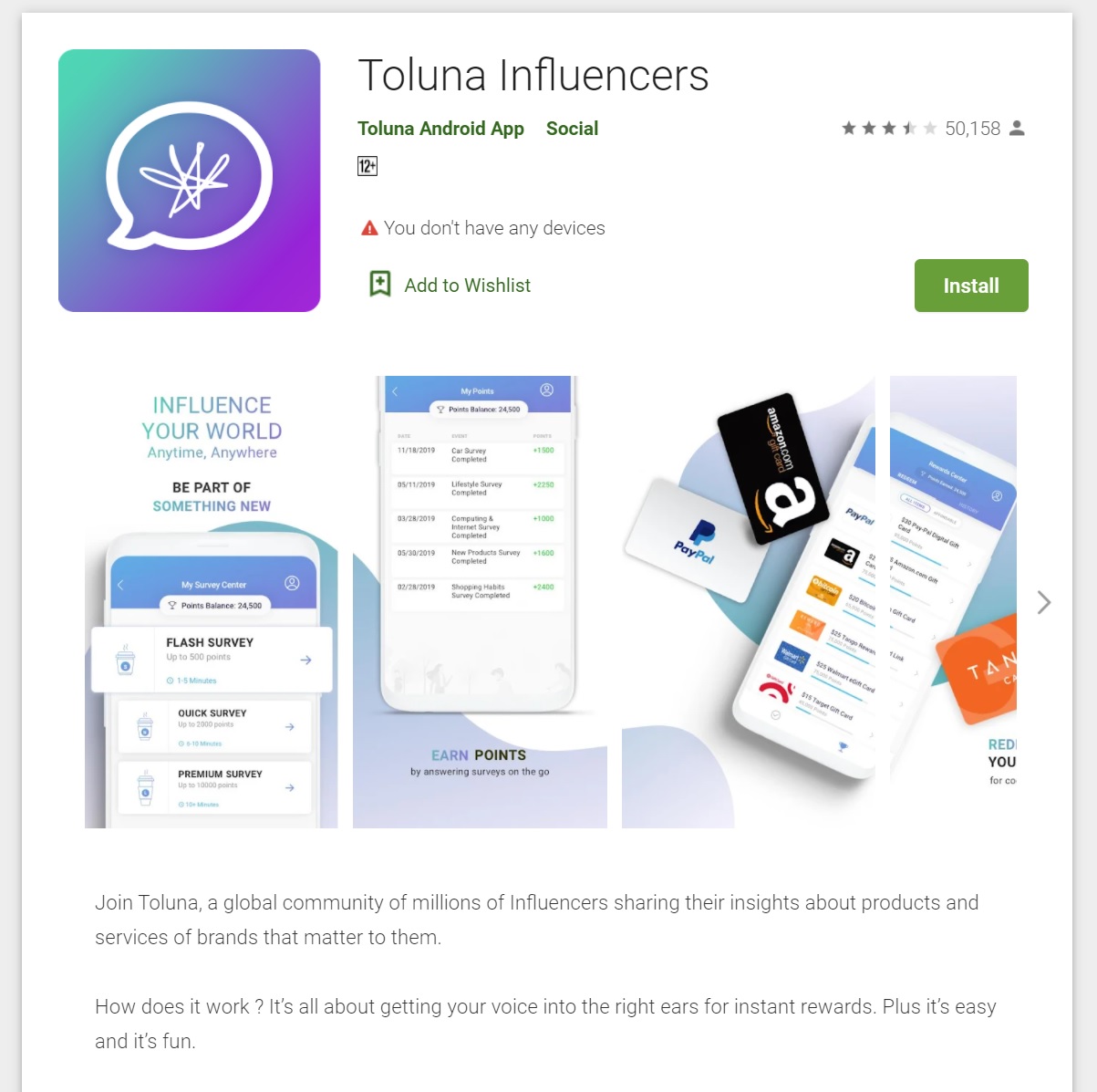 Once you join Toluna Australia and verify your email address, you will need to fill out your profile by completing profile surveys. This will require entering information about various demographics such as your ethnicity, hobbies, occupation, and so on.
The purpose of these questions is to help you receive surveys and relevant topics to your interests. Fortunately, this part is entirely optional, so if you are not comfortable with a question, you can skip the whole survey or choose "prefer not to answer" when it's available.
After that, you will receive a 500 point bonus just for signing up. From then on, you are all set to start earning extra money!
Who can join Toluna Australia?
Any Australian over the age of 16 can create an account on Toluna. If you are under 18, you must have the permission of a legal guardian.
Outside Australia and New Zealand, a Toluna login is available in a wide selection of countries across Europe, North America, Asia, and Oceania.
Tips for making Toluna work for you
Want to make the best of your Toluna experience? Here are a few tips to ensure that you earn plenty of points while still having a fun time.
Complete your profile surveys
To get the most out of your account, you will first want to fill out as many profile surveys as they have available. You will want to make sure all of the information on your account stays up to date.
This can ensure that you receive more surveys overall and are less likely to receive a disqualification. You also won't be wasting any time doing this, as every profile survey will reward you with points.
In addition, you can sign up for email or phone notifications when new surveys are published. This way, you will be less likely to miss out on potential Toluna Australia survey opportunities.
Create quality content
Creating content is another way of earning points in Toluna Australia, but it's one of the more complicated methods. Fortunately, there are a few ways to help ensure that your content receives more attention, thus making you more likely to receive rewards.
First, you will want to make sure that your content is aesthetically pleasing and grammatically correct. Be sure to run your posts through a spell checker if necessary. Images attract people, so including a fitting picture in your post will also help draw more people in. The website comes with a built-in search engine that can help you find the best image for your post.
Try to keep your content original, too. Ask yourself what kind of discussion topic you would personally find interesting. Don't copy the work of others, either.
Finally, engaging with other people's content can be a big help. It can help draw in more people to your own content, and you'll even make some friends while you're at it!
Refer friends
If you've referred friends to Toluna Australia, make sure they're keeping up with their accounts! It's easy to lose motivation, but when you have more friends on the site, you will have more people commenting on your polls and topics, thus giving you more chances to receive point awards.
Use the Toluna app
Most of our downtime is when we're out of the house. Like other survey sites, Toluna offers an app, allowing you to make money on the go. To make the most of this, download the Toluna app (iPhone and Android) to fill out surveys during your work breaks, waiting room visits, and other idle periods.
Toluna advantages and disadvantages
Every survey site has its pros and cons. To provide an honest and thorough Toluna Australia review, we have highlighted the key things to know about.
Pros
There are plenty of opportunities to complete surveys; you can also opt for mobile or email notifications, so you never miss one.
Toluna Australia is a trusted global survey company. It's legit and not a scam. The company adheres to Australian privacy legislation and takes steps to safeguard respondent data.
The mobile app allows you to earn money even when you're far from home.
The Toluna website has a fun, engaging community. Their system of polls and topics allows for engaging discussion and opportunities to meet new people.
To prevent wasting your time, Toluna Australia will usually let you know that you do not qualify for a survey long before you have finished it.
Toluna is available in more countries than many other paid survey websites.
Cons
Completing online surveys can become time-consuming with very little pay in return. Always check the opportunity cost to ensure it's right for you.
The Toluna points system may be confusing for some people. Because one point is worth only a fraction of a cent, it can mislead some people into thinking they've earned more money than they have.
Certain referral benefits will not work if your friend is in a different country from where you registered your Toluna account.
Toluna points will expire after 16 months. This can make it challenging to cash out rewards and bonuses if you don't have enough points.
Toluna Australia reviews around the web
Wondering what other people have to say about Toluna Australia? We've looked over a couple of review sites where people are sharing their experiences.
First, here's Toluna's page on Trustpilot. Toluna reviews score an average 3.4-star rating from over 3,900 respondents. The text reviews are rather mixed, so you can see a mixture of both positive and negative experiences people have had with this website.
The most common complaint in this review section is that many people have reported the website locking them out of their accounts. Some people have also reported technical errors, such as surveys crashing before they can submit their answers.
In the US, Toluna has also received an A+ from Better Business Bureau.
Other sites like Toluna
YouGov
If you're interested in shaping public opinion as well as public policy, you might want to join YouGov. With nearly 10 million members worldwide, YouGov plays a pivotal part in providing the market research that Governments at all levels use to shape policy.
Join trusted, global survey site YouGov and get 100 bonus points for completing the welcome process. Get paid in cash directly to your bank account when you complete surveys. Join here.
You can join here or read our full review here.
MOBROG
MOBROG receives good feedback from Australian users on a regular basis. It stacks up well for earnings and redemption options when compared to other survey sites and it should definitely be on your radar to join!
Great rates, low redemption thresholds, and three ways to redeem. What's stopping you from joining MOBROG? Join here. 
You can join here or read our full review here.
Conclusion: Is Toluna Australia worth joining?
With all of this information in mind, you may find yourself wondering; is Toluna Australia worth it?
The fact is, Toluna is definitely worth giving it a shot, especially if you have the time to spare. Bear in mind, however, that you're not going to get rich by using the platform. Most people make an average of three dollars per hour on this service, which is far below minimum wage.
Take online surveys and get awarded points that you can exchange for cash or rewards. It's quick, easy, and free to join Toluna here.
However, the flexible earning options, the simplicity of survey-taking, and the welcoming community can still make Toluna Australia an efficient way to earn a few extra dollars in your spare time.
Plus, since Toluna is one of the world's largest online survey panels, Aussie users can be reassured that all the relevant privacy legislation is complied with, ensuring your data is safe.
At the end of the day, as we've demonstrated in this Toluna Australia review, signing up is free, so you don't have much to lose. So long as you don't go into Toluna expecting to earn hundreds of dollars a month, you are unlikely to feel disappointed in their services.
Toluna Influencers Frequently Asked Questions (FAQ)
Is Toluna Australia legitimate?
Toluna Australia is a safe and legit website that can help you earn money. In Australia, Toluna adheres to local privacy and data collection legislation, so it can be trusted with your opinion.
Does Toluna Australia pay cash?
Toluna pays in points, which can be converted to cash. There are three different options for redeeming your points: PayPal cash, gift cards, or Gifties.
How much do Toluna Australia surveys pay?
Toluna won't be a significant source of income by any means. Most people make an average of three dollars per hour on this service, which is far below minimum wage.
What is Toluna Australia?
Toluna Australia is an online survey company that operates in Australia. It is a community-based platform that provides paid surveys and other activities you can complete in return for rewards.
While you're here: Subscribe to our newsletter for the latest tips, deals and news. It only takes a few seconds and we respect your privacy: