Discover over 50 tested and verified freebies available in Australia.
If you're the kind of person that loves free samples Australia, then you've come to the right place. Let's face it, who doesn't like receiving complimentary products to try in the mail?! From beauty to baby trials, through to food samples and dining freebies, we've got you covered.
Our links are 100% checked to ensure they actually work.
In this post, you'll find over 50 promotional goodies, free samples and limited-time offers available to Australians via mail or in-store. And you can forget about broken links and expired offers! Unlike other sites that advertise free samples for Australian consumers, we test out each offer regularly to ensure all our content is verified and up to date.
Ready to start saving money? Discover all the offers below!
Free Beauty and skincare samples

Basix are giving away free samples of their popular Skin Repair cream to Australian consumers, and the process to get one will only take you a minute. Just head to the Basix Google form here. Enter your details and Basix will send out your free skincare sample in the mail. Simple!
Fanola is a leading Italian haircare brand, offering vegan haircare products that are also free of sulphates, silicones or parabens. Simply subscribe to the Fanola newsletter to receive a "No Yellow Vegan" shampoo and mask sample free of charge.
AHC is a leading Korean beauty brand that offers advanced and beautiful aesthetic based skincare products with innovative formulas and solutions. It's stocked at leading Australian retailers including Adore Beauty. Want to try one of their most popular products for free? It's easy! Simply sign up to the mailing list and enter your address to receive a complimentary sample of AHC Eyecream.
Beauty and skincare Gifts with Purchase (GWP) – complimentary samples with purchase
During checkout, you can add a free sample to your order. Currently, you can choose from a selection of four different products. Each sample is only available while stocks last, so Sephora may substitute for you if needed.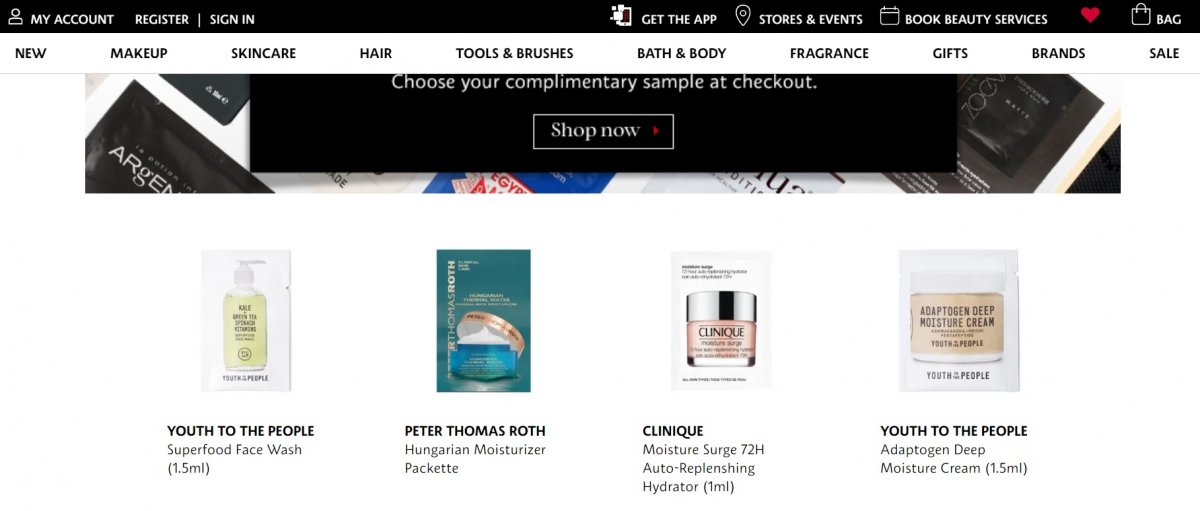 Simply place an order and you'll receive a choice of one of four free samples for deluxe beauty products. These include revitalising creams, night creams and recovery creams. Better yet, if your order is over AUD $50, postage in Australia is free.
La Mer is one of the most luxurious beauty brands around. It's one of my personal favourites, though it doesn't come cheap. It's worthwhile noting then, that La Mer throws in multiple complimentary samples with every order – regardless of whether you spend $30 or $300! La Mer creams and serums can command up to hundreds of dollars RRP, so this can be a great way to try out an expensive product for free before investing. Depending on the order value, you may be able to stack this with other promotional beauty freebies. Postage to Australia (and decadent packaging!) is also provided free of charge.
With every online order you can choose three samples to be added to your order free of charge. Simply choose the samples at checkout.
Sign-up to the Jo Malone newsletter to receive complimentary samples, as well as being able to choose your complimentary fragrance sample with every order.
La Prairie's free sample comes in the form of a ritual kit including Skin Caviar Liquid Lift and Luxe Cream. It's yours when you order Platinum Rare, Skin Caviar, Radiance or White Caviar. Not unlike La Mer, La Prairie's products can command up to hundreds of dollars. So, by taking advantage of a GWP offer, it's a chance to try out an expensive product before you commit to purchasing.
Mecca is our favourite Australian beauty retailer. Whether you shop online or instore, you'll be able to choose from a range of exclusive brands from cult favourites through to international superstars. We couldn't have said it better: "We love trying new products, and we know you do too!" You'll receive free samples with every online order – and you can ask instore, too. Yay!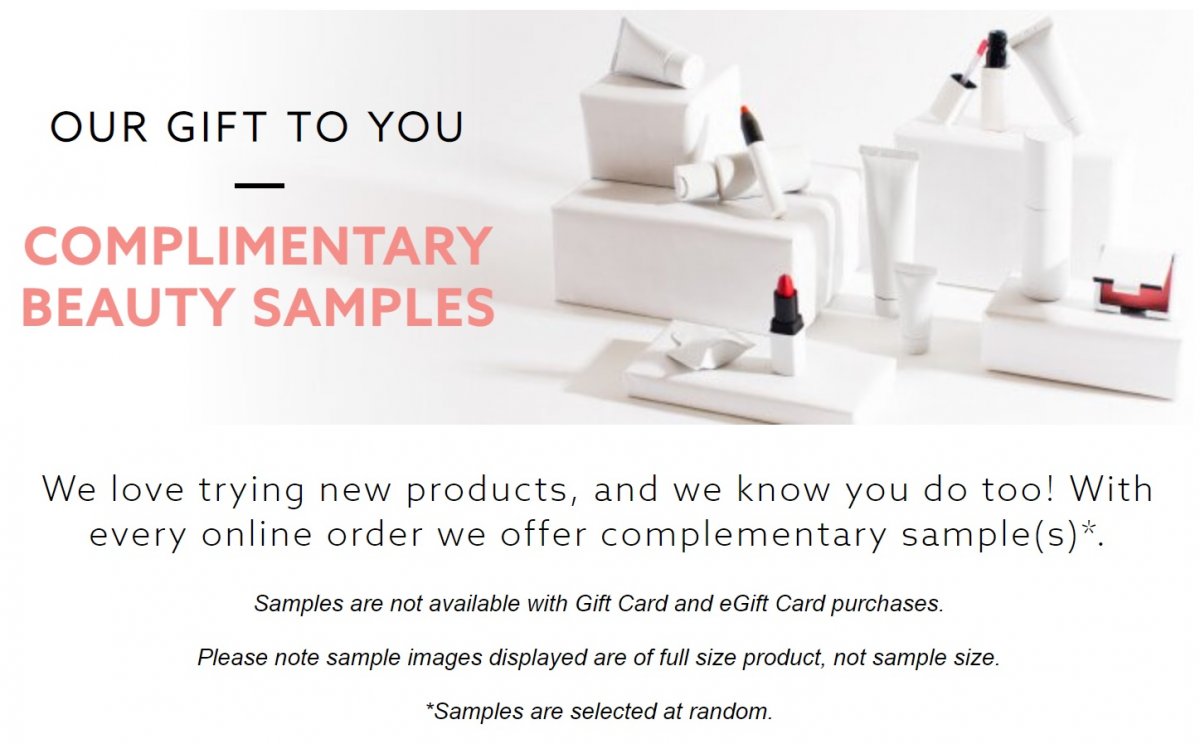 In the same vein as many beauty retailers, YSL offers bonus samples on all orders over AUD $65. There is also the opportunity to join YSLbeauty.com.au to receive additional freebies and goodies.
Score three free samples Australia when you purchase any health or beauty product for men or women. You get to choose which you want. Free shipping is also available for orders over AUD $35.
You can receive one or up to four free samples depending on whether your order is more or les than $200 AUD.
Free Baby product samples

Register online to receive a free trial pack of Blackmores Toddler Milk Drink. Made using the highest quality proteins, the Blackmores Toddler Milk Drink uses Australian milk sourced from grass fed cows in the Goulburn Valley.
Join the Huggies Club to receive nappy and pull-ups freebies at your doorstep. Update: sample sending has been suspended during Covid-19, but supplies are expected to be replenished soon. Alternatively, the Huggies Club Singapore site located here is still sending out free samples to consumers. It could be worthwhile signing up, as they may be able to deliver to Australia.
Get your free BabyLove sample now. Simply visit the website and choose from an array of nappies, nappy pants and pull-ups products in different sizes. Once you've selected your preferred product, you'll be taken to a form to enter your contact information. BabyLove states that you'll need to allow between 10-15 business days (varies depending on demand) for sample delivery. Free samples are only available to Australian residents.
Violeta offer a free sample of European nappies that is quite generous. You can choose the size required.
GAIA Skin Naturals Australia is offering free samples of popular baby products. What do you need to do? Simply fill in the form here and post a stamped, self-addressed envelope to GAIA to receive a set of baby care samples. This offer is only available for addresses within Australia, and there is one set of samples per person, per address.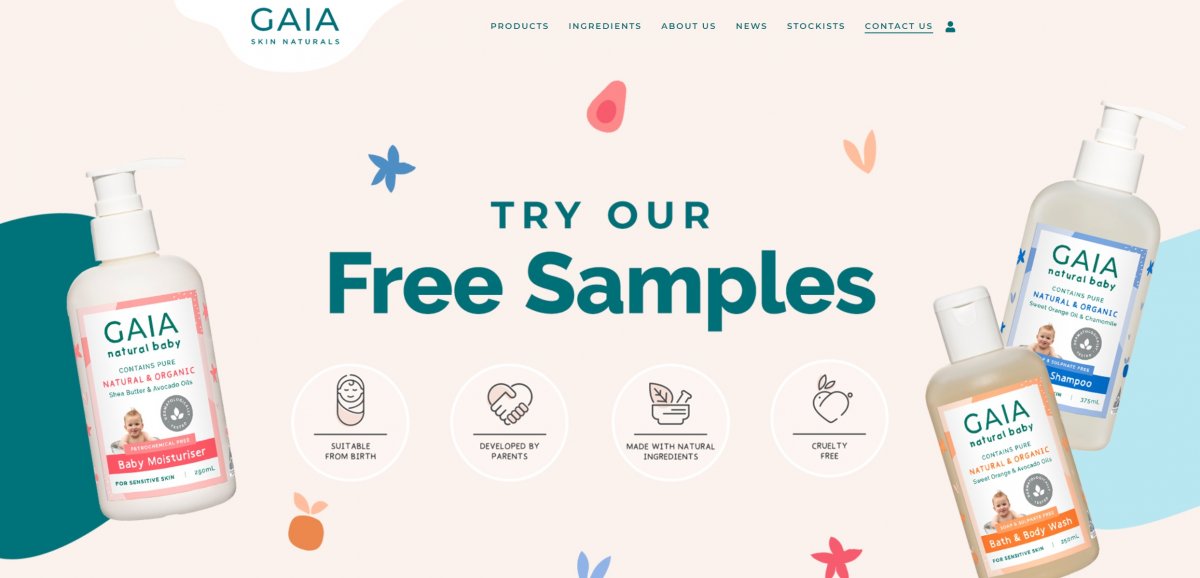 Natures Child offers free samples upon request when you order. It works like this: Simply request a free sample at the checkout when you place an order. The samples on offer change monthly depending on what suppliers provide, but usually include baby wipes and skincare with additional items.
Mums and bubs can use Aromababy Barrier Balm in many ways, including on sore nipples or around the nappy area. Simply head to Pharmacy Online to receive one free 2g sample. There is a maximum of one per household.
The manufacturer of this dairy goat formula range offers free samples Australia for products over 12 months in age via their refer a friend program. Note: By convention, manufacturers of baby formula products in Australia do not supply samples for babies under 12 months old. Oli6 states that Toddler Sample Packs will be delivered within 5 business days. Please specify any delivery instructions when you complete the contact form. The offer is only available to Australian addresses, with one free sample pack provided per mailing address.
If you're not sure what Boobie Bikkies are all about, Pinkie's are offering the chance for a freebie? Add a free sample to your cart today to try 1 x Vanilla Boobie Bikkie (30g) and 1 x Orange & Cinnamon Boobie Bikkie (30g). The catch? While the samples are free, you'll need to cover the cost of postage. Postage for one set of samples is $7.50.
Pharmacy and Supplement free samples

When you buy something that covers the postage charge, Chemist Direct offers up to 10 sample sachets and mini bottles of products that rotate over time. You can add these samples to your basket upon checkout. Goodies often include foot balm, Curash and eczema samples.
Similar to its competition, the Chemist Warehouse has a host of free samples up for grabs, provided you meet a minimum purchase of $30. Sukin and Neutrogena freebies are available at present, but the free products on offer are subject to change at any time.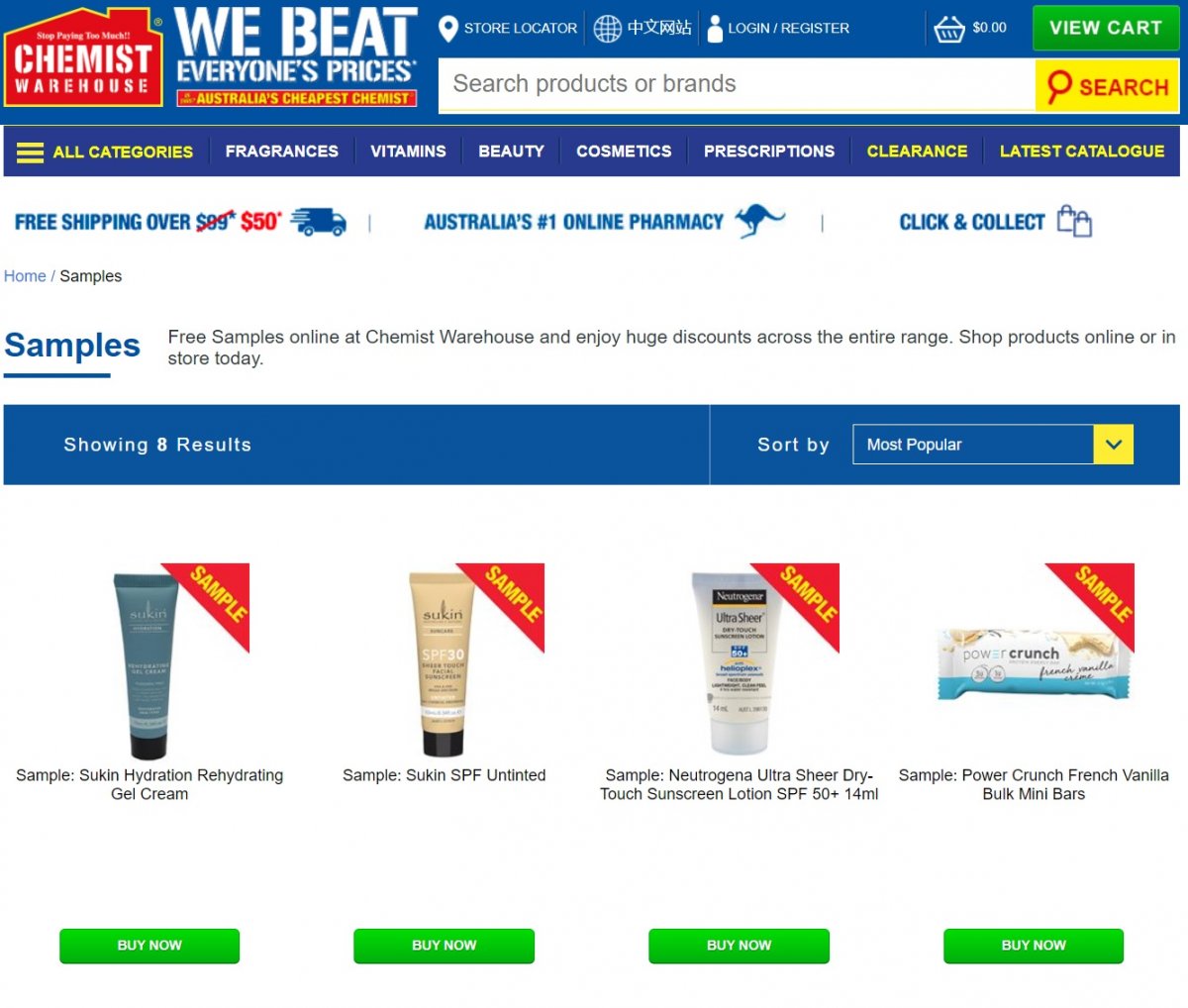 If you're looking for free protein samples, this website offers a wide range of samples to try. But a word of warning, delivery is to Australian addresses only. If you're from NZ, you'll be disappointed as sample shipping to NZ is no longer available – you must enter an Australian address.
Free supplement samples from VPA Australia
Simply fill in the form with some details about yourself and a sample will me mailed out to you. You will have to 'agree' to tell four mates which supplement they 'should' be using… this only just squeaks into our free samples definition.
Healthcare product free samples
Head to the website for Australia's leading feminine care brand, to score a free U by Kotex® Liner Combo sample pack. The pack giveaway includes free samples of all Kotex liners so you can find out which ones are right for you.
Manufacturers of incontinence pads and liners TENA offers a generous three samples per month per household.
My Comfort is a specialist supplier of incontinence management products. You can select several free samples from their range of liners, briefs, pads, pants and briefs.
Poise supply incontinence products for females ranging from light to medium and discreet pads. You'll be be able to choose from a number of free samples depending on your needs.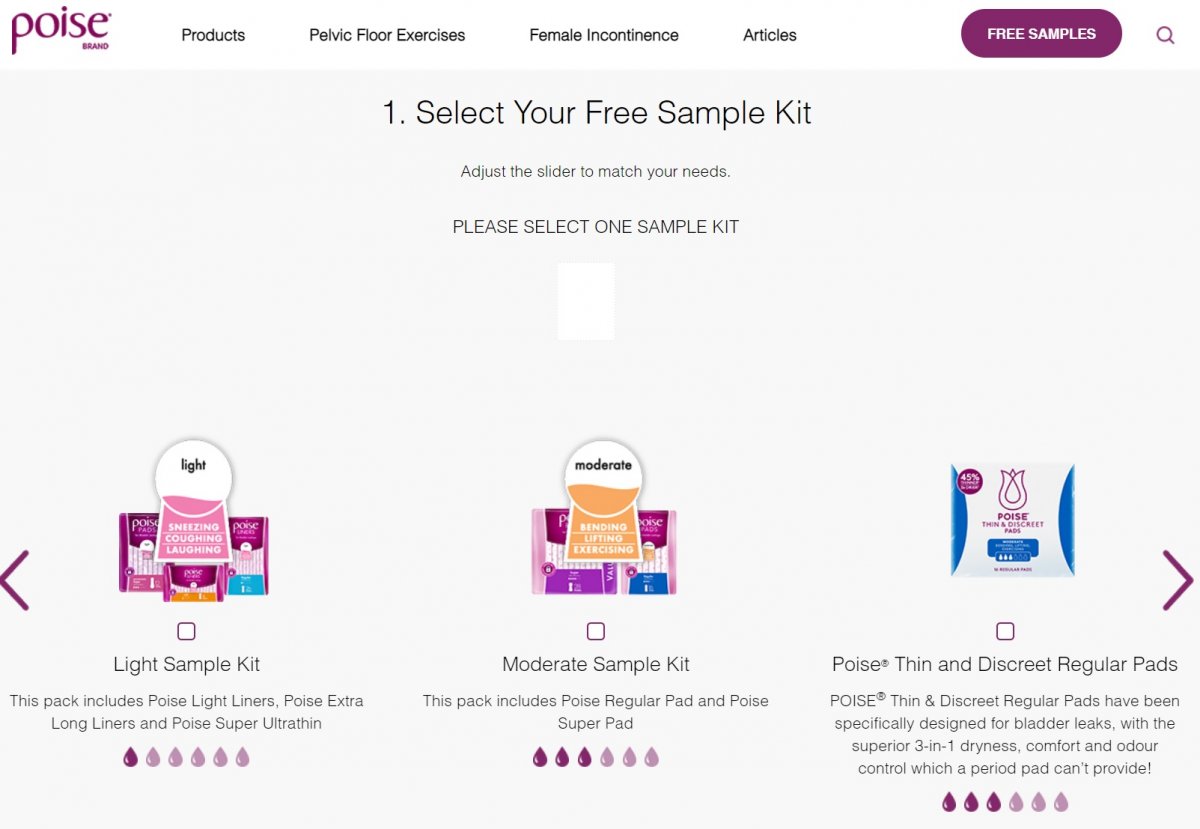 Select up to two free samples from the men's or women's range of incontinence products.
Take the time to work through the Product Finder to find the product that's right for you. You'll be rewarded by being able to select up to two free samples.
Canestan helps break cross-contamination of fungi and bacteria, and it's one of Australia's leading laundry products. Offer may be expired.
Receive a free sample of Sasmar Original Silicone and Sasmar Water-Based Classic lube. Applicants need to be over 18 years old.
Order a free 3.5gm sachet sample. The order is limited to just one free product per person in an Australian household and you must be over 18 years of age.
TORK are a leader in sanitary products in the commercial space. Business Owners can request a product sample for free.
Food & Drink freebies and samples
Ethiopian Yirgacheffe coffee beans are a medley of Arabica beans and varietal heirlooms. The coffee is suitable for use in all brewing equipment, including espresso machines, cafetiere pots and brewers. To try the Ethiopian Yirgacheffe coffee beans for free, simply complete this form. There is a limit of one sample per household or address.
Kona Coffee ships free samples worldwide. Simply fill out the form here to score your freebie. One sample per person. USA, Canada, Australia, UK, EU requests are processed first.
Join up the Nando's Loyalty Program – Peri Perks. You'll receive a free birthday meal.
Sign up to the Krispy Kreme newsletter called the "Inner Circle". Once you've done so, you'll receive a voucher to claim a free Original Glazed Doughnut in-store in NSW, QLD, WA and Vic.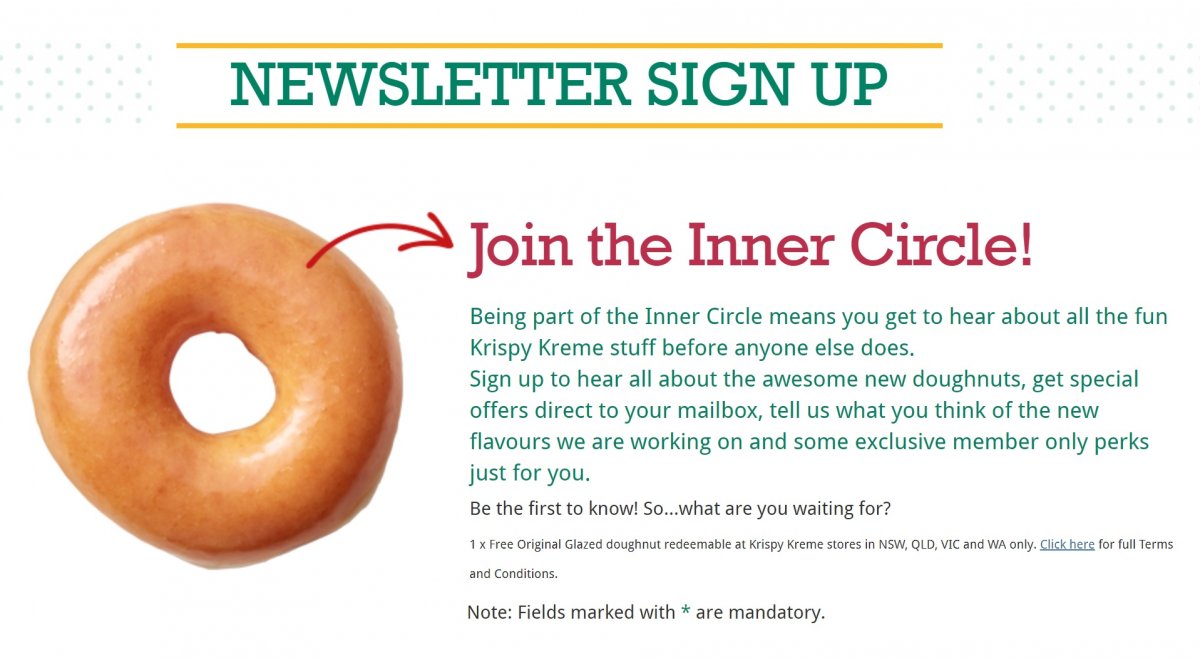 Join the "Red Royalty" loyalty program. Once you reach Gold Status, you'll receive a free meal redeemable within 30 days of your birthday. That's a lot of chicken you'll need to eat before your free gift! The loyalty program provides other perks through the year.
Join the Gloria Jeans' eSipper Club to be eligible for a free coffee on your birthday. When you join, leave the 'eSipper Club Newsletter' box ticked when registering your eSipper Loyalty card. Your birthday drink offer will arrive by email.
If you join the Cold Rock VIP Club, you'll be eligible for a free Ice Cream Voucher on your birthday.
VIBE Members are entitled to a free Birthday Boost Juice on the day of their birthday. The free sample is provided upon presentation of a VIBE Card confirming the birth date registered on the card matches the date of visit to the store.
This Chinese tea retailer is really prepared to put its money where its mouth is. It believes it supplies premium tea, unlike some other retailers and says as much on its sample page. So, send a stamped, self-addressed envelop ($2.20) to them for your three tea samples to judge for yourself. This offer is only valid for new customers in Australia.
All you need to complete is a very short survey and R3HYDR8 will send you 2 x 21g samples of R3HYDR8 Sports Drink Powder.
Register to score a $5 credit available when you spend $10 or more in-store. Also, win a free scoop on your birthday. Both offers valid for use with 4 weeks of registration/birthday.
Get a free ice cream email on your birthday and a special discount on a birthday cake. Plus a Buy 1, Get 1 FREE* scoop offer when you sign up to Club-31 and additional offers all year long!
Sign-up to the Inner Circle club with your email, at the bottom of the page to receive a 10% discount on your next order and a free donut on your birthday.
Join online to receive a free muffin during your birthday month and every 5th coffee free.
Join the Oporto Flame Rewards program and receive a $5 voucher when you join. Plus, depending on your status in Flame Rewards, you'll be entitled to a birthday freebie.
Join the Wok Wallet program at the bottom of the website homepage to start collecting free samples and birthday treats.
Collect a Rewards card from your local store and activate it online to receive a free noodle box on your birthday.
Free Pet samples
Right now, there are very few free pet food samples around. However, we've included working and verified offers below. Keep checking back, as we'll be adding free pet samples as soon as new information comes to hand. You can also contact us to let us know about any freebies to add into this post!
Petzyo Kibble is grain-free, low GI and packed with superfoods. And it's easy to score a free sample for your pet. Purchase this product for free by clicking 'Add To Box' here. You'll receive a free sample pack delivered directly to your door by mail.
Miscellaneous free samples available in Australia
You can claim up to four free Italian microfibre samples from LucyandLoo Convertible Wear so you can ensure you pick the right fabric.
Up to 10 sample swatches are available to order, delivered free of charge.
If you're unsure of which texture or business card style, Space Print will post out a selection of cards to help you choose.
If you're unsure of which material or colour to use in your project, Bellstone will post out requested samples to potential customers. You can receive a maximum three 90x90mm samples free of charge and any subsequent samples are $16.50.
You can order up to six 100x100mm tile samples free of charge from National Tiles.
Add 5 free samples to your sample bag while browsing their beautiful selection of flooring solutions.
Feltex makes it easy to choose the right carpet by supplying up to three carpet samples so you can choose one of your biggest purchases from the comfort of your own home.
Unsure which variant of artificial turf to install, then request 5 free samples from Namgrass Australia to make the choice easy.
Order up to 6 free samples to lay out in your home to choose a perfect wooden flooring solution.
If you can't decide or need a closer look at PlusPrint's products, order a free sample pack that includes Business Cards, Paper Stock Samples, Labels & Stickers, Specialty Finishes and Product Guide.
Defining a free sample in Australia?
The Internet can often seem vague when it comes to the definition of "free", and there is a myriad of offers to wade through. Here's what we classify as a legitimate, free sample, which informs the types of offers that have made it into this post:
We've included samples here that require an order to be placed (GWP), which is very common in the beauty retail sector, but that's the extent to which we stretch the definition of "free samples". It's still possible to save significant money with these offers.
We've also included freebies that you can receive on your birthday for no cost – this seems to be very popular in the food and drink sector. It's a great way to save money when dining out, and for eateries to get you in-store!
We don't cover competitions here, but you can find them on sites such as OzBargain. We also don't cover cashback offers, as these reward consumers with money, as opposed to free goods. Finally, note that some brands provide free products in exchange for positive online reviews. As discussed by Choice, this shady process erodes consumer authenticity and legitimacy. As such, we've chosen not to include those types of offers in this post.
Free samples Australia: What's the deal?
If you don't have to undertake surveys or fill in forms or participate in product feedback groups, what is really in it for the companies supplying free stuff?
Your spend – of course! The premise is simple. If the product you've sampled for free is any good, you'll purchase more of it at the shops or continue returning to the online store. Brands count on you maybe even changing your loyalties or going out of your way to buy it. It's a win-win situation. As a consumer, you'll save money on products you'd like to test out, and a retailer has a chance of converting you into an ongoing customer.
What types of free samples are available in Australia
Freebies and samples are typically split into two discreet categories – those you can score online and those where you'll need to enter a bricks and mortar store to request one.
Online retailers such as beauty brands are limited to the extent they can interact with their customers, short of trying to get them into a retail outlet which stocks their products. So, supplying small, lightweight goodies to Australians in the post makes perfect sense.
Often, brands will include freebies or samples with an online order. This strategy is popular in Australia, with many consumers motivated to purchase goods when they know that there's a freebie being thrown in. After all, it's quite exciting to not know what product samples will turn up in the mail with your order. The cost is typically offset by the margin on ordered goods. That means the cost of your free sample is absorbed in the product postage. Many brands use social media heavily to promote the giveaway of sample packs.
Sephora and Mecca are great examples of beauty retailers that straddle both online and physical domains. They give away samples of moisturizer lotions, perfume sachets, skincare products, and other beauty products both online and in-store. Invariably these items are subsidised by the brands they stock so the cost is limited. A great strategy!
In the bricks and mortar space, giveaways are characterised by newsletter signups and free food vouchers on your birthday. Food retail is highly competitive particularly in the fast-food segment, so the opportunity to get bums on seats is very important. Try before you buy opportunities are limited at best due to food spoil, contamination and COVID-19 risks.
Why are baby products and personal hygiene samples so popular?
Baby products are very popular due to the amount of disposable income spent on each product and the desire for families to test out the products that could be right for them. Nappy brands such as BabyLove and Huggies are leaders in this space.
You may have noticed that adult personal products are well represented in the free samples Australia listings. Why? Often consumers are wanting to try these types of products discretely before they buy. These are often light products that are easy to post with the added bonus of a longer consumer lifespan. The fact is, offering an initial and inexpensive freebie can help to win a prospective customer over for life.
What products are less popular for free samples in Australia?
Unfortunately, supplying free samples in some retail sectors and products simply doesn't work. When it comes to offering free products, freebies with significant bulk and weight simply aren't feasible unless a purchase is also made, or the consumer is already on the hook for a purchase.
You may have noticed that clothing is completely absent from the Free Samples Australia page. Pet food samples were common some years back, but very few giveaways are currently in circulation. Drink samples are also very limited, particularly in the alcoholic space, due to Australian laws, the weight of the product type and the considerable logistics of verifying customer ages.
Free samples Australia Frequently Asked Questions (FAQs)
What companies send free samples Australia?
Beauty, cosmetic and skincare companies love sending free products out to customers. Healthcare and baby products companies also send a limited selection of free samples out by mail to customers.
What is the best website to get free samples?
The Champagne Mile keeps its list of free samples up to date and tests every link before it places it online so consumers do not get scammed or waste their time with expired offers.
How do you get free beauty products samples?
Some beauty product companies send out free samples in the mail, but most will require a purchase to cover cost of also providing free samples. You can browse our beauty free samples above.
How do I get free baby samples Australia?
Have a look on this page for a list of samples that re offered free. Sometimes there will be a limited time offer that we will cover as well.
Where are the best free food samples australia?
Unfortunately it is rare to receive free food samples in the mail. Most free food offers require you to join a loyalty scheme and consume free goods in store, alongside a purchase.
While you're here: Subscribe to our newsletter for the latest tips, deals and news. It only takes a few seconds and we respect your privacy: