Planning for your ANZAC Day public holiday in 2023?
The good news is that because ANZAC Day falls on a Tuesday in 2023, the date will be a public holiday / commemoration across the entirety of Australia, unlike 2021.
When is the ANZAC Day public holiday 2023?
ANZAC Day is observed on the 25th of April every year, across Australia and New Zealand, which is a Tuesday in 2023.
In 2021, it fell on a Sunday, yet only five of eight states and territories provided for a substitute holiday, with NSW, VIC, and TAS not receiving an additional day off. This was despite an undertaking by the Council for the Australian Federation in 2008 to harmonise the holiday.
In 2020, ANZAC Day fell on a Saturday, and only ACT and Western Australia had a day off on Monday 27th April.
State / Territory
2023
2022
2021
2020
Australian Capital Territory (ACT)
Tuesday 25 April
Monday 25 April
Sunday 25 April
& Monday 26 April
Saturday 25 April
& Monday 27 April
New South Wales (NSW)
Tuesday 25 April
Monday 25 April
Sunday 25 April
Saturday 25 April
Northern Territory (NT)
Tuesday 25 April
Monday 25 April
Sunday 25 April
& Monday 26 April
Saturday 25 April
Queensland (QLD)
Tuesday 25 April
Monday 25 April
Sunday 25 April
& Monday 26 April
Saturday 25 April
South Australia (SA)
Tuesday 25 April
Monday 25 April
Sunday 25 April
& Monday 26 April
Saturday 25 April
Tasmania (TAS)
Tuesday 25 April
Monday 25 April
Sunday 25 April
Saturday 25 April
Victoria (VIC)
Tuesday 25 April
Monday 25 April
Sunday 25 April
Saturday 25 April
Western Australia (WA)
Tuesday 25 April
Monday 25 April
Sunday 25 April
& Monday 26 April
Saturday 25 April
& Monday 27 April
What is ANZAC Day?
ANZAC Day is a day of remembrance for Australia and New Zealand, both at home and overseas. Almost anywhere that you find a sizable contingent of Kiwis and Australians, you'll encounter an ANZAC Day ceremony on 25 April, including Antarctica.
ANZAC Day was originally conceived to honour the members of the Australian and New Zealand Army Corps (ANZAC), who served on the Gallipoli Peninsula (Gallipoli Campaign) in their first engagement of WW1. Now, with the declining numbers of veterans and additional major conflicts in the last 100 years, the day has evolved to commemorate all Australians and New Zealanders "who served and died in all wars, conflicts, and peacekeeping operations" and "the contribution and suffering of all those who have served".
What do Australians do on ANZAC Day?
The first thing you'll need to decide for 2023 is whether you'll be taking a long weekend off. This might dictate whether you're able to attend a commemoration or activities.
Collect a Poppy
Make a donation to an organisation distributing Poppies (in most shopping precincts and service organisations), to help support worthy causes to receive your Poppy.
Worn as a mark of respect to the fallen, the Poppy has its origins in the fields between the trenches of WW1 on the Western Front, when they bloomed in abundance due to the shell disturbed soil. After WW1, poppies came to represent fallen soldiers and are often placed on war memorials by relatives.
Dawn Service
Every Australian and Kiwi should attend at least one dawn service in their lifetime – preferably more.
The first dawn service was held on the Western Front in 1916, on the first anniversary of the Gallipoli Landings. In the years that followed, the services popped up all over Australia, helped by the return of men and women from the Great War. From 1928, at the Sydney Cenotaph, the service has been held continuously, with further ceremonies falling into place, particularly after WW2.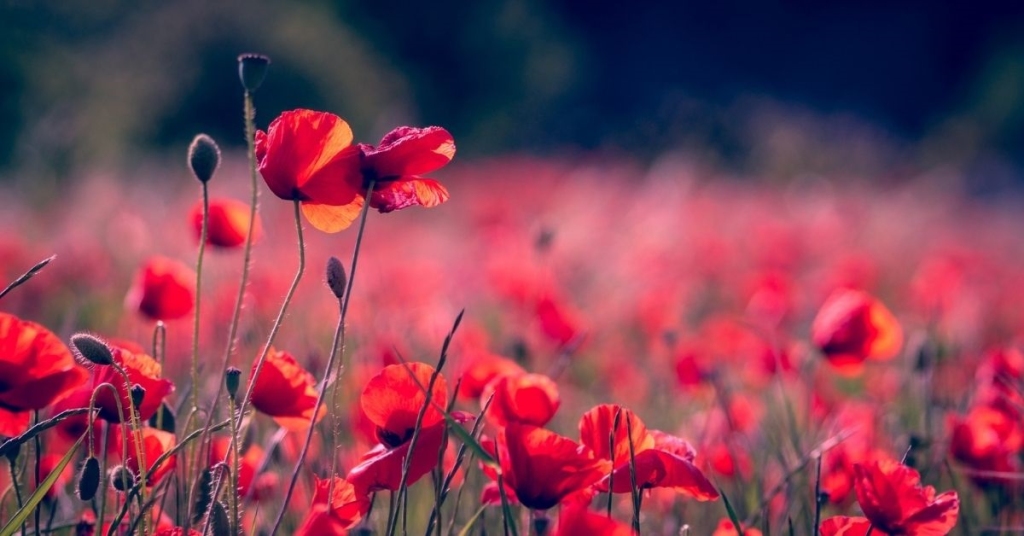 Services are simple and touching but vary from location, Nonetheless, they are solemn and are not to be politicised in any way. Some elements of each ceremony include hymns, laying of wreaths, prayers, a period of silence, and singing the national anthem. Most if not all ceremonies will incorporate the playing of the Last Post and the fourth stanza of "For the Fallen":
They shall grow not old, as we that are left grow old;
Age shall not weary them, nor the years condemn.
At the going down of the sun and in the morning
We will remember them.
Anzac Day marches and commemorative services
In all major towns and cities, you'll encounter an ANZAC Day march featuring veterans and current service people. Additional public service organisations will also march including the likes of Scouts, Coast Guard, and cadets. Capital city marches may also feature a flyover.
At 10.30 am, a National Ceremony is televised at the National War Memorial in Canberra.
AFL and NRL
Because AFL is such a big part of life in Australia an annual Collingwood vs Essendon match is played at the MCG, with an ANZAC medal presented to the player exemplifying the ANZAC spirit.
Up until 2017, a test was played between Australia and NZ in rugby league. It was played days ahead of ANZAC Day but always called the ANZAC Day test. More recently the St George Illawarra Dragons and the Sydney Roosters clash and the Melbourne Storm play the NZ Warriors.
Visit a RSL or family friendly pub
Legal only on ANZAC Day and in licensed venues, you can play two-up in RSLs and pubs. It was a game that was very popular with Diggers and due to its significance, it's only legal one day a year.
Visit Gallipoli
Now a very common pilgrimage (just not during COVID-19), Australians make a trek to ANZAC cove to be there when the sun rises on April 25. There you'll find a monolith inscribed with the poignant words:
Those heroes that shed their blood
And lost their lives.
You are now lying in the soil of a friendly country.
Therefore rest in peace.
There is no difference between the Johnnies
And the Mehmets to us where they lie side by side
Here in this country of ours.
You, the mothers,
Who sent their sons from far away countries
Wipe away your tears,
Your sons are now lying in our bosom
And are in peace
After having lost their lives on this land they have
Become our sons as well
The same words can be found on memorials in Canberra and Wellington.
Conclusion
Whether you get away for a long weekend or have to work on Tuesday, ANZAC Day is one of the most important days of the year for Australians and New Zealanders in the forging of their respective national identities. Enjoy the holiday (and additional day), but ensure the people and the occasion are paid due respect.
Important: Whilst all care is taken to ensure the data presented here is accurate, content published on this page is subject to change at any time without notice and may be inaccurate at the time you view it. The Champagne Mile will not be held accountable for informational and technical inaccuracies or errors. Site users are encouraged to cross-reference the information presented on this site with official Australian and state/territory government source websites.
While you're here: Subscribe to our newsletter for the latest tips, deals and news. It only takes a few seconds and we respect your privacy: