Enjoy free & fast delivery, video, music streaming and more with an Amazon Prime membership
Amazon Prime offers savvy shoppers a range of benefits and exclusive offers for a flat fee. Launched in Australia around mid-2018, the Amazon Prime subscription service tempts consumers with delivery perks and exclusive deals – including free, expedited shipping and access to Amazon affiliated products and services such as Prime Video and Prime Music.
For many consumers, the service is worth investing in for the delivery perks and access to video and music, but as we share, there's a whole lot more to a Prime membership than just free shipping and streaming services.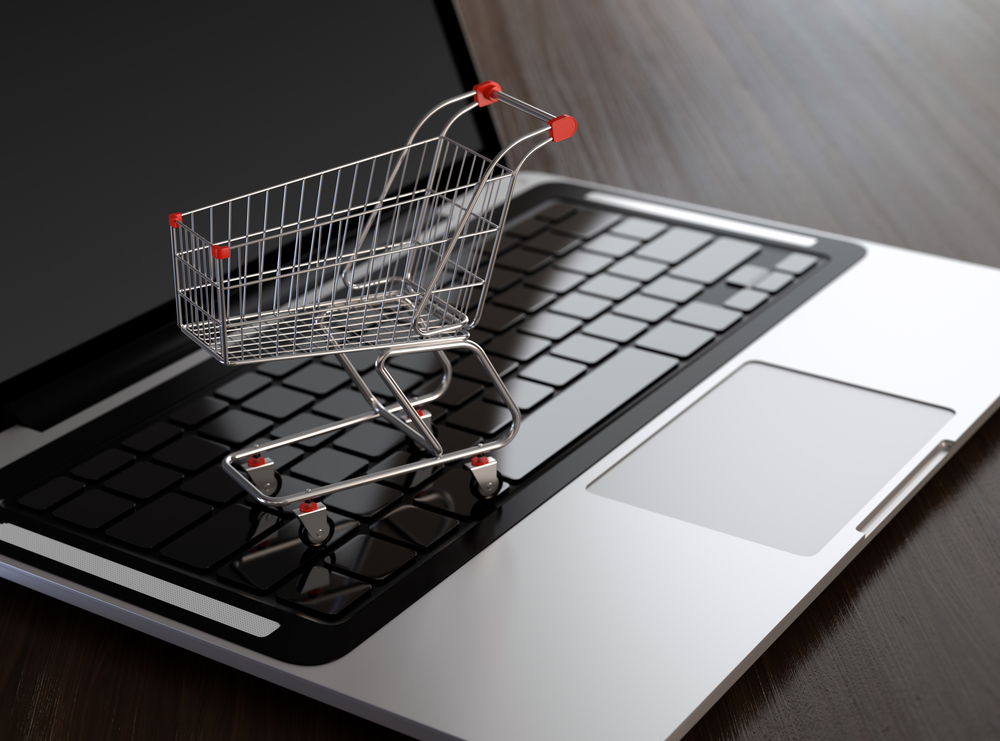 Read on to find out everything you need to know about Amazon Prime.
What is Amazon Prime?
Amazon Prime is an enhanced subscription delivery service managed directly by Amazon Australia. It works like this: customers pay a flat annual subscription fee for fast and free deliveries on most purchases made through the Amazon online retail portal.
A Prime membership also offers access to a range of Amazon streaming services plus exclusive access to Amazon deals and offers. If that wasn't enough, there's also an exclusive once-yearly sale (Amazon Prime Day) that's arguably bigger than Black Friday.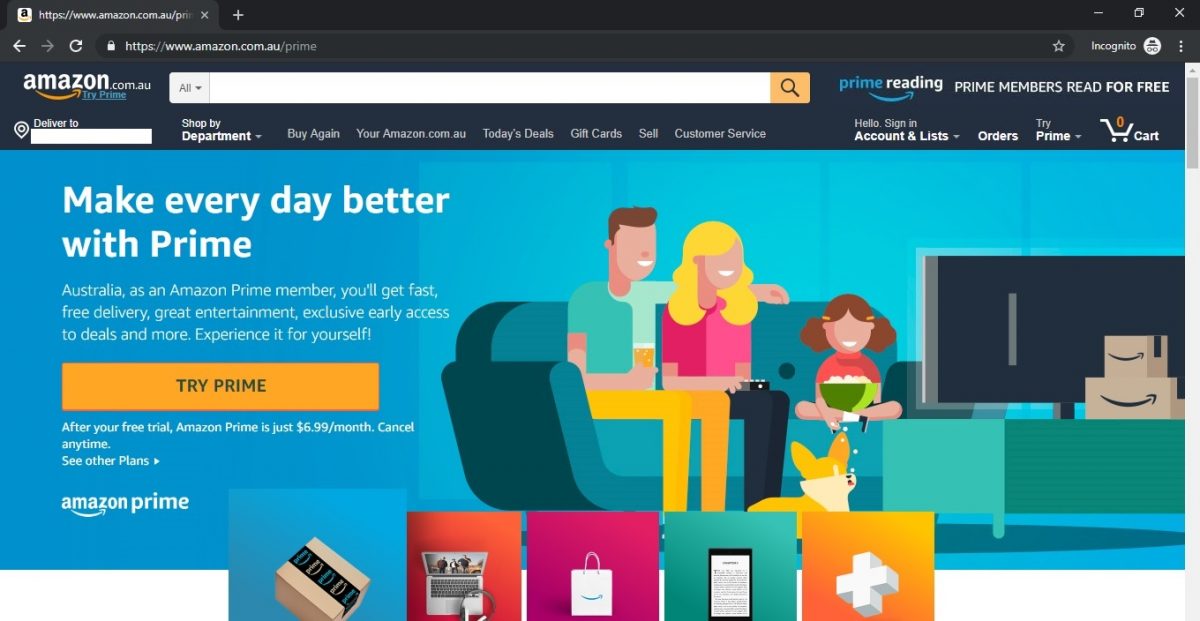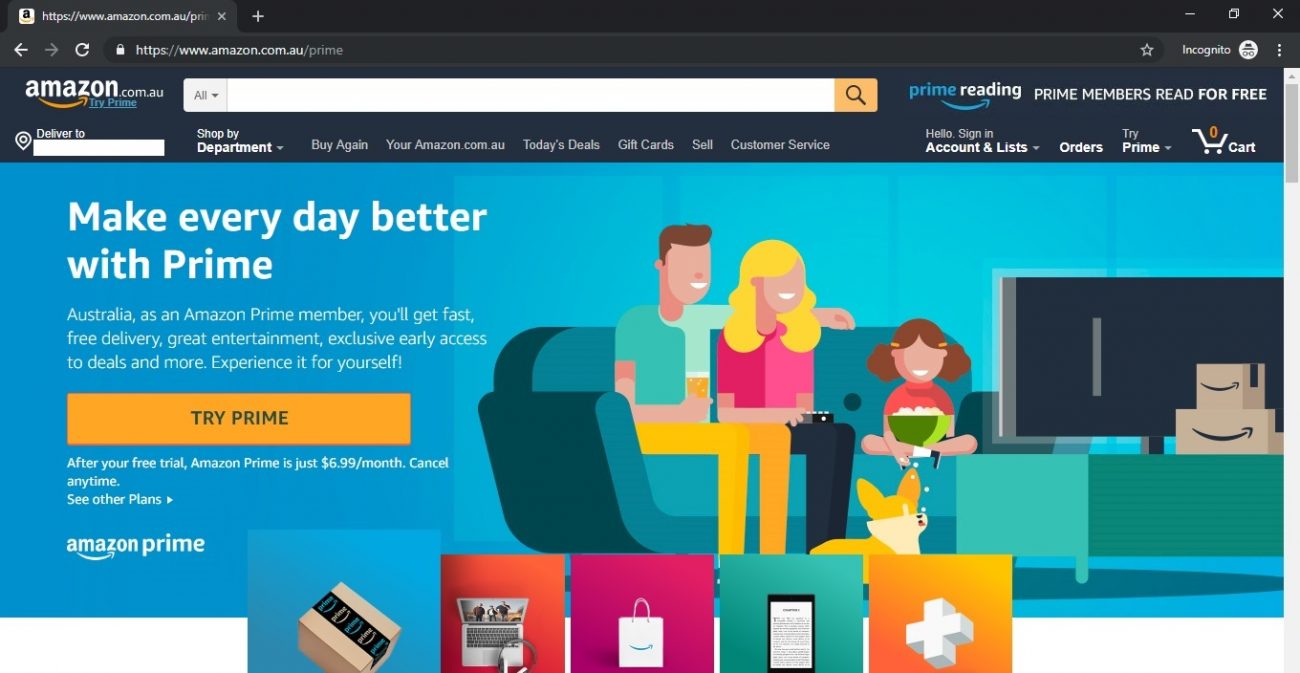 The main appeal for Amazon Prime is that it offers members fast and free delivery on many purchases, plus access to some of the company's streaming services.
When did Amazon Prime launch in Australia?
While Amazon Prime launched in 200 countries in December 2016, Australians have been a little late to the party.
Amazon quietly entered the Australian market in 2017, with the Prime offering launching Downunder in June 2018. This coincided with the limitations that were introduced onto Australians for buying from the Amazon US portal, due to Australian tax obligations changing.
The service is growing in popularity every day, with many Australians opting to sign up for a new subscription.
What is included with Amazon Prime Membership?
For Australian consumers, Amazon Prime unlocks a range of services including:
Prime Delivery

Domestic Delivery: Get free domestic delivery to 90% of the Australian population within 2 Business Days (excluding Sunday deliveries) with no minimum order threshold
International Delivery: Get free delivery on eligible orders over $49 from Amazon US when using https://amazon.com.au
Release-Date Delivery: Shop and buy items at least 2 days before their Release Date and then select Release-Date Delivery at checkout (including Saturday deliveries)
Discounted Priority Delivery: Obtain a $2 discount on all eligible Amazon AU items and a $10 discount on Priority International Delivery on eligible orders over $49 from Amazon US

Prime Video

Access a catalogue of Amazon Prime Original TV and movies, as well as licensed/distributed content.

Prime Music

Get streaming access to over 2 million songs on an ad-free basis

Prime Reading

Get reading with a catalogue of over 1000 titles is in play at any given time. Content is periodically rotated and includes short stories, novels, comics and much more

Twitch Prime

Access selected games and add-on packs (think Starcraft, World of Tanks and Call of Duty)

Shopping deals

Enjoy exclusive access to "Prime eligible" lightning deals, Amazon Prime day sales and more
To qualify for Prime Delivery, items need to be labelled at the point of sale by Amazon as "Prime Eligible".


Amazon Prime Day sales
This annual shopping event is exclusive to Prime subscribers. Each year the sales and deals get bigger and it's a great opportunity to stock up on presents mid-year.
In 2019 the sale was run on 15th and 16th July. Interestingly, Australians can actually get approximately 65 hours due to being the first country to kick-off and then finishing along with the US at 5 pm 16th July.
Electronics is a very popular area of sales with 4k HDR TVs, headphones, wireless chargers, headphones, smartphones and of course Amazon's own products are all heavily reduced. Beauty and clothing also see sharp discounts.
Whatever your shopping goals, make sure to subscribe in time to take advantage of Amazon Prime Day. The deals on offer are frequently too good to miss!
Which metropolitan areas are eligible for the Domestic 2-day delivery?
Amazon states that over 90% of addresses in Australia can benefit from a 2-day Expedited Delivery service including Adelaide, Albury, Armidale, Ballarat, Bathurst, Bendigo, Bowral, Brisbane, Canberra, Coffs Harbour, Cooranbong, Drouin, Dubbo, Echuca-Moama, Forster,Geelong, Gold Coast, Goolwa, Goulburn, Grafton, Gympie, Hobart, Lismore, Maitland, Melbourne, Mildura, Mittagong, Mooroopna, Morisset, Morwell, Newcastle, Nowra-Bomaderry, Orange, Perth, Port Macquarie, Queanbeyan, Shepparton, St Georges Basin-Sanctuary Point, Sunshine Coast, Sydney, Taree, Toowoomba, Tuncurry, Tweed Heads, Victor Harbor, Wagga Wagga, Wangaratta – VIC, Warragul, Warrnambool, Wentworth, Wodonga, Wollongong.
Addresses in Townsville, Cairns, Darwin, and other regional and remote areas will receive longer delivery lead-times and higher costs, so it would pay to check directly on Amazon Prime Australia.
Other delivery considerations
If some products in your order are Prime Eligible and some aren't you'll be charged delivery for the items that are not "Prime Eligible".
It's important to note that "Prime Eligible" items are likely to come directly from Amazon or specifically marked Third Party products where the speed of the supply chain is guaranteed. The Prime Eligible selection is not massive right now, but Amazon states that the selection is ever-expanding.
How do I join Amazon Prime Australia?
Joining Amazon is quick and easyy. Simply click on the service from the Amazon Australia homepage: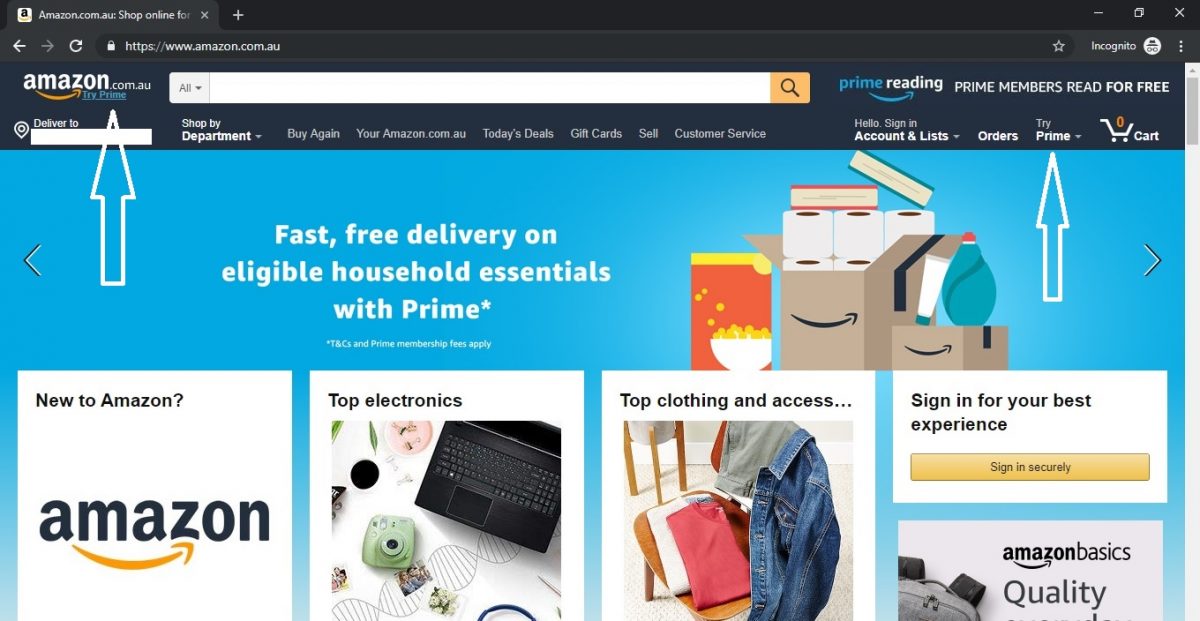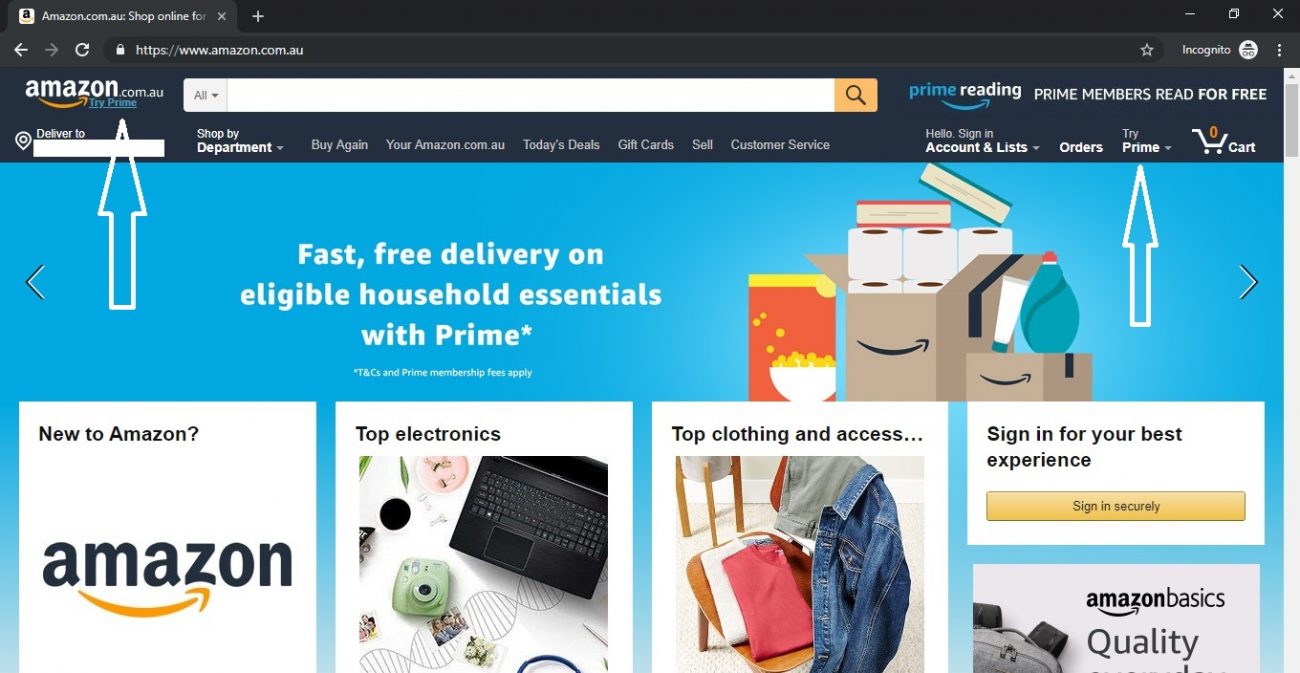 You'll need to sign-in with an Amazon ID: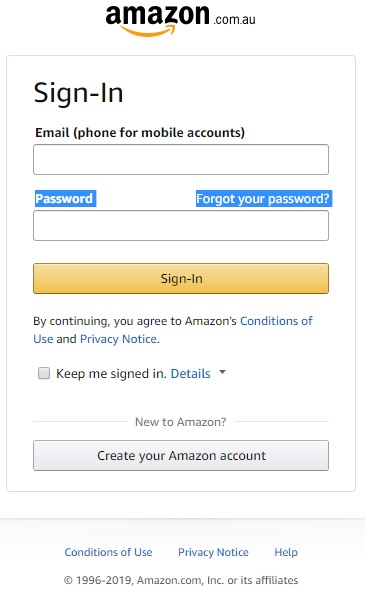 You'll then be able to select a membership subscription option: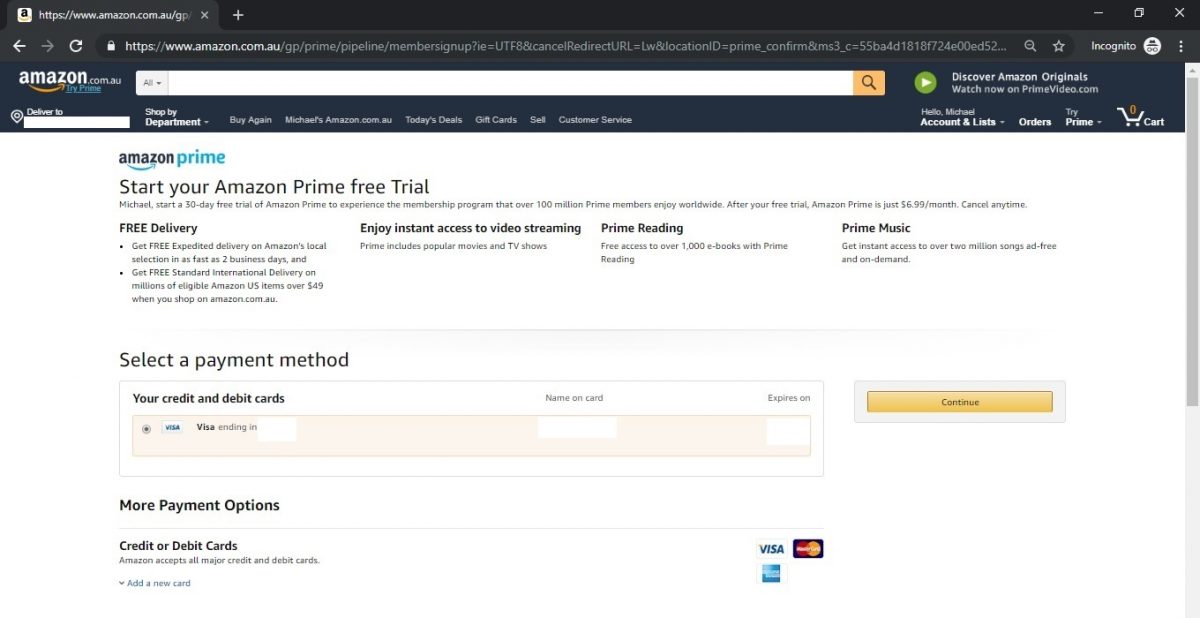 Once your payment has been processed, voila, you're now an Amazon Prime customer: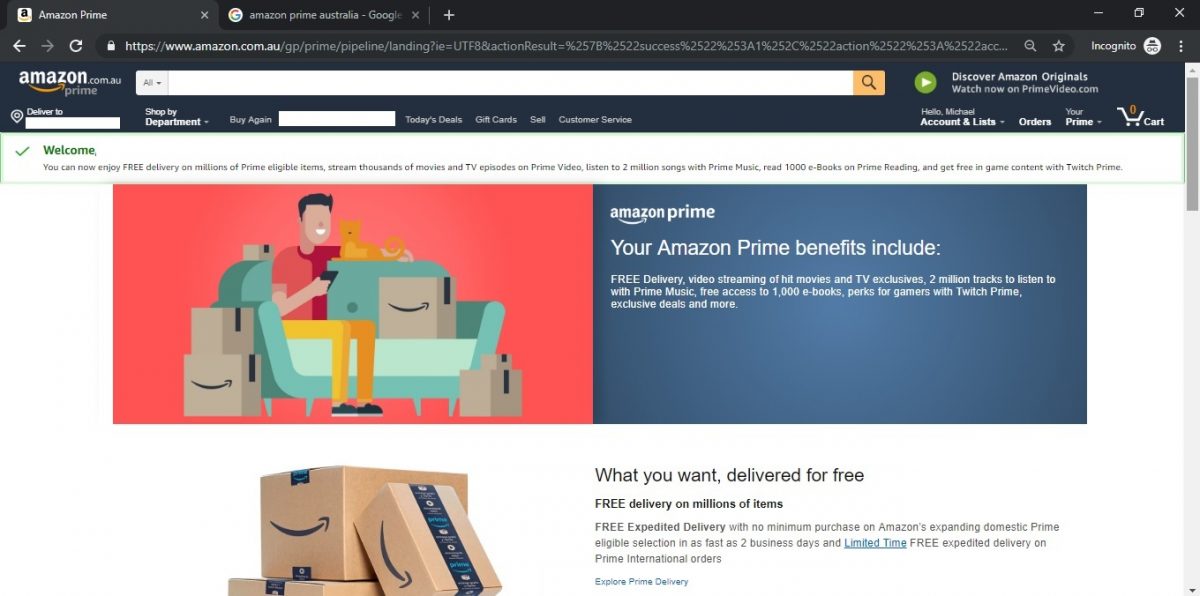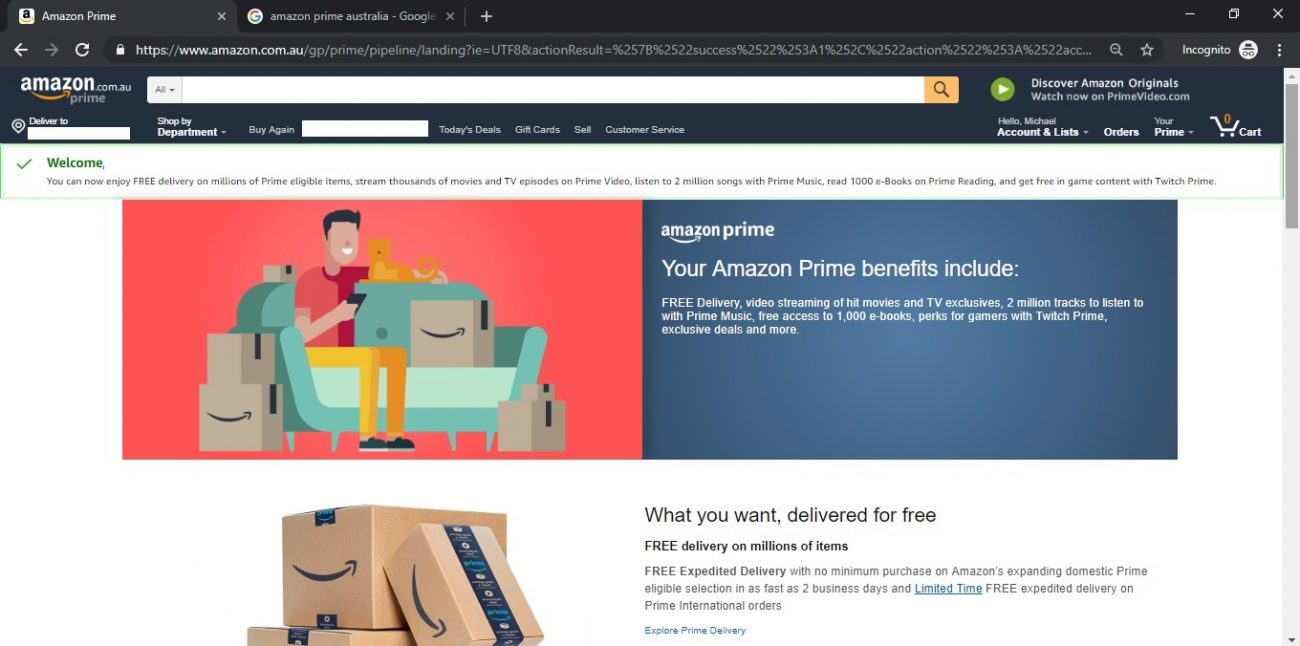 How much is the membership for Amazon Prime?
There are two membership plans for Amazon Prime – a rolling monthly plan or an annual plan. Unsurprisingly the annual plan is cheaper at $59 AUD and is called "Prime Yearly". The US service is $119 USD/year.
The rolling plan is $6.99 AUD/month with an ability to exit at any time whilst the US service is $12.99 USD/month but includes a lot more features..
Can I trial an Amazon Prime membership?
Yes, a free 1-month trial of Amazon Prime is available. you'll need to subscribe and provide your credit card details. After the first month, Amazon Prime start billing at the normal monthly rate, in effect you get 13 months for the price of 12 months.
If you decide Prime is not for you, don't forget to cancel before the end of the first month to avoid triggering the next billing cycle.
From time to time, Amazon may offer alternative discounts and promotions which reduce the cost of a Prime membership. You can check sites like OzBargain to discover the latest deals and offers.
Comparing Netflix vs Prime Video
If you are considering taking the plunge on an Amazone Prime membership for streaming purposes, it pays to compare the services you could access with Netflix, Stan and other options available to Australia.
While Prime Video is actively buying and building back catalogues and filling in particular consumer content, it goes without saying that the catalogue of TV and Movies is much stronger on Netflix.
However, Prime Video is stepping up its game with the development of content inhouse. Like Netflix, Amazon Prime commissions content called "Amazon Original". Titles currently include Good Omens, The Grand Tour, The Marvelous Mrs Maisel, and American Gods.
There are some particularly neat features within Prime Video including an app that can be downloaded to a number of smart TVs such as LG and Samsung. And you'll have the ability to use a Prime Video app to download content and watch offline on your iPhone, iPad, Tablet, or Android device.
Users can use X-Ray within selected TV and Movies to access actor bios, background information, and more from the Internet Movie Database (IMDb) directly onscreen.
Finally, there is a Data Saver capability to limit downloads if you're quota constrained.
So to summarize, while Amazon Prime includes a number of features, for variety, Netflix probably has the edge. However, if you are prepared to run parallel subscriptions, you could get the best of both services. The fact is, you can do so for no more than a few coffees a month!
Can Prime Video deliver 4K video?
Yes, but only on selected titles, with more being added all the time. Don't forget you'll need a good internet connection to really make the most of it.
How does Amazon Prime compare between Australia and the US?
In Australia, unfortunately, the Prime membership offering is not as strong as what is on offer in the USA. However, the service does cost Australian members less – half of what the US pays, to be precise.
US-based Amazon Prime members enjoy free shipping on millions of items, same-day delivery (or even two-hour delivery in some cases) and access to a more extensive catalogue of video, music, ebooks and audiobooks.
Prime membership also delivers unlimited photo storage. However, to get all the goods and services Amazon promises in its Prime package American customers pay US$12.99 a month (US$119 a year).
In Australia, unfortunately, there are some caveats to what Prime members get, but it also costs us less – half of what the US pays, to be precise.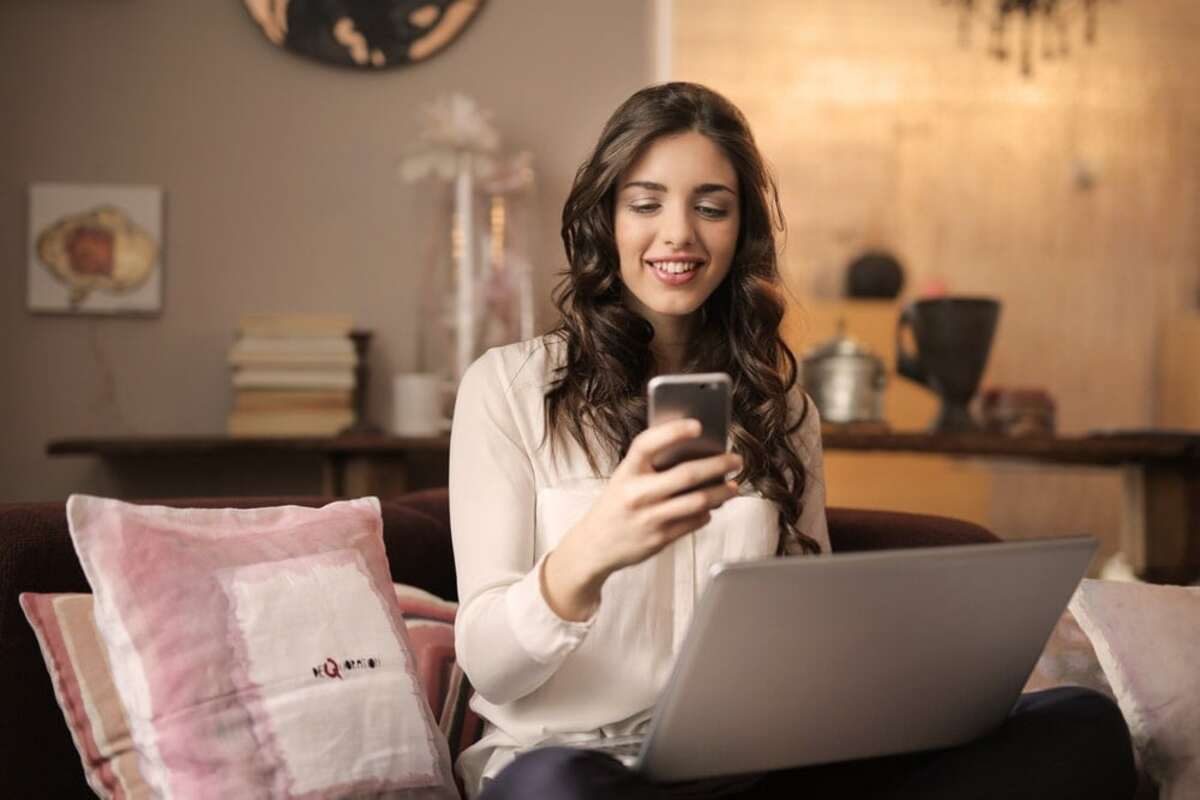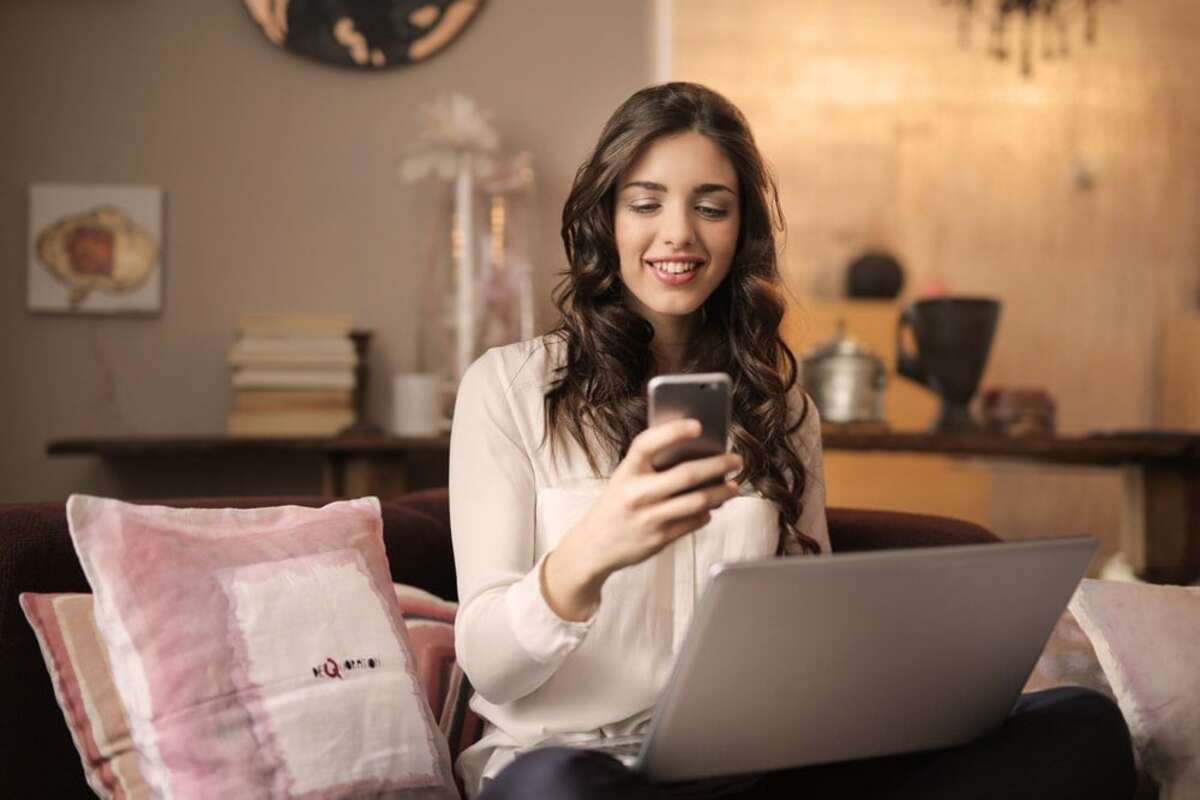 The $1m dollar question – is Amazon Prime membership worth it?
For customers that can't wait, Amazon Prime Australia membership can make sense. It is able to offer several services such as Residential Express Delivery and Priority Delivery (incl. Saturday delivery) to selected metropolitan areas.
Simply put, if you're a regular online shopper and you can see yourself purchasing a lot of products, Amazon Prime should be a good fit. As a way to manage delivery costs, the product is sensational.
The fact is, you could easily pay more than $60 in shipping costs each year, so once you reach this threshold you're likely to come out ahead. It all comes down to the choice on offer and value in each product segment.
However, if one of your key motivations for an Amazon Prime membership is for streaming services, you may wish to look elsewhere. The catalogue is fairly limited, and streaming services such as Netflix, Stan and Foxtel Go are likely to offer you more variety.
However, with a trial period on offer, the reality is that you can afford to take a no-risk approach and make your own mind up.
Or… simply join for a year and see how you go – you might just be surprised at the value Amazon Prime could offer you.
Subscribe to The Champagne Mile newsletter for the latest deals, tips and news. It only takes a few seconds, and we respect your privacy.