Virgin Australia Velocity points can be used for a range of amazing flight redemptions. Options range from long-haul business class trips to the USA to a taste of one of the world's best first-class products on the Singapore Airlines A380 suites. If you don't travel frequently, don't despair – there are a surprisingly large number of ways to earn Velocity Frequent Flyer points that don't require you to step onto a plane. We've listed out six great ways you can boost your Velocity points balance with your feet firmly on the ground:
1. Sign up for the American Express Credit Card (up to 100,000 points)
You can pick up 100,000 bonus points on various American Express Credit Card offers throughout the year. In addition to the bonus points, you may also pick up perks such as a complimentary return domestic airfare between selected Australian cities and two passes to the Virgin Australia lounge, depending on which product is chosen.
2. Hook your electricity and gas up to Energy Australia (up to 10,000 points)
New customers who sign up to an eligible electricity or gas plan with EnergyAustralia receive 5,000 Velocity Points for each account, so you'll receive 10,000 points for hooking up both gas and electricity. As always, make sure you shop around before locking yourself into a contract to ensure you're getting the best value. We've compared the rates for our area and pricing looks to be quite competitive, with EnergyAustralia offering significant discounts off-market usage rates (12% for electricity and 10% for gas). For more information or to make the switch, visit EnergyAustralia's offer page here
3. Join E-Rewards and complete your first survey within 3 months (850 points)
E-Rewards is an online market research panel. By joining, you'll get the opportunity to complete regular surveys for points. You'll score 850 Velocity points when you complete a survey within three months of signing up. You can join here and link your Velocity account during the sign-up. Then, simply complete a survey within 3 months of enrolment to receive your bonus 850 Velocity points. You can continue to complete surveys via the E-Rewards portal to earn incremental Velocity points.
4. Earn Velocity Points with your next dental check-up at Pacific Smiles (500 points for your first check-up, 250 points thereafter)
Take the sting out of your next visit to the dentist. You'll earn 500 Velocity Points after your first eligible checkup as a new Pacific Smiles Dental patient, with 250 Velocity Points on offer for each subsequent eligible checkup – up to a maximum of two checkups in a 12 month period. Pacific Smiles can be found in over 60 locations across NSW, QLD, VIC & the ACT and partners with a number of health insurance funds. Find out more here. [EXPIRED 9 MARCH 2019]
5. Book your next restaurant meal with OpenTable (300 points for each honoured booking)
Similar to Qantas Restaurants, Velocity has teamed up with OpenTable to offer you points for your next restaurant booking. Search and book hundreds of restaurants across Australia. You'll receive an instant booking confirmation and will be credited with 300 Velocity Points for every honoured booking, regardless of the number of people the booking is for.
6. Shop at the Velocity E-Store (up to six points per dollar spent)
Shop online with over 200 local and international retailers at the Velocity E-Store and earn Velocity points on your purchases.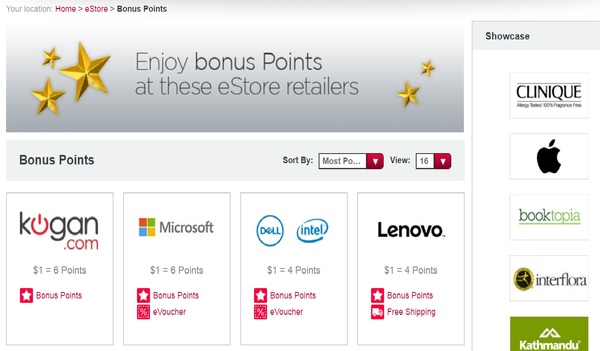 Most merchants offer 2 points per dollar, but up to six points per dollar are on offer, with monthly bonus offerings available.
In Summary
There are many ways to boost your Velocity points balance without flying. Keep an eye on the Velocity website to learn about bonus point offerings as they are promoted.
While you're here: Subscribe to our newsletter for the latest tips, deals and news. It only takes a few seconds and we respect your privacy: