Editor's note: Ipsos MyView has rebranded to Ipsos iSay.
iSay is one of the most popular survey sites in Australia. With high payouts and a user-friendly platform, this legitimate market research panel is worth a look. Along with an easy-to-use interface, iSay offers frequent survey opportunities, generous payouts, and instant rewards.
In this iSay Australia review, we'll explain why this leading survey site should be on your radar, and how it stands out from the competition.
Top Paid Survey Picks:
Start earning cash by joining some or all of our top Australian paid surveys now!
TIP: These legitimate sites are free to join. We recommend you sign-up for multiple Australian paid survey sites in one go for the best chance to earn more cash and rewards.
What is Ipsos iSay?
Backed by Ipsos, iSay is a survey panel for consumers who are interested in having a say on products and services, participating in polls, and undertaking other activities.
Brands pay Ipsos iSay a fee to conduct market research with Australian consumers with iSay then passing a significant amount of that money back to members.
Members are paid in the form of points, which can be cashed out for rewards. Members can exchange points for e-gift cards, vouchers, cash, and even charity donations.
iSay Australia also offers members the chance to win money and other goodies in regular prize draws. Members can also participate in Polls and interact with the brand on social media.
Take surveys and earn points for a variety of rewards and enter contests for additional chances to win! Join here.
Is iSay Legit?
Yes! Australian users can be reassured that iSay is an entirely legitimate paid survey site.
Since iSay Australia is backed by Ipsos, a global market research firm, the site functions as an Australian version of Ipsos I-Say. As one of the world's largest survey companies, Ipsos conducts tens of millions of surveys each year across over one hundred countries. So, it's fair to say that this is a trustworthy and legit company!
Furthermore, iSay, like other reputable Australian survey companies, provides a number of safeguards to ensure that respondents' personal information is kept secure and safe. The site adheres to Australian Privacy Law, is a full member of The Research Society, and holds a trust mark with the Australian Data and Insights Association.
How to Join iSay
It's an easy and straightforward process to join the iSay survey panel. So long as you're aged 18 or above, you can sign up on the website right here. Like all legitimate survey sites, you won't be charged anything for becoming a member.
The iSay registration form collects your personal details, demographics, and interests. This data is only used to select which surveys are suited to your profile and consumer patterns.
Completing iSay online surveys
After setting up an account and creating login details, members are sent survey invitations via email (it may take a day or two after you sign up to receive your first invite). The length of each questionnaire ranges from 10 to 30 minutes, but it's typical for each one to take around 10-30 minutes to complete.
Surveys are personalized to a member's demographics and interests. You'll receive a notification on your user dashboard whenever there's a new survey available. The notification will advise how long the new survey will take to complete and how much you'll be rewarded for your time.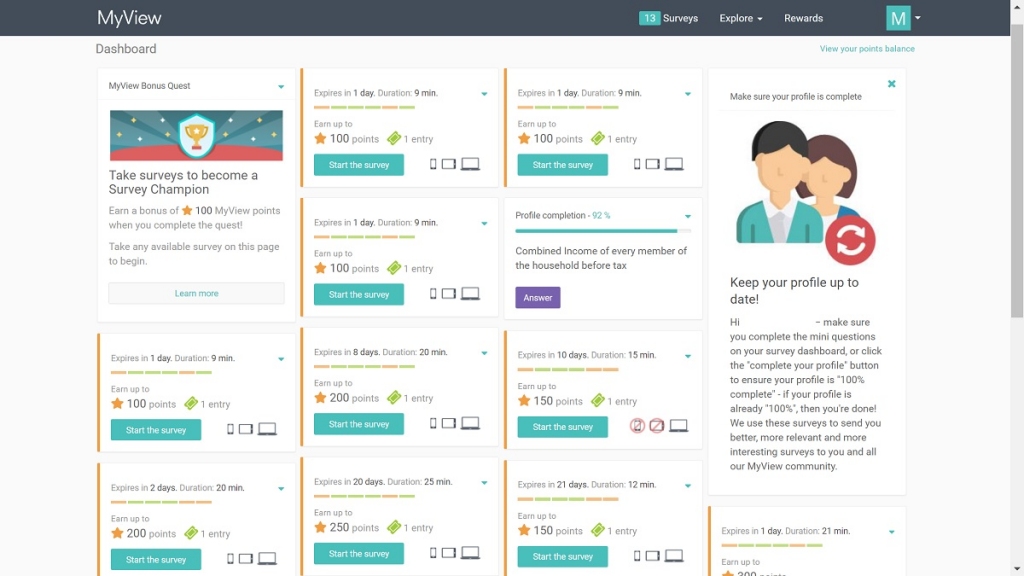 iSay Australia members can also choose to receive surveys directly to their mobile or smartphone. These surveys are designed specifically to be taken on mobile devices, and they offer members a convenient opportunity to earn rewards on the go.
Like all other survey sites, screenouts are possible. This can happen when a user doesn't fit the required demographic profile for a survey. When this occurs, to thank you for your time, you'll gain an automatic entry to win cash in the monthly sweepstakes or prize draw.
How often does iSay send new survey invitations?
On average, most users receive at least one survey invite per week or four per month. It is entirely optional to participate in a survey.
The number of survey invites you can expect to receive will depend on your individual situation. By comprehensively updating your profile information and demographics when signing up, you will increase your chances of receiving regular survey opportunities that are suited to your personal circumstances.
The more surveys you complete, the more points you'll earn.
How to Earn iSay Points
Similar to other paid survey sites, participating in iSay surveys is the key way to earn points. Very occasionally, Ipsos iSay Australia offers other research opportunities, including product testing and focus groups.
As you'd expect, the level of compensation on offer is tied to the length of each survey. The more surveys you take, the greater the rewards you'll earn.
How much are iSay Points worth?
iSay's generous and transparent points system makes it one of the more lucrative paid survey panels in Australia.
In real terms, 100 iSay points equal $1. Since most surveys payout between 100 – 300 points, you can expect to receive between $1 – $3 for your time.
Some surveys come with an option to choose between iSay points or a digital gift card.
In the iSay website dashboard, users are able to view a tally of iSay points earned.
It's worth noting that iSay Australia offers an instant rewards system. The points will usually be immediately added to your account after completing surveys. This feature really sets them apart from other online survey sites.
How high are iSay payouts vs other survey sites?
iSay Australia payouts tend to be in the top third of paid surveys in Australia. Though not as good as Octopus Group, they are on a comparable level with YouGov, Toluna, and OpinionWorld.
However, experiences do differ greatly across survey sites, depending on attentiveness to maintaining your profile and your demographics. The addition of a Refer-A-Friend program can certainly boost your income over the long term.
Redeeming points
Points from your iSay Australia account can be used for digital gift cards, physical gift cards, and charitable donations. Unfortunately, there is no option to cash out iSay rewards for cash or PayPal at this time.
The minimum threshold needed to request a payout for iSay rewards is between $10 to $20, depending on the reward.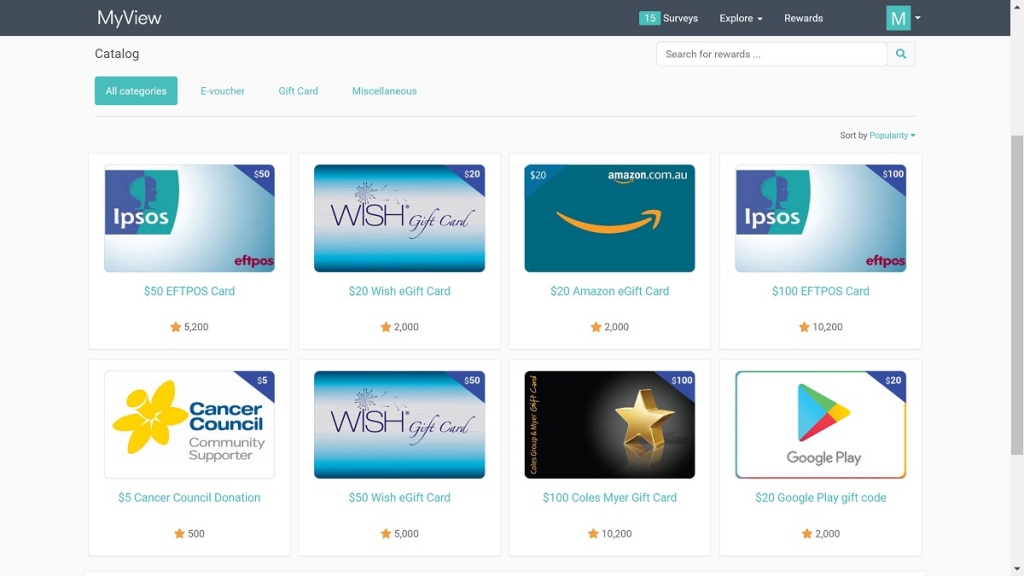 When you're ready to cash out, simply log in to the iSay website and navigate to the Rewards menu to view redemption options.
Do iSay points expire?
Your iSay points do not expire so long as you stay an active member. However, if your membership is cancelled or terminated, your points account will be closed. Any points left in your account after 30 days following the termination of membership will be lost.
iSay monthly prize draw
Each month, iSay Australia conducts a prize draw for members.
Users will earn an entry into the prize draw every time they take a survey. This includes screenouts. A total of 200,000 iSay Points (the equivalent of $2,000) are offered each month.
iSay Refer Friends program
Many survey sites offer lucrative refer-a-friend programs. The iSay Refer Friends program lets you invite your friends to join iSay Australia and get 300 points ($3) for each successful referral.
After your friend becomes an active iSay member and completes 5 surveys, the points will be credited to your account.
The referral scheme is open to all iSay Australia users who have been active for more than 30 days.
iSay Advantages and Disadvantages
In this Ipsos iSay Australia review, we've highlighted the site's pros and cons. Here's a quick snapshot of what we think is most important.
Advantages
Trusted and legitimate: Ipsos iSay is backed by one of the world's largest research organizations, Ipsos. As such, users can be confident this survey panel is trustworthy and legit.
High survey payouts: Most surveys pay between $1 – $3. That's considerably higher than other global sites like Swagbucks and Survey Junkie.
Instant rewards: iSay credits users with earnings as soon as survey completion is registered. This feature sets them apart from most other survey sites.
User-friendly interface: The iSay website is easy and straightforward to navigate.
Disadvantages
No option for cash payouts: While vouchers and e-gift cards are on offer, it's disappointing that iSay doesn't offer users a chance to convert rewards to cash, either via PayPal or bank account transfer.
No mobile app: While some surveys are optimized for mobile, the absence of an iSay app makes it difficult for 'on the go' users to participate. Learn more about other paid survey apps here.
Low survey frequency: iSay states that most users will receive up to four survey opportunities each month – the invite frequency is somewhat lower than our experience with other sites like Octopus Group and OpinionWorld.
Other sites like Ipsos iSay Australia
Highest Paying Online Surveys
Redemptions start at $20 AUD
Paypal, gift cards, 'Gifties'
Redemptions start at $5 USD
YouGov
Earn cash and help shape public policy with YouGov. With approximately 10 million members worldwide, YouGov provides a significant portion of the market research used by Governments to shape public policies.
Join trusted, global survey site YouGov and get 100 bonus points for completing the welcome process. Get paid in cash direct to your bank account when you complete surveys. Join here.
You can join here or read our full review here.
MOBROG
Similar to YouGov and Toluna, MOBROG is another survey site that should be on your radar. Paying anywhere between $1 – $5 per survey and with great redemption options including PayPal and Skrill, this one is not to be missed.
Great rates, low redemption thresholds and three ways to redeem. What's stopping you from joining MOBROG? Join here.
You can join here or read our full review here.
In summary: Is iSay Australia worth your time?
Ipsos iSay Australia offers solid earning rates, a generous reward program, and reasonably frequent survey opportunities. Plus, there's an opportunity to earn further with the iSay referral program.
That said, limited reward redemption options (including the lack of a cash payout option) could be frustrating for some people. And the lack of a mobile app is likely to limit participation from some groups of people.
However, at the end of the day, there are quite a few positives to outweigh the bad. iSay Australia is likely to be a compelling option for anyone looking to make money online with paid surveys.
iSay Australia Frequently Asked Questions (FAQs)
Is Ipsos iSay legitimate?
Yes. Ipsos iSay is owned by Ipsos, a leading global market research company. It's a trusted and legitimate online survey site.
Is Ipsos iSay free to join?
iSay is absolutely free to join and you can be taking surveys and earning money in a matter of minutes once you join.
Do Ipsos iSay points expire?
iSay points don't expire, so long as you remain an active member.
While you're here: Subscribe to our newsletter for the latest tips, deals and news. It only takes a few seconds and we respect your privacy: