Obtaining elite status with a hotel loyalty program usually requires a large outlay in spend. For the Accor Hotels 'Le Club' loyalty program, you'd normally need to stay at least 30 nights to qualify for Accor Gold status.
However, savvy travellers can fast track their way to instant Accor Gold status simply by purchasing the Ibis Business Card.

The Ibis Business Card is primarily marketed to frequent guests who stay at Accor's budget Ibis chain, with a 10% discount on rooms and breakfast when staying at Ibis, Ibis Styles and Ibis Budget hotels. However, Accor Gold status is offered as a side benefit. You can purchase the card via the Accor Hotels UK website. The cost is 90 Euros (around $131 AUD).
What benefits can I access with Accor Gold status?
Accor revamped their somewhat maligned loyalty program a few years back. In our opinion, it's not one of the best hotel loyalty programs. Accor Gold status now offers guests a number of handy benefits to members at a range of Accor hotel brands including Sofitel, MGallery, Mercure and Novotel. The key perks you'll be able to access to are:
Early or late check-out (you'll need to choose one or the other). In the past, we've been able to access check in as early as 9 am and check out as late as 5 pm as an Accor Gold member. This benefit might even save you an extra night room charge if you're arriving on an early flight or departing on a late one.
A single category room upgrade. While this is pitched as 'subject to availability', we've found room upgrades consistently applied when staying at Accor properties in the past few years, and often hotels will upgrade by several categories. Tip: A number of Accor hotels incorporate Executive lounges which serve free breakfast (often cooked), evening drinks and canapes. We'd suggest booking a room category one tier lower than the Executive lounge to obtain an upgrade with access. Always request the upgrade at the time of booking, and again when checking in.
Accor Gold status comes with a number of additional smaller perks that could save you money you'd otherwise spend. These include a free welcome drink, free internet access, early access to Accor Private Sales and 'VIP Treatment' which covers things like a free in-room gift like a fruit plate or a bottle of wine.
And in our experience, identifying yourself as an elite guest usually leads to speedier and more positive resolution if you find yourself needing to raise any issues/complaints as part of your stay.
While the Ibis Business Card is probably not worth purchasing speculatively, if you're planning on just a couple of stays in an Accor property over the next 12 months and can use the benefits we've listed above, you'll likely come out ahead.
How do I sign up for the Ibis Business Card?
You'll need to hold membership to Accor Le Club loyalty program before signing up to the Ibis Business Card. You can sign up to the Accor Le Club program for free here. Then, once your membership has been confirmed, head to the Ibis Business Card joining form and sign up with the same details to ensure both accounts are linked.
Final tip: Leverage your new Accor Gold status for a 'status match'
Once you're been comped your shiny new Accor Gold status, you might want to try leveraging your status with another hotel chain. A number of chains may willing to match your existing loyalty program status with their competitors if you approach them. This can take the form of a straight 'match' or a status 'challenge'. We've previously written about this topic here.
Readers may also be interested in:
Pullman Sydney Airport: hotel review
How to earn travel credit with the AirBnB referral program
Get free top tier Hertz President's Circle status
Tips for Obtaining a Status Match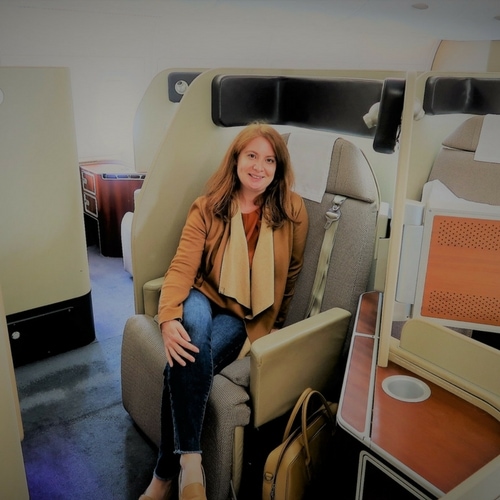 I love to travel the world in comfort and style. In fact, there's really nothing I love more than sitting in a plane at 36,000 feet, a glass of Krug in hand, watching the clouds go by.