Reinvented with vibrant decor and upscale creature comforts, voco Gold Coast stands out from the pack.
Let's face it, there are lots of hotels jostling for attention on the Gold Coast. When planning a trip to this popular stretch of coastline, it can be hard to know which property to choose.
Enter voco Gold Coast. Once the Watermark hotel, this landmark Gold Coast property has been extensively refurbished and refreshed.
voco is InterContinental Hotels Group's distinctive new brand which is shaking up the accommodation market with stylish and modern hotels that are designed to stand out. The name – Voco – comes from the Latin meaning 'to invite'.
voco Gold Coast is one of just two voco properties in Australia. And, after recently enjoying a pampering one night stay in an ocean-view spa suite, it's clear to me that this property nails the branding brief.
So what exactly is it that sets voco Gold Coast apart from the rest?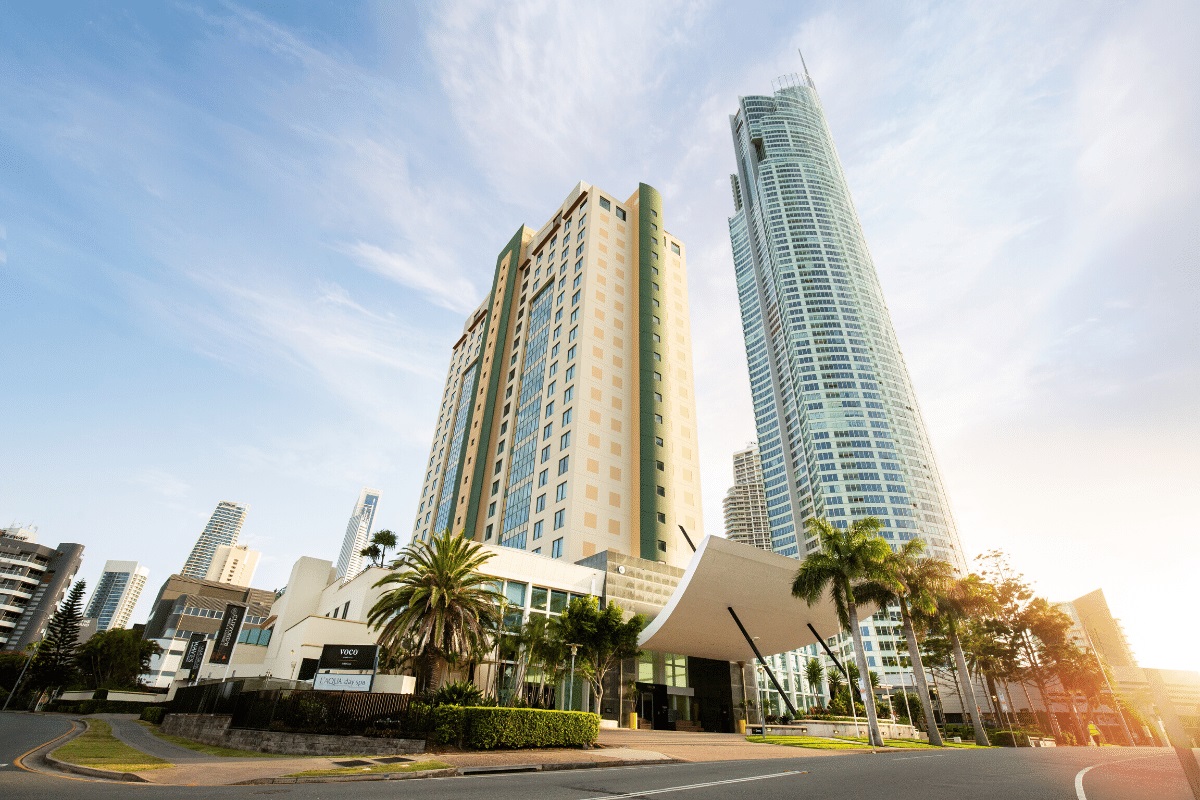 It's in the initial greeting – polished, but decidedly personable. The little goodie bag of shortbread (baked in house with honey sourced from a rooftop beehive) handed out at check-in. The splashes of cheerful yellow and blue, which lend an approachable feel to the modern luxe decor. The tempting room service menu that tickles my tastebuds but also won't break the bank. The upscale Aveda amenities, the likes of which wouldn't be out of place in a leading five-star hotel.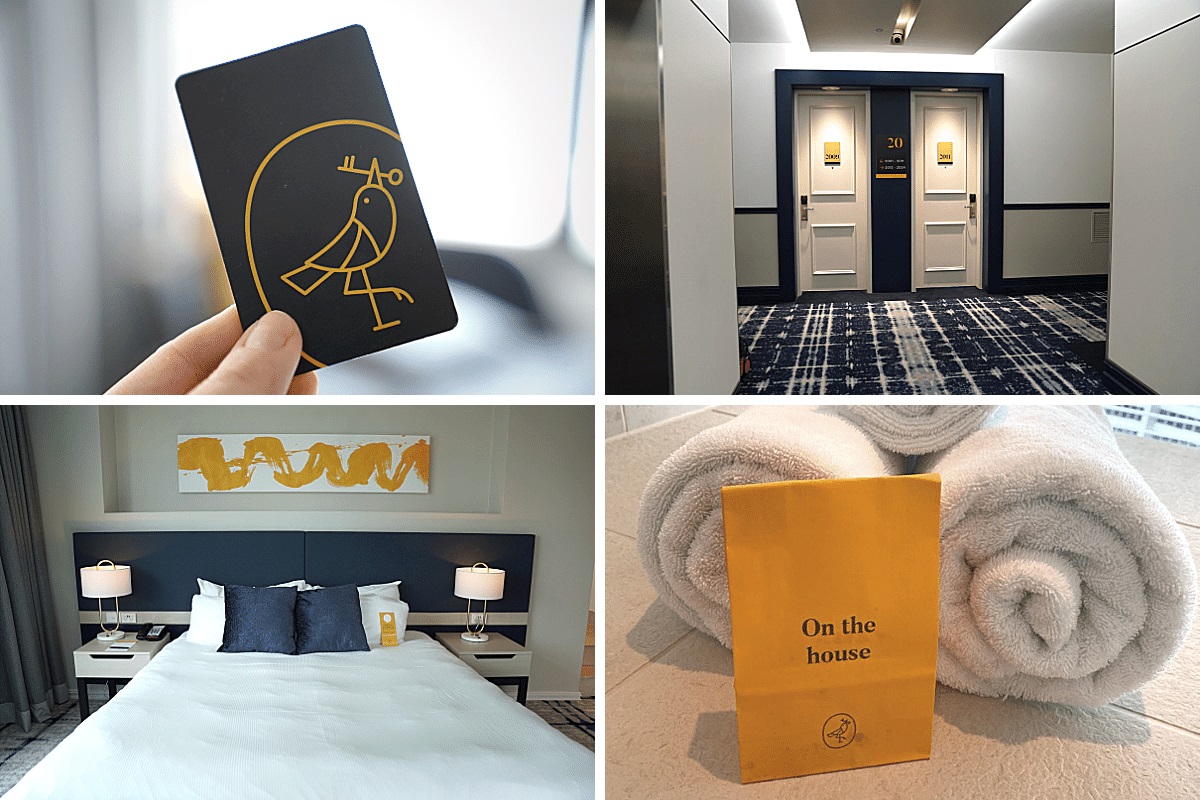 Together, these features aim to surprise and delight both new and returning travellers, positioning voco as an upscale yet decidedly unstuffy offering in the bustling, competitive Gold Coast hotel market.
Read on to discover my take on one of the most exciting new properties to hit Surfers Paradise in recent times.
How I booked my stay at voco Gold Coast
As an IHG Rewards Member, I was able to save 35% off my stay at voco Gold Coast by booking directly via an IHG sale rate.

voco Gold Coast: The Location
voco Gold Coast is situated in Surfers Paradise, in prime position to experience everything the area has to offer. It's the ideal location for travellers attracted to the glitz and glamour of the vibrant heart of the Gold Coast strip.
Surfers Paradise beach is reached within minutes on foot, and Cavill Avenue, the lively pedestrian mall, is just a short stroll away. voco Gold Coast boasts a tram stop right outside and the immediate area offers a variety of restaurants, cafes and nightlife.
voco Gold Coast: The Property
A landmark, high rise hotel, voco Gold Coast boasts 389 guestrooms and suites. As part of the hotel's recent rebranding from Watermark to voco, an extensive, multi-million dollar renovation was completed.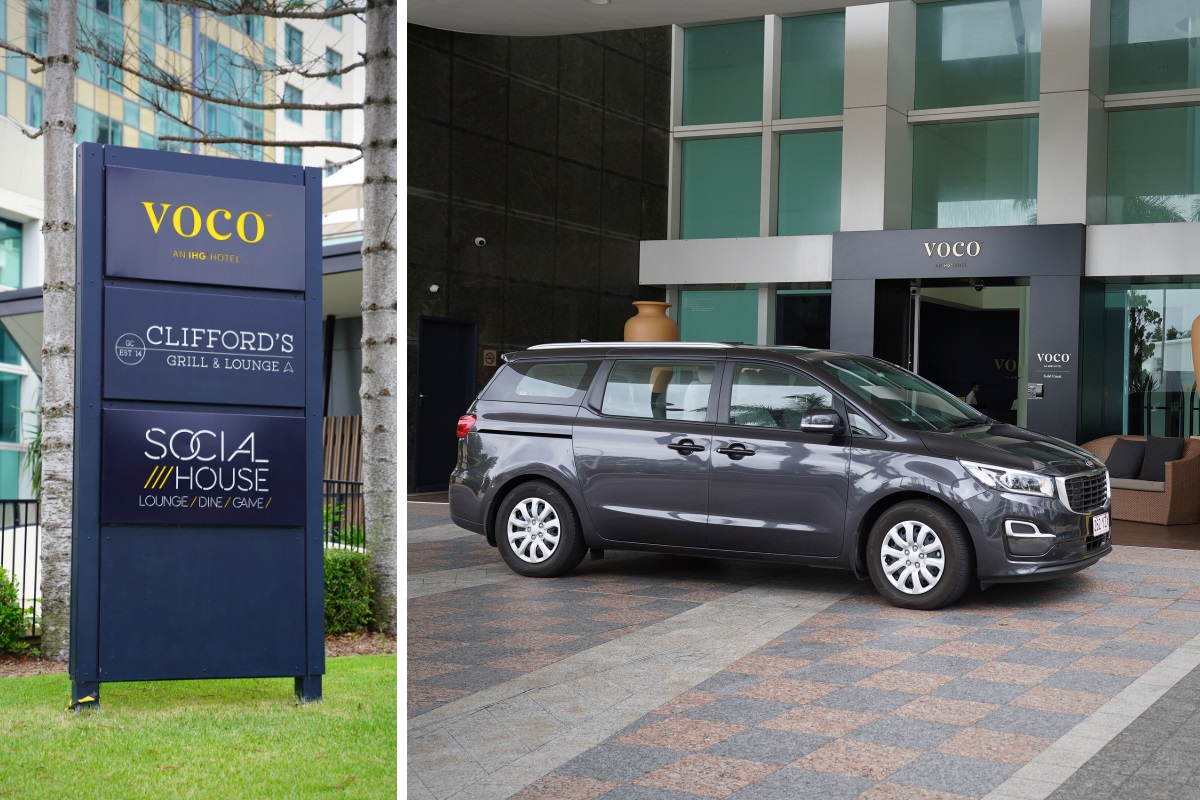 The vibrant updates applied to the hotel's expansive lobby and porte-cochère are immediately obvious as I arrive at check-in. The entrance and common areas boast a new look and feel, featuring a design palette of yellow, blue and white, synonymous with the voco brand.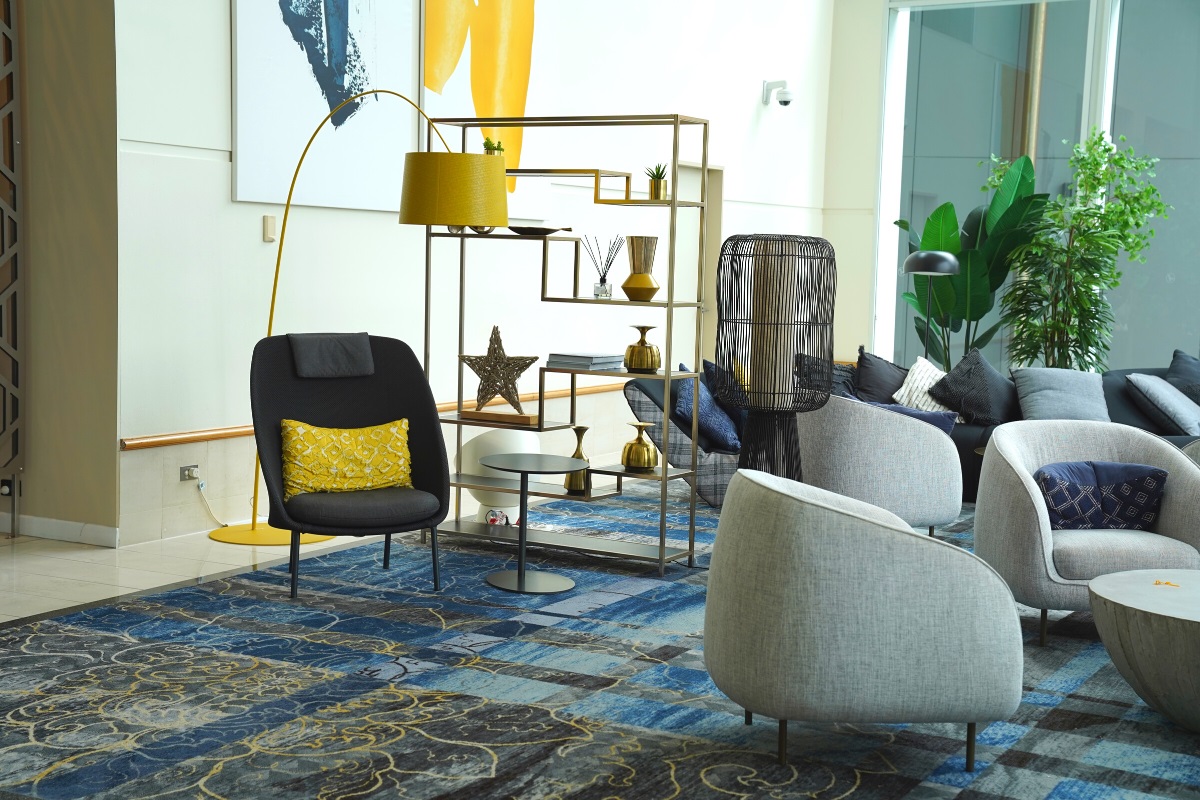 The hotel's recreational facilities, eateries, social spaces and meeting rooms have also been updated.
Check-In Experience
Arriving from the airport on a wet summer's day, I duck out of the rain, through the stylish voco Gold Coast entry area and head straight to the front desk, where I'm greeted warmly. It's only 1 pm, however, the staff proactively go out of their way to check for the possibility of an early check in to my spa suite, directing me to take a seat in the stylish lobby whilst they sort the details out.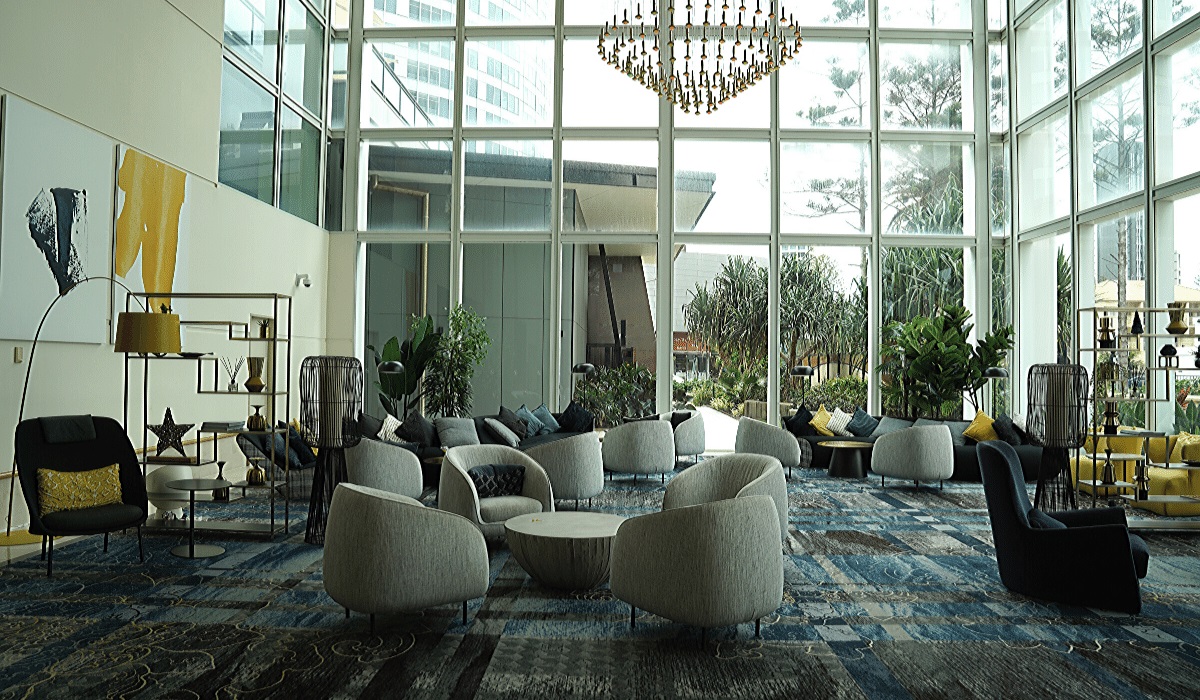 Within a few minutes, the room is ready for me. The check-in process is completed quickly and efficiently. My details are confirmed and I'm handed my room key with a delightful treat – a small bag of shortbread which has been baked on the premises using honey from the hotel's own rooftop beehive.
I'm directed to the lifts and make my way up to the spacious suite that will be my home for the night.
voco Gold Coast Rooms and Suites
Guestrooms
voco Gold Coast offers two room types: Superior and Deluxe. Each room offers 27sqm of space with either a hinterland or ocean view.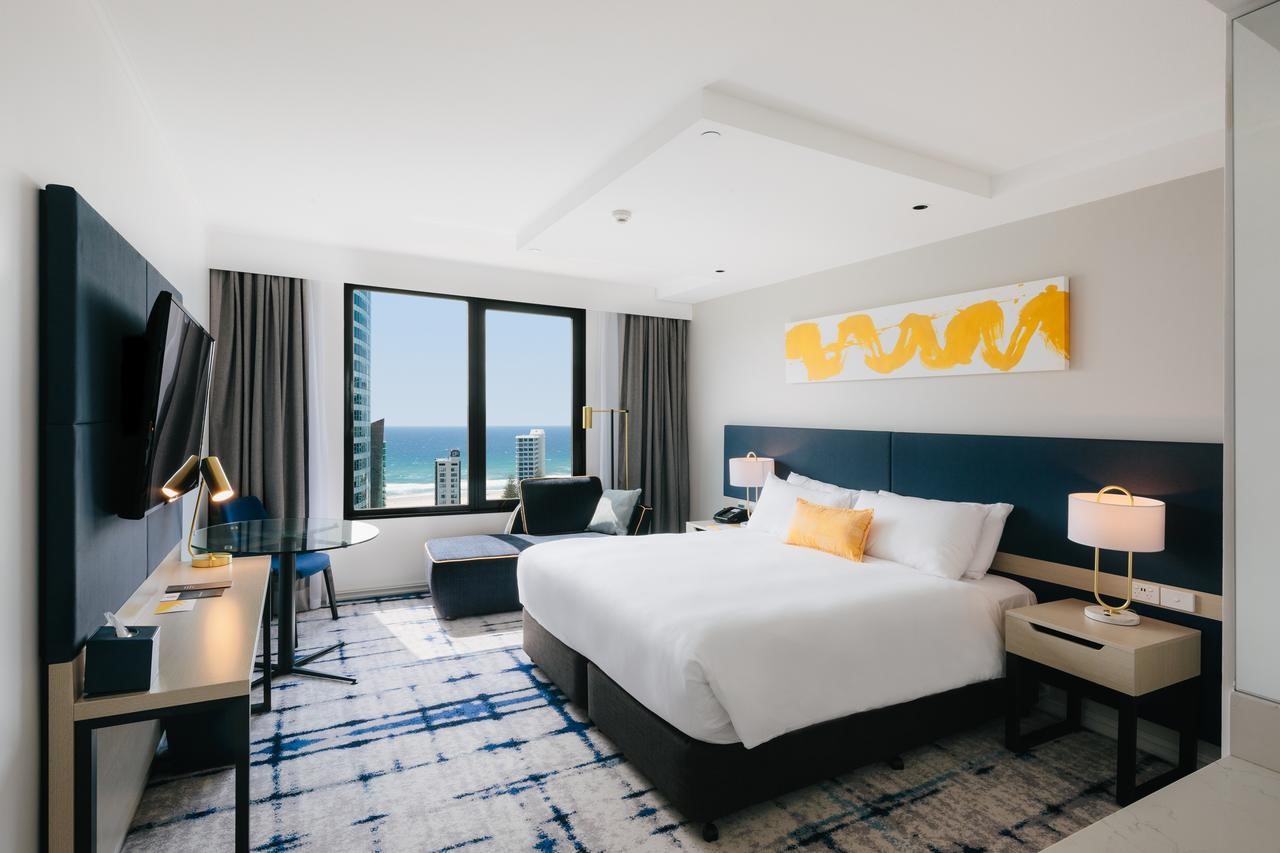 All rooms feature comfortable beds with voco luxurious linens, large-screen LCD TVs and upscale Aveda amenities.
Suites
Guests can choose from four different suite categories. The suites offer all the amenities found in rooms, plus more space and an additional array of features.
Retreat Suite: Boasting views of the river and Gold Coast Hinterland. There's a separate living space in an enclosed terrace, perfect for relaxing. This suite is inter-connectible, making it a good option for families.
Spa Suite: Offering ocean views from a refurbished 20th-floor spa suite. Guests enjoy luxurious living in 3 spaces designed for relaxing plus a deep spa bath set out over 75sqm space. There's a walk-in robe and enclosed private terrace to soak in the views.
Studio Suite: A refurbished 1 bedroom studio suite that boasts its own living space with sofa bed and discreet doors to section off the two areas over 65sqm. Guests have access to a kitchenette, 2.5 bathrooms and a second TV.
Entertainers Suite: Designed for entertaining, this suite offers an enclosed terrace with spa and lounge offering views of the Pacific Ocean, city and river over 65.6sqm. There's a living space boasting a spacious wet bar, sofa bed and a 55inch TV.
My voco Gold Coast Spa Suite
For my stay, I've opted for a Spa Suite. It's located on level 20, the top floor of the hotel. The suite carries through the bright and vibrant decor of the lobby, with modern and stylish furnishings.
As I enter from the hallway, there's a large bedroom, furnished plushly with a chaise longue and king size bed. There are splashes of colour and quirky styling attributes that fit voco brief – think yellow cushions, dramatic lighting and illustrations of birds, the voco mascots.
A large LCD TV is positioned on the bedroom wall, and there are expansive views stretching out to the coast.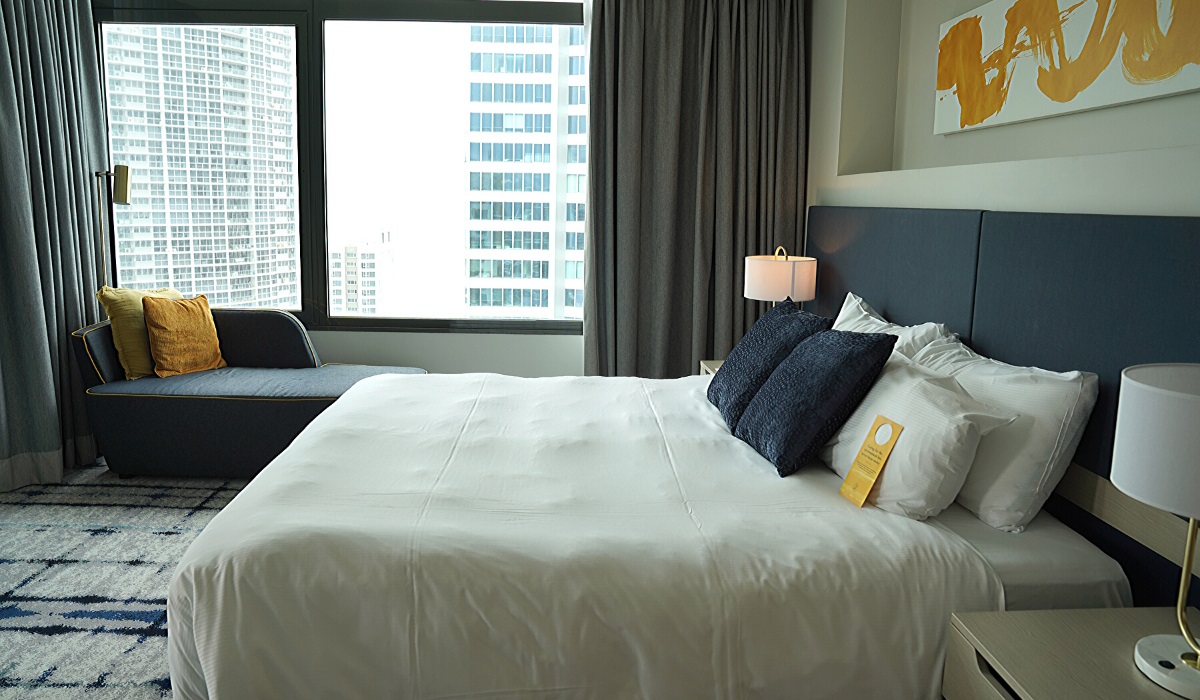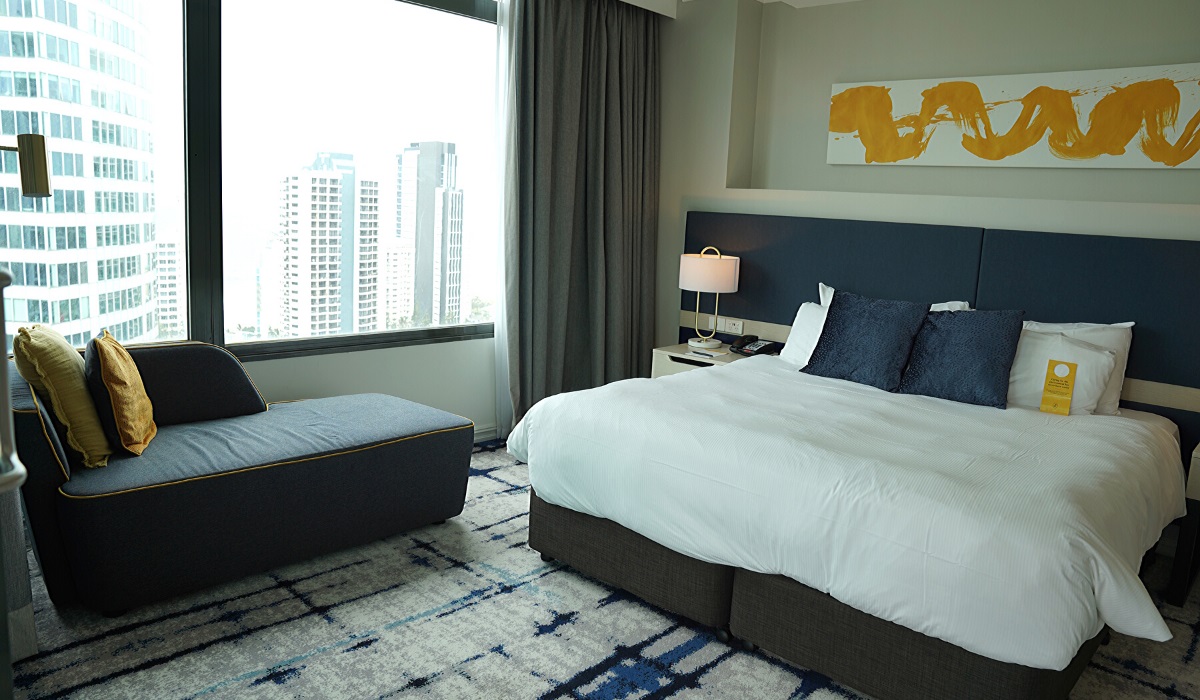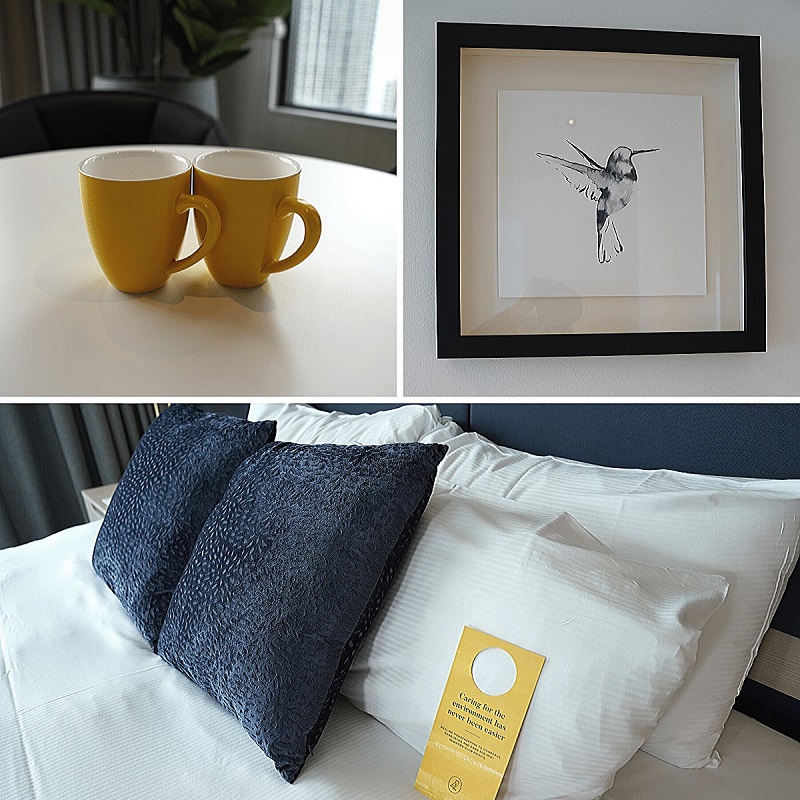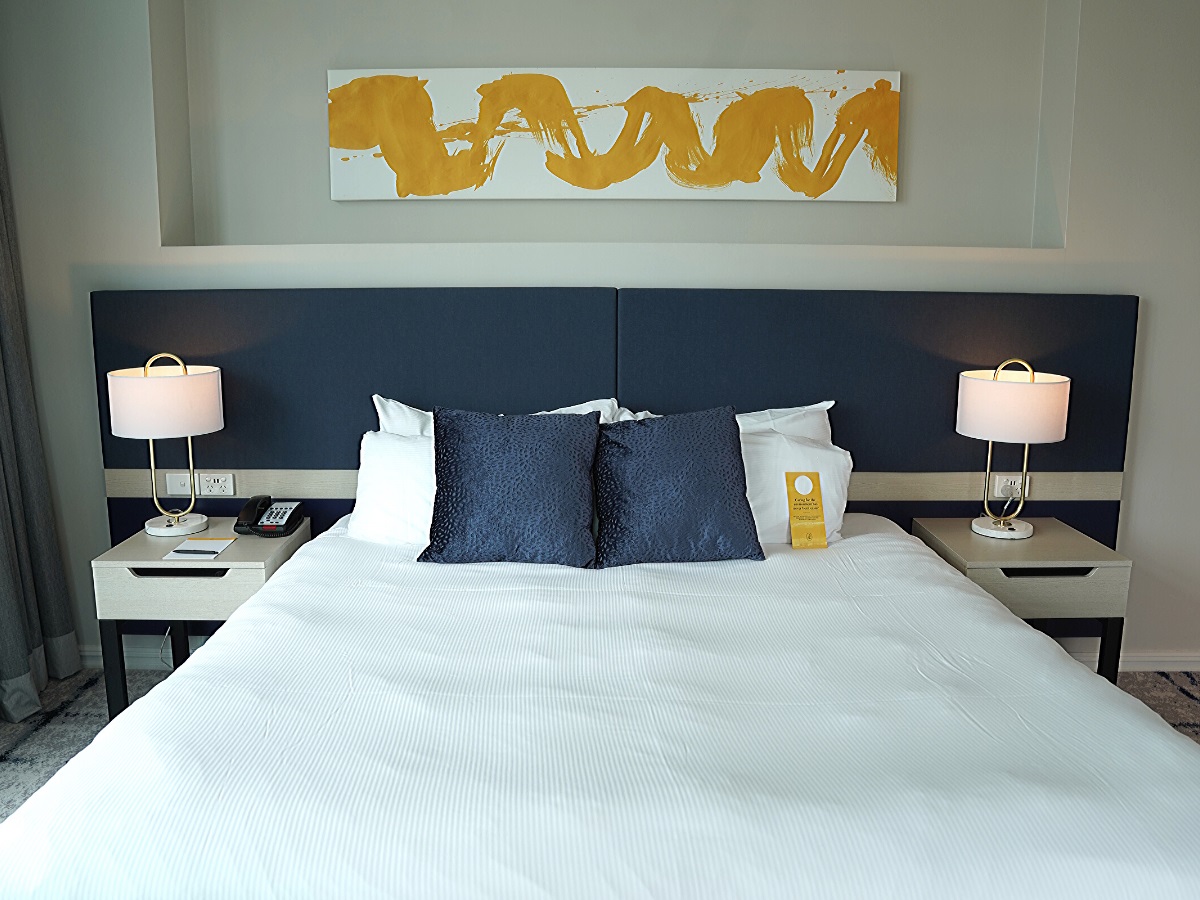 Beyond the bedroom, there's space to unwind on an expansive terrace.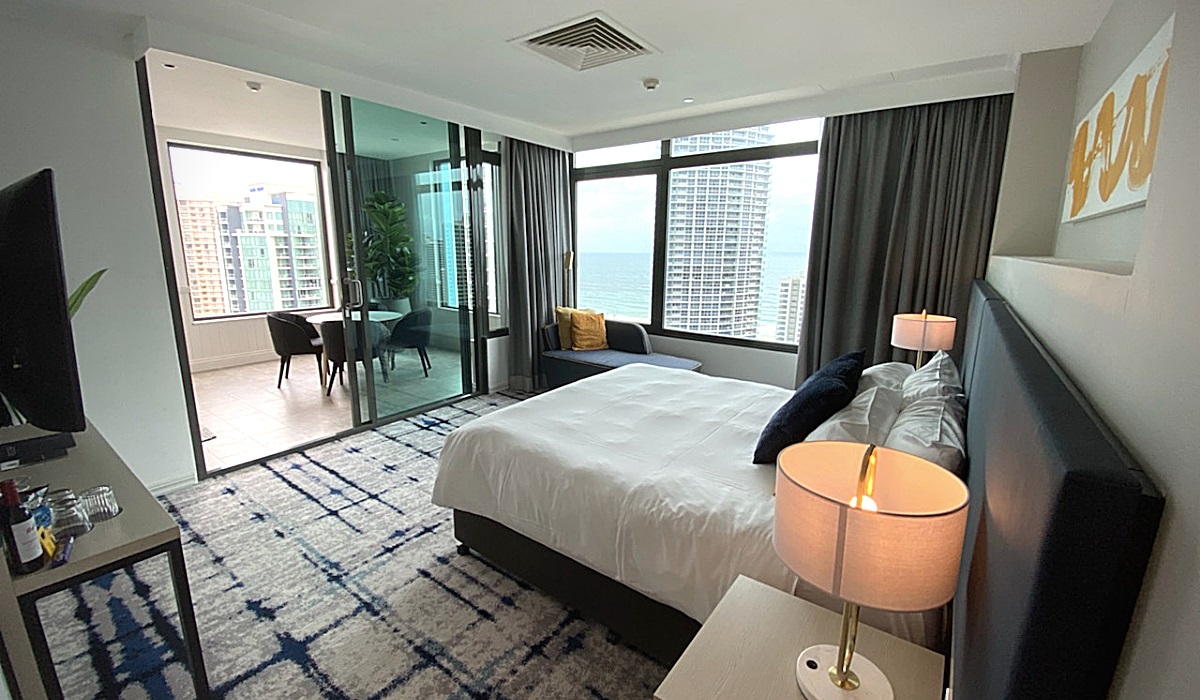 This area actually comprises two living spaces – a four-person dining suite (also an excellent place to work) and a separate sitting area with mini fridge and second large screen TV.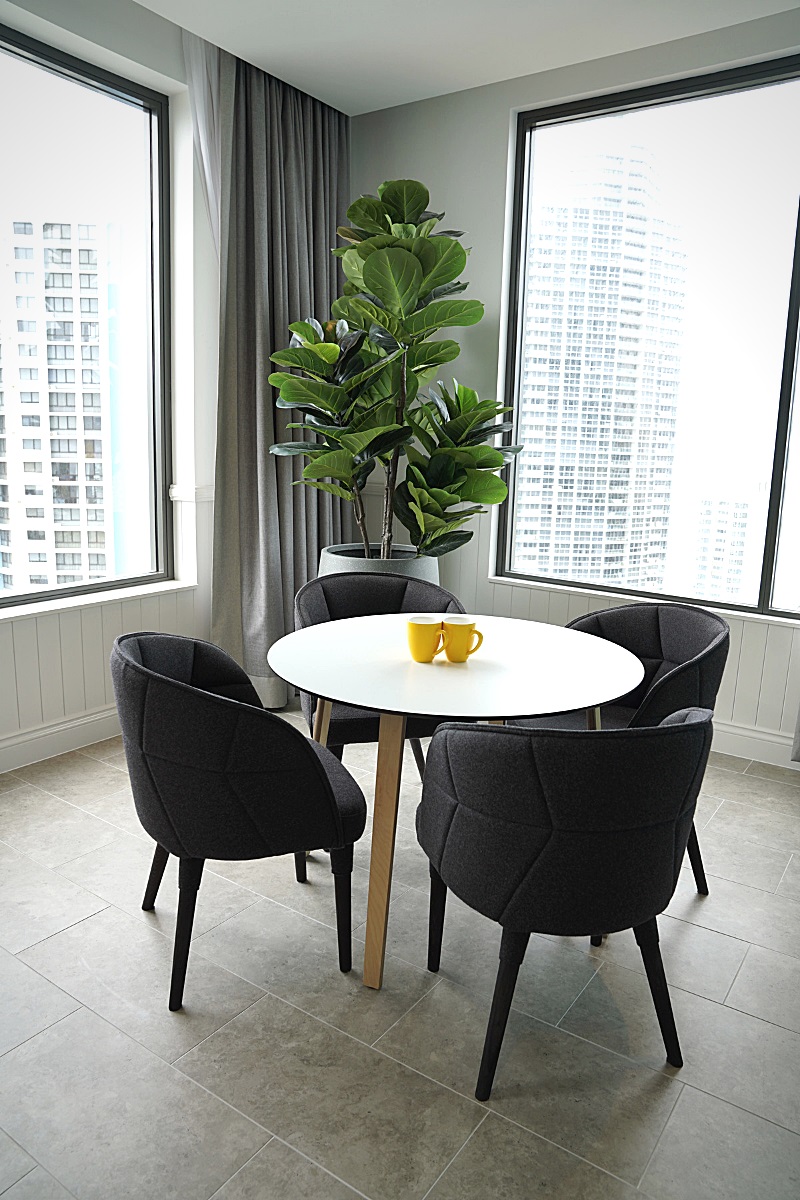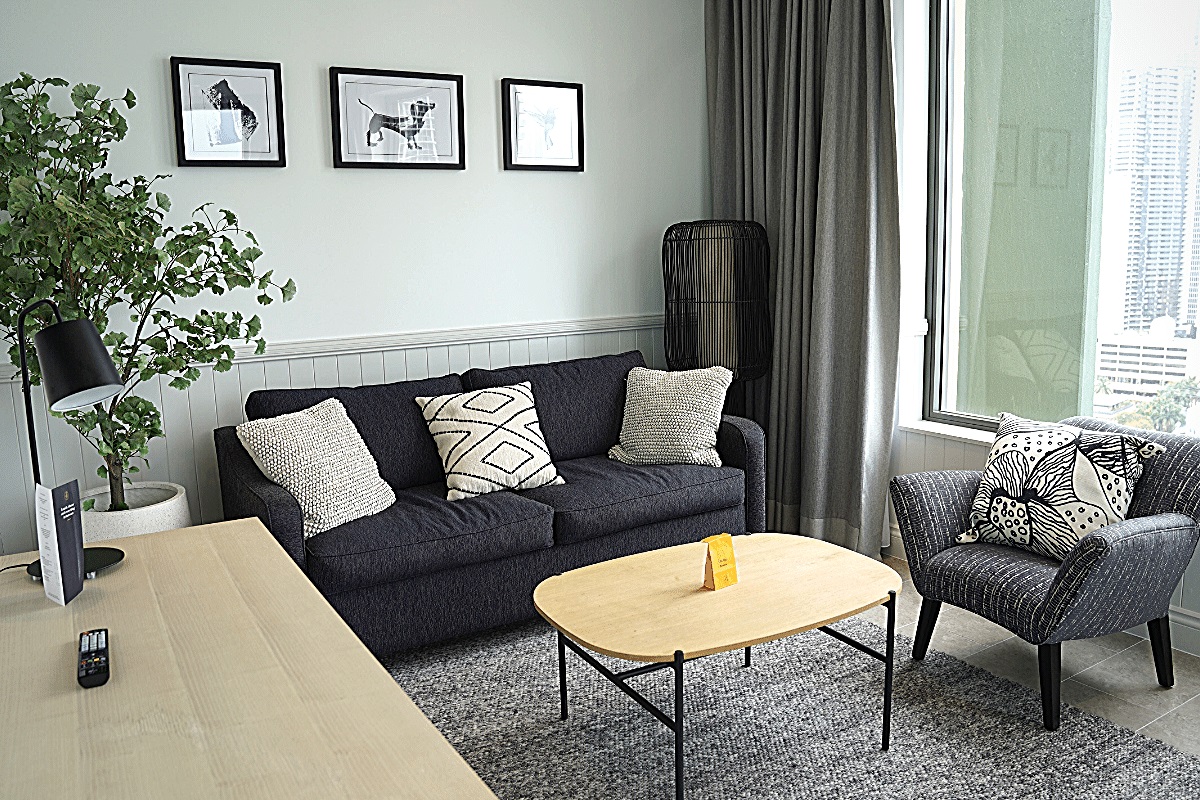 Of course, it's the bathroom, complete with spa bath, that I'm excited to explore. And while it isn't particularly cutting edge or modern, it certainly doesn't disappoint.
The bathroom features a surprisingly large spa bath, very deep, and with views out to the Pacific Ocean.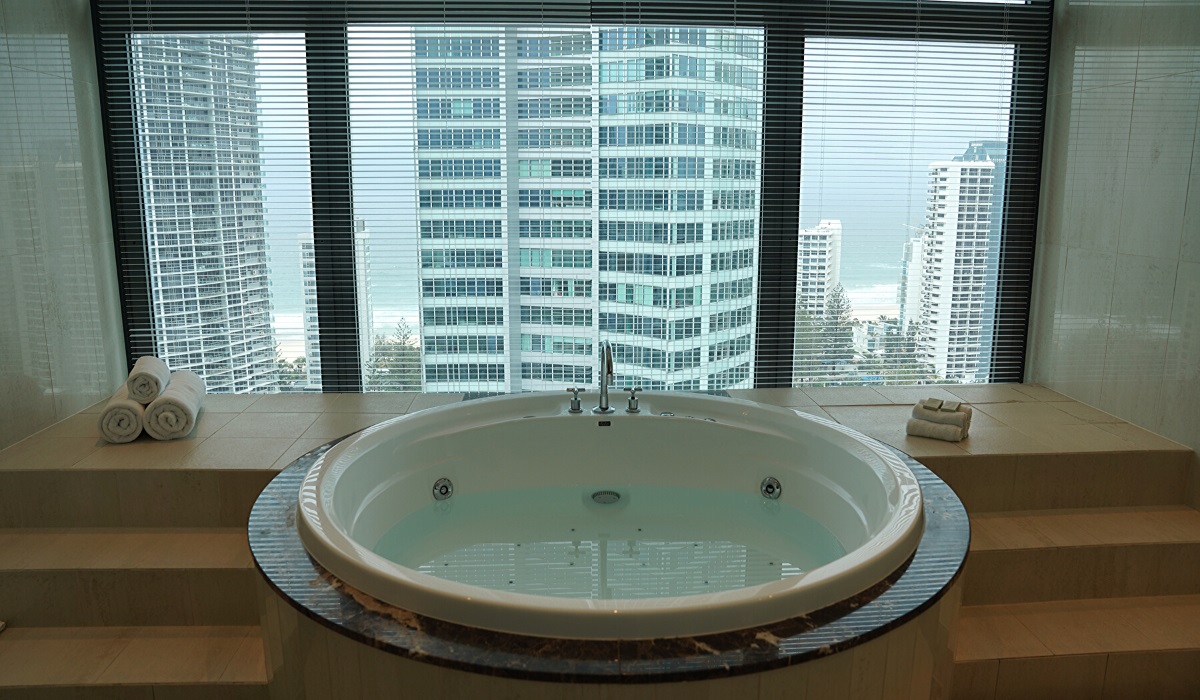 The suite is well-stocked with amenities to cater to the spa experience. This includes high-end Aveda toiletries (environmentally friendly large format bottles and mini soaps), waffle bathrobes and plenty of towels.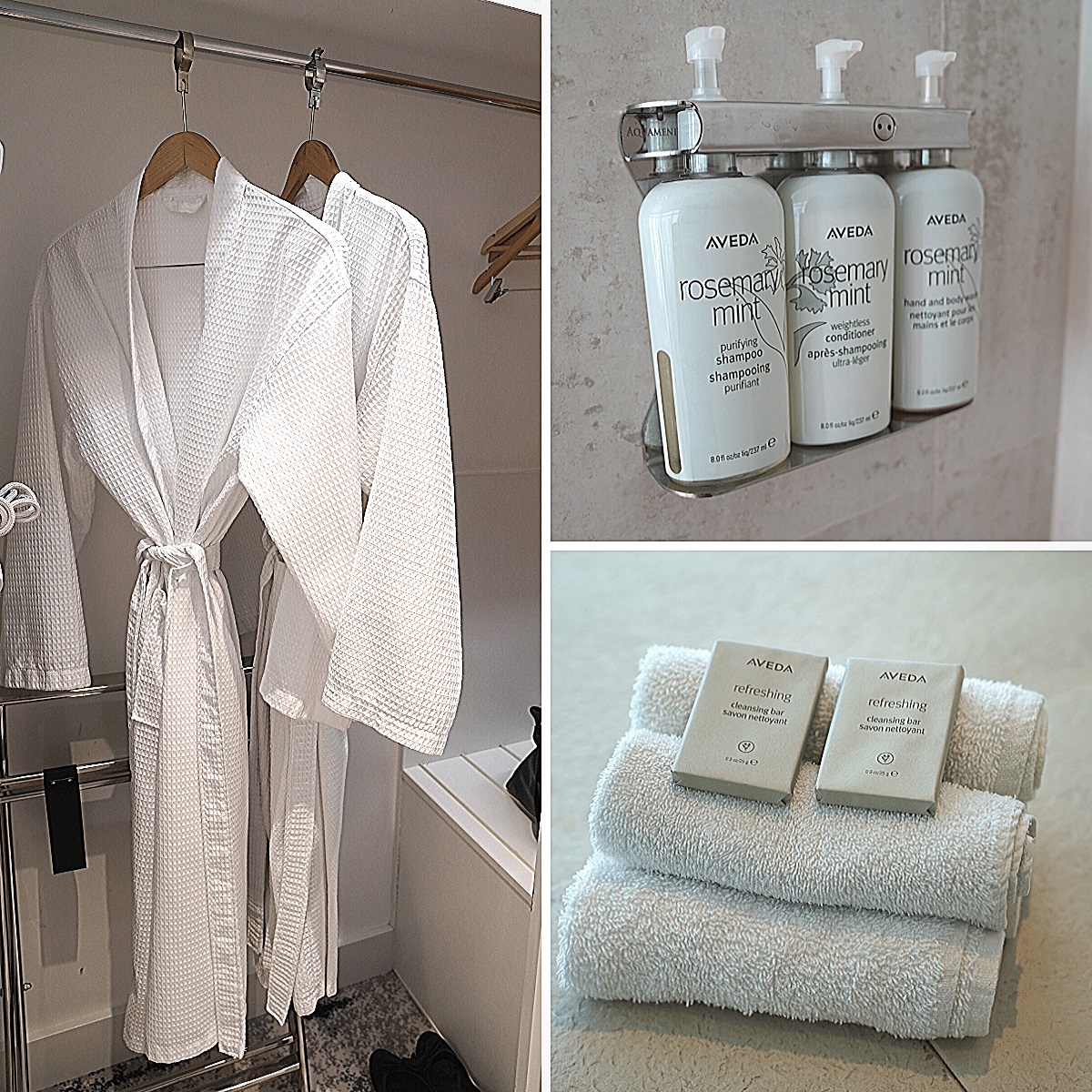 There's a standalone modern shower located in the bathroom and a separate toilet and washbasin (featuring additional amenities) across the hallway. A spacious walk-in robe plus tea and coffee making facilities completes the suite.
voco Gold Coast Facilities
voco Gold Coast boasts a range of facilities that cater predominantly to both leisure and business travellers.
Pools
voco Gold Coasts offers two pools for guests. The Eastside pool on level 1 is open from sunrise to 12 pm, the perfect spot to catch the morning sun. The Westside pool on level 2 is open from midday until sunset. Guests can kick back, relax and order from a poolside menu.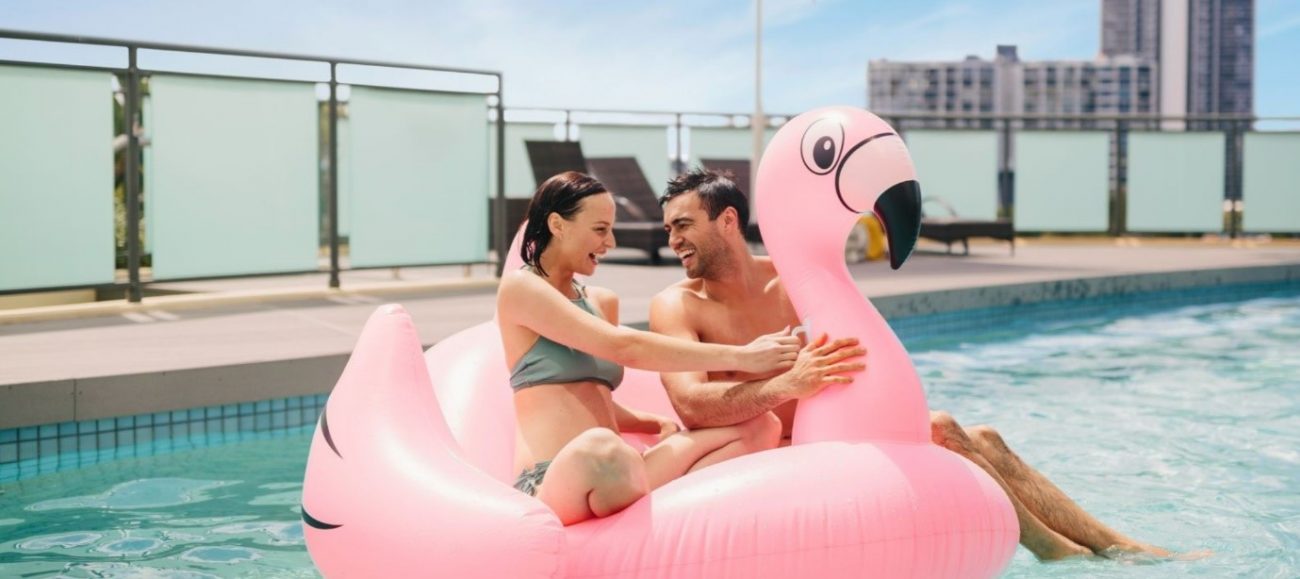 Gym
With a fully equipped gym, voco Gold Coast guests can work up a sweat. Equipment includes cycling machines, treadmills, rowing machines and more. The gym is open 24 hours a day and is accessible by keycard.
L'Aqua Day Spa
Located nearby the level 2 pool, guests can access L'Aqua Day Spa for a range of treatments before heading out for the evening. There are romantic and relaxing couple's treatments, marriage pamper packages, soothing facials for sun-damaged skin, baby-moon treatments and prenatal massage.
voco Gold Coast dining
voco Gold Coast boasts three standalone restaurants to cater to a range of guests. These are:
Clifford's Grill & Lounge – a sophisticated Australian fusion grill-style restaurant, which sadly wasn't open on the night of my stay.
Social House – a lively cocktail bar and cafe. I enjoyed a decent coffee here in the morning.
Waves Buffet Restaurant – specialising in group/buffet dining (including a daily buffet breakfast spread for in-house hotel guests).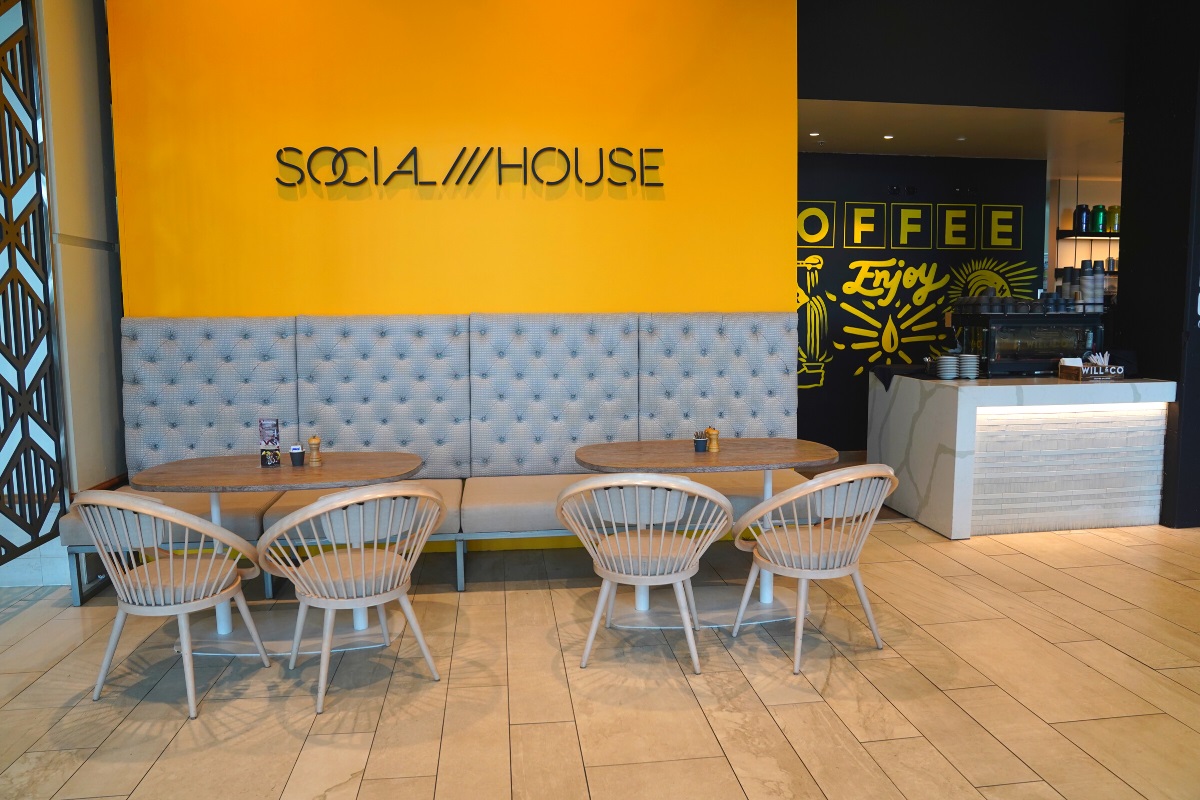 voco Gold Coast: Verdict
There's lots to love about this property which stands out brightly within the competitive Gold Coast accommodation market. An extensive refurbishment of the tired Watermark hotel has resulted in a vibrant new offering that surprises and delights.
If you're planning a trip to this popular stretch of coastline, voco Gold Coast is a property you'll definitely want to know about.
While you're here: Subscribe to our newsletter for the latest tips, deals and news. It only takes a few seconds and we respect your privacy: