In this modern age of aviation and innovation, leading airlines operate what can only be considered as a 'floating luxury hotel'. Between the champagne, caviar and onboard showers, there's a continued focus to refine services and products that deliver unique bespoke experiences.
Hong Kong-based Cathay Pacific recently announced enhancements aboard its first and business class cabins, providing a sensory experience that begins from the moment passengers begin their journey.
Named 'A Sense of Harmony', Cathay Pacific's new inflight experience introduces refined bedding and amenities, a refreshed lighter wellness menu and contemporary tableware. Combined, these new features create an experience that aligns itself to the airline's 'Move Beyond' direction, which aims to continuously exceed customer expectations and focus on sustainability within travel.
Read on to discover the enhanced offering you could enjoy when you next step aboard Cathay Pacific.
First things 'First'
Cathay's distinguished and bespoke first class experience is amongst the best in the sky. Under 'A Sense of Harmony' it continues to impress. Passengers are greeted with a welcome reception tray upon entering the cabin. The welcome tray includes a personalised welcome note, hot towel and a glass of sparkling jasmine silver needle tea from the airline's partner, JING.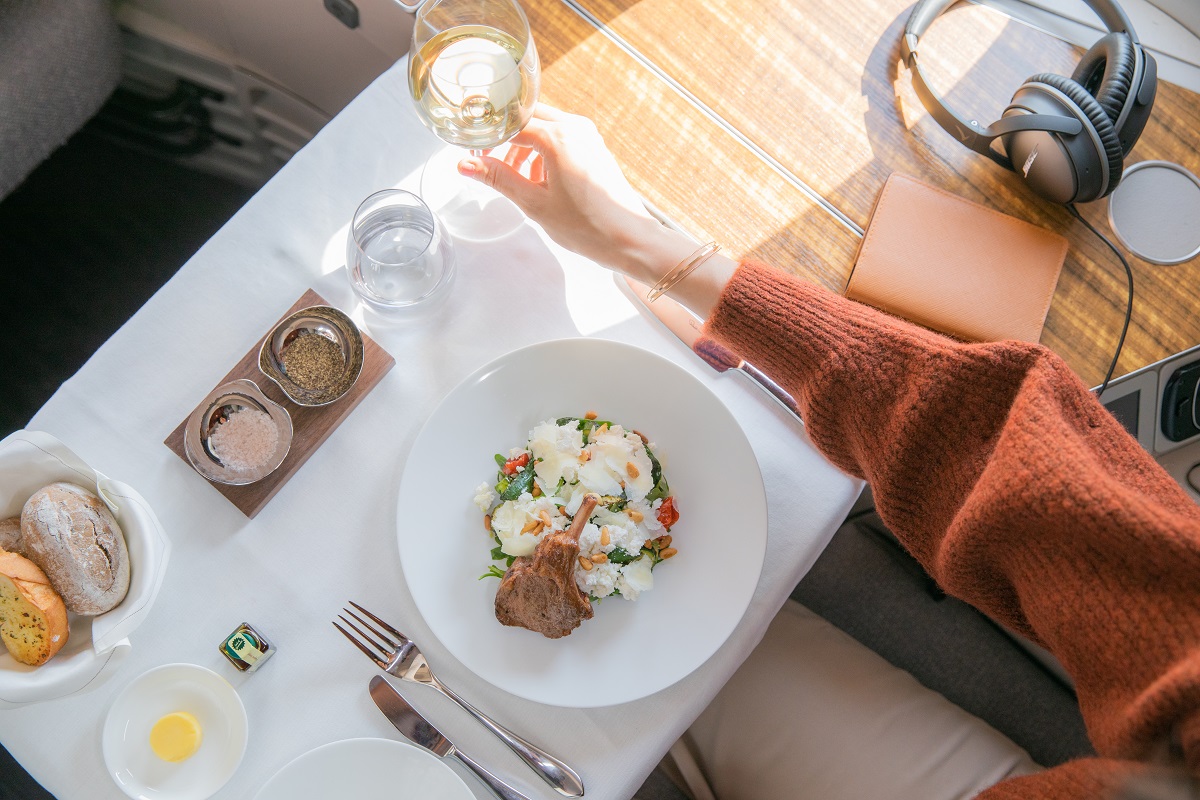 Travellers will also be delighted to find new recipes designed towards the health-conscious. These include lighter options and healthier meal alternatives such as superfood bowls and side dishes with leaner protein. The beverage selection has been overhauled, too, with teas from JING and metabolic-stimulating cold press juices from Bless to aid passengers feeling energized and refreshed.
Tableware has been upgraded to include notable global brands. Think chinaware from Noritake, cutlery from Robert Welch and full-size wine glasses from Riedel, designed to hold the top wines served to those lucky enough to experience the pointy end.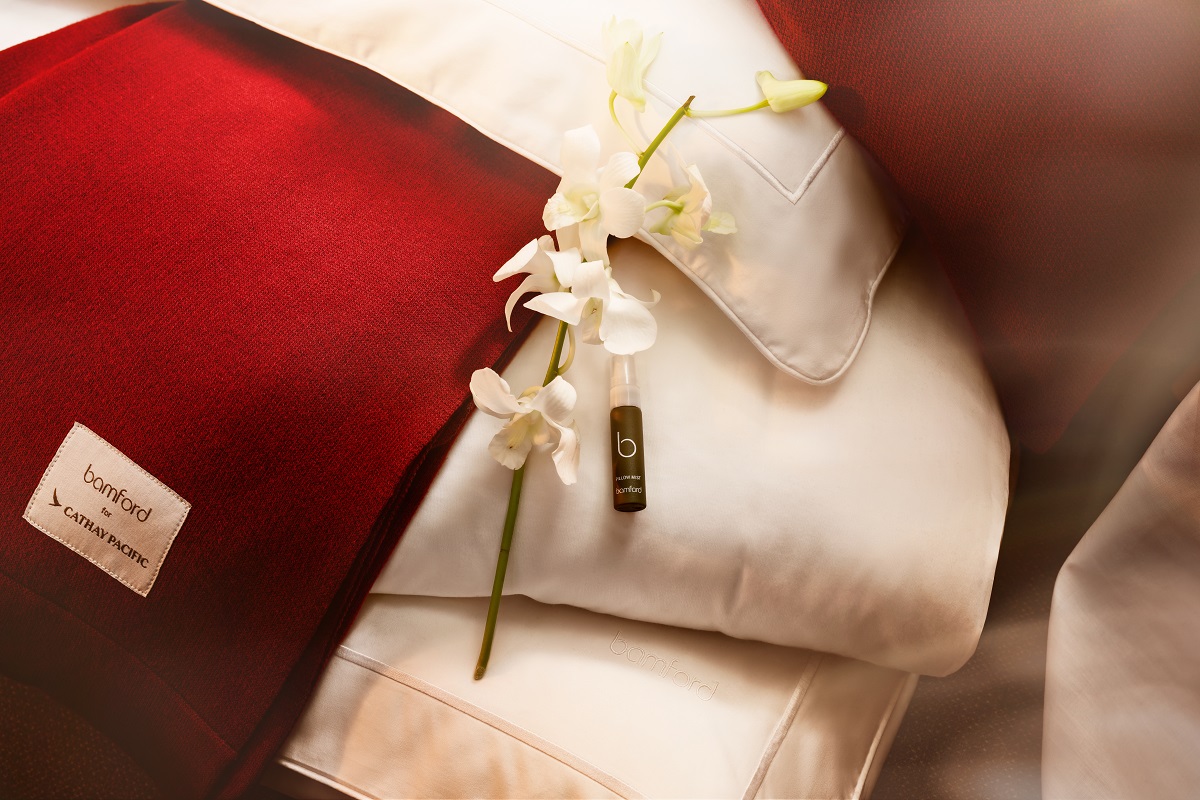 Long haul passengers can expect a satisfying night sleep with bedding and amenity kits provided by UK luxury brand, Bamford. The turn down service includes 600-thread-count sheets, a mattress and duvet from 100% sustainably sourced cotton and a spray of Banford's best-selling Botanic Pillow Mist.
Back in Business
Like first class, those seated in the business cabin will enjoy a refreshed meal service, with a focus on revitalising food and beverage offerings.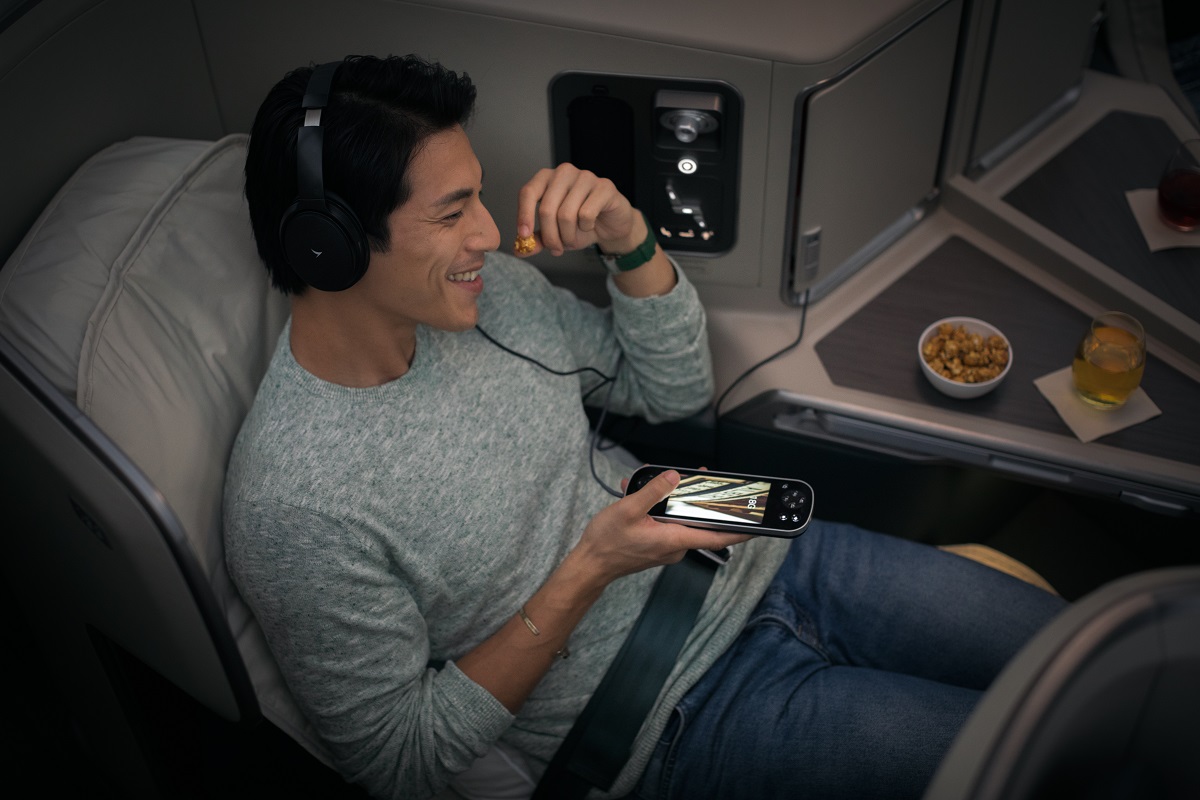 Bamford's new range of Business Class products aims to dial up the luxe at bedtime. Long-haul passengers enjoy a premium 400-thread-count pillowcase and a two-piece duvet made from 100% sustainably sourced cotton.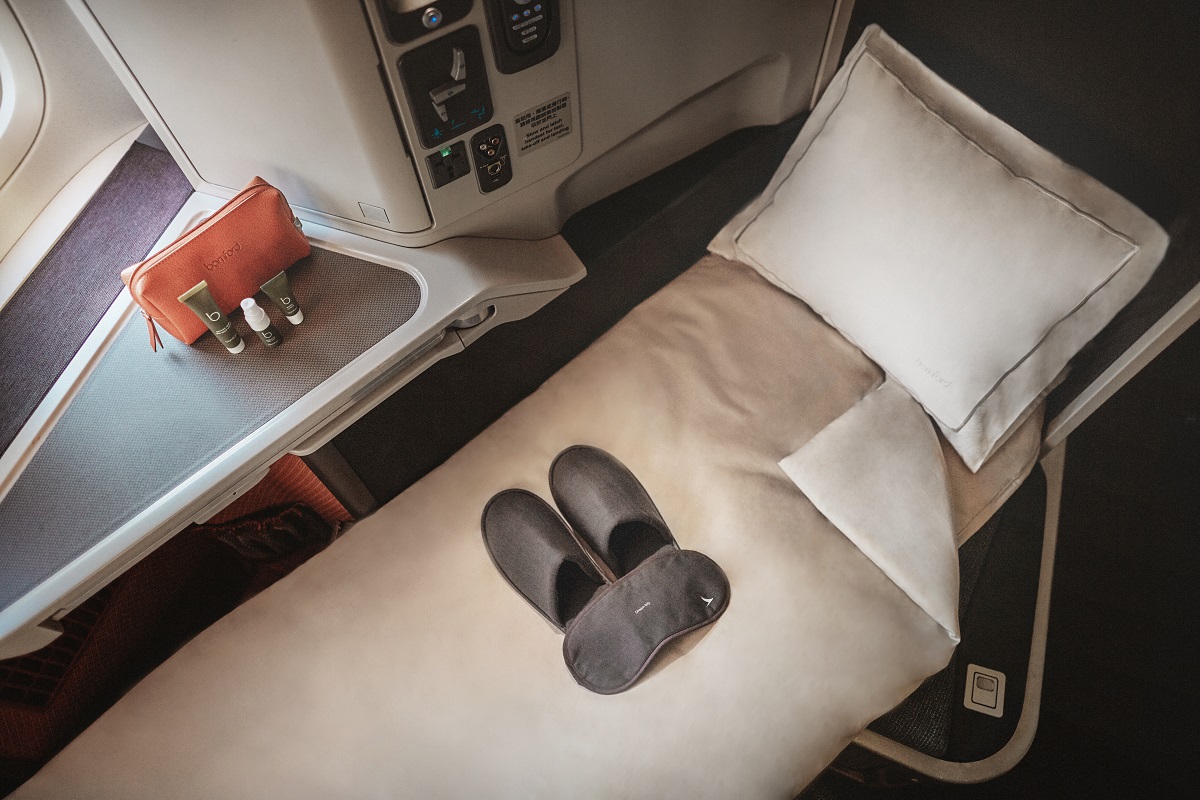 Meanwhile, those on regional flights will receive a new day blanket and plush pillows.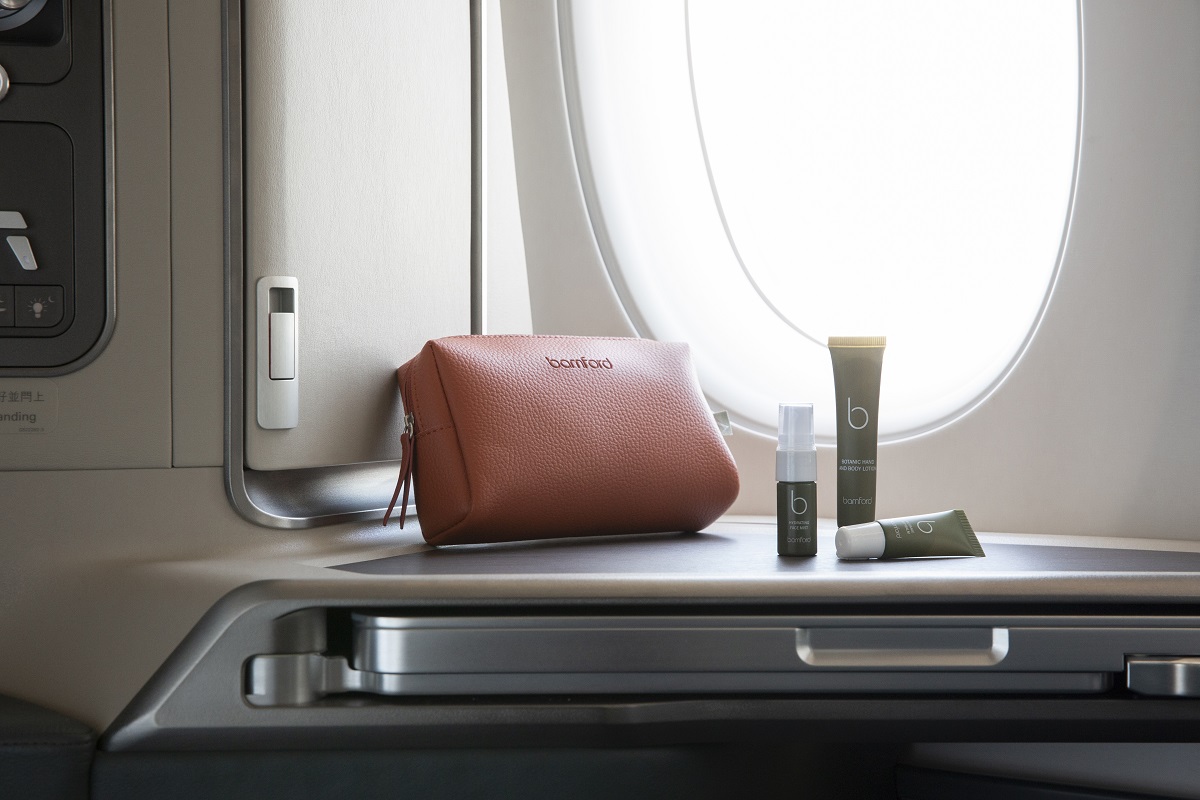 Bamford's unisex amenity kits come in four colours. These will be rotated throughout the year.
New Economy
Passengers seated in economy can also expect to see some improvements in the service offering onboard.
Economy passengers benefit from an expanded inflight entertainment system and an all-new menu curated by Hong Kong restaurant group Black Sheep Restaurants. There's also good news for beer fans, with Cathay Pacific relaunching popular offering 'Betsy Beer' across all cabins.
Making sense – A Sense of Harmony
Much can be said about Cathay's Pacific's philosophy for improved service delivery. Feeling more like a product refresh of sorts, there's a sense that the airline is aiming to draw closer to the super-premium service offerings of Singapore Airlines, Etihad and Emirates. That's not to say that Cathay's business and first-class cabins don't hold their own.
A refinement of any service is always a welcomed addition (not that the airline needed an upgrade). I, for one, have never looked at the base of a wine glass mid-flight to check the manufacturer label or lay in my flatbed to bask in the scented pillow mist flavour of the day. I'm more concerned with what's on the menu and searching for the perfect movie to pair with my meal.
The question is: will these refinements go unnoticed? Perhaps for some. Frequent travellers may be more receptive to onboard enhancements and appreciate finer details such as Cathay's welcome-greet reception for first-class passengers, designed to mimic the warm hospitality and personalised service offered by competitors in its class.
One thing is for certain, 'A Sense of Harmony' is a positive move forward for the airline having made considerations for the health-conscious, improving post-flight wellbeing and sourcing sustainable products.
Final thoughts
It's refreshing to see Cathay has extended the 'harmony' experience across the board and not limiting improvements to their premium suites, which speaks to the airlines' ongoing commitment to exceeding customer satisfaction.
I've always considered Cathay Pacific a top tier airline and have enjoyed their business class products. The cabin design is simple, despite not feeling as luxe, in contrast, to say, Singapore's Airlines Airbus A350, which I consider more aesthetically pleasing.
However, there's something about the reverse herringbone design of the business suites that I particularly enjoy. Perhaps it's a greater sense of privacy and space compared to other products in its class (e.g. Qantas' Airbus A330) or little things like provision for an 'ottoman' that serves as a foot of the bed.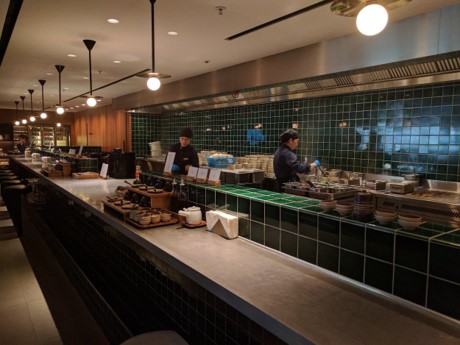 Cathay's in-flight service and food has always been impeccable and is matched by the phenomenal ground services, particularly in Hong Kong which houses four lounges with a diverse range of available food options.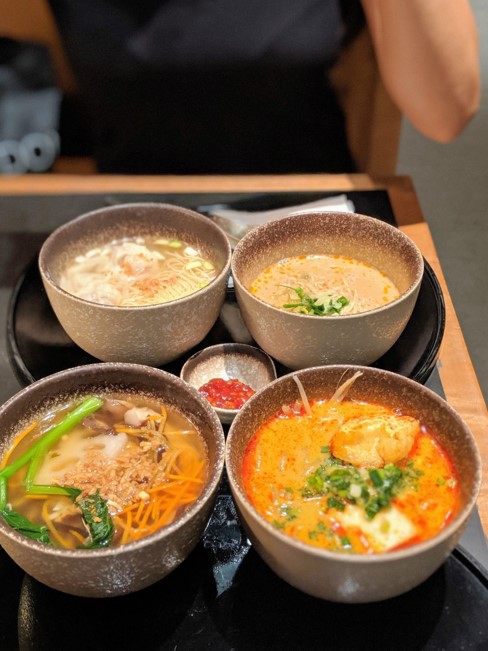 The new service offering could not have come at a better time as my wife and I are embarking on a short trip to South East Asia flying with Cathay Pacific. It will also be our first time flying aboard the Boeing 777-300ER in business and in first class. I am excited to experience what 'harmony' has to offer and to see how the airline aims to bolster it's already well-established onboard services.
I will soon be flying in Cathay's First and Business class cabins, with a view to putting the new service enhancements to the test.
Supplementary images courtesy of Cathay Pacific
While you're here: Subscribe to our newsletter for the latest tips, deals and news. It only takes a few seconds and we respect your privacy: