Australians are always looking for new ways to sell used clothes. And with a savvy selling strategy, it's possible to maximise your earnings.
This blog post lists out sites and apps for selling used and pre-loved clothes in Australia. You'll find that there is no shortage of places to sell your clothing in this country, with a number of websites and apps devoted exclusively to this type of business.
Why sell used clothes online?
First things first, you might be wondering what makes selling used clothes online worthwhile. If you're time-poor, you're likely concerned about the effort involved.
The fact is, there are many benefits to selling used clothes online. And, if you organise yourself efficiently, the time investment will be less than you think! Here's why selling used clothes should be on your radar:
Top Australian Paid Survey Picks:
Start earning cash by joining some or all of our top Australian paid surveys now!
TIP: These legitimate sites are free to join. We recommend you sign-up for multiple Australian paid survey sites in one go for the best chance to earn more cash and rewards.
1) It's good for the environment
Selling used clothes is good for the environment because it reduces waste and avoids clothing going to landfill. When you sell your clothing online, someone else can make use of them and reduce their carbon footprint at the same time.
2) Op shopping is so much fun
Speaking personally, I find that second-hand shopping is a great way to find unique items for my wardrobe, and it's also fun! By selling your second-hand clothing, you're creating that experience for someone else.
3) Generate extra money for clothes shopping
One of the best things about selling your clothes online is that you can make money. If you have a wardrobe full of clothes that you no longer wear, sell them and (mindfully) use the extra cash to buy some new pieces!
4) Embrace a frugal lifestyle
Selling your clothes online is also a good way to clean out your wardrobe, practice sustainable fashion and embrace a less spendy lifestyle. When you sell used clothing, you're practicing sustainability and frugality.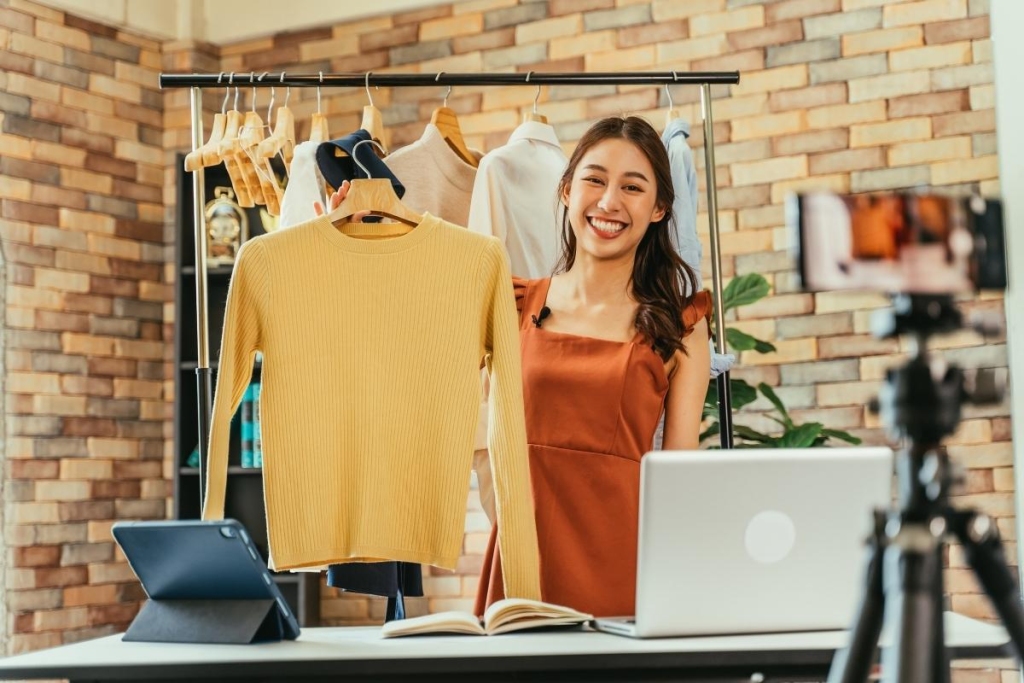 15 ways to Where to sell used clothes in Australia
Now that we know all the reasons why selling used clothing is worthwhile, let's look at where you can do it.
There are many ways you can sell your old and unwanted clothing online in Australia: from groups on social media, consignment stores, online thrift shops, to auction sites and dedicated pre-loved clothing apps. Here is a list of websites and apps where people sell their pre-loved items for money:
1. Facebook
If you sell your secondhand clothes on Facebook, this is the equivalent of selling them in person. You'll find many people sell clothing via groups or their own personal pages (listed as 'for sale' posts).
But when it comes to selling clothes on this social media platform, Facebook Marketplace is where it's at. Facebook Marketplace is free and very popular. The downside? Advertising on Facebook can be tricky unless you have a good personal network. You're also at the mercy of the Facebook algorithm.
2. Depop
Depop is a global online marketplace used by more than 15 million active users. Originally, it was only used as a place to buy and sell clothes like an online thrift store, but it has expanded into a platform where individuals can create their own brands, whether it's apparel or something else.
The platform allows users in Australia to sell clothing and other items without physically being in the same location. Depop gives you a lot of freedom — you can start a new brand or sell off a few preloved items from your wardrobe.
Depop is similar to Instagram, with photos and profiles appearing in a feed so that users may browse through them.
To purchase or sell anything on Depop, you'll need to create an account. This procedure is straightforward – all you have to do is provide your phone number. After you've entered your phone number, follow the step-by-step directions to finish creating your account. Selling on Depop is relatively straightforward. Depop compensates sellers via PayPal, so you'll need to connect up your PayPal account.
One thing to be aware of is that Depop's PayPal linked buy and sell platform has been targetted by hacking scams. As with any secondhand clothes selling platform, it's important to keep your account secure and monitor frequently for any irregularities.
3. The Closet
THE CLOSET is a well-known preloved clothing site that bills itself as Australia's online fashion thrift store. They sell women's apparel, including handbags and hats. Their inventory also includes sunglasses, activewear, swimwear, and sleepwear (the latter two items need to be new with tags only) as well as maternity clothing.
One thing we love about this site is that they manage the entire process of your wardrobe cull – making it particularly appealing for time-poor people to start selling. Whether you live in Brisbane or Bendigo, THE CLOSET will pick up clothing for you via courier in a thrift bag from you.
You'll never have to deal with buyers, complaints, or returns. They'll take care of everything, including photographing your items, selling them on the market, and forwarding the proceeds to you (either as cash or as store credit for THE CLOSET online store). Here's how the process works:
Create an account on the site.
Purchase a thrift bag and have it sent to you immediately by THE CLOSET.
Fill your bag with the fashion items you wish to sell and sign the Consignment Agreement when it arrives.
Drop your packaged clothing off at a local Post Office.
Sit back and unwind as THE CLOSET takes possession of your clothing items and uploads listings to the website – it's that simple.
4. The Re:Club
The Re:Club offers a chance to declutter their closet, trading in the clothes you don't wear, and earn points on an account to spend on new stuff.
This online thrift fashion store functions a little differently from the other sites and apps on our list, in that users access online pop-up secondhand clothes shopping events through a club – the Re: Club, so to speak.
So how does it work? Members earn points in exchange for everything they swap in. These points can be used to buy anything via The Re:Club online store or at regular pop-up shopping events.
Membership to The Re:Club costs $49 per year for a single member, or $99 per year for a family membership. While selling your secondhand apparel online does not require you to join Re:Club, members receive cheaper pricing on clothing than non-members, allowing you to earn more money (or points).
5. Etsy
Etsy is an online marketplace for unique and vintage items, including clothes. You sell your pre-loved clothing on Etsy at a fixed price.
Etsy has been around since 2005. It has over 54 million items for sale, and buyers are from all over the world. Whilst it's not dedicated solely to selling used clothing, there are many people who sell pre-loved clothes on Etsy.
One thing to note: as with eBay, your clothing items need to be in a sellable condition. You should put effort into creating high-quality photographs and listings, as the platform is very competitive.
6. Poshmark
Poshmark is an online marketplace where you sell clothing at your own prices. It's an app that lets users buy and sell fashion items through their mobile devices. They have over 80 million members, operate in 23 countries around the world, including Australia. They provide free listing fees and take a 20% commission for used clothing sales.
7. SwapUp
SwapUp is an online thrift shop based in Sydney, Australia. Swap Up is a secondhand consignment boutique that provides a fashionable and current thrifted wardrobe sourced from Australian women's wardrobes. Swap Up has something for every style, including dresses to jeans.
Selling on Swap Up is like THE CLOSET, in that they manage the entire process for you. Selling commissions are based on item sale value, and they range from 10% up to 80% for a clothing item worth $200 or more.
8. Yordrobe
Yordrobe is an online app that allows users to sell, swap, or donate their used clothing. It's a social media platform for clothes lovers and fashionistas who want to buy, sell, swap or drop pre-loved items.
What we love about this app is that it has filters that allow you to search by size, type of clothing, colour, and brand. So, if you're looking for a red pair of pants with your size (Australian ladies' sizes 8-12), then this is the place to look!
The app takes a commission of each sale, and you can choose to receive payments either through PayPal or bank transfer.
9. Carousell Australia
Carousell is an online marketplace that allows users to sell, buy and discover new items in their local community.
This app works a little differently from the other sites on our list of where to sell used clothes – Carousel doesn't have a dedicated secondhand clothing section or subsection of its website/app for buying and selling pre-loved clothing.
However, that doesn't mean you can't sell your fashion items on Carousell. All you need to do is take a few photos of the clothing item, write a brief description and set your price. As with any other online marketplace, it's important to be aware of scammers when selling clothes online.
Once your listing is live, people who are interested in buying your clothing item can either message you or make an offer to buy it. You'll then be able to agree on a price and sell the clothes without ever leaving the app!
When selling online via Carousell be aware of scammers – there have been reports about users sending fake payments for items only to disappear after receiving the goods. Always be cautious and avoid selling to anyone who seems suspicious.
10. eBay
One popular way to sell used clothes in Australia is through online auction sites like eBay. You'll be surprised by how much money you can make this way, but it does require a greater time investment since these sales are not typically instantaneous. eBay works well if you have a wide selection of clothing to sell or if you want to sell a high-end vintage item.
Selling secondhand clothing on eBay is easy. Let's say you want to sell a vintage dress. To do this, take some photos of the item and upload them onto eBay with its description. Set up an auction listing for seven days or choose 'buy it now' if you are looking for a one-time sale.
In order to sell on eBay, you'll need to create an account and register as a seller. This is a quick process that only takes minutes. Once you're registered, follow their step-by-step guide on how to list an item for sale.
11. Local markets
Another great place to sell your clothes is at a local market. These can be found in most capital cities and major cities across Australia, so you'll have no trouble finding one near you. If you sell your items at markets where there's foot traffic, such as fashion markets or arts & crafts markets, it will give you a chance to sell your clothes to people who are specifically looking for used clothing.
12. Attend a clothing swap meet
A clothing swap meet is a great way to sell your clothes and get some new pieces in the process. These events are usually organised by local communities, so it's easy to find one near you.
At a clothing swap meet, everyone brings their unwanted clothes and places them on a designated 'swap table'. Then, people can take whatever they want from the table and leave with a new-to-them outfit.
Clothing swap meets are a great way to sell your clothes, as you can get rid of them quickly and easily – without any hassle. Plus, you might find some pieces that you love and didn't even know existed!
13. ThredUP
ThredUP is a website that sells and trades high-quality secondhand apparel.
If you sell your used clothes to thredUP they'll be listed on their website for potential buyers to see. Your items are photographed, described, and presented online so that customers can shop by category or price range. Items with the highest demand are merchandised in a special merchandise gallery where customers can immediately purchase them – even if there's only one item left!
thredUP takes around 40% of the selling price, but that's because they sell your clothes for you. They sort through all their inventory and sell pieces to customers looking for high-quality secondhand clothing items. thredup is a reliable business with over ten years of experience in the industry so it's worth checking out if you want to sell your clothes online.
14. Instagram
Another great way to sell your clothes is via Instagram. If you have a big clothing collection and want to sell them all at once, using Instagram can be convenient as it's easy enough to take photos of items with your phone camera and upload them onto the app for purchase.
For instance, let's say that you have too many dresses in your wardrobe and want to sell them all. All you have to do is take photos of each dress, upload them onto Instagram with a short product description and price, then sell the item directly through your account.
Selling clothes on Instagram can be as simple or as complicated as you make it – whether that means uploading one photo every week until your wardrobe is empty or creating a professional-looking e-commerce website to sell your clothes.
You can sell both second-hand and new clothing on Instagram, but you first need to create an account – it's free! Once that's done, head over to the explore page (the magnifying glass icon) where you'll see options like 'Shop' and 'Discover'. Click on the 'Shop' tab, then scroll down to where it says 'Clothing'.
There you'll find a range of different brands that sell clothes on Instagram. Scroll through their pages and see if any of them sell your size or style of clothing. If they do, take some time to read their product descriptions and terms of sale, as each brand has its own set of rules.
15. Gumtree
Gumtree is a great place to sell used clothes in Australia. Not only can you sell almost anything on Gumtree, but it's also incredibly easy to do – all you need is an email address and some photos of the items that you want to sell!
When selling secondhand clothing on gumtree, make sure that everything looks clean and ironed, with no stains or marks. The more professional your photos look, the better – sell items that are in good condition and well-presented!
The Gumtree website is a high traffic site, meaning your listings will reach a significant number of people.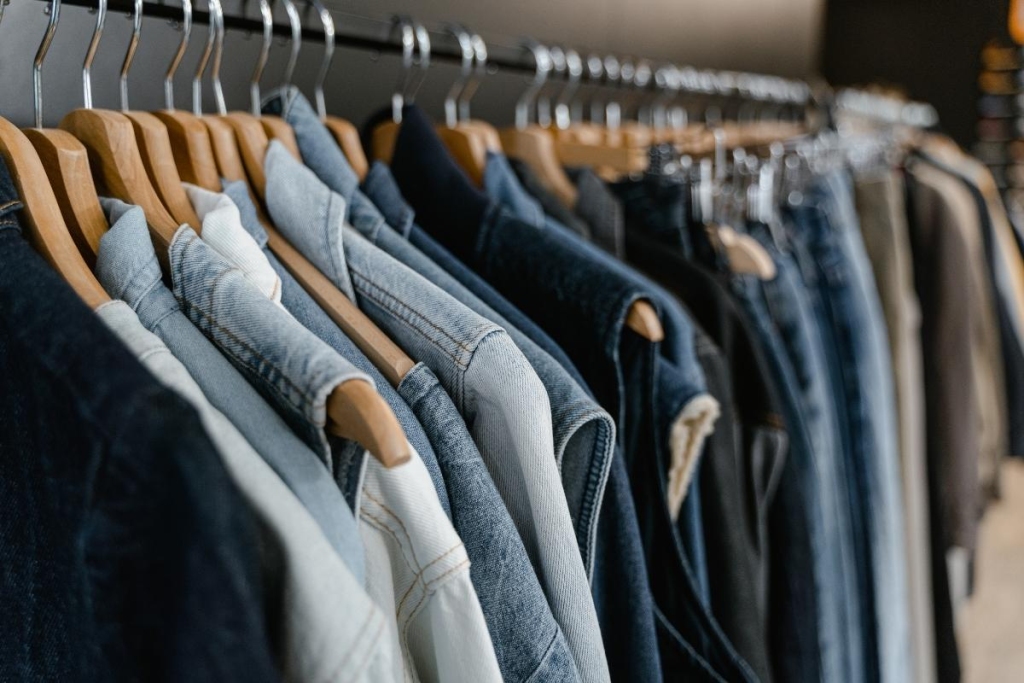 Used clothing sites and apps: 5 red flags to look out for
While there are plenty of legitimate apps and websites where you can sell your used clothes online, some sites and apps can be a nightmare. When choosing where to sell your used clothes online, here are four red flags to be aware of:
Safety + legitimacy concerns:
When selling anything online, safety should be your number one concern. Make sure that the site you're using is legitimate and has a good reputation. Steer clear of any sites or apps that seem dodgy – they may not be safe to use.
No customer support:
If something goes wrong with your order, or you have a question about a sale, it's important to have access to customer support. If the site you're using doesn't offer this service, it's not worth your time.
Poor quality images:
If the images of the clothes you're selling are poor quality, it will be hard for buyers to make an informed decision. Make sure that all the images you upload are high resolution.
Excessive fees:
Some sites and apps, particularly consignment stores, charge excessive fees for their services. Make sure you know what these fees are before signing up, so that you're not caught out later.
Low reach / poor Traffic stats:
If the site you're using has low reach or poor traffic stats, it's likely that your clothes won't sell. As an example, sites like eBay and Gumtree reach millions of users every month, however a small, niche women's clothing website may put your listing in front of a much smaller number of users. To have the best chance of successfully selling your used clothes, make sure to do your research before signing up.
How to prepare secondhand clothes for sale
When you sell used or pre-loved clothes online, it's important that they're prepared correctly. Here are some tips to get your old garments looking sell-worthy:
Clean all the clothing items before sending them out for sale
Perfectly ironed or steamed items will sell much easier than wrinkled ones! Make sure everything is spotless and without stains, tears, or rips.
Sort your clothing by type and size
This will make it easier for buyers to navigate your listings and find what they're looking for.
Group similar items together
If you have a lot of clothes to sell, group them together by style (e.g., dresses, skirts, tops) or size so that it's easier for buyers to browse.
Take high-quality images
Make sure that all the images you upload are high resolution – this will give potential buyers a good idea of what the clothes look like. If possible, take pictures from different angles to show off all the features and details of the clothing.
Including measurements is helpful for buyers
If you sell clothing on a site like eBay, it's very helpful to include measurements (e.g., shoulder width) as this will give potential buyers an idea of what size the clothes are and how they fit. This is especially useful for shoes and boots where sizes vary greatly from brand to brand – knowing that something measures 14cm will help buyers determine whether it will fit them.
How to list used clothes for sale in Australia
When you're ready to sell your clothes online, it's important to create a listing that will stand out from the competition. Here are some tips to provide you with the best chance of maximising the resale price:
Title your listing in a catchy way
Think about what makes your clothing unique and come up with a title that reflects this. For example, "Vintage 1950s dress" or "Vintage floral dress".
Include keywords in your listing title and description
Keywords are a great way to get more eyes on your listings. For example, if you sell vintage clothing, include words like 'used', 'vintage' and even the brand names of the clothes. If you sell women's jeans, you could include keywords like 'jeans', 'used' and 'womens'.
Upload high-quality images
As mentioned before, good-quality images are key when selling clothes online. Make sure that all the images you upload are in focus and show off the details of the clothing item.
Include measurements if possible
See above for more information on why including measurements is helpful for buyers.
Write a detailed description of the clothes
In your description, talk about the condition of the clothing and what makes it unique. If there's any damage or wear and tear, be sure to mention this too.
Price your items fairly
Don't price your clothes too high, but also don't sell them for too little. If you absolutely have to sell your clothes quickly, this is a good option – however, if possible, try and wait it out until they sell at a reasonable price.
Include postage costs in the listing title
Sellers should include postage costs so that buyers can see how much it will cost to have the item shipped to them. This will avoid any confusion or surprises once a buyer has made a purchase.
Be sure to factor in PayPal fees
When you sell clothes online, there's often the possibility that buyers will pay using PayPal if this option is offered by the site you are using. Sellers should be sure to factor in PayPal fees when pricing their items, as this is a cost that they will have to pay.
Be honest
Finally, it's important, to be honest about the condition of your item and what has been done to fix any damage – photos often speak louder than words.
Common terms used when selling clothes online
If you're new to selling secondhand clothes online, here are some common terms you may come across when selling used apparel via websites and apps in Australia:
New – The item is brand new and has never been worn before.
Used – The item has been previously worn but is in good condition.
Damaged – The item has been previously worn and is in poor condition.
Pre-loved – The item was bought new by someone, but then resold to a second party (e.g., online).
Reserved – A buyer has asked for an item to be held for them until they can purchase it at their earliest convenience. This is often used on auction websites.
Bidding – A buyer is competing with other buyers to purchase an item at the lowest possible price. This is often used on auction websites.
Sold – The item has been sold and is no longer available for purchase.
Swapped – Two people have agreed to trade items with each other, without the need for money to be exchanged.
Sell used clothing in Australia: Conclusion
As we've outlined in this post, there are plenty of reasons, and places, to sell your used clothes in Australia. Not only will you get a chance to clean out your closet, it's also a way to make extra money while choosing sustainable fashion choices.
If you sell online, there are many steps you can take to maximise your earnings and ensure the resale process works well for all parties. it's important to include keywords in the description of your listing and upload high-quality images. If you're selling via an app or website, be sure to factor in PayPal fees when pricing items.
If you have a stash of old clothes that are still in great condition, consider selling them on a preloved clothing app, a consignment store or even eBay for cash. With a bit of effort, you could make some extra money and declutter your wardrobe at the same time.
While you're here: Subscribe to our newsletter for the latest tips, deals and news. It only takes a few seconds and we respect your privacy: