Christmas has come early to the Qantas Online Mall! Until Christmas Eve, Qantas Frequent Flyer members can earn bonus points at over 160 retailers. This includes 10 Qantas points per $1 spent at the David Jones online store – that's double the usual earn.
The offer is available for purchases on the David Jones online store in Australia made through the Qantas Online Mall up until to 11.59pm 24 December 2018 (AEDT). There are some excluded brands, and other terms and conditions, which can be found on the David Jones shopping page here.
Get an increased earn rate via other Qantas Mall retailers
The points earn rate has also been increased (and in some instances, doubled) on a range of other Qantas Mall retail partners ahead of Christmas. The offers include:
New Balance – earn 8 Qantas points per $1 (usually 6 points per $1)
Kathmandu – earn 6 Qantas points per $1 (usually 3 points per $1))
Sephora – earn 5 Qantas points per $1 (usually 3 points per $1))
Harrods – earn 5 Qantas points per $1 (usually 4 points per $1))
You can browse the full list of bonus point offers via the Qantas Mall.
Or, read on to discover how the Qantas Mall works.
What is the Qantas Mall?
The Qantas Mall is Qantas' online shopping portal. It houses a surprisingly extensive number of retailers. Popular brands include David Jones, Woolworths, eBay, Freedom, Sheridan, Apple, The Iconic, Mecca Cosmetica and Country Road.

It works like this: You access your chosen retailers via the Qantas Mall and are prompted to login to your Qantas account. The Qantas Mall then re-directs you to that retailer. By tracking your cookies, Qantas is able to register your purchase and award you a set number of points for each $1 you spend – so you earn additional points, just by shopping via the Qantas Mall.
How many points can I earn at the Qantas Mall?
The standard number of points varies between retailers, but generally, between 1 and 5 points are offered.
You can easily check the full list of retailers and their applicable bonus point earn rates via the main webpage.
As per the current double David Jones point offer, at various times of the year (think Christmas and the Mid Year sales), the Qantas Mall runs bonus point specials, boosting the number of points that consumers can earn for their online spend. These specials can be very lucrative. Like David Jones, some retailers choose to double the number of points earn during a bonus point offer period.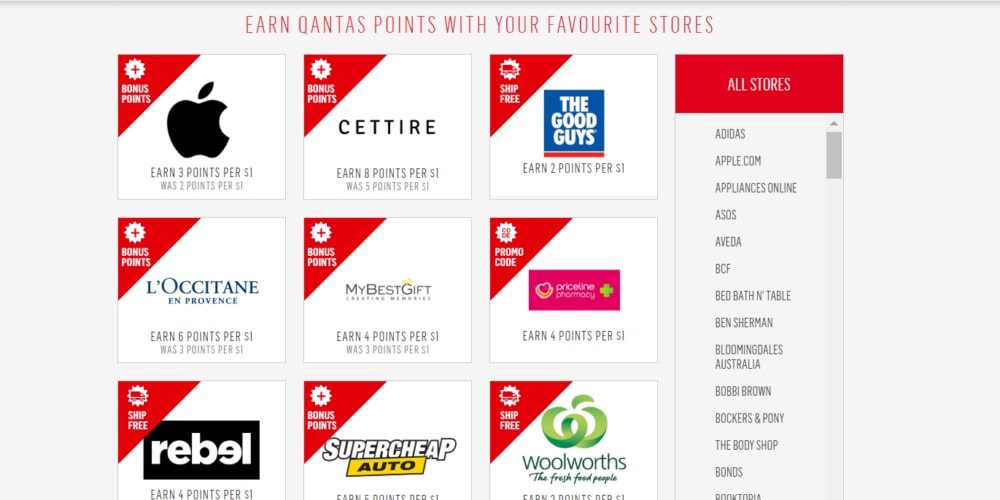 How to shop via the Qantas Mall
It's very easy to shop via the Qantas Mall, and you can earn a significant amount of points just by doing so. We've put together a step by step guide below:
Browse to the Qantas Online Mall website. Ensure that your cookies are enabled so that your purchase can be tracked.
Choose your retailer.
Click 'Shop Now' to visit your chosen retailer's site. You'll be prompted to enter your Qantas Frequent Flyer login details and will then be automatically re-directed to the retailer's website to shop online.
Shop online as normal, being careful not to navigate away from the page before your transaction is completed. This will ensure that the Qantas Online Mall is able to track your purchase.
Your Qantas points should then appear in your Frequent Flyer account 30 days after your purchase. Too easy!
If you're worried about ensuring that your Qantas points post, set a calendar appointment for 30 days time to remind you to check that your points have posted. If they haven't, contact Qantas to check on the status of the transaction. It can be handy to take a screenshot of the purchase to use in the event that you need to chase up the transaction.
Tracking Qantas Online Mall purchases
Your purchase must be tracked by the Qantas Mall in order for you to be credited with your Qantas Frequent Flyer points. As mentioned above, you need to ensure that you have your cookies enabled before you shop. More information about enabling cookies can be found here.
It's also important to stress that you must visit the Qantas Mall first and only then click through to the retailer site. If you visit the retailer's online site directly, or navigate away from the Qantas Online Mall website and come back to it, you will not earn Qantas Points on your purchase.
Restricted purchases
Do note that some retailers may restrict some types of purchases (i.e. gift cards) from eligibility for the bonus points. You'll find each retailer's terms and conditions linked to the Qantas Mall.
Cashback website considerations
While purchasing via the Qantas Online Mall is usually a good idea, occasionally, it might make sense to process your transaction via a cashback site instead. Websites like Cashrewards offer consumers a refund of a percentage of their purchase by using their portal. It's similar to the Qantas Mall, but rewards consumers with money instead of Qantas points.
Note that some retailers that are affiliated with the Qantas Mall are also affiliated with a cashback site (usually Cashrewards). Where this is the case, consider how much the money vs the Qantas points are worth to you, and make your decision accordingly. Generally, we'd value Qantas points at 1 cent or above.
Conclusion
The Qantas Mall can help to boost your Qantas points balance fast. It's easy and free to use, and can be particularly lucrative during bonus point offer periods. If you're planning to shop online at a specific retailer anyway, it can make a lot of sense to purchase via the Qantas Online Mall. The only exception to this would be if you find better value using a cashback site.
Happy shopping!
Readers may also be interested in: