Malindo Air – is it really Business Class or just Premium Economy?
Last week, my wife Mrs Champagne Mile (founder of TCM) sent myself and two mates off to Bali by organising all the flights and accommodation for us. Having never been, I was curious to see what pulls so many tourists to the island and why we Australians end up being headlines while avoiding becoming one ourselves.
Our trip was strictly an R&R effort with three criteria – the ability to avoid kids during school holidays, a swim-up pool bar and the resort had to have palm trees.
Having snared a last minute Business Class flight on the return, I knew I'd have to write a review and make do with my iPhone for the pictures. Read on for my Malindo Air Business Class experience.
Crunching the numbers for Malindo Air Business Class
We flew up to Denpasar on the inaugural Malindo Air flight from Adelaide, in economy class, seated in an exit row. Whilst the flight itself was relatively uneventful bar a few quirks, it was no worse than a Qantas domestic service.
However, returning on a night flight from Bali in economy class wasn't something we were keen to replicate as both my mates and I are six feet tall and we were dreading the economy seats with little recline.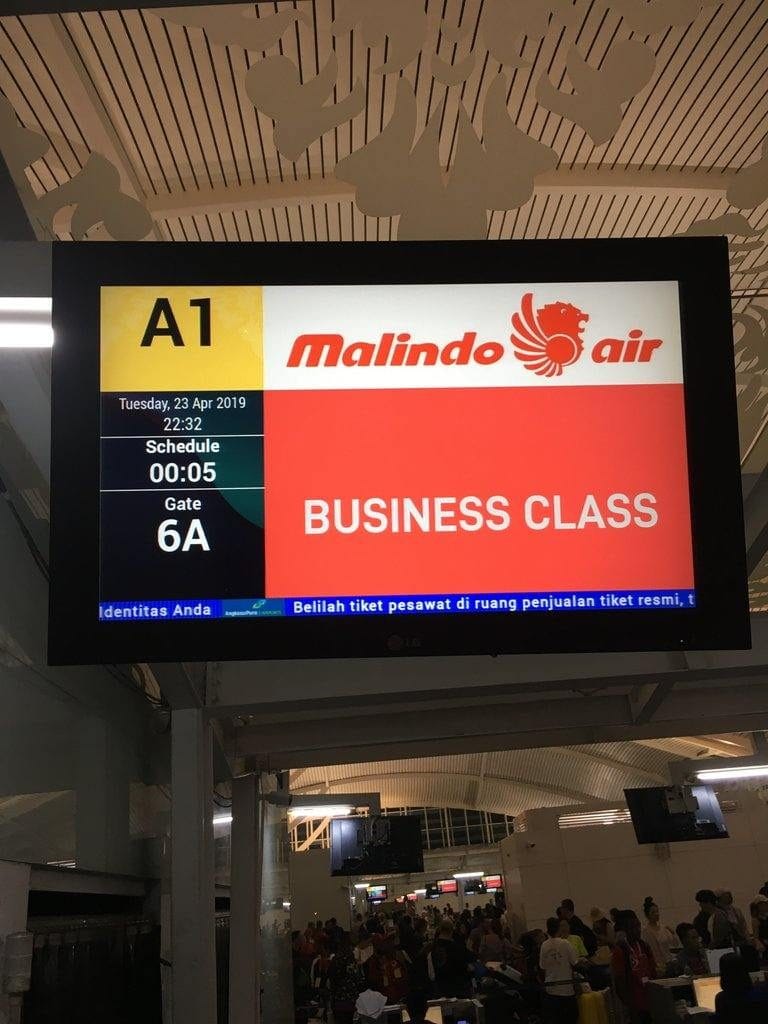 Sitting back at the pool in Bali at 5 pm on the last day, we discussed our strategy for making the jump to Business Class. With economics backgrounds, the decision quickly became overly complex, but in short, we had paid $375 return for economy flights, valuing economy one way at $187.50.
We logged on and saw that there were two seats remaining in Business Class for the flight for $800 each, realising that paying anything short of paying $612.50 extra was a saving. However, we weren't prepared to pay the inflated last-minute price. We established three price points – the upper limit on what we would pay extra ($400), what we thought the upgrade was worth ($300) and what we thought would be a bargain price ($200). Then we hot-footed it in our hotel chauffeur car to the airport, praying we'd get there before the seats were snatched up.
Malindo Air check-in at Denpasar Airport
Bali Ngurah Rai International Airport, (also known as Denpasar International Airport) hosts a large number of Malindo flights in and out every day.
Check-in was easy to find as the airport departure area is well signed and Malindo Air is based within column A check-in counters. We headed straight to A1 and were successful in securing Last Minute Upgrade seats for 3,000,000 IDR, which is exactly $300 AUD. A win considering that's half the price of Malindo Air competitors. Malindo Air staff presented a waiver which we signed as we handed over a huge wad of notes.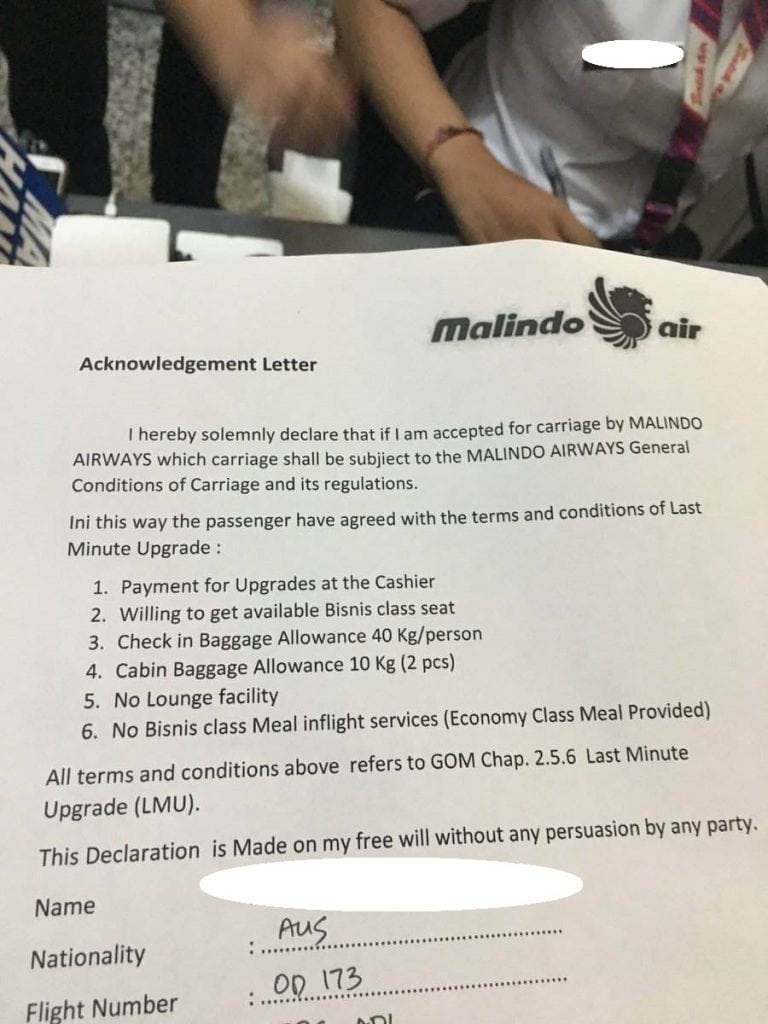 Killing time in Denpasar Airport
Malindo Air doesn't partner with an Australian airline, nor is it part of OneWorld or Star Alliance. Being the husband of Mrs Champagne Mile, you'd expect that I might have learnt a thing or two along our journey, and it came in the form of my Priority Pass Lounge card which would have afforded access to the T/G Lounge as an economy passenger. Ironically it also doubles as the Malindo Air Business Class lounge in Bali.
After we'd gotten quickly through security and customs, we headed straight upstairs to the T/G Lounge.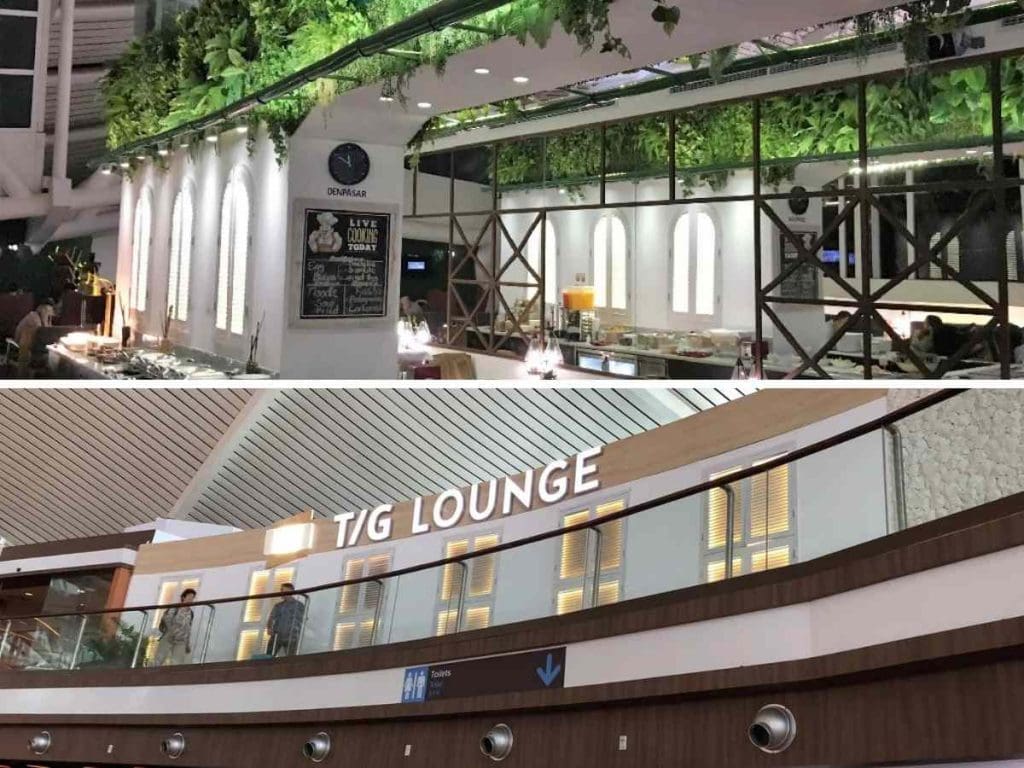 The lounge is nothing much to look at, nor is it wide and expansive like premium Australian lounges. But, with three beer vouchers each, and cool air, it was a nice space to kick back and relax in for an hour.
Malindo Air Business Class cabin
Reaching Gate 5 with enough time to spare, we were surprised that virtually everyone was seated onboard already.
The initial thing that struck us is the fact that Malindo's layout of the Boeing 737-800 is identical to a Qantas Domestic 737 with 3 rows of 2-2. As my mate said, "well how different can a 737 get"?
Quite different it turns out! Sitting down, we're immediately struck by the amount of space. With a reported pitch (seatback to seatback) of 45 inches, it's 8 inches more than Qantas 737 business class and it makes a massive difference! If the passenger in front were to recline, you wouldn't even notice it.
The additional space is such that the entertainment system which comes out of the armrest does not prevent your window buddy squeezing past without a major rearrangement. And then it dawned on us that there were 4 seats empty, despite the website creating urgency stating "only 2 seats left".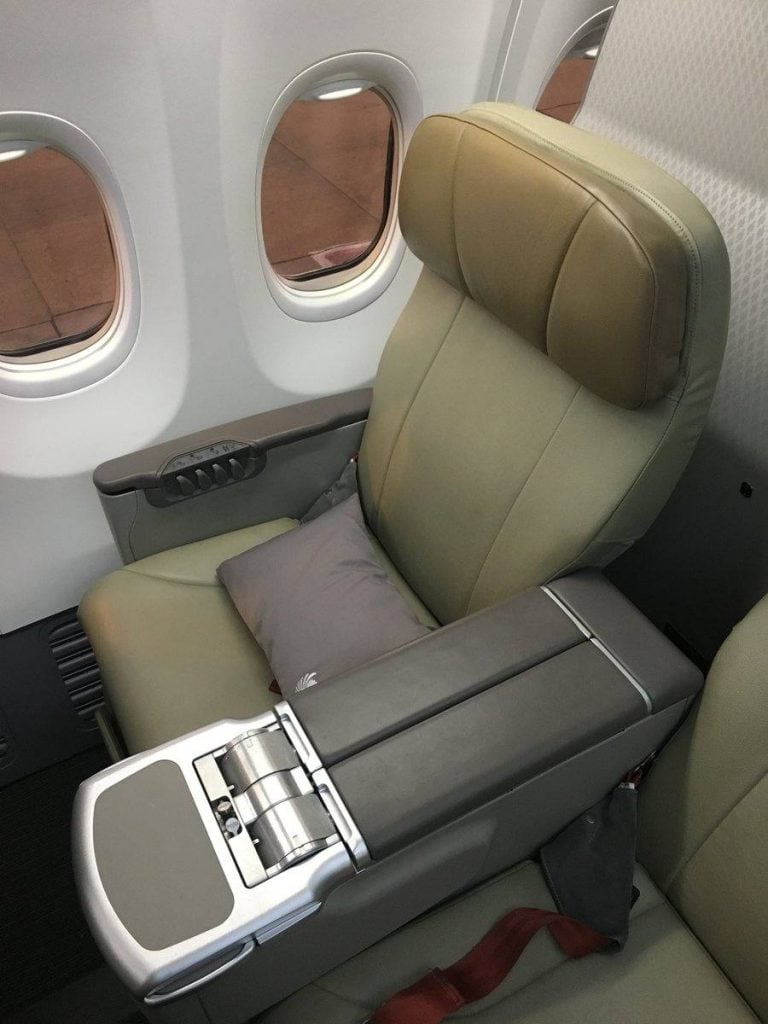 Malindo Air Business Class Inflight service
Shortly after we were seated, water and juice were offered. Full service commenced quickly after take-off and it was appreciated given it was 12.30am. Having a full meal service after midnight seems misguided, but it was somewhat easier to eat in the cool of the plane than the humidity by the pool. A whisky and dry with dinner made a nice change to Bintang beer.
To commence the business class service, the cabin attendant came around and read out four meal options, with no separate menu provided. I opted for a safe chicken dish in lieu of noodles and several dishes that I couldn't fathom. I'm sure something was lost in translation, but it was all part of the fun.
Interestingly, we were able to access a full meal despite signing that away at the check-in counter – must have been thanks to four "no-shows"!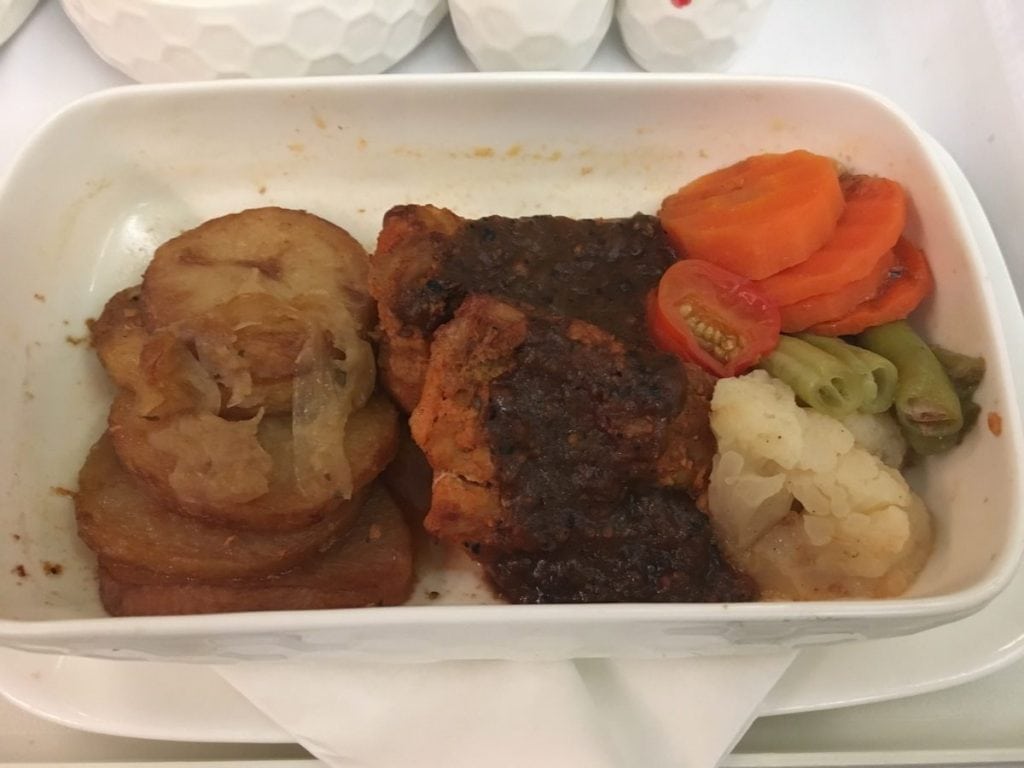 When my tray arrived, the main dish was piping hot but the presentation was less than polished. It's unfortunate to say that the main was bland. With such interesting and diverse flavours in this part of the world, it's shameful to say I felt like I was eating a disappointing Australian domestic dish.
However, the bread rolls were a good size and tasty.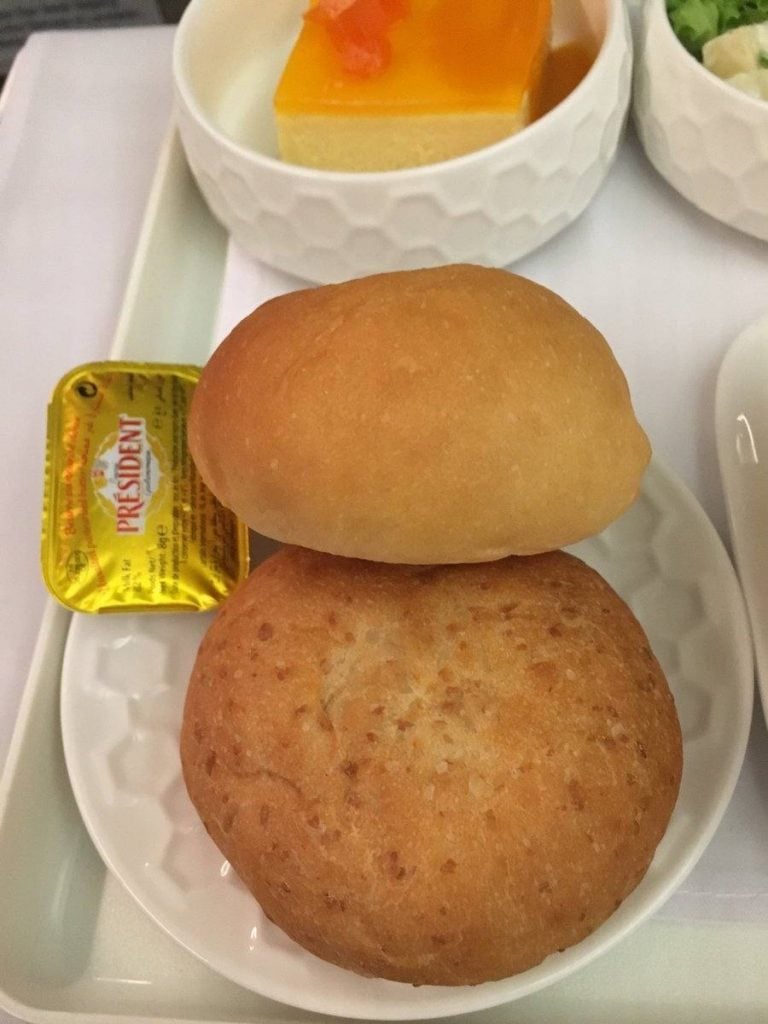 The dessert cheesecake was also delicious.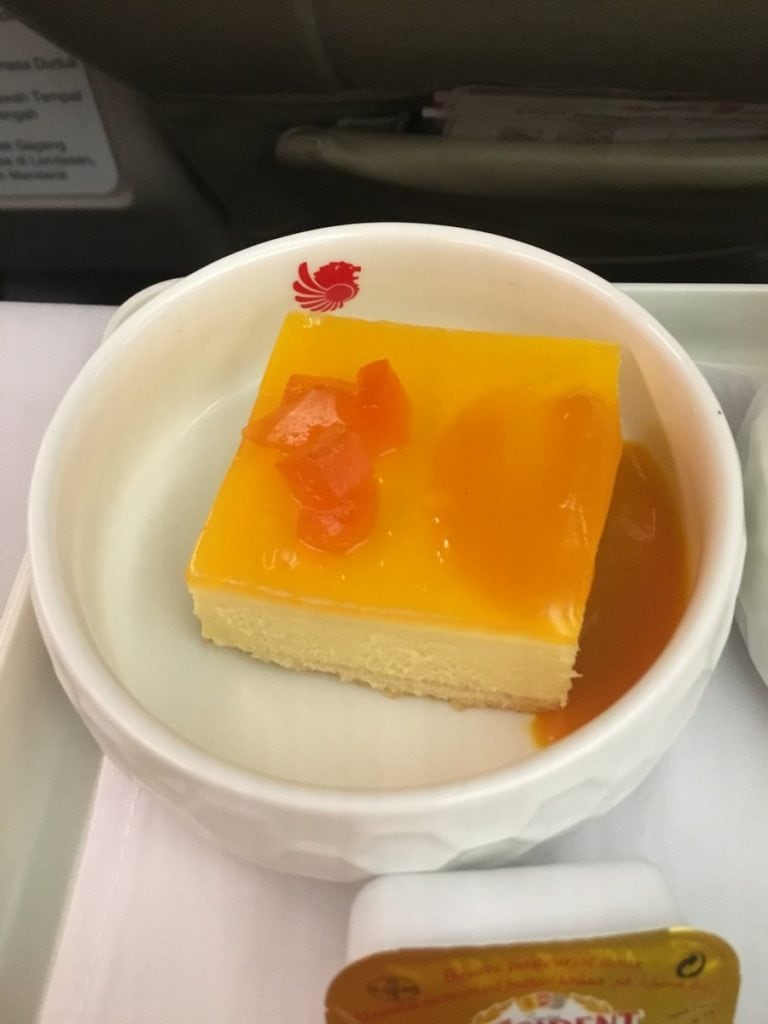 And the potato salad, which I ate out of order, was also pleasant.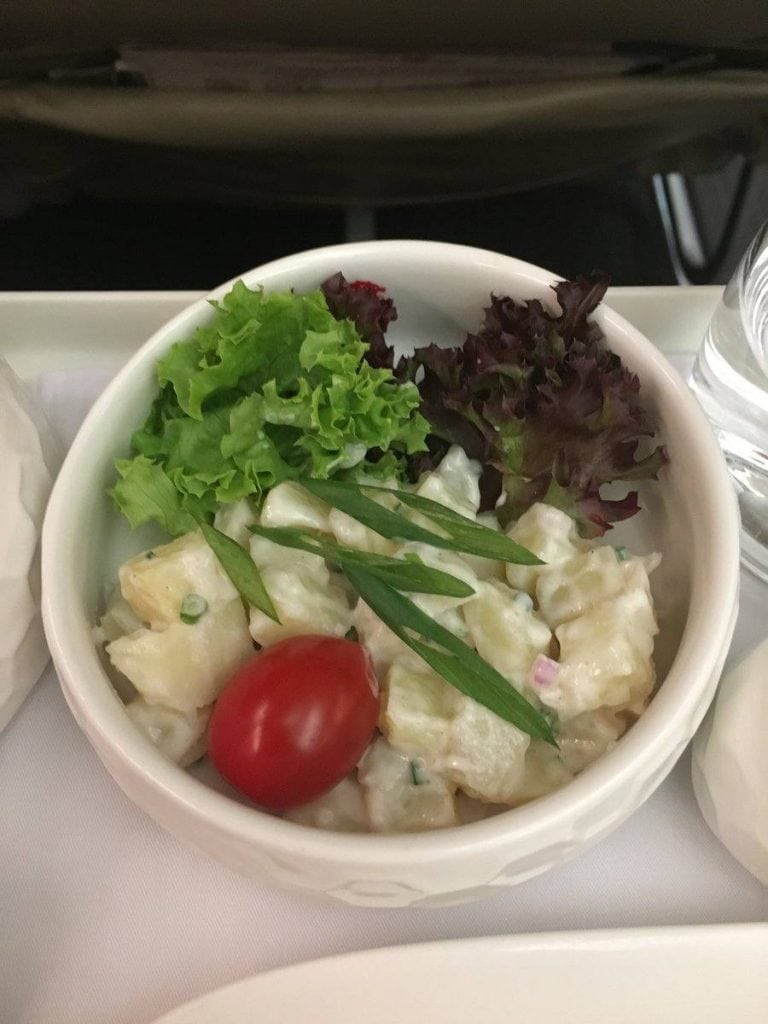 All in all, my Malindo Air Business Class meal experience was fairly lacklustre. However, it really comes down to the fact that maybe I chose the wrong dish out of the four on offer.
Malindo Air entertainment system
Malindo Air's Business Class entertainment system is a good 11-inch foldaway screen and very easy to use. It is adjustable enough to keep out of the way while you eat. It also comes with headphone jack and USB charging port. A power charging point was also present.
Malindo Air amenities kit
We were offered a non-branded blue amenities kit including slippers, night mask and a toothbrush and comb. The lack of branding may come down to the fact that Malindo Air is set to rebrand as Batik Air by the end of 2019.
My test of a good amenities kit is whether my daughter is impressed – suffice to say she was uninterested in this one. In reality, an amenities kit on a 5-hour flight isn't required and this one undermines any attempt at premium branding.
Settling down to enjoy the rest of the Malindo Air Business Class flight
After a quick dinner, I was ready to sleep for the remainder of the flight. But, sadly that was not meant to be. With only a slight recline, a faulty footrest and control and a tiny pillow, I dozed fitfully for the rest of the flight.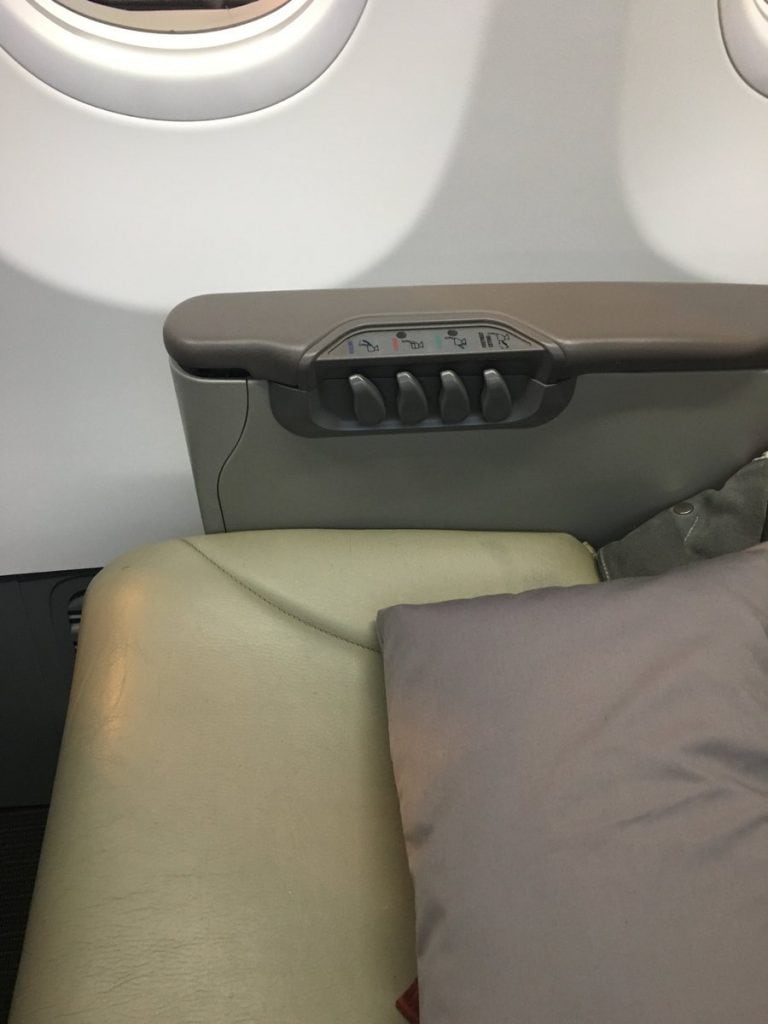 And herein lies the problem with a non-lie-flat seat in Business Class overnight – you get comfort while awake but real sleep is elusive. Chances are you'll sleep a bit but still arrive shattered back to Adelaide.
I was also pleased to note that there were far fewer announcements on the return flight too; especially as they run twice the length of time in several languages.
Landing and disembarkation were less exciting than our economy flight up, where the pilots' cabin door remained open flapping about during ascent. The return trip saw only one overhead locker left open during descent.
Malindo Air Business Class verdict
Starting with the on-ground and lounge access, it's fair to say that Bali offers an underwhelming lounge experience with the T/G Lounge.
In the air, for 5 hours, either economy or business class from Adelaide to Bali is fine – it really comes down to the price. In our case, purchasing a sharp $187.50 economy class sale fare was great value when you consider that might get you between Adelaide and Melbourne on Qantas if you're lucky.
The return leg to Adelaide is a different proposition as it's through the night. We stumped up $300.00 for the one way upgrade to Malindo Air Business Class and I think it was a reasonable price for the comfort. That's cheaper than the normal $700+ Malindo Air service or comparable Jetstar Adelaide to Bali A320 service that costs in excess of $800 one way.
So that brings me to my final question – Would I fly Malindo Air Business Class again? Yes – but only if I was securing seats at a significant discount because Malindo Air Business Class feels like Premium Economy – just with a bit more space.
---
Who else flies Adelaide to Bali?
Jetstar (Qantas LCC subsidiary) is the only other airline directly plying the Adelaide to Bali route. You may consider this airline if you hold a high status with Qantas as the lounge access afforded at Adelaide and Denpasar Airports may be worthwhile in its own right, particularly if your flight is delayed.
About Malindo Air
Malindo Air is owned and operated by the Lion Air Group, based in Indonesia. Operating as a 'full service' airline, it plies 57+ routes and 800 flights a week across Asia. By the end of 2019, Malindo Air is expected to have completed a rebranding to Batik Air. Malindo Air operates 26 Boeing 737 800/900s with a further 26 on order.
What Malindo Air flights operate out of Adelaide Airport?
Flight
Route
Times
Days
OD174

Adelaide – Denpasar – Kuala Lumpur
07:40-11:45
12:45-15:50
Sunday, Monday, Wednesday, Friday
OD173
Kuala Lumpur – Denpasar – Adelaide
19:55-23:05
00:05 (next day) – 06:40
Sunday, Monday, Wednesday, Friday
Is Malindo Air a full-service airline?
In economy the line between low-cost and full service is blurred – you can expect to pay for extras such as headphones, blankets and pillows, but some food is provided.
The Malindo Air Business Class experience neatly fits within the definition with in-flight entertainment, checked baggage, meals, beverages and comforts such as blankets and pillows in the ticket price. Hence, Malindo Air is often labelled as a hybrid airline.
While you're here: Subscribe to our newsletter for the latest tips, deals and news. It only takes a few seconds and we respect your privacy: