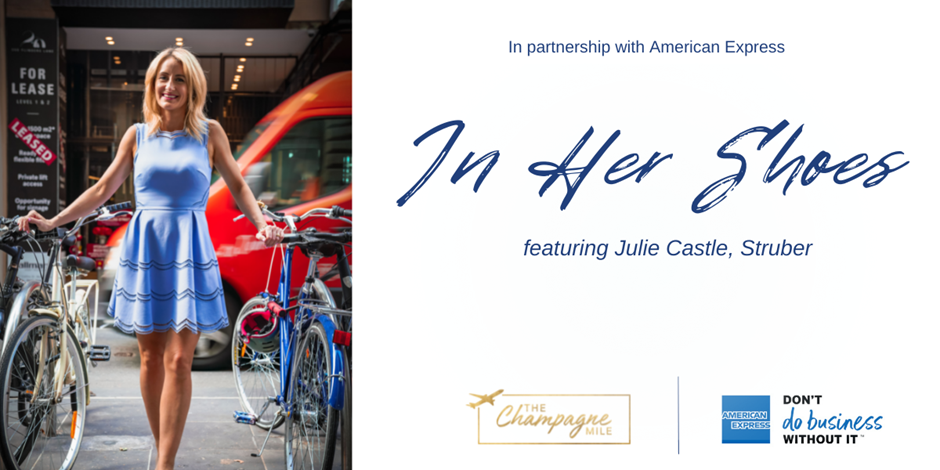 Meet the woman building a business that embraces flexibility and immense opportunities for all
Becoming a mother for the first time changed the perspective on work for Julie Castle.
After years of forging an enviable career advising the Government on major projects both in Australia and the UK, stepping into motherhood provided her with a lightbulb moment like no other.
"I've got a hardcore work ethic and thrive under pressure. It's what gets me out of bed every day.
"When I became a mum, I didn't want to have to give up the love I had for my career, but I also wanted to be an extraordinary mother. I believe you should strive for having it all, even if it's not always perfectly balanced," she says.

The realisation that she needed more flexibility in her work, and the knowledge that she could do more to influence the industry, gave her the impetus to design a company that would attract and retain top talent.
"It was about making a positive impact on our employees, contractors, suppliers, stakeholders, and clients' lives. We wanted to offer an environment that supported working parents and fostered continuous growth," she says.
The birth of Struber
Six months after her first daughter was born back in 2014, Julie launched her business, Struber. Named after her maiden name, she set out to change the way companies plan, position, procure and deliver infrastructure projects, with a big focus on culture, social license, and governance.
Struber offers customised stakeholder engagement, communications, supply chain participation, social responsibility, research, digital and graphic design services. The team specialises in infrastructure, capital works projects, and everything in between.
It services the whole infrastructure lifecycle from the policy to extension phases supporting organisational systems of all sizes and physical structures or facilities that cater to the future needs of populations and economies.
"So basically, that means that anywhere there's a need for alignment, exchange of information, negotiation or interaction about an infrastructure outcome, we're involved.
"We focus a lot on culture and communications to make sure that the teams planning and delivering these major projects are united, high performing, and delivering beautiful legacies, in the best way, with real social benefits."
The company works on some of the biggest projects and programs in the country, whether it's transport, precincts, developments, energy, water, or social infrastructure. "We realised that the industry and its diverse sectors needed help to improve their processes and positioning.
"It's not what but how you fulfill infrastructure that creates long-term and sustainable legacies, and yet it's often done in a haphazard way that doesn't get the best out of resources or contribute to a better future. We aim to change that," she says.
Julie employs over 60 people and a further 10 contractors, with plans to triple that within the next five years alongside an ambitious plan for international expansion.
In the eight years since Struber was launched, the business expanded quickly throughout southeast and regional Queensland, into Victoria, then onto New South Wales, and more recently, into Canberra.
Current projects include the Gold Coast Light Rail, Sydney Metro, Footscray Hospital, North East Link, and Project EnergyConnect.
Navigating market volatility
The pandemic proved to be a game-changer in the best way, with the business doubling in size during Covid as companies outsourced to this trusted, creative and energetic team in a desperate bid to cope with remote work during a period of time when all infrastructure organisations needed all hands on deck.
"We made mistakes and learned plenty of lessons in our first five years, so by the time that Covid hit, we already had a strong foundation that was easy to defend."
Castle became pregnant with her second child at the start of 2020, coinciding with Covid landing on our shores, forcing the face-to-face business to go fully remote in 48 hours.
"We've always been disruptive with a purpose, investing in technology and systems to support speed, agile working, and innovation, so when it came time to close our offices we could. Within months we needed to hire more talent, so we went on a massive recruitment drive, expanding our services to help clients solve new problems, and there was limited downtime by the time my second daughter arrived," she says.

Great place to work
Struber boasts an 85% female executive leadership team, and an ability to promote working parents. "We understand that flexibility is different for everyone, but we have standards that make sure that people can live their best life, and love what they do," she says.
Gaining Great Place to Work Certification is one of the company's most recent accolades. "We scored 97%, which is extraordinary and brings to life the primary KPI of our business strategy, culture.
She believes she can triple the size of the business within the next five years. "Our services are expanding because we want to be there for our clients, and we don't want them to go somewhere else to get a substandard service," she says.
"We want our business to continue to transition and be somewhere for our two daughters to work one day. Both have the makings of bosses and I hope Struber can create a dynasty for them and our other employee owners' children," she says.
Prior to Struber, Julie advised, consulted, and fulfilled in-house roles for the government and private sector. She started out in public relations and media at a state parliament before taking an opportunity on Crossrail in London that would change her life.
Having a lineage of builders, developers and miners provided a deep connection to infrastructure. It was like she had instantly found her calling, she recalls.
"I found myself working on the largest civil engineering project in Europe with some of the world's most influential and talented people in the business. Working with the board, external stakeholders, and across a fun growing team in this beautiful city made me take my role and responsibility in this legacy seriously," she says.
Seeking a financial provider
The business relies on client revenue. Several entrepreneurial friends with their own businesses recommended that Julie apply for an American Express Platinum Business Card to fuel her growth, she recalls.
She took their advice, saying that having American Express as her financial solution has enabled her to unlock cash flow. The American Express Platinum Business Card allows business owners to manage cash flow with up to 55 interest-free days, depending on when a purchase is made or when a statement is issued.
"It's been incredible to have such a great brand behind us that enables us to have the financial confidence to keep growing," she says.
American Express unlocks cash flow, and realises the true potential of small businesses, she says.
"American Express is very supportive of how we manage cash for our business. At Struber cash is king but culture is the queen so we like to celebrate as a team. I know our leaders feel special every time they get their American Express Platinum Business Card out and put it on the counter. They feel proud that our amazing local brand is backed by a multinational corporation."
Struber enjoys a point earn rate of up to 2.25 Membership Rewards points per $1 spent with the American Express Platinum Business Card, making it a financial provider like no other in the market. "We love that we get the advantages of collecting points and being rewarded for that. The membership program is amazing for customers," she explains.
The Struber team opted to avoid the city during their recent offsite strategy trip, instead heading to the Northern Territory's Uluru and Kata Tjuta with their executive leadership team.
"You can't keep us far from our suitcases. We like our heads in the clouds and heals on the ground. Infrastructure is built all around the country, so we need to be where the action is. We travel regularly to our clients and offices in Sydney, Melbourne, Brisbane, Adelaide, and Canberra so we collect points every week. It's important to have your Platinum Business Card ready to go," she says.
"We look forward to expanding, and continuing to benefit from the support American Express has shown our small business from the early days," she says.
Diversity and inclusion
Julie is continuously challenging and implementing diversity and inclusion programs in her business. "We are always learning and improving through a psychologically safe environment where people speak up and share views. The diversity of ideas really matters to us, so we look at potential from all angles. We've been securing a great mix of talent in more recent years and are investing to ensure everyone can contribute and progress. We have equal pay for women and men at the same level and a first-class Parental Care Policy for a business of our size," Julie says.
"Everyone has a right to share their own views, perceptions, and value. Through our work in infrastructure, we ensure diverse social and professional identities form part of the consultation, decision-making, and benefits realisation process. We want everyone to have equal footing," she says.
"We pride ourselves on making sure that we think differently about our growth ambition to unlock potential pathways that people can take in our company. We want their time at Struber to be their best years and for them to have no reason to leave. We want to drive more diversity on boards and to grow leaders that will change the face of our industry," she says.

The organisation has begun a journey to immerse itself in Aboriginal culture, among others, as part of its Plant a Tree Mantra which encompasses respecting heritage, enabling equality, and improving society. After growing up in Cairns, Julie saw first-hand some of the issues that Aboriginal Australians face, giving her a clear sense of duty to be part of positive change.
Struber is part of several government and industry advisory boards as well as a range of pro bono style projects in order to influence and invest in legacies that will make a difference. "We're putting a lot more structure around this now including a percentage allocation of profit each year so we can charter shared goals and dream big."
She says they love making magic happen and applying energy to everything. "You've got to enjoy your life. Otherwise, what's the point? We love the whole American Express rewards experience, and watching the points grow. Before long, we've got another trip of a lifetime planned to make the hard work of having a bright impact pay off," she says.
Julie shares her top tips for business success:
Help customers be brilliant: The Platinum Business Card is a way to free up cash flow in your business. Take it to the next level.
Strength is in the pack: Diversity and inclusion benefit everyone. Respect always. Celebrate contribution and choose we over me. Be a team of teams.
Excellence is a habit: Unlock your full potential. Don't sleepwalk through your career. High-performance ambitions require daily mastery. Luck is where opportunity meets your preparation.
Pressure is a privilege: Find a way and make the tough decisions to create your optimal state. Be hungry and persistent. You've got this.
Seek to teach: Have the confidence to ask questions. Stay one step ahead. Share what can benefit the masses and craft your own trademark.
80% on execution and 20% on strategy: Dreams don't work unless you do so get started. Hunt your goals. Drive a positive and celebratory culture that ensures the success of others is everyone's success.
While you're here: Subscribe to our newsletter for the latest tips, deals and news. It only takes a few seconds and we respect your privacy: