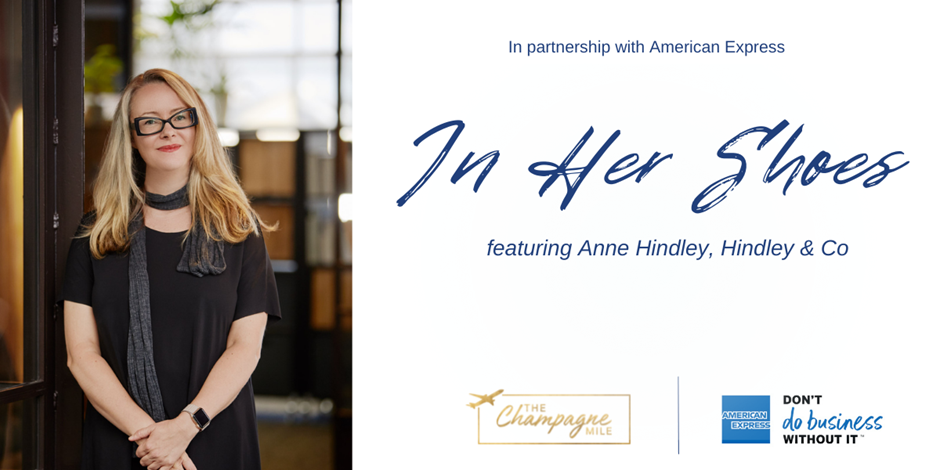 Award-winning architect Anne Hindley took a leap and launched her own firm, proving a critical step into the world of business
Melbourne's Anne Hindley has forged an enviable reputation in the world of architecture, creating interiors that amplify the sensory experience and create spaces that connect you to life, nature, and art.
Anne heads up renowned firm Hindley & Co, which specialises in mid-century architecture, heritage overlay renovations, modernist and contemporary design, and new minimalism.
Quite simply, she has the ability to bring inside and out together with views, landscaping, and flow, a key component of the overall design.
Anne leads an award-winning team, which has made its distinctive mark on a number of homes both in Melbourne and other parts of the country. The team has an uncanny ability to bring inside and out together with views, landscaping, and flow, a key component of the overall design.
The team is unique in its architectural design approach. They view each project as an entire while, looking not just at the building, but the interior design, from finishes through to furniture design and selection to ensure the final outcome meets the brief.
"Our team delivers a holistic approach, creating remarkable outcomes by pushing boundaries while maintaining warmth, understanding, and sensitivity for our clients," she says.
How it began
Anne had always wanted to be an architect, and upon graduating architecture from Melbourne's RMIT University, she received a grant to go to New York for an internship with a high-profile architecture firm Smith Miller & Hawkinson, where she worked alongside some of the most acclaimed in the business on the design team for the award-winning Corning Museum of Glass.
"It was an incredible period of my career because I was working with people in the industry I had long admired," she says.
Next, Anne went to London to work on some high-end residential projects. One such project took her to Singapore to oversee the work on an $8 million housing project with a Balinese feel, with stone and timber finishes throughout.
The project lasted at least two years. When it was safely delivered, Anne decided it was a great time to spend some time living in France, where she freelanced as an architect and practiced her French language before starting a project with a local council and working on some intriguing residential projects.
Eventually, she returned to Melbourne, determined to utilise her overseas experience and consolidate her learnings. She began working with one of her architectural heroes, Allan Powell, lauded within the architecture community for his award-winning projects such as the $7 million RMIT Bundoora West Lecture Theatre and the heritage-listed Anchorage Clifftop House in Sorrento, among other stunning residential projects.
Anne worked in Allan's architecture firm for the next six years on a range of residential projects that have made their mark on Melbourne's built environment.
A decade ago, Anne made the decision to go out on her own and start her own architectural design firm. "Allan and the firm were incredibly supportive of this endeavour, and we continue to have a great relationship," she says.
One job lead to another and over time, Anne started was making a name for herself as an independent architect not just in her home state of Melbourne, but across the country. "Other clients see your work and the business grew over time. One job leads to another and so on," she says.
Hindley & Co works on a broad range of projects, from high-end residential projects that integrate interiors, architecture, and gardens. "We work hard to make sure the relationship between these areas is fairly seamless," she says.
"We're very much culturally united as a business. We're interested and conscientious about working with people who are really switched on. As a business, we're not driven by ego. We're all focused on developing exceptional outcomes for our clients," she says.
The key to success, she says, is knowing what to measure. "You could measure so many different things. But just keeping track of a few key metrics that are important in your business to keep you on track makes a huge difference to your success as a business owner," she says.
Anne also advises anyone in business to develop and record their own business processes so they don't get caught up in continually reinventing the wheel on mundane elements of running a business.
Creating beautiful spaces
The firm knows planning regulations inside out and can work within the challenges that they present to create beautiful spaces. "We usually start with the most complex area, and work back from there," Anne says.
She's regularly consulting with engineers, council, landscapers, builders, and contractors on projects. From feasibility study right through to completion can take months, or even years, depending on the complexity of the project.
Most projects are worth around $1.5 million, and she usually has around 10 active projects on the go at any one time, but dozens of others are being pushed along in the background within the firm.
While the pandemic was a concerning time, the real estate boom fuelled her business, creating a boom, with nine staff now employed at the firm.
Anne recently returned from a long-overdue break in Queensland using travel benefits obtained via her American Express Qantas Business Rewards Card.
She admits she learned early in her career that American Express literally opened doors for her. "Having travel benefits at hand gives you a wonderful excuse to step away from the business and recharge for short periods," she says.
The American Express Qantas Business Reward Card allows business owners to manage cashflow with up to 51 interest-free days, depending on when a purchase is made or when a statement is issued.
Accessing up to 51 days to pay for purchases, Anne puts larger payments required for the business or client projects through on her card, which provides cash flow benefits for her business. "I keep this card handy at all times because it means that I don't have to go to the bank and get out huge amounts of cash to pay for things".
Additionally, with a point earn rate of up to 1.25 Qantas Points per $1 spent on everyday business spend, Anne ensures she makes the most of her points accumulating potential. "I use my card to pay for absolutely whatever I can. I'm a real points collector. I'm responsible for the bottom line in my business, after all," she says.
Creating a culture
Anne quickly learned that she needed to build a culture that would attract great talent.
"At first I was hiring contractors to work on projects with me, which was what I was advised to do by other architects. But I found that you need more confidence in your business than that. I needed my own switched-on architectural team I could rely on," she says.
Anne spends a lot of time fostering the people around her and empowering them to achieve and now has an all-female team. "I really value the people in the business and care about their education, making sure I'm providing them with learning opportunities," Anne says.
"Often in a business, people can end up pigeon-holed in a role and can get stuck on tasks that don't provide them growth opportunities. By exposing them to new areas of architecture, we're making a deliberate decision to educate these people and give them exposure to new things."
Thinking outside the box
Anne recalls a recent project in the Melbourne suburb of Balwyn. The owner felt that the kitchen and living areas weren't large enough and was curious about how to achieve a larger space given the restrictions, but she was unable to change the building envelopes for the two-storey Heritage building.
"We could see that it wasn't these spaces that weren't big enough. The issue was the relationship with those spaces. All the rooms of the house felt closed off from each other," she says.
Opening up the home to achieve the illusion of more space with strategically placed internal views enabled the homeowner to see around corners, getting glimpses of other rooms framed the best views the property could offer.
It meant that the kitchen and living area were not altered, but felt like completely different spaces, she says.
"There's light coming in from everywhere. Wherever you're standing, you can see other parts of the house. You could feel the actual size of this quite large house, rather than feeling like you're all locked in one room all the time," she says.
Tackling challenges head on
But Anne admits those early days were a steep learning curve for her. "I was adept at architecture, but running a business and all the elements that go with that was all new to me, so I had a lot to learn in that respect," she says.
And some projects can be expensive and difficult, with roadblocks such as the discovery of asbestos or planning permit hold-ups creating headaches. But she admits to loving a challenge.
One of the major challenges has been learning to become profitable as a business. She explains: "Architects are very focused on producing beautiful architecture. Making a profit can be secondary to what we do; we tend to worry about the money later as artists.
"But of course, we need to make the business work, or we won't survive, which has been a big learning curve for me," she says.
A business mentor has proven to be a valuable resource, teaching her the value of setting a budget not only for expenses, but also for sales. "It might sound rudimentary, but nobody teaches you these things. Taking this step has been tremendously helpful because that's allowed us to even out cash flow and measure it against something so that we've got benchmarks to measure it against," she says.
"I now review expenses with my mentor every month, which allows us to tweak things and improve our efficiencies and identify problems," she says.
Approaching challenges with the right energy is crucial. "Sometimes a challenge might generate a better solution than you had in the first place.
Anne shares her top tips for business success:
Use your points – I use my American Express Qantas Business Rewards Card to collect points and travel benefits for my business, and use them to my advantage to help offset business purchases.
Take the leap – If I hadn't taken the leap of faith and gone out into my own firm in my 40s, I would always have wondered what could have been.
Know your metrics – Know what success looks like for you and make sure you are measuring specific metrics to ensure you are meeting your goals.
Get a mentor – Having someone on my side who is able to sit with me each month and make me accountable for areas of the business I want to improve has been critical for our success as an architecture firm.
Build a culture – Think carefully about what your business stands for, and make sure you clearly articulate that to your team.
Review expenses – Making sure you're financially successful is all part of running a business, so make sure you're accountable and balancing the books constantly.
While you're here: Subscribe to our newsletter for the latest tips, deals and news. It only takes a few seconds and we respect your privacy: