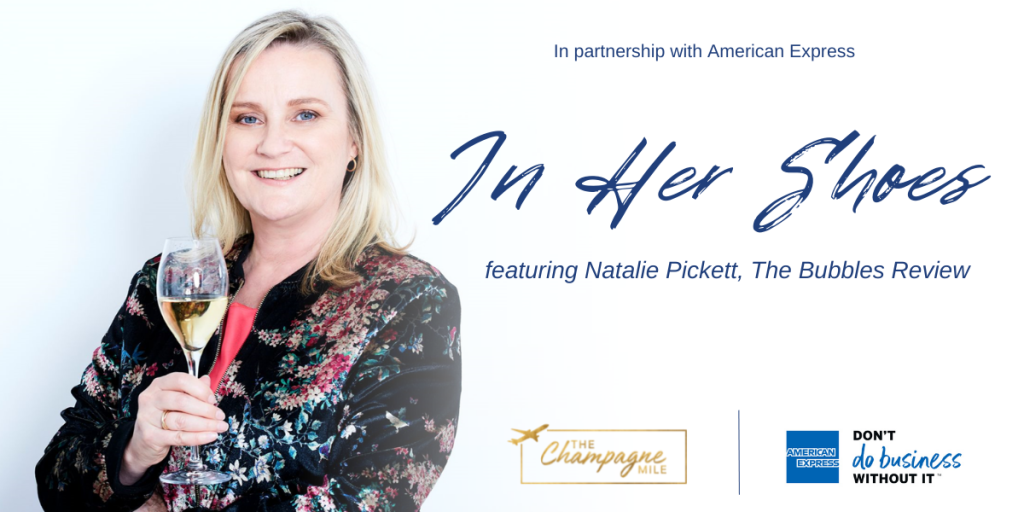 Drinking champagne and sparkling wine is all in a day's work for Natalie Pickett.
The Melburnian is a serial entrepreneur and founder of the award-winning business, The Bubbles Review, which hosts appreciation events and tours celebrating champagne and sparkling wine in Australia, and tours to Europe's most famous champagne and sparkling regions.
Her love of sipping on champagne and sparkling all began at a luncheon for her 18th birthday with friends and family. She admits she was hooked on the luxury and indulgence element surrounding the bubbly drink.
Not long after that, Natalie toured the Great Western region of Victoria, arguably the birthplace of Australian sparkling wine.
"Since then, my love of bubbles and travel has taken me to many sparkling wine regions including Champagne in France several times. I've had the joy of meeting and interviewing some of the best champagne and sparkling winemakers in the world," she says.
The Bubbles Review requires her to go to the French region of Champagne each year for tours and events. The events are back this year after a forced break due to Covid, so check the listing page to join in on a tasting session near you.
"Champagne and sparkling wines are one of the joys of life and something to be shared. I love everything about drinking it, as well as the stories, the romance, the glamour of bubbles, and meeting new people," she says.
From banking to bubbles
Natalie started out in banking but quickly realised that a life that led her to travel and enabled her to pursue her entrepreneurial dreams would be more up her alley.
She spent more than 25 years in tourism and related industries, working in Australia, US, and Europe as a tour manager before founding her own inbound travel company back in Melbourne, which brought international visitors from all over the globe into the country.
Looking back, she admits that it was challenging at times. "Travel is a business subject to so many external factors, including previous pandemics, terrorism threats, smoke clouds, natural disasters. At times it wasn't easy."
In hindsight, Natalie admits that she was so determined to be successful, that her priorities were out of whack. "I would push through, and I did that to my own detriment in a way, in that I didn't prioritise my own needs, and didn't take time for myself," she admits.
After 15 years, Natalie closed the business and has shared her tourism industry insights with Australian businesses wanting to improve their domestic and international markets knowledge.
She remains an active contributor to the tourism industry, a regular industry speaker, mentor, consultant, and educator. She's also a retired Victorian Tourism Awards judge and has previously been awarded in the Executive Woman of the Year Awards.
Sharing her passion
Around six years ago, Natalie had the idea to turn her love of champagne and sparkling wine into a business.
Despite already being adept at running a business, she sat and wrote a business plan for the business when starting out, determined to monetise her love of champagne and sparkling.
She launched The Bubbles Review, which gives her a platform to share her passion for champagne and sparkling wine through her popular award-winning blog, incorporating 30 years of travel industry experience to run events and tours.
It was created for people who like champagne and other bubbles, and includes interviews with some of the best in the business. Her master class offers tasting techniques and gives participants the foundations of champagne and sparkling wine.
"I think champagne and sparkling wine is one of the great joys of life, and creating a business that means you get paid to drink champagne is awesome, and we've been listed in the top champagne blogs in different countries around the world, which is also pretty amazing," she says.
Natalie also holds an American Express Business Explorer Credit Card, which she's had for as long as she can remember. She uses this to collect American Express Membership Rewards points, which she can put toward travel.
Having a financial partner with her every step of the way through her business journey has eased the pressure of being in business, she says. The American Express Business Explorer Credit Card allows business owners to manage cashflow with up to 55 interest-free days.
"Being able to access credit to ride out the natural ebbs and flows of business was crucial in those early days when setting up the business," she says.
"And for someone who travels internationally for work, my American Express Explorer Business Explorer Credit Card is crucial. Aside from offsetting business expenses, it means I'm earning up to 2 points per $1 spent, with no expiry. I'm saving them, and am planning an exciting trip back to France as soon as I'm able to. I can't wait to get back to the vineyards in Champagne," she says.
Removing the pressure
She didn't push to monetise The Bubbles Review straight away, instead gradually figuring out which elements of the business brought her the most joy.
"I monetised The Bubbles Review within six months by creating my first event in Melbourne, but not having that financial pressure enabled me to take my time and build it my own way," she says.
The business has grown organically as she chases her passion. During the pandemic, she ran a number of virtual tastings from different wine producers, building personal resilience and looking for new opportunities in her business.
She has amassed an audience of more than 11,000 people who subscribe to her newsletters or follow her on social media. "The experience taught me that success is less about work, and more about following what makes you happy," she says.
Doing what you love
Too often, people unintentionally turn their passion into a burden by building a business around it, she says.
She is adamant that business should be fun, and should support the lifestyle we want. "It's about building the right foundations first before you decide to grow and scale the business.
"People are excited about something, so they turn it into a business and think they're going to have more money and time. But without the right structures in place and putting in the time to build the right foundation, it can become a stressful burden very quickly," she says.
She feels most successful when she's engaged in activities she loves, or when people approach her at an event and thank her for organising the event. "When I'm mentoring a client and we're working together and I can see what I'm doing is bringing value to their business.
Making time for me
Amazingly, Natalie struggles with chronic pain after a hiking accident many years ago. Not that you'd know. Her upbeat and positive nature draws others in. "You need to keep finding your own way through these experiences and figure out the best way to deal with the pain for your own body," she says.
"As business owners, I think we're always thinking that it's all about the money and that we need to keep striving for the money, but that's where you're burning yourself out. I now know that the money will come when you follow the right path for you," she says.
These days, I'm more aware now of making sure I've got time for myself and my family. Meditation and enjoyment go into my daily routine these days. Not everything turns to gold straight away. You've got to test, measure, tweak and change," she says.
One of the most important things to consider is how you define your version of success, she says.
"We're often looking for external acknowledgment of our success, and I think sometimes people forget to create the life that they really want, and the business ends up driving them, instead of the other way around," Natalie says.
"It's often when you sit back and take time to be still, meditation, a walk in nature, that's when the best ideas often come to you," she says.
Natalie shares her top tips for business success:
Enjoy the rewards: Look for a financial solution that supports your business such as the American Express Business Explorer Card, which can help you ride the natural ebbs and flows of business, and collect rewards along the way.
Marketing for free: Consider out-of-the-box marketing ideas like being part of a publishing collective or creating events to build a profile.
Adversity is positive: I have learned that adversity in business creates the perfect opportunity for innovation.
Follow your passions: There's no point chasing the money. Follow your passions, and the money will follow.
Define success for you: Success comes in all shapes and sizes, so understand what it looks like for you, and celebrate it when you've achieved it.
Take time for yourself: Being in business is about flexibility and freedom, so make sure you don't get lost in the business.
While you're here: Subscribe to our newsletter for the latest tips, deals and news. It only takes a few seconds and we respect your privacy: