Starwood Preferred Guest (SPG), is currently offering up to a 35% discount on the purchase of Starpoints when your transaction includes a minimum of 5,000 points. For Australians interested in snagging cheap One World airline business class flights to and from Asia, read on to find out how purchasing Starpoints may be worth your while.
Starpoints are currently one of my favourite points currencies due to their amazing flexibility. Not only can you use them to stay at incredible properties, but they also transfer at a 1:1 ratio to a number of leading airline partners.
SPG 35% off sales aren't new (in fact, one was offered just last month). However, the current offer has been timed to coincide with a lucrative, stackable 25% bonus on American Airlines miles transfers undertaken via selected hotel programs. Both offers run until May 31, 2018.
How does it work? In a nutshell, by purchasing the maximum yearly allowable 30,000 Starpoints for $682 USD (approximately $890 AUD at the time of writing), you'll automatically gain enough American Airlines miles to redeem a one-way business class flight from Australian cities to Asia, paying only minor taxes. You'll have the opportunity to fly on leading airlines like Qantas, Cathay Pacific or even the highly regarded Japan Airlines.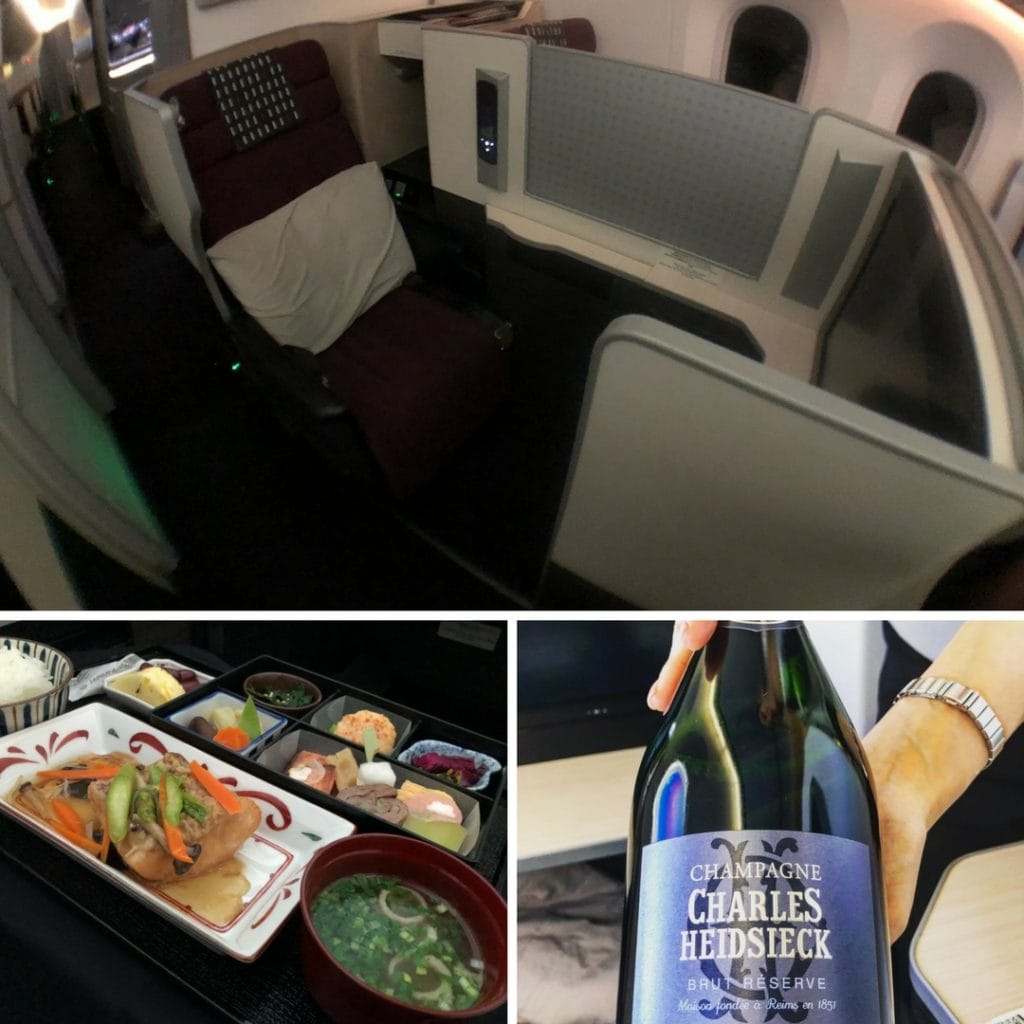 Step 1 – purchase Starpoints
First up, it's important to note that the recipient of a Starpoint purchase must be a member of Starwood Preferred Guest for a minimum of fourteen days before being able to purchase. At the time of writing, if you don't yet hold an account, you can set one up now and still have time to take advantage of this offer.
Members may purchase a minimum of 500 Starpoints and then in any increment of 500. Purchased Starpoints are applicable for all Starpoint awards. A maximum of 30,000 Starpoints may be purchased or received as a gift into your account per calendar year.
To purchase Starpoints for your SPG account, you'll first need to head over to the promotion page here. Note that transactions are administered via Points.com, and you must enter your account number at the time of purchase.

From the drop-down menu, select the option to purchase 30,000 Starpoints for the price of $682.50 USD (a saving of $387.50 USD). You'll be prompted to log in to your account to complete your purchase.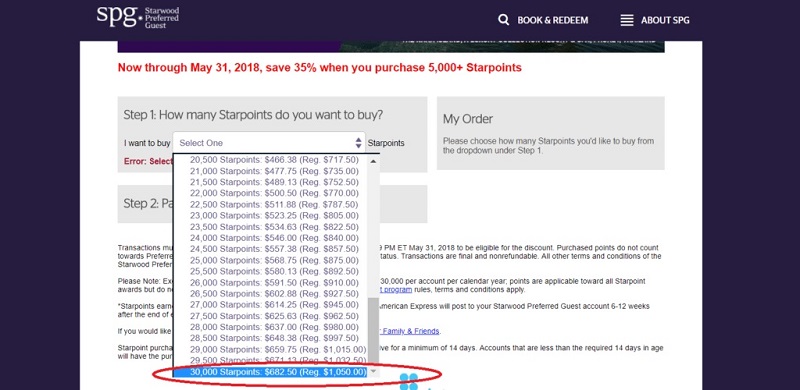 Once you've made your purchase, allow 24 hours for the Starpoints to be credited to your account.
Step 2 – register for the American Airlines AAdvantage 25% bonus miles promotion
In order to take advantage of the American Airlines AAdvantage 25% bonus miles promotion on hotel transfers, you'll need to register here. If you don't currently hold an account, sign up here for free first. Once you've successfully registered, you should receive a confirmation email.
Step 3 – convert your Starpoints to American Airlines miles
Once your purchased Starpoints have hit your SPG account, you'll then have the opportunity to transfer your Starpoints to the American Airlines AAdvantage program.
You can easily undertake the transfer from within your SPG account. You'll need to enter your American Airlines AAdvantage frequent flyer number and specify the number of Starpoints to transfer: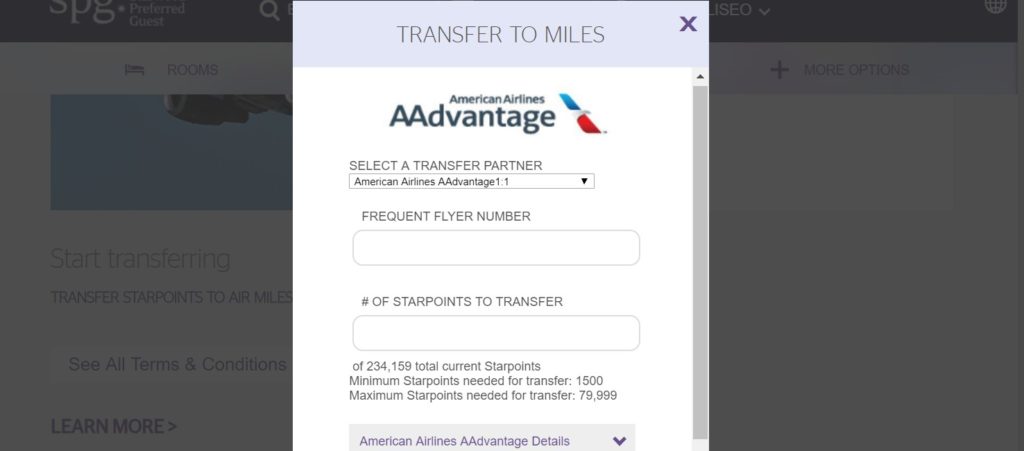 Starpoints transfer at a 1:1 ratio to American Airlines miles and SPG offers a 5000 point bonus for every 20,000 points transferred. Stack this with the 25% bonus that American Airlines is currently offering for hotel point transfers, and your 30,000 Starpoints will turn into 43,750 American Airlines AAdvantage miles.
That's enough for a 40,000 point business class redemption from Australian cities to Asia in business class. You'll have the opportunity to fly on American Airlines partner airlines, paying only minimal taxes. Destinations include cities like Singapore, Bangkok, Hong Kong and even the more distant Tokyo and Osaka. You can view the American Airlines AAdvantage award chart here.
Note that points transfer from SPG to your American Airlines account may take up to 48 hours.
Step 4 – book your American Airlines flight redemption
Once your American Airlines points have hit your account, you can go ahead and book your flight redemption.
Note that some flights are searchable and bookable online via the AAdvantage website, while others require booking via phone (the Australian phone number to call is (02) 9101 1948). You can search all One World partner airlines in one place via the Qantas website. All award flights attract nominal taxes. These are usually much cheaper than Qantas. For example, when flying a business class award between Melbourne and Tokyo using American Airlines miles, I paid only around $80 each way. In comparison, a recent one way Qantas business class award I booked from Sydney to Tokyo cost me $357.
Other American Airlines 'sweet spot' business class flight opportunities
Asia isn't the only destination you could use your purchased Starpoints to fly to cheaply in business class. Other attractively priced 'sweet spots' for Australian based travellers include just 20,000 points for a Qantas domestic business class seat (including trans-continental A330 business class seats to and from Perth), and 25,000 points to fly business class between Australia and New Zealand on either Qantas or LATAM.
In summary
With the next phase of the SPG and Marriott Rewards merger due to take place in August, this could very well be the last time we see a discount purchase offer on Starpoints. The ability to stack this offer with a current 25% bonus on hotel mile transfers with American Airlines makes it very attractive.
While we never encourage speculative purchases, if you have an immediate use for these points, you may wish to consider purchasing.
While you're here: Subscribe to our newsletter for the latest tips, deals and news. It only takes a few seconds and we respect your privacy: