American Express is finding new ways to reward businesses during COVID-19
Note: this is an archived article. Time-sensitive benefits discussed in this article may no longer be available
Some weeks back, we covered the initiatives that Amex is undertaking to add value to consumer credit and charge cards in response to the rapidly evolving coronavirus situation. Now, Amex has proactively announced a suite of limited-time benefits for small business and corporate card customers.
These benefits are designed to ensure that businesses can continue to extract tangible value from Amex card products as spending and travel patterns change over time.
Business Credit (existing cardholders)
A 'Business Credit' will be proactively applied to existing cardholders of three Amex small business and corporate cards. There's a whopping $800 Business Credit available to Platinum Business cardholders, $400 for Amex Qantas Corporate Platinum cardholders and $100 for those who hold the Amex Qantas Business Rewards Card.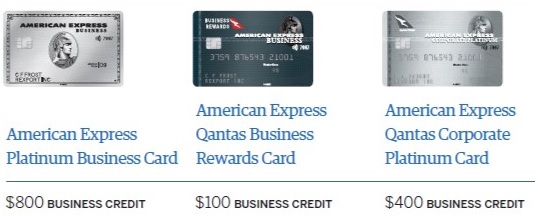 All cardholders who have a membership anniversary in 2020 are eligible to receive the Business Credit. Cardholders with an anniversary date between January to May can expect to receive their credit in June, while those with an anniversary date between June to December will see their credit applied 4-8 weeks after their renewal date. Future cardholders are not eligible to receive the Business Credit.
Back to Business Bundle (multi-merchant offer)
Those holding the American Express Platinum Business Card and American Express Qantas Business Rewards Card can also take advantage of a generous multi-merchant offer. The offer provides up to $320 back on business purchases made by 31 December through six popular merchants: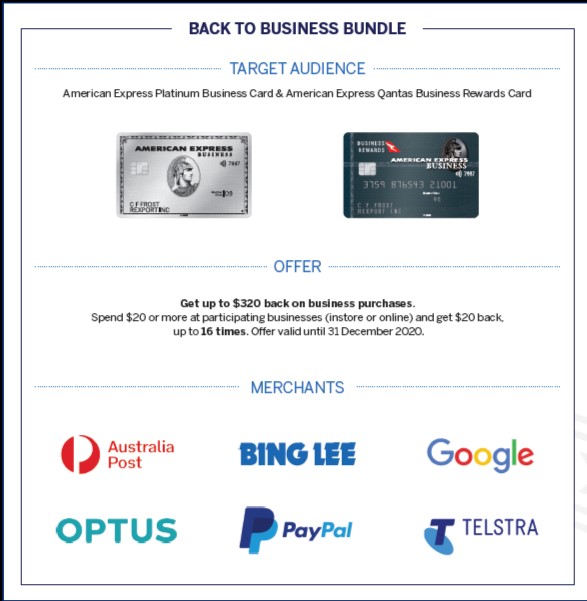 Businesses can spend $20 or more on eligible purchases at participating businesses by 31 December 2020 to get $20 back, up to 16 times. With featured merchants including PayPal, Australia Post and Google, this represents an easy opportunity for many businesses to receive $320 back on eligible spend.
Eligible cardholders can register for this offer now from the 'Amex Offers' area of their Amex online account.
And if your business doesn't yet hold one of these cards, there's no need to miss out. Amex has confirmed to us that the multi-merchant offer is open to new customers who apply and are successfully approved for one of the two eligible cards before the end of the year.
Enjoy 120,000 bonus Qantas Points with the American Express® Qantas Business Rewards Card when you apply online by 18 May 2022, are approved and spend $3k within the first 2 months after approval. New Card Members only, T&Cs apply.
Receive 400,000 Membership Rewards Bonus Points: Simply spend $12,000 within 3 months of your approval date. Offer ends 18 May, 2022. Available to new American Express Card Members only.
Additional benefits for small business and corporate cardholders
Along with the initiatives above, Amex will be launching additional bonus offers on key business purchases and providing access to thought leadership resources, grants and mentoring. We'll be providing more information about these initiatives as information comes to hand.
Amex initiatives for small business and corporate customers: Conclusion
It's heartening to see American Express add new benefits to help businesses extract value in the current climate, and we'd like to see more card providers do it. This is a savvy move to drive loyalty and spending across the Amex customer base, whilst also ensuring that premium card products continue to offer tangible value as the COVID-19 situation evolves.
While you're here: Subscribe to our newsletter for the latest tips, deals and news. It only takes a few seconds and we respect your privacy: