Grabaseat offers Air New Zealand's best travel deals with cheap domestic and international flights up for grabs.
If you're an NZ based traveller, chances are you've heard of Grabaseat. Air New Zealand's travel deal website offers cheap flights, hotels and travel packages, with excellent pricing on offer for those who can be flexible with travel dates.
However, it isn't all about the Kiwis. Australian travellers can save money, too, as we'll explain in more detail below. Read on to discover everything you need to know about booking cheap flights with Air NZ Grabaseat.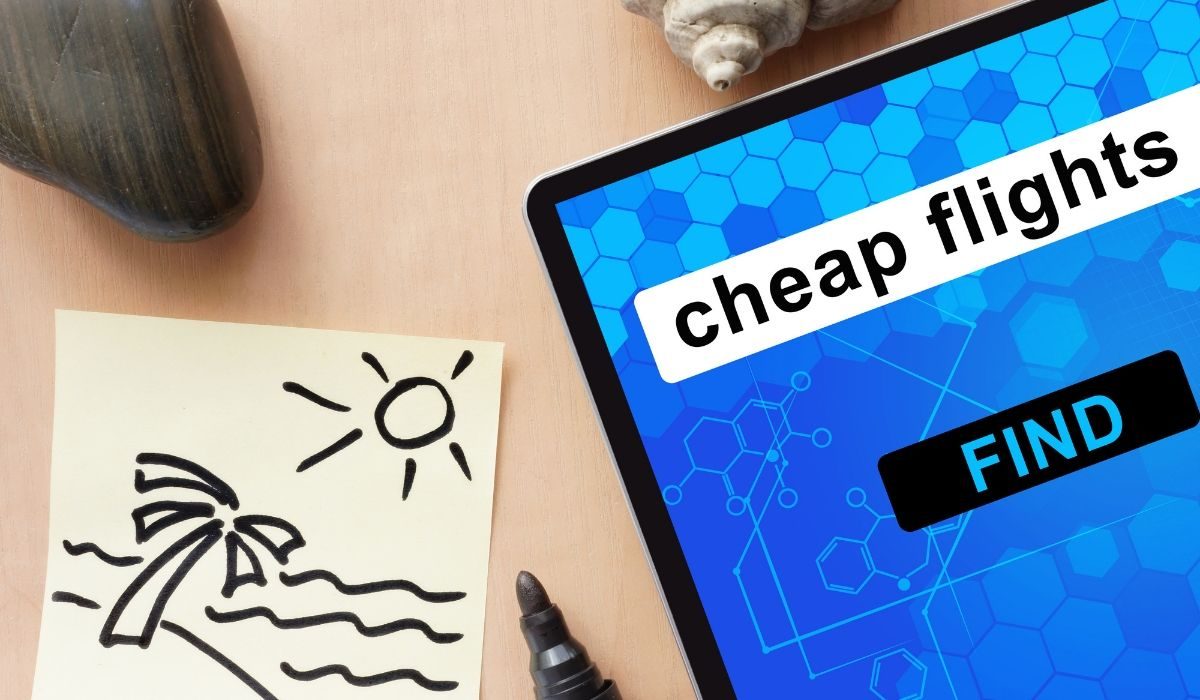 What is Air New Zealand Grabaseat?
Grabaseat is Air New Zealand's online travel deal website. It showcases cheap flights with a range of offers aimed at bargain-hunting travellers. The site also features discounted travel package deals and hotels, with offers rotated regularly.
Consumers are able to search for flights and travel deals from over 20 New Zealand-based departure locations. Destinations include domestic New Zealand, Australia, Pacific, North America, South America, the United States and Europe.
But it's not just about the cheap flights – Grabaseat's range of keenly priced hotel and accommodation options, package deals and experiences are very popular, too.
How does Grabaseat work?
The premise of the site is simple: Grabaseat offers Air New Zealand seats domestically and internationally (including components by its Star Alliance partners) at the lowest possible price into the market.
Fare prices are clearly listed out on the website, with the customer funnelled back to the main Air New Zealand website to complete their booking.
The Air NZ Grabaseat site is designed to create urgency by offering a limited number of seats for sale, often for a short period of time. Because the offers rotate regularly and are sold out fast, website users benefit from regular browsing to find the best prices, and this is part of the Air New Zealand strategy.
RELATED: Luxury on a Budget: Booking the Air New Zealand SkyCouch
How can Australian travellers save with Grabaseat?
While Grabaseat's main purpose is to offer discounted flights for New Zealand-based travellers, there are many ways in which Australian jetsetters can come out ahead, too.
Booking domestic Air New Zealand flights
For Australians looking to tour New Zealand, an itinerary might involve flying into Auckland, touring the North Island, travelling to Christchurch, Dunedin or Queenstown, touring the South Island and then flying out from either Christchurch or Queenstown.
Many travellers would consider hiring a car to drive this itinerary. However, high fuel and ferry costs and extensive driving distances mean that in reality, that's not always the cheapest or most comfortable option.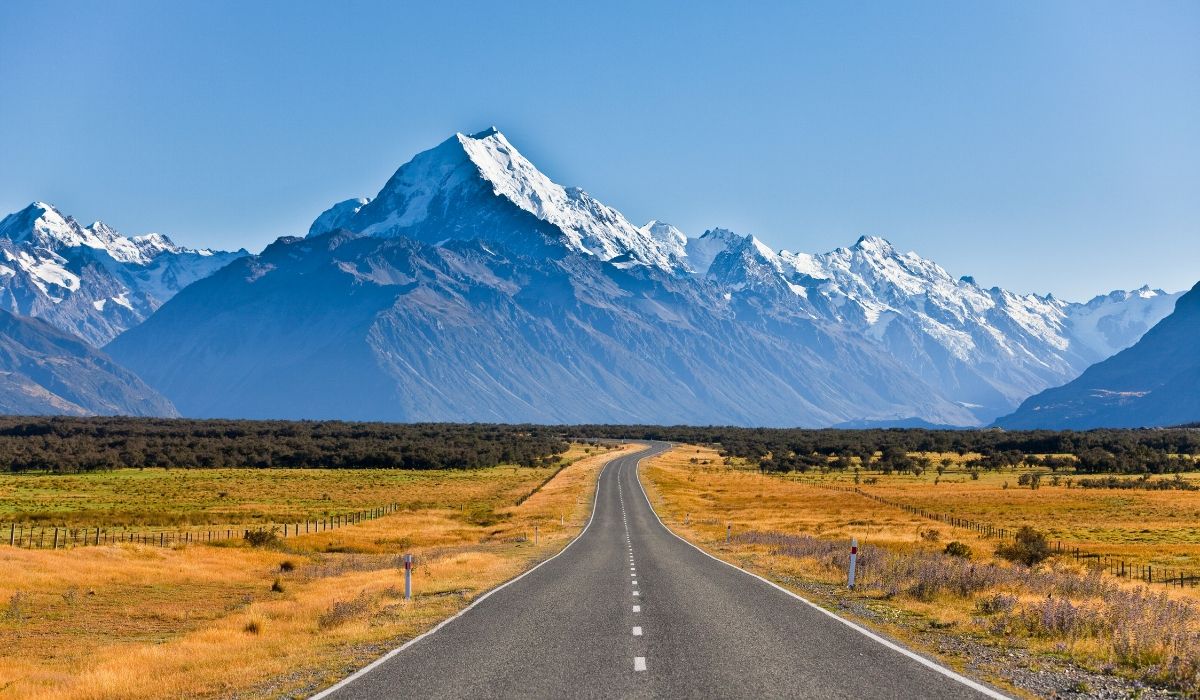 Booking New Zealand domestic flights through Grabaseat could help travellers to save significantly. In 2019, we've routinely spotted one-way airfares between New Zealand's main cities (Auckland AKL, Wellington WGN and Christchurch CHC) for as low as $49. This goes down to as low as $39 for smaller regional cities.
Flights from Auckland to Dunedin or Queenstown can often be snapped up for $79 one way – that's significantly cheaper than the hundreds of dollars you might need to pay to transport yourself, and your hire car, on a ferry.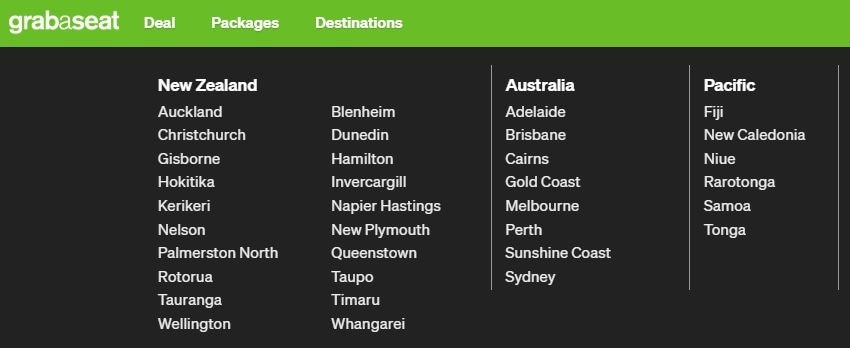 Booking One-way flights to Australia from NZ
While you can't book Grabaseat deals ex Australia, there's nothing to stop you nabbing a cheap flight for the journey home. With most airlines selling trans-Tasman fares one way, Australian travellers can purchase the return leg home. Just be sure to nab a cheap flight on the way over, too!
Booking International long-haul Grabaseat fares
Provided you can lock in a cheap positioning flight to New Zealand, purchasing return flights from New Zealand to the United States, Europe or Asia could be a good alternative to using Australian carrier. Consider stopping over for a few days, and break up the journey for sightseeing or visiting family.
So far, in 2019, we've spotted a number of solid offers, including:
Auckland to Los Angeles/San Francisco, one way/return, Premium Economy – $1,295 NZD or $2,581 NZD for May through to December 2019.
Auckland to Chicago, one way, Economy – $749 NZD for August through to December 2019.
Auckland to Buenos Aires, one way, Premium Economy – $1296 NZD for May through to December 2019.

And unlike many airlines, Grabaseat frequently offers discounted international long haul flights as a one-way booking, too.
Air New Zealand Grabaseat package deals
Air New Zealand offers a number of Package Deals for sale via the Grabaseat website. Destinations include Australia, the Pacific Islands and further afield. There are plenty of school holiday deals on offer, and these can present great value for families.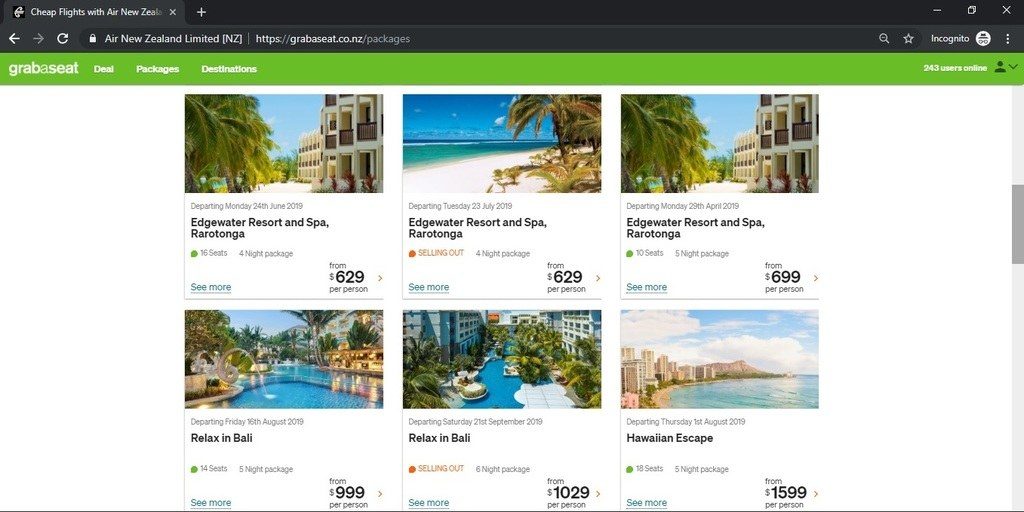 Cultural and luxury experiences are also catered for. Metallica in Auckland and Michael Buble in Napier and a luxury Sofitel Fiji escape are just some of the deals on offer at the time of writing.
Grabaseat fare types
When navigating Grabaseat sale fares, it's important to be aware that the site offers a range of different fare classes. These are as follows:
'Greenlight' deals – cheapest of the cheap
These are limited release deals are only available for one day or until sold out. Upon entering the website, you'll see the number of seats left, which will progressively decline if you refresh the page. A word of warning – not all flights or days within the period will be available. So you would do well to be flexible with travel dates and times. Upgrades to business class or premium economy on these fares are typically not permitted.
Grabaseat 'Still Cheap As' fares – normal discounted fares
In many cases, these fares are the same price as the greenlight fares, with comparatively the same terms.
Grabaseat 'International Deals'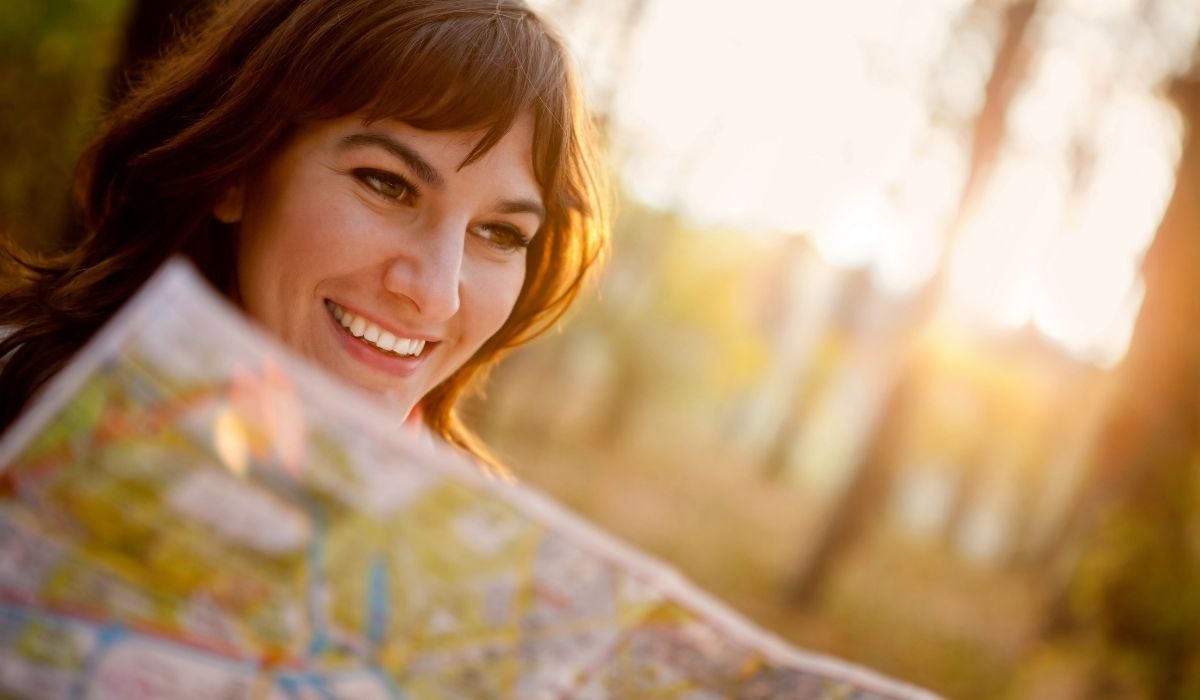 These fares are a combination of 'Next best Price' fares and 'Low Fare Finder' fares. They can be purchased for Domestic, Trans-Tasman, Pacific Islands and long-haul routes.
Air NZ Premium cabin fares
From time to time, Grabaseat offers sale fares in premium cabins – think premium economy and Air New Zealand Business Premier. While it's rare to find Grabaseat fares in these classes, they can be found. Whether it's a longhaul route, or a short trans-Tasman flight, nabbing a bargain-basement premium fare can often offer great value.
RELATED: Air New Zealand Business Class Review – Dreamliner 787
Are there extra fees when you use Grabaseat?
Depending on the fare type you book, and the payment method you use, there may be additional fees levied on your Grabaseat booking.
Checkin baggage and flight extras
Domestic fares quoted on the Grabaseat site exclude checked-in baggage, only allowing you 7kg carry-on. There are options to include baggage (and flight extras such as refreshment and entertainment add-ons) for an extra fee once you've selected your flights. The typical additional cost is $15 to upgrade to a 23kg check-in bag plus carry-on.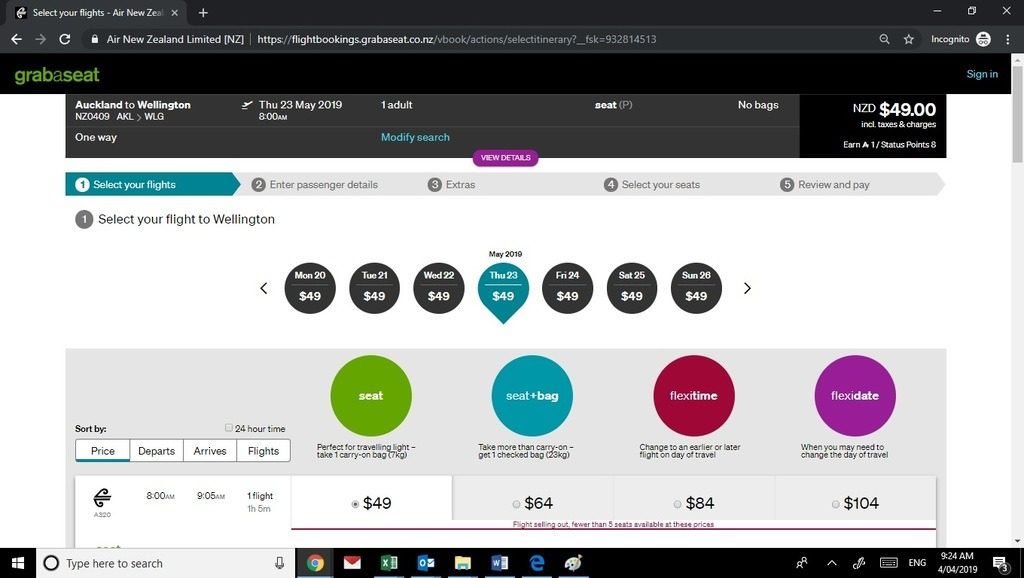 International fares may also exclude check-in luggage – so it pays to check carefully before you book.
Credit card payment surcharge
If you're paying with a credit card, payment surcharges also apply (per one way journey, per person). These are as follows:
| | |
| --- | --- |
| Route type | Card surcharge cost (NZD) |
| NZ domestic fares | $4 |
| Short-haul Tasman and Pacific Island fares | $6 |
| Bali | $12 |
| Long-haul and Hawaii | $17 |
Can I use an Air NZ promo code with Grabaseat deals?
Yes, it is possible to stack Air New Zealand promo codes with Grabaseat sale fares. Simply enter the promo code when you search for fares, and it will be applied if valid.
How can I keep track of offers?
There are plenty of ways to keep track of Grabaseat deals and offers. You can sign up to receive notifications when new sale fares are released, regularly visit the website or best of all – use the Grabaseat app to track cheap flights.
In order to receive notifications, you'll need to sign up. This can be done by creating a username and password. Alternatively, if you are an Air New Zealand Airpoints member, you can use your existing Airpoints login.
From there, you can create simple, customised alerts which will inform you when prices drop or a sale goes live: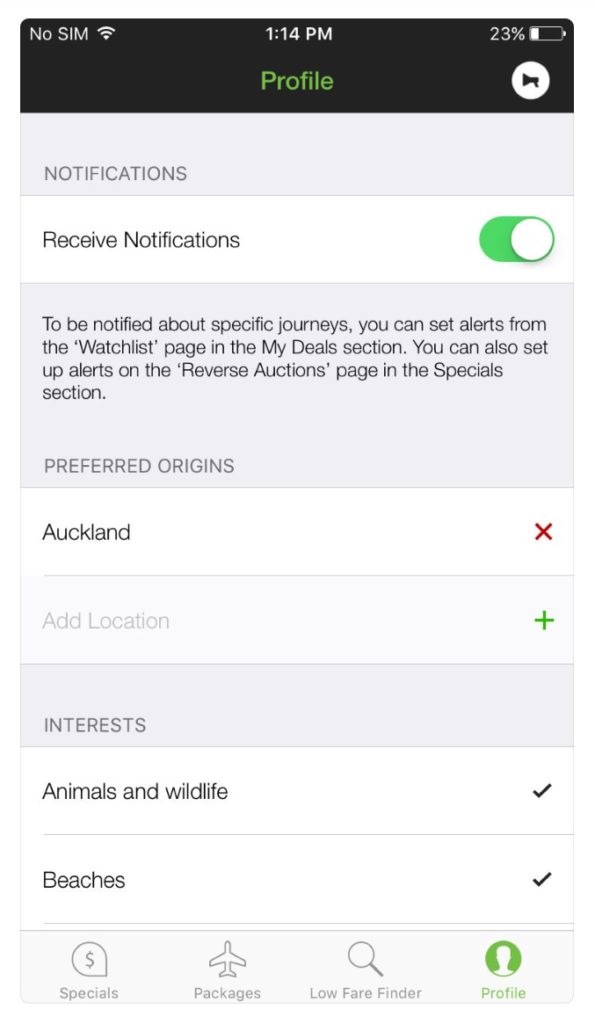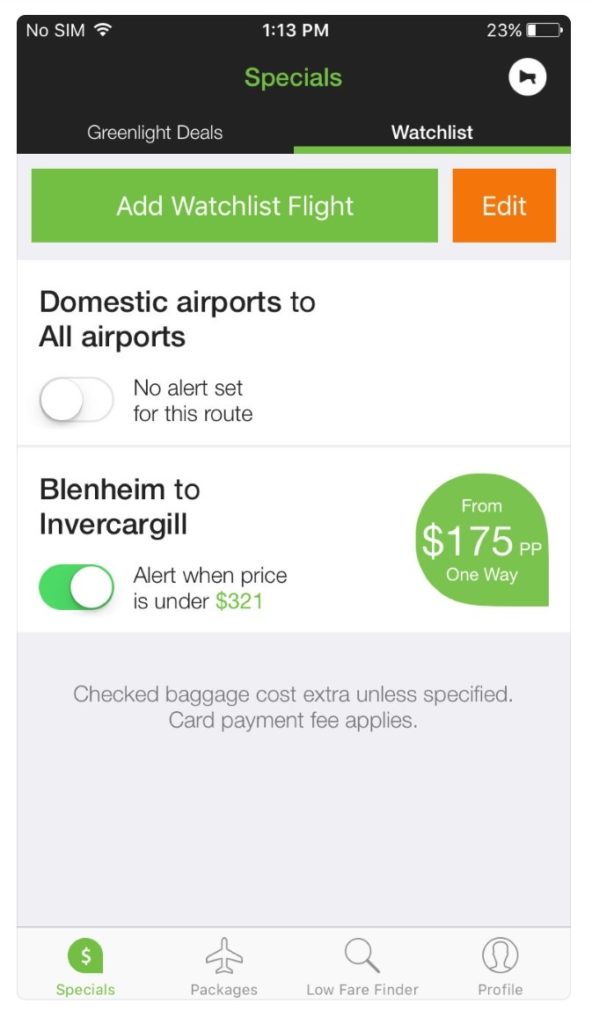 This can help you to be amongst the first to grab limited-time bargains!
Our verdict: Leveraging value from Air New Zealand Grabaseat
While Grabaseat prices aren't always cheaper than the pricing displayed on the Air New Zealand website, there are still plenty of cheap flights to be found. The interface is user-friendly and it saves trawling through the default Air NZ site for cheap airfares.
The fact is if you're flexible with dates and happy to pack light, using Grabaseat for your travel within New Zealand and beyond can make sense – and it will save you burning Airpoints Dollars.
And, as we've highlighted above, there are plenty of opportunities for Australian travellers to save money with this service, too.
While you're here: Subscribe to our newsletter for the latest tips, deals and news. It only takes a few seconds and we respect your privacy: