If you're earning American Express Membership Rewards Ascent or Ascent Premium points, chances are you're sending them to popular airline schemes such as Singapore Airlines Krisflyer, Cathay Pacific Asia Miles or even Virgin Australia Velocity.
However, there's another, less well-known transfer partner that can provide incredible value for Australians – Virgin Atlantic Flying Club.
Why Virgin Atlantic Flying Club?
Virgin Atlantic isn't an airline scheme we hear much about in Australia, but it's one that should be on your radar if you hold an Amex Membership Rewards Ascent or Ascent Premium earning credit card.
Virgin Atlantic counts Air New Zealand as a partner, allowing members to book trans-Tasman redemptions flying Air New Zealand's highly regarded business class for less than half the points outlay you'd require from Qantas or Virgin Australia.
In fact, a one way Air NZ award flight between Australia and New Zealand (including the Pacific Islands) costs just 15,000 miles one way in business class (or 30,000 miles return) plus taxes – a steal!
And while Air New Zealand isn't known for being generous with opening award space to partners, it is possible to find, particularly if you are willing to be flexible with your date(s) of travel.
Read on to find out why this sweet spot is one you should take advantage of, and find out how you can book it.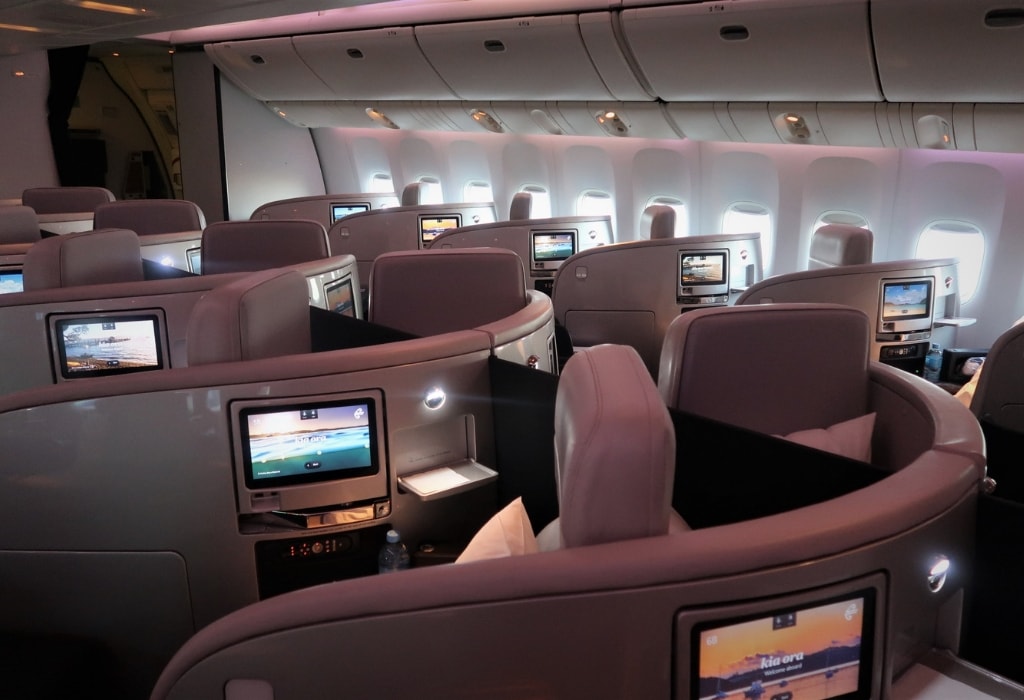 Why I love Air New Zealand business class
I fly across the Tasman frequently, and I'd have to say that Air New Zealand business class, or 'Business Premier' as it is officially known, is one of my favourite products.
Air NZ operates international grade Boeing 777 and 787-9 aircraft for travel between New Zealand and a number of Australian cities – including Adelaide, Brisbane, Melbourne, Perth and Sydney. Passengers in Business Premier enjoy additional baggage allowance and lounge entry before the flight.
Onboard, travellers relax in herringbone style seating that converts to a fully-flat bed, with all seats providing direct aisle access. Plus, there's generous refills of high-end vintage champagne (usually Laurent Perrier or Billecart Salmon), a selection of fine New Zealand wines and delectable meals crafted by New Zealand's answer to Neil Perry, Peter Gordon. It's certainly a significant cut above a Qantas or Virgin Australia 737!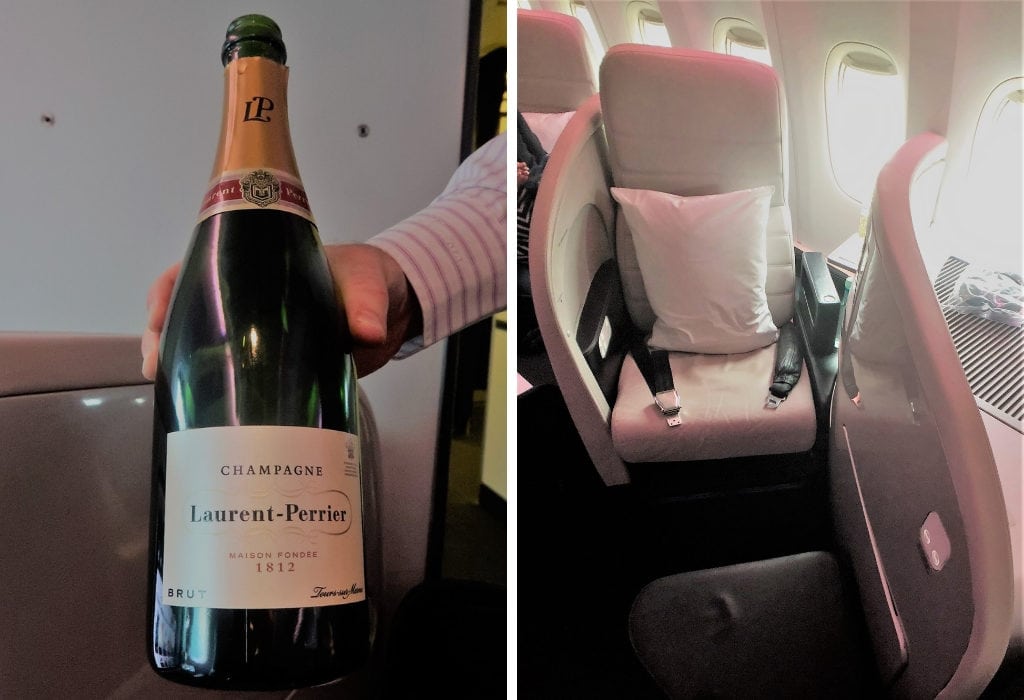 If you'd like to find out more about the Air New Zealand trans-Tasman business class experience, you can read my reviews here (777-200) and here (787-9 Dreamliner).
Transferring points to Virgin Atlantic Flying Club
In Australia, the easiest way to obtain Virgin Atlantic Flying Club miles is through an American Express Membership Rewards credit card that earns into the Ascent or Ascent Premium tier.
Eligible cards include the American Express Platinum Edge Card (which comes with a yearly $200 Amex Travel credit) and the American Express Platinum Card (currently offering 80,000 bonus points to new cardholders).
You'll also need to be a member of Virgin Atlantic Flying Club. You can join for free here.
Once you have at least 2,000 points in your American Express Membership Rewards account, you can transfer American Express Membership Rewards points to Virgin Atlantic Flying Club. The process is undertaken from within the Amex Membership Rewards portal.
You'll need to allow time for the transfer, so plan ahead. Amex states that the miles may take up to 5 business days to show up in your Virgin Atlantic Flying Club account.
Right now, miles transfer at a 1:1 rate, however, this rate will be halved on April 15, when American Express redemption rates change (more information here).
How to book Air New Zealand awards with Virgin Atlantic
Once you have your miles, it's time to book.
Note that partner awards using Virgin Atlantic miles need to be booked over the phone, and you can't search for Air New Zealand award space using the Virgin Atlantic website.
While it might start to sound like it's all too hard, don't despair. As we'll explain below, Air NZ award space can easily be searched via other partners, and Virgin Atlantic phone agents are generally very good to deal with.
Searching for Air NZ partner awards
Air New Zealand award space can be located using a publicly available searching tool for a partner airline. I'd recommend using United, which, in my experience, shows the same Air NZ award space available to Virgin Atlantic.
To search for Air NZ partner award space via United, navigate to the flight search screen here. Select 'Yes' when asked if you want to book in a Mileage Plus ticket and enter your desired dates.
As mentioned above, Air NZ award space can be patchy, and some routes may show only very limited availability. It can help to tick the 'flexible dates' option as this will enable you to view availability across a 30 day period: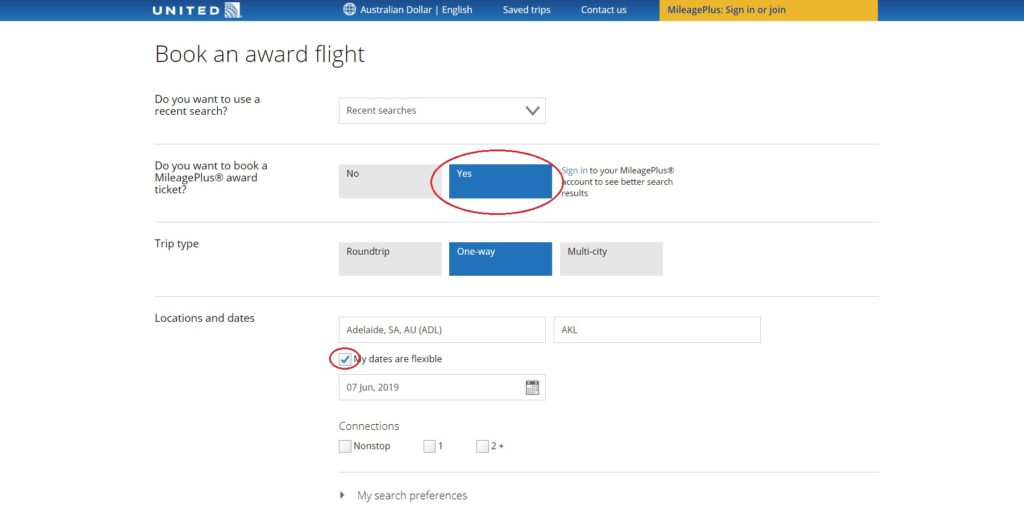 Also note that while you'll be prompted to enter United MileagePlus login details as part of the search, there is no need to do so.
Once you've hit the 'search' button', the United site will bring up the available award space (if any), at 'Saver' rates. Taxes will also be displayed – and these are roughly around $120 AUD per sector between Australia and New Zealand.
Booking Air NZ award space via Virgin Atlantic Flying Club
Once you've searched for availability and located date(s) on your route of choice, it's time to call up and book via Virgin Atlantic Flying Club.
The US call centre can be reached on 1-800-365-9500. It's generally staffed by friendly, competent agents who will proactively step you through the booking process. Simply feed them your dates and they will do the rest.
Once the booking has been completed, you should receive your e-ticket shortly thereafter via email. Simple!
Note that there is a $50 USD cancellation or change fee per person (up to 24 hours before departure), with all miles and taxes refunded. If you're cancelling within 24 hours of the flight, you'll only receive your taxes back (miles are forfeited).
How easy is it to find Air NZ award space?
Air New Zealand can be notoriously stingy when it comes to releasing premium award space to partners, so it does pay to be flexible and book well in advance.
Generally speaking, Air NZ releases two business seats at a time on their trans-Tasman sectors, and school holiday periods are almost always blacked out. Further to this, there's often no rhyme or reason to release patterns, and space is released on a rolling basis – so the state of play can change quickly.
At the time of writing, when searching selected Australian cities to Auckland via the United website, I'm seeing:
Sydney: Two business class seats on a number of days from March into April, and then economy space only until early 2020.
Melbourne: Wide open availability of two business class seats for most of the year – excluding peak holiday periods and the Christmas/January school holiday period.
Brisbane: Two business class seats on 16th March, then economy only availability wide open until early 2020.
Adelaide: Two business class seats for 4-6 days each month from March to September, followed by economy only space until early 2020.
Perth: Economy only space across the year until early 2020.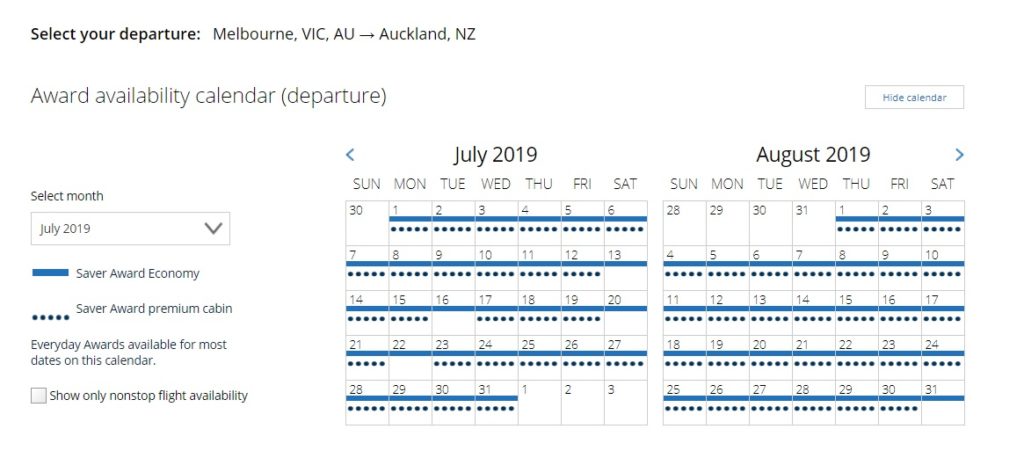 Verdict: Booking Air NZ award space via Virgin Atlantic
While award space can be hard to find, booking trans-Tasman Air New Zealand business class using Virgin Atlantic miles is a real 'sweet spot'.
Not only can you enjoy a true, international-grade business class product, you'll also pay less than half the mileage cost you'd need to fork out via Qantas or Virgin Australia.
It's a particularly valuable redemption on routes such as Adelaide to Auckland, where Air New Zealand holds a monopoly, and where revenue tickets can be particularly expensive.
And with American Express Membership Rewards redemption rates changing in just over one month, this could be a great option for using up points.
Will you be looking to redeem Air New Zealand award flights via Virgin Atlantic?