UPDATE: As of Feb 22, 2021 TransferWise has changed its name simple to "Wise", to reflect the fact that the company is more than simply money transfers.
For frequent international travellers or those who often send money overseas, exchanging currencies can become a nightmare. Oftentimes, we lose out to the banks who offer fictional exchange rates and a considerable serving of fees simply because they can.
Enter TransferWise Australia, a currency exchange service that's recently exploded onto the scene in Australia, promising true mid-market rates.
If you frequently transfer money overseas, you might have heard of this currency exchange service. Having launched locally a few years back, this platform is fast becoming increasingly viable for people who live and work in Australia — and even Australian ex-pats.

As a current user, I've put together this TransferWise review tell you everything you need to know about using TransferWise in Australia, and also around the world.
First Up: What exactly is TransferWise?
TransferWise is an international money wire company that enables people around the world to send money easily. TransferWise Australia provides options for online money transfers in many major world currencies. This includes Euros, GBD, USD, AUD, NZD, SGD and more than 50 others. In a nutshell, TransferWise seeks to make it quick, safe and fast to transfer money abroad.
How Does TransferWise Work?
TransferWise Australia uses the real exchange rate to exchange currencies all around the world. The online platform works like a bank account. Users can send and receive money from almost anywhere in the world at mid-market exchange rates for a low fee.
TransferWise takes all the high fees and guesswork out of bank exchanges and wire transfers. Instead, you can get your money quickly and easily with the ability to convert it into the currency that you need — all on one platform.
Think of TransferWise as an international bank account with a market exchange rate. You can move money in and out and even withdraw at an ATM. You will do this using a regular TransferWise debit card, just like you do at home.
All you have to do is sign up, verify your identity, and link your bank account. TransferWise is secure and regulated by trusted financial institutions around the world.
Transferwise Pros and Cons
Ultimately, using TransferWise in Australia is a matter of weighing the pros and cons of the platform. No money transfer service is perfect, after all. So what are the pros and cons of TransferWise, and how do you decide if it is the right choice for you?
TransferWise products and services
TransferWise Australia offers a range of products and services to meet the individual needs of Australian consumers and business owners. This includes:
TransferWise Borderless Account
The TransferWise Borderless Account is for anyone who works or roams around the world. This account lets you store up to 50 types of currency between four international bank accounts. These details are stored all in one place so that you can easily convert and withdraw money or use TransferWise as a payment method wherever you are.
The Borderless Account is ideal for anyone who frequently travels, and who wants to ditch their credit card. It could be especially useful for those who work for international clients. All conversions are done with real exchange rates to make it easier on your wallet.
It also lets you use four international bank accounts in one of four currencies. These include the Australian Dollar, GBP, EUR, and ESD. If this seems confusing, it gets more elaborate — within those accounts, you can hold up to 50 types of international currency.
There is no limit to the number of transactions you can make. Although there are associated fees with money conversion, these are lower than any bank conversion. TransferWise Australia also strives to keep these fees transparent, so you always know what you will pay.
TransferWise Multi-Currency Account
To unlock all the features that TransferWise offers, you'll need to open a multi-currency account. It's an easy, no-fuss alternative to setting up a bank account abroad.
The Multi-Currency Account allows you to keep more than 50 types of currency and qualify for a TransferWise debit card. You can also convert currencies directly in your account for a modest fee.
The multi-currency account lets you receive money in AUD, EUR, GBP, NZD, PLN, and USD without paying extra fees. You can also use your debit card to spend money in any currency.
When you sign up for a TransferWise multi-currency account, you will need to verify your identity. In Australia, this means that you will need to provide a valid proof of ID (such as an Australian Drivers License or passport) and proof of Australian residency. This process can take up to two days.
TransferWise Debit Card
When you open a TransferWise account, you have the option to add on a TransferWise Platinum Debit Mastercard as well.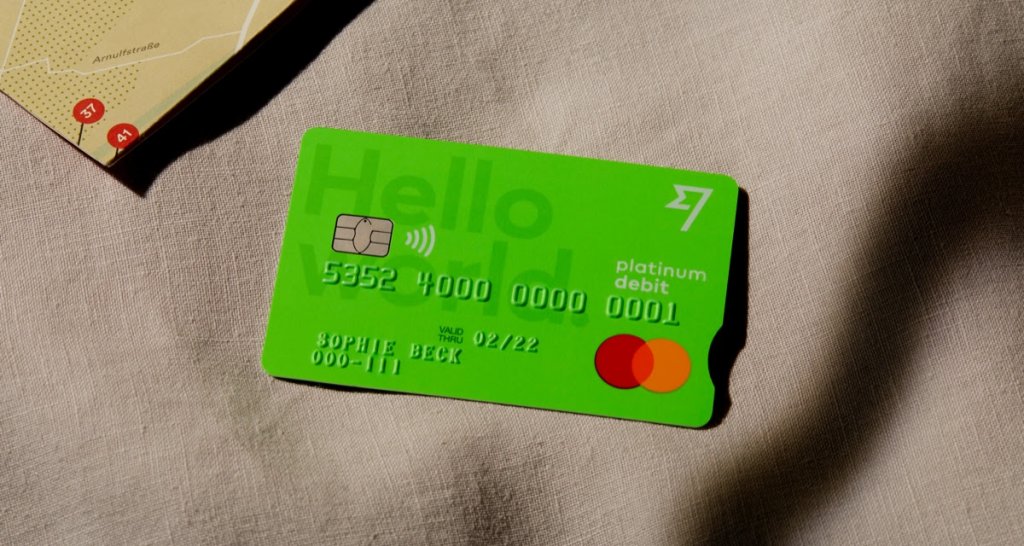 The TransferWise debit card can hold over 40 currencies and could be up to 11 times cheaper than a regular debit or travel card when moving money around the world.
The TransferWise Debit Card functions just like a debit card you'd use from an Australian bank, and a TransferWise account like an international bank account.
Your debit card is welcome anywhere Mastercard is accepted, and it can be used at qualifying ATMs around the world. You can use the TransferWise Debit Card to withdraw money and change it to the local currency, provided you are in a country like Australia that qualifies.
When you get your TransferWise Debit Card, be sure to activate it right away. You can do this either on the website or through the TransferWise app. Put in the code on the card and set your PIN. Then, as long as you have money in your account, you can start using the card immediately.
When you withdraw money from your account, TransferWise does the currency conversion for you. If you want to convert to a currency that you don't have in your account, it's handy to know that TransferWise will choose the currency with the lowest conversion fees. This helps you save money.
TransferWise for Business
If you're a business owner in Australia like me, you may be able to benefit from using TransferWise for Business for day to day transactions. Opening a business account takes a few extra steps, but it is also quite straightforward. This is an excellent option for you if you own a business that partners with clients, employees, contractors, or suppliers worldwide.
How to Sign Up for TransferWise in Australia
No matter what kind of account you sign up for, it's a quick and easy process. Even better, it's free to sign up. There may be a small fee associated with signing up for a TransferWise debit card.
Opening a Personal Account
To open a personal account with TransferWise in Australia, all you have to do is sign up and then log in. You will need to verify your identity using Australian ID documents and bank account and connect to your bank. Then, you can set up your security protocols and get started.
A personal account lets you use up to four different bank accounts and 40 international currency types. It is easy and straightforward to open a TransferWise personal account in Australia and only takes a few short minutes.
Opening a TransferWise for Business Account
Unlike many bank accounts, a TransferWise for Business account is also free. You will, however, be required to verify your own identity and the legitimacy of your business. But this only takes a few minutes. Then you can get started.
Verifying your business usually means providing the name of your company, Australian Business Number (ABN), business registration information, and industry. You will also need to provide the names and information of any business owners or directors. Once you have entered this information, you can proceed to set up your first-time transfer.

TransferWise will take a few days to verify your business account. After it finishes, your transfer will go through.
One of the key benefits of using TransferWise Australia for your business is that you can automate your payments and finances. The platform also supplies a wide variety of accounting tools that can help you better keep track of cashflow.
Opening a TransferWise for Business Account
Unlike many bank accounts, a TransferWise for Business account is also free. You will, however, be required to verify your own identity and the legitimacy of your business. But this only takes a few minutes. Then you can get started.
Verifying your business usually means providing the name of your company, Australian Business Number (ABN), business registration information, and industry. You will also need to provide the names and information of any business owners or directors. Once you have entered this information, you can proceed to set up your first-time transfer.
TransferWise will take a few days to verify your business account. After it finishes, your transfer will go through.
One of the key benefits of using TransferWise for your business is that you can automate your payments and finances. The platform also supplies a wide variety of accounting tools that can help you better keep track of cashflow.
When to Use TransferWise to Transfer Money Overseas
TransferWise Australia can be a compelling option for anyone who needs to transfer money abroad. And you might be surprised to know that 1 in every £25 sent by people around the world is with TransferWise!
But this service is particularly well-suited for you if the following conditions apply:
You Want a Secure Platform to Send Money Abroad – Sending money abroad might make you nervous for a good reason. Some platforms like PayPal seem less secure. It is vital to have your bank account and personal information protected at all times. TransferWise uses data encryption, double verification, and secure browsing to ensure all your information is safe at every step of the process.
You Want to Avoid High Bank Fees For International Money Transfers – Before I discovered TransferWise, sending money overseas was something I avoided – mainly due to the high fees I was slugged via my Australian bank account. Banks charge enormous fees to move money around. If you need to do it often, those fees can quickly add up. TransferWise charges lower fees than banks as well as other online platforms like PayPal. This makes it much more affordable to send money almost anywhere in the world without putting stress on your wallet.
You Need to Send Money Quickly – When time is of the essence, there is no room for delay. TransferWise lets you send money around the world as quickly as possible. Some transfers may take up to two days, but they can be almost instantaneous if TransferWise receives your funds through a credit or debit card. This is as fast or faster than many comparable money transfer services.
You Make Frequent Overseas Transfers – If, like me, you need to transfer money frequently, you probably want to avoid those stacking fees. You might make a lot of money transfers abroad if you send money to family in another country or run a business that partners with international contractors or suppliers. There are plenty of other reasons why someone might make frequent overseas transfers, but they are all excellent reasons for using a service like TransferWise.
You Work With International Employees or Clients – If you have a business that employs people around the world — or works with many international clients — you may need to undertake frequent overseas transfers. As a business owner, using TransferWise can help me cut back on the financial burden and free up cashflow. Importantly, it also ensures that my overseas employees and contractors get their money as quickly as possible.
The Lowdown on TransferWise Fees and Exchange Rates
Like other currency exchange services, TransferWise makes its coin by charging fees for money transfers. Fortunately, the rates can be significantly lower than what you might expect to pay using a bank for an international wire transfer. They are also lower than many other comparable money exchange platforms such as PayPal. TransferWise also strives to keep all its fees transparent, so you will always know what you will be paying upfront.
TransferWise Debit Card Fees
Using your TransferWise Debit Card involves low fees for every transaction if you do not have the currency you need in your account. If you do, there is no fee. If you don't, TransferWise will charge a conversion fee which is usually between .24 and 3.69 percent of the transaction.
You can make two free withdrawals of up to 350 Australian Dollars each month, after which there are associated fees.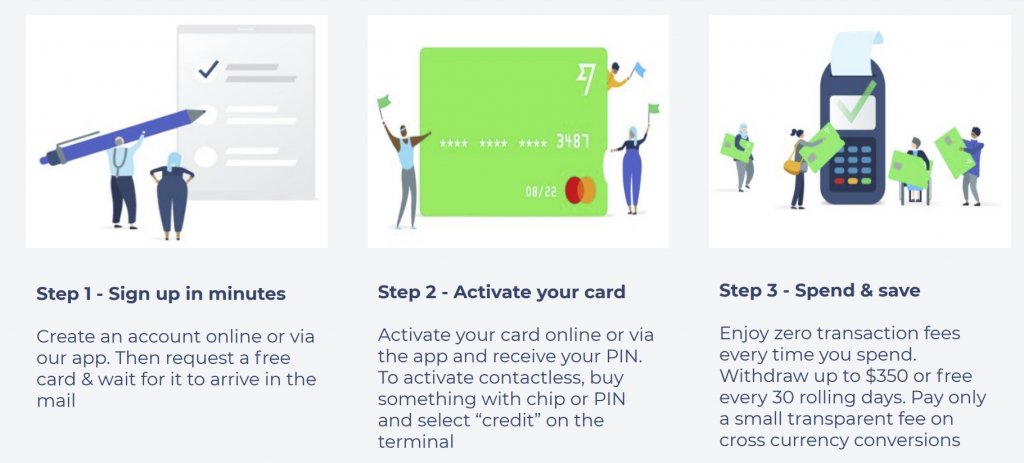 Service Fees
It is completely free to sign up for TransferWise. However, if you opt to get a TransferWise debit card, you will need to pay a fee of 10 AUD. There is an annual fee of .40 percent if you have more than €15,000 (or 23,426 AUD) in your account.
After your two free ATM withdrawals per month, you are subject to fees of 1.50 AUD per withdrawal. The same goes for withdrawing more than 350 AUD, which will result in a fee of 1.75 percent.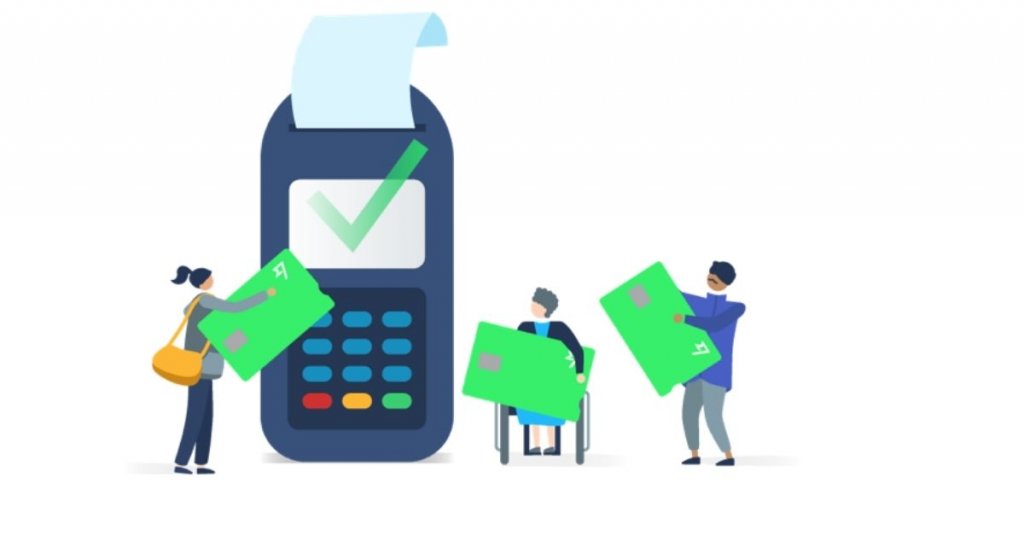 TransferWise Exchange Rates
Currency conversion fees depend on the currencies you are using and other factors. TransferWise offers a free conversion calculator to estimate how much money will arrive in your account and what fees you will pay.
The company does, however, promise real exchange rates. These are the same ones you would find on platforms like Google or Reuters. This helps users save money since banks often charge higher exchange rates that they set themselves. TransferWise also lets you set an alert so that you know when the exchange rate improves.
What Currencies Does TransferWise Support?
TransferWise lets users transfer 750 currencies used around the world. Some of these are limited to receiving or sending, while others can be both sent and received. This includes most major world currencies, including:
American dollar
Australian dollar
Euro
Great British Pound
Canadian dollar
New Zealand dollar
Japanese yen
Indian rupee
Turkish lira
UAE dirham
It's important to note that some of these currencies are limited to sending and receiving within their country of origin. Others are limited to private individuals, meaning that users cannot send the money in question to a business account.
TransferWise supports bank accounts that use these and many other currencies. The company is steadily working on expanding its network of supported banks and currencies.
TransferWise users in Australia can also keep up to 50 different currencies in the TransferWise multi-currency account. All users need to do is open a separate balance in a specific currency. TransferWise will store the money in the selected currency until you are ready to convert and withdraw it.
In addition to the 750 available currencies, TransferWise lets users opt for its services in one of 12 languages, including English, French, German, Spanish, Hungarian, Italian, Portuguese, Polish, Japanese, Turkish, Romanian, and Russian.
How Quick is TransferWise?
TransferWise transactions may take up to two days, however, in some circumstances they can be instantaneous. The timeframe may be longer or shorter, depending on several factors.
Firstly, the speed of transfer depends on the countries and currencies you are using. Since money passes between financial institutions worldwide, these transactions are subject to each institution's processing protocol.
This includes multiple layers of security and identity verification. It may also involve exchanging currencies. Sending or receiving money to or from another country, especially if that country uses a different currency than you use in your account, may take some time.
Secondly, if you're an Australian consumer, you'll likely grumble about the fact that bank transfers typically take longer than card transfers. Card transfers, on the other hand, are likely to be available immediately.

Bear in mind that fees are also a part of transferring money between financial institutions. These fees need time to process as well. Your transfer may be available earlier or later depending on what time of day you process the payment. Because TransferWise only operates during standard business hours, your money may not be ready until then.
Lastly, your funds may not be available immediately due to verification checks. Because of TransferWise's strict verification protocols, these may take some time. This is also the case if you are using multiple financial institutions, each of which must also verify your identity. Although delays in payments are inconvenient, every security layer must be in place to keep your information secure.
If you want an estimate on how quickly your funds will be available, TransferWise offers a transfer estimate tool. This lets you put in the details of your transaction to let you know how long you'll wait for your money.
Is TransferWise Safe to Use?
TransferWise is a safe and regulated international company, and it's trusted by millions of consumers and businesses around the world. As a global company, it is subject to the rules and regulations of financial authorities in many countries. These authorities place strict protocols on companies like TransferWise to keep your money and bank information secure, and to help prevent money laundering from occurring.
Like any bank, TransferWise's website and mobile app are also encrypted with security software. This ensures that no one else can access your money or information. With money passing to accounts all over the world, security is a top priority for the platform.
How TransferWise Keeps Money Safe
When you sign up for TransferWise in Australia, you will receive a copy of the company's customer agreement. This explains in detail how TransferWise keeps your money safe, even while sending it around the world.
Every piece of information you give TransferWise is encrypted and stored just as it would be in a bank account. To do this, the company protects your information with 2FA. When you log in, you must pass multiple levels of identity verification. Every session is protected by private browser connections to secure your account.
How is TransferWise Regulated in Australia?
TransferWise abides by the national regulations of the financial institutions in each country where you bank or spend money. These financial institutions require TransferWise to follow strict rules to keep your money safe and secure.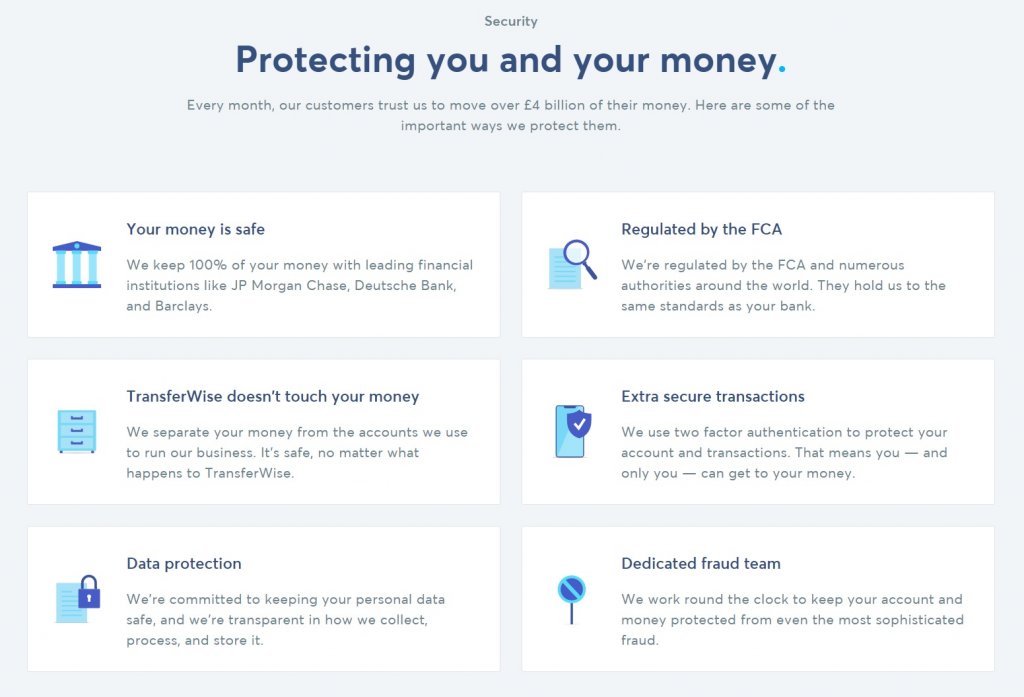 In Australia, this institution is the Australian Security & Investments Commission. TransferWise also holds an Australian Financial Services license to regulate the business it does with Australian banks. Thirdly, the company is registered with the Australian Financial Intelligence Unit. This enables the service to operate here in Australia as a money remitter.
Further afield, the company partners with other financial institutions, including:
The Financial Conduct Authority of the United Kingdom
The Financial Transactions Reports Analysis Centre of Canada
The Financial Crimes Enforcement Network of the United States
The Hong Kong Customs and Excise Department
The Monetary Authority of Singapore
TransferWise is subject to the regulations of these authorities in all its business dealings within these countries. For this reason, there may be different rules for bank accounts in various countries working with TransferWise.
Other TransferWise Trust and Safety Measures
These layers of security make it safe even to send large amounts of money to overseas accounts. Through secure encryption, user verification, and secure web browsers, you can feel sure that your bank account, information, and money are protected.
In addition to these security measures, TransferWise partners with trusted international financial institutions around the world to move your money quickly and safely. The service operates segregated accounts with banks including JP Morgan Chase, Deutsche Bank and Barclays.
TransferWise Australia Reviews and Complaints
Global TransferWise reviews can be found on many platforms, including Trustpilot, and Google. Here in Australia, local reviews can also be found on productreview.com.au
Customers who used TransferWise in Australia generally had very favourable reviews of the service. They said that transfers were quick and reliable and that their money was easy to access. Other reviews mentioned the exemplary conversion rates and low fees.
Critical reviews most often mentioned limitations to customer service or long ID verification times. Slow verification increased transfer times, which meant people couldn't get their money promptly.
Here are some positive and negative TransferWise Australia reviews:
"I've been using TransferWise for two businesses and two personal accounts for a number of years. I've never had any issues and it's saved me a bunch of money. One thing I would like to see is integration with Zoho so I can automate my books."
"For the last 3 years, I've needed to transfer funds to Canada on a regular basis. Wire transfers were a hassle. TransferWise is AWESOME. First transfer easy. Second transfer encountered a glitch on the website (wanted to verify identity and bank each time). Once I switched to the app…it is so fast, three clicks and done! Fees are best I've found…I appreciate paying a reasonable price for good service. And a bonus that you can track exchange rates, and that they tell you how fast it will show up in your account! They have been spot on. When I needed Customer Service, they got back to me in reasonable time…had to get the right Rep to answer my question rather than send canned response; an area that they could improve."
"Been a customer for 5 years and has worked perfectly in several countries until December 2020, I was able to log in to and transfer money to my account, then it went bad They requested a new password and then a new photo. OK, after 5 years they have to up-date. They wrote back they could not confirm who I am so I sent in another, I may add I work with photos so I know what is good. So this went on for another 7 times over a day, me sending in different photos and getting a bit angry with them, well it seems they did not like my wording of them so now my account has been de-activated and I cannot access the funds I have with them, they are in reality stealing my money." [sic]
"TransferWise closed their German customer service centre. The phone number is permanently disconnected. You can only get in touch via chat. The chat is not working properly, very slow response time. Chat is basically unusable. So no more help – it is not safe to trust TransferWise with your money under these circumstances." [sic]
At the time of writing, TransferWise holds a 4.7 rating out of 5 stars on Trustpilot.
How to Contact TransferWise in Australia
TransferWise Australia customers can contact support in several ways. First, the website offers a 24/7 Help Centre where anyone can look for answers from other users and even connect with the community. This can be a great way of getting the answers you need without speaking to a representative.
If you need to contact Customer Support, there are also options. Users can contact support staff online via online chat. This lets them speak to either a help bot or a real representative to solve their issue.
To speak to a live TransferWise Australia representative, users can call +61 2 8046 6244. This will connect first to TransferWise's automated phone service to select an option for the call. From here, it's possible to transfer to a live representative.
If you have an official complaint about TransferWise concerning a recent transaction or hold on your account, send them a help email at [email protected] This email should include the specifics of your complaint or query, as well as the following information:
Your TransferWise membership number
Your payment order number if your complaint is about a specific transaction
The details of your complaint
Your proposed solution from TransferWise

Comparing TransferWise With Other Money Transfer Services
If you're an Australian consumer who frequently transfers money abroad, you may wonder how TransferWise compares to other currency exchange services. Some of the most well-known companies include TorFX, Revolut, and PayPal. So how does the competition measure up?
TransferWise vs. TorFX
TorFX is a similar service based in the United Kingdom, and it's recently expanded to users in Australia and the USA. It is well-known in the world of international money transfers and focuses on customer service. The key benefit of TorFX is that it charges no fixed fees to make a money transfer. Instead, the platform earns money through exchange rates and percentage-based fees. This usually amounts to between .5 and 2 per cent per transaction.
This is significantly lower in cost than banks, which usually charge between 3 and 7 percent per transaction.
However, TorFX is only appropriate for transfer amounts below 10,000 AUD or 6,000€. This is lower even than TransferWise's limit. That said, TorFX can be very helpful if you plan on making small, frequent money transfers overseas.
Another benefit of TorFX is that when you sign up, you will be assigned a certified representative. This person can help you with any of your account information or transaction details.
TorFX also gives you the option to make transfers over the phone as well as online. This may be a good feature for those who are worried about cybersecurity risks.
Finally, although participating banks may charge some fees through TorFX, you may be exempt if you bank with an institution in Australia or the United Kingdom.
TransferWise vs. Revolut
Revolut, like TransferWise, offers low-cost money transfers to many different currencies around the world. But, as you probably expect, there are some differences between the two platforms. Revolut is based in the United Kingdom and aims to provide one secure platform for all your banking, finance, and investment needs.
Revolut was once for people who were travelling overseas frequently. The company provides a free debit card that you can use almost anywhere in the world. You can also do transfers in an extensive range of currencies, use "internet credit cards" to pay online, and even use cryptocurrency.
Unlike TransferWise, Revolut bases itself heavily on the European currency. Since 2020, coverage has been expanded to the United States and Australia. However, Revolut's services are only available in about 34 countries compared to TransferWise's 50.
Revolut does support more types of currency than TransferWise. However, users can only store up to 24 currency types in their account at one time. TransferWise, on the other hand, lets users store up to 50.
TransferWise may be quicker at completing transfers than Revolut, although this is a matter of user consensus. Revolut lets you receive currency in GBP, EUR, and CHF.
Revolut has more features than TransferWise and higher transfer limits. Although it does not charge transfer fees on every transaction, users can only go up to 1000£ ($1,764 AUD) per month before paying a 0.5 percent fee for each transfer. Users are subject to a 1 percent fee for weekend transfers. Some currencies have higher transfer amounts.
TransferWise vs. PayPal
PayPal is one of the most well-known and used money exchange platforms in the world. It's widely used in Australia. But there are some real differences between PayPal and TransferWise.
Like TransferWise, PayPal has options for both personal and business accounts. PayPal also offers domestic Australian transactions as well as international transfers.

PayPal sometimes makes it a bit more straightforward to send funds since all you need is an email address. TransferWise, on the other hand, is quick and easy if exchanges occur between two registered site users. However, you may need to put in bank details as well.
One significant and compelling difference is that TransferWise has a much lower and simpler fee structure when compared with PayPal.
PayPal transfers are subject to three separate charges: a currency conversion fee, a cross-border fee, and a fixed commission. When taken together, these can add up to as much as 4.5 per cent. That is on top of the exchange rate plus a fee of up to €3.99 (6.25 AUD). This is significantly more expensive than fees for using TransferWise in Australia.
Using the TransferWise App
In addition to the TransferWise website, you can also use TransferWise's free mobile app to track your accounts. The mobile app is secure and available for both Android and iOS devices. At the time of writing, these apps boast a rating of 4+ out of 5 stars on the Google and Apple play stores.
Additionally, some currencies are available for Apple or Android Pay via the mobile app. This feature makes it even easier to access your money from anywhere in the world.
Like any bank app, the TransferWise app lets you view all your information right from your phone. You can also send and receive money with the click of a few phone buttons.
TransferWise App Benefits
Quick, secure access to the account via mobile
Available for both Android and iOS devices
Excellent ratings
Some currencies available for Apple or Android pay
Is TransferWise Right For You?
As a frequent traveller and small business owner, there are many reasons why TransferWise is an integral part of my banking and payments strategy. And depending on your personal situation, TransferWise could also make sense for you. Millions of people around the world use the platform to send and receive money each year. But how do you know if it is worth your while?
1# You Travel Frequently
If you are a traveller for business or leisure, you have probably found yourself struggling with a wire transfer or high exchange rates. TransferWise makes it easy to access your money in the currency you need at the lowest possible exchange rates. This ensures that you are never left in the lurch, no matter where you are in the world.
2# You Do Business With International Clients or Employers
Many people use TransferWise for their business. That might include people who own online stores with many international clients. But that is far from the only type of person who can benefit from using TransferWise for business purposes.
Any business that works with contractors or suppliers abroad also needs to send and receive money quickly and convert it into different currencies. Similarly, if you own a business with global employees, you can pay them quickly and securely using TransferWise.
TransferWise is not the only platform that provides these services. But running your own business is already expensive, and the bank fees associated with sending money abroad can be exorbitant. For the service, it is hard to match the company's low fees.
3# You Work the Gig Economy as a Freelancer
If you are a freelance worker, you have probably worked with clients around the world. TransferWise makes it safe and easy to get paid for your work without giving out your bank information. Many freelancers are forced to get funds through services like PayPal, which charge high fees, especially if you want to withdraw your money early. With TransferWise, you can pay much lower fees and get your money safely.
4# You Are an International Student
If you are an international student, you probably get money from home now and then. TransferWise makes it easy to access your funds and convert them into other currencies without the high costs of wire transfers.
Similarly, if you want to send money to family or friends in your home country, TransferWise makes that possible, too.
Of course, these aren't the only people who can benefit from the services that TransferWise offers. Anyone who needs to send or receive money abroad can use TransferWise's services.

Frequently Asked Questions (FAQ) – TransferWise Australia
If you live in Australia and are curious to know more about how TransferWise operates locally, here are some common questions that you may have.
Is TransferWise Available in Australia?
TransferWise has been available in Australia for several years. It is regulated by the Australian Security & Investments Commission and the Australian Financial Intelligence Unit and Holds a license (AFSL)with the Australian Financial Services. These ensure that all transactions between Australian financial institutions are highly secure, and helps to prevent money laundering. Transactions may also be made to and from Australian Dollars.
How do I Contact TransferWise in Australia?
To contact TransferWise Australia, you can speak to a customer service representative through an online chat window. Or if you prefer, you can call the Australia customer service line directly at +61 2 8046 6244. This number will connect you to TransferWise's automated service, which you can then use to request a representative.
You can also access the 24/7 Help Centre on the TransferWise website. This lets you browse common questions and concerns and even speak to other members of the TransferWise community. If you have a complaint regarding a transaction, you can send an email to [email protected]
Using TransferWise for Business Payments
To use TransferWise in Australia as a payment method for business, you will need to set up a business account. TransferWise for Business is free, just like a personal TransferWise account. Business accounts can be used in as many as 70 countries around the world, with real-time exchange rates in over 50 currencies. This includes popular currencies such as NZ Dollar, US Dollar and SG Dollar. Additionally, TransferWise support extends to other currencies such as IDR, JPY, CZK, CHF, ZAR and BGN.
The biggest difference between a business account and a personal account is the amount of verification you will need to provide for first time set up. To use TransferWise for Business, you will need to verify not just your own identity but also the details of your business. Thankfully, this is usually completed in just a few minutes.
TransferWise also incorporates business automation tools and accounting tools like Xero. This lets you automate your business expenses to streamline your workflow and keep all your accounts as organized and secure as possible.
How do I Cancel a TransferWise Transaction?
From time to time, you may need to cancel a TransferWise transaction. Thankfully, the process is fairly straightforward. As long as the website has not already moved your money out of your account, you will be able to cancel it. If the payment is still pending, navigate to your TransferWise account page and select "Cancel payment".
If the money has already been sent to TransferWise from your bank account, it is still possible to cancel the transaction. However, it may take a few days for the funds to be returned to your account. If you don't see a "Cancel payment" option, contact TransferWise's help centre as quickly as possible. Your funds may still be in the conversion stage, in which case they can be returned to you.
While you're here: Subscribe to our newsletter for the latest tips, deals and news. It only takes a few seconds and we respect your privacy: