Did you know you can earn easy daily Qantas Points by not just staying on the ground, but from honouring your health with positive habits?
A daily lunch-break walk, opting to cycle to work instead, or even melting into the comfort of your own bed could translate to a consistent trickle of Qantas Points.
Yes, two hours of cycling can get you 21 points closer to a Classic Flight Reward!
A common grievance amongst Qantas Frequent Flyers is the 18-month expiry on points. We're often asked how to avoid this frequent flyer nightmare and the answer is likely in your pocket right now, you just simply need to get your health on track with the Qantas Wellbeing App.
This short guide will clue you in on our tips and tricks to keep your body, mind (and Qantas Points balance) healthy with the Qantas Wellbeing App. Brownie points for those who make it to the end before heading to the Google Play or App Store.
What is the Qantas Wellbeing App?
The Qantas Wellbeing App is essentially the Champagne Jacquart to a Qantas Business flyers' heart, or in this case, the Strava to any runner's step.
The main reason this app is so great is that it rewards users with bite-sized points for everyday activities that are purposefully designed to help you better understand your health and wellbeing.
The Wellbeing App rewards members of the Qantas Frequent Flyer Program by taking part in various health challenges that encourage healthy sleeping habits, step counts, as well as completing health assessments through a BMI calculator.
The nature of recent years has seen Qantas Airways focus on wellbeing by offering insurance premiums that cover travel, car, life, and health insurance.
The Qantas Wellbeing App is delivered in a way that complements other products and services offered by Qantas Insurance. Though the app is free for everyone, those who don't hold a Qantas Insurance Policy will earn Qantas Points at a reduced rate.
| Ways to earn points | How many points? |
| --- | --- |
| Running – 30 minutes | 12 Qantas Points |
| Golf – 1 round | 19 Qantas Points |
| Cycling – 2 hours | 21 Qantas Points |
| Swimming – 45 minutes | 20 Qantas Points |
How can I use the Qantas Wellbeing App to earn Qantas Points?
App users can begin earning Qantas Points as soon as they get the Wellbeing App.
Earning points with this app is as simple as keeping your phone or wearable fitness tracker on you – like most of us do anyway – and moving (or resting) your body.
Downloading the app and inviting a friend (you can refer up to 20) will earn you 150 quick Qantas Points.
All Qantas Frequent Flyer members are offered a free 28-day trial upon downloading the app. This trial unlocks up to 1,000 Qantas Frequent Flyer Points without even purchasing an eligible Qantas Insurance product — free points!
At the end of the trial, Qantas Frequent Flyers who chose to purchase a Qantas Insurance product will be capable of earning points through the app, up to 20,000 bonus Qantas Points each year.
Earning Qantas Points is almost too easy with the app. Simply living a healthy lifestyle by staying fit and sleeping well is rewarded with bonus points.
Earning Qantas Points from the sleeping challenge
All you have to do here is commit to a time where you say goodnight to your phone 30 minutes before your designated bedtime and leave it alone until the rooster's crow.
This sees Qantas Frequent Flyer members effectively rewarded for good sleep hygiene by eliminating blue light before it's time for some shut-eye.
Doing so will see Qantas Insurance holders wake up to five extra points (0.5 points for app users without an insurance policy).
Just let that sink in. The Wellbeing App makes it possible for app users to keep their Qantas Frequent Flyer account active in their sleep. No more expired Qantas Points — now that's what dreams are made of!
While this might not offer nearly as many points as spending on a Qantas Frequent Flyer Credit Card, it promises easy and free points straight in your pocket.
Points from fitness challenges
Other ways to earn quick Qantas Points include daily or weekly step challenges, where a higher goal increases the potential for points.
Most people will have an iPhone or Android that allows them to track steps, but there's also the option to sync the app with a Garmin, Apple Watch, Fitbit, or any suitable fitness device.
For example, app users can earn up to 20 Qantas Points for 45 minutes of swimming. If you're more inclined to stay dry, a round of golf will also score you up to 20 points!
How motivating is it knowing that each step could be getting you closer to a points flight to your destination? You never know, all this walking might just inspire a hiking trip to New Zealand!
Qantas Points from life tasks
A small boost of points is on offer for life admin tasks (that you'd probably do anyway). For example, ticking off a tyre pressure and brake check could earn a total of 75 Qantas Points.
Points aside, the Wellbeing App offers a helping hand in staying on top of life's pesky chores.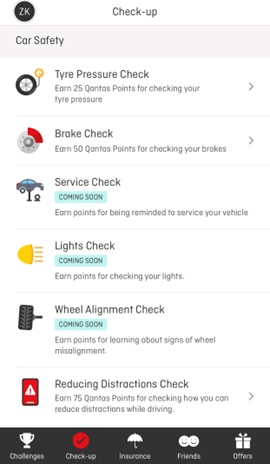 Should I be worried about my privacy?
We live in the age of selling data, so it's worth noting disclaimers and asking what Qantas is doing with your sleep and activity information.
This app primarily exists to advertise Qantas Insurance by rewarding app users with a Qantas Insurance policy.
The Qantas Insurance Privacy Statement outlines what data is collected from the Qantas Wellbeing App — as well as how they intend to use it — and assures users that they won't sell the information collected via the Apple HealthKit to third parties, nor use it to advertise to you.
Will my Qantas Points expire?
Ordinarily, Qantas Points would expire after 18 months of inactivity. However, as far as loyalty programs go, it's easy to prevent this. Just earning or redeeming one single Qantas Point during this period will stop your points from expiring.
This is why the Qantas Wellbeing App is such a must-have for strategic Qantas Frequent Flyers. You'll be earning a steady trickle of points by just having the app open!
Convinced? Here's how to download the Qantas Wellbeing App
The Wellbeing App can be downloaded as normal on the Apple App Store or the Google Play Store.
Basically, this app will encourage you to live a healthy lifestyle while essentially maintaining the currency of your Qantas Frequent Flyer Points balance.
Every Qantas Frequent Flyer should have this app. So, what are you waiting for? If you don't already have the app, get downloading and start earning bonus Qantas Frequent Flyer Points in your sleep!
Frequently Asked Questions – Qantas Wellbeing App (FAQ)
Is Qantas Wellbeing App free? 
Yes, the Qantas Wellbeing App is designed to complement a host of Qantas products and services. The app is still free even if you don't hold an eligible Qantas Insurance Policy, but your ability to earn Qantas Points will be less. 
What is the Qantas Wellbeing App? 
The Qantas Wellbeing App provides users with an easy way to get their health on track while seeing their Qantas Points grow. The app allows users to link a fitness device or app to set daily and weekly challenges that are rewarded with Qantas Points.  
What are Qantas Wellbeing rewards? 
Qantas Wellbeing rewards are Qantas Points earned by completing tasks on the Qantas Wellbeing App. Qantas Insurance policyholders can earn up to 20,000 Qantas Points through the app by completing the highest level of daily and weekly challenges.  
Why is my Qantas Wellbeing App not working? 
Check your device is connected to the internet and that your fitness tracker is charged and connected to your smartphone. Visit the Data Sources section to check if your device is connected to the Qantas Wellbeing App. 
While you're here: Subscribe to our newsletter for the latest tips, deals and news. It only takes a few seconds and we respect your privacy: