Join IHG Rewards to unlock exclusive rewards and benefits.
IHG has rebranded its loyalty program from IHG Rewards Club to IHG Rewards. As the world's largest hotel loyalty program and completely free to join, an IHG Rewards membership could see you earning points and perks at more than 5,500 properties around the world.
Right now, the program boasts an impressive array of high-end hotel brands – think InterContinental, Kimpton, Crowne Plaza, voco and more. Plus, an exclusive partnership with Mr & Mrs Smith now allows IHG Rewards members to earn and redeem points at over 500 additional luxury and boutique hotels.
Or, read on to discover why IHG Rewards is a loyalty program that all Australian travellers should know about.
IHG Rewards Membership: How it works
IHG Rewards won't cost you anything to join, and it takes just a few minutes to sign up here.
Once you're a member, you'll automatically be awarded base-level 'Club' IHG Rewards membership. This delivers automatic access to a range of rewards that could come in handy during your next stay. Key benefits include:
Free internet: Forget pesky Wi-Fi fees. You'll enjoy free internet at all participating IHG properties.
Earn and redeem IHG Reward points: The ability to collect IHG Rewards points or miles with leading airline programs
Exclusive booking rates: Access 'Your Rate', an exclusive booking rate when you book directly with IHG Hotels and Resorts.
No blackout dates: Planning to book a hotel stay with points on a specific date? Unlike other hotel loyalty programs, IHG Rewards promises no blackout dates for reward night redemptions.
Redeem your way to elite status: Reward nights count towards elite status, which could see you move up the IHG Rewards membership tiers faster.
RELATED: Discover the best of IHG brands
IHG Rewards brands
IHG boasts 14 brands, including a wide range of luxury and boutique hotels. There are 13 chains in total, covering over 5500 hotels globally. These are:
Intercontinental Hotels
Kimpton
Crowne Plaza
Hotel Indigo
Regent
voco
Even Hotels
Hualuxe
Holiday Inn
Holiday Inn Express
Holiday Inn Club Vacations
Holiday Inn Resort
Staybridge Suites
Candlewood Suites
Avid
There are plenty of properties to choose from across Australia and the wider Pacific region. IHG Hotels and Resorts operates a large portfolio of local properties under leading brands such as InterContinental, Crowne Plaza, voco, Holiday Inn and Holiday Inn Express.
IHG dials up the luxe with Mr & Mrs Smith
IHG Hotels and Resorts have a new partnership with Mr & Mrs Smith, adding a whole new suite of ultra-luxe, boutique properties to the mix. In fact, it has more than doubled the number of luxury and boutique hotels which members can choose from.
Mr & Mrs Smith boasts an extraordinary portfolio of properties. Top picks include Jasper Conran's self-styled riad hideaway L'Hôtel Marrakech, 18th-century organic Tuscan estate Borgo Pignano and high-in-the-Himalayas retreat The Kumaon. IHG's most loyal members can expect free room upgrades whenever available and a free gift, called a "Smith Extra", on arrival at each Mr & Mrs Smith hotel.
IHG Rewards Membership tiers
There are four membership levels within IHG Rewards. These are:
Club: Entry-level, assigned at 0 stays per year.
Gold Elite: Requires 10 nights / 10,000 Elite qualifying points
Platinum Elite: Requires 40 nights / 40 000 Elite qualifying points.
Spire Elite: Requires 75 nights / 75,000 Elite qualifying points.
Completing stays at participating IHG Hotels and Resorts properties will see you move up the tiers, unlocking exclusive benefits along the way. The full list of benefits by membership tiers can be found in the table below: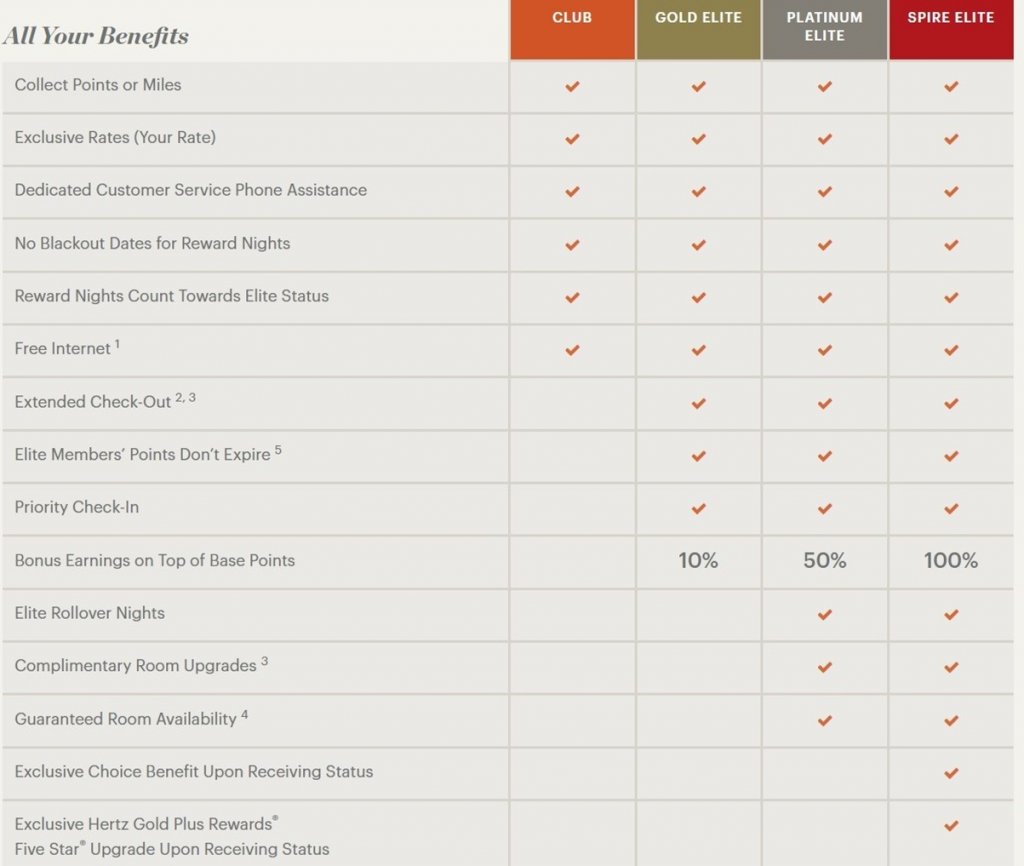 How to earn IHG Rewards points
There are so many different ways for members to earn IHG Rewards points.
Earn when you stay, travel, shop and dine
Members earn points toward rewards when staying with participating IHG Hotels and Resorts properties and also when travelling, shopping and dining with IHG Rewards partners.

Earn with IHG Rewards offers
From time to time, IHG Hotels and Resorts run offers which allow members to earn bonus points or free nights. Featured deals and promotions are published regularly on the IHG Hotels and Resorts website.
To ensure your points don't expire, you must earn or redeem points within a 12-month period.
How to redeem IHG Rewards points
Once you've amassed a stash of points, it's time to spend them. There are many different ways for IHG Rewards members to redeem points. The most popular redemption options are as follows:
Reward Nights
For clued-in travellers, exchanging IHG Rewards points for hotel nights typically represents the best value. IHG Rewards points can be used to stay at IHG Hotels and Resorts worldwide. And, unlike some other leading hotel loyalty programs, there are no blackout dates. Reward Nights cost between 10,000 points to 70,000 points per night. As you'd expect, high end properties command the highest prices.
Points & Cash
Points & Cash provides IHG Rewards members with the ability to combine points and cash for booking redemptions. You can combine points with cash to redeem for a variety of rewards, including stays at participating IHG Hotels and Resorts worldwide.
Joining IHG Rewards: Conclusion
IHG Rewards membership could deliver you valuable benefits when you stay withIHG Hotels and Resorts here in Australia or overseas.
With over 5,000 participating hotels globally, there are so many reasons why joining IHG Rewards is worthwhile. And, IHG Hotels and Resorts new partnership with Mr & Mrs Smith is set to add a whole new suite of ultra-luxe, boutique properties to the mix.
There's never been a better time to join IHG Rewards.
IHG Rewards members can book exclusive, all-inclusive holiday experiences at properties across Australia and New Zealand.Enjoy unrivalled value with significant savings at selected hotels and resorts, with plenty of extras thrown in. Book now for stays through to 30 June 2021. For more details and to book your stay:
This post has been prepared in partnership with IHG Hotels and Resorts
Frequently Asked Questions (FAQ) – IHG Rewards membership
Does IHG have a Best Price Guarantee?
Yes, IHG promises that if you book directly with them, you'll receive the lowest online price available anywhere. Better yet, IHG backs this up with a price-match it AND five times the IHG® Rewards Points, up to a 40,000 points limit.
There is one exception – the Best Price Guarantee is not applicable to hotels in Mainland China, Macau, Hong Kong and Taiwan.
More information is available here.
Is IHG Rewards free to join?
Yes, every point you earn can be put towards room redemptions at IHG properties.
How do you become an IHG Rewards member?
Simply earn or redeem points once a year through any IHG Hotel or Partner.
Do IHG rewards points expire?
Yes, they will expire after 12 months if no points or redemptions occur.
How much is an IHG reward point worth?
The points can vary in value depending on how and for what they are redeemed for. Factors such as season, location and the property all have influence.
While you're here: Subscribe to our newsletter for the latest tips, deals and news. It only takes a few seconds and we respect your privacy: