Plus, discover five incredible suites you can book via IHG.
Let's face it. Most travellers never consider a suite when looking to book in a stay at a hotel. A standard room remains the most commonly booked type of accommodation, while something about a suite seems unobtainable – perhaps it's considered too pricey, too lavish, or the exclusive domain of honeymooners.
Recently, though, I've started splashing out on more spacious digs when treating myself to a hotel stay – and nabbing a suite is that much 'sweeter' when there's access to a sale rate that drops the price to less than the cost of some standard rooms.
And through my travels, it's become clear to me that there are a number of scenarios where booking suite offers a more compelling and cost-effective value proposition than a standard room.
Think a suite is just for honeymooners? Think again.
Discover the reasons why a 'suite night' should be on your bucket list
More space and privacy – often at a cheaper price than two standard rooms: A suite can offer a cost-effective solution for a situation where you might otherwise consider booking multiple hotel rooms. Think families travelling with children, holidaying groups of friends or even work colleagues who want space and privacy whilst travelling together.

The fact is, a stay in a suite can often cost less than the price of two entry-level hotel rooms. And with many suites offering multiple rooms or partitioning doors, your party can access a common area to interact in, whilst also enjoying some privacy when it's time for lights out.
Suites located in resorts typically also feature a terrace or balcony. These can present perfect spaces for couples with small children to unwind in the evening.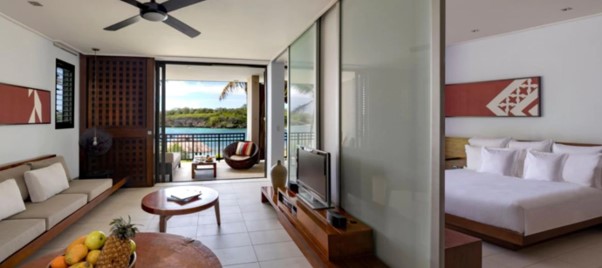 Score complimentary Club Lounge access: Space and privacy aside, one of the most valuable perks that a suite can provide is Club Lounge access, which typically includes a decent breakfast spread. Of course, not all properties boast a Club Lounge, but those that do usually extend complimentary access to suites.
When you consider that separately purchasing hotel breakfast for multiple guests can cost a small fortune, free access to the Club Lounge can offer tremendous value. This is particularly the case where additional light meals, refreshments and evening drinks can be enjoyed by more than one guest.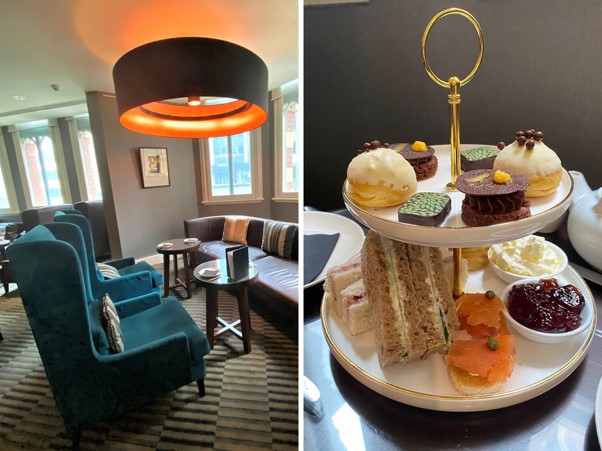 Enjoy more luxurious facilities and amenities: Guests staying in a suite can expect to see more luxurious facilities and amenities, which far exceed the inclusions of a standard room. Think oversized toiletries (suites are often stocked with larger 100ml bottles), plusher robes and higher quality tea and coffee offerings. Suites typically also offer larger bathrooms, more elaborate furnishings and bells and whistles such as high-tech sound systems.
VIP inclusions: And it doesn't end there. Booking into a suite could also see you unlock additional VIP amenities not normally afforded to guests staying in a standard room. This might include a fast-tracked check-in, welcome gift, free Wi-Fi and other inclusions. These thoughtful touches can help to make for a more enjoyable stay.
Tempted to book a suite for your next holiday? Read on to discover my five top 'suite' picks to book in using IHG's New Year Offer.
Holiday Inn Vanuatu
Overlooking the calm waters of Erakor Lagoon, Holiday Inn Resort Vanuatu features a variety of Melanesian inspired rooms, two swimming pools, kids club, Namele Day Spa, tennis courts and nine-hole golf course. It offers a variety of rooms suites and over-water villas.
The suite: King Overwater Villa
For many, the concept of an overwater villa might sound frightfully expensive. However, that's far from the case at Holiday Inn Vanuatu. Here, an Overwater Villa comes in at less than the price of two standard resort rooms on selected dates. That's provided, of course, that you book via IHG's New Year Offer.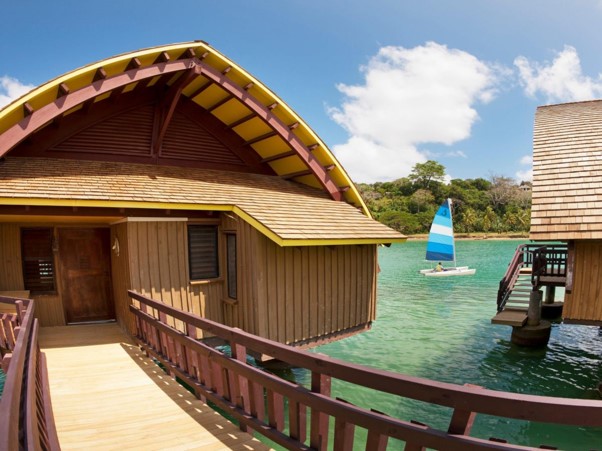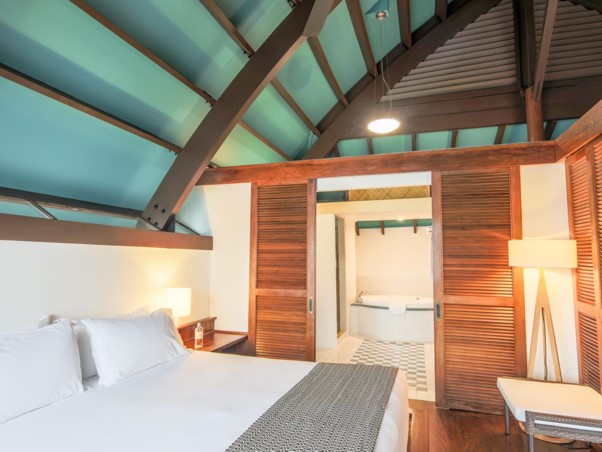 What you get: Located on private Erongo Island, Holiday Inn Vanuatu's Overwater Villas offer the perfect surrounds for a private romantic tropical getaway. Each villa boasts a king bed, luxurious spa bath and a separate day lounge, set out over 47 square metres of space. Direct access is provided to the lagoon.
Hotel Indigo Seminyak
Set in one of Bali's trendiest areas, Hotel Indigo Bali Seminyak Beach is an elegant but laid back beachfront property with four outdoor swimming pools and six restaurants. Here, the rooms, suites and villas boast fresh design and chic furnishings inspired by Balinese character.
The suite: King Perada Suite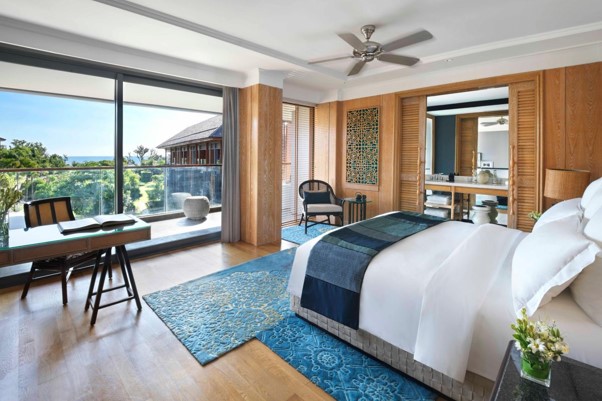 What you get: A chance to kick back in an elegant suite featuring contemporary Balinese design inspired by traditional Perada cloth. This huge 69 square metre suite opens out to a spacious balcony with a bathtub and views of the resort ground and pools.
Guests enjoy a living area, plush bedding with pillow menu, a spa-inspired bathroom, free Wi-Fi, Nespresso machine and a walk-in wardrobe. There's even a juicer to help you start your morning right.
InterContinental Fiji
Nestled amongst 35 acres of tropical gardens, InterContinental Fiji Golf Resort and Spa is located on picturesque Natadola Bay. Perfect for couples and families alike, this luxury resort offers world-class dining, a luxury spa, three swimming pools, an 18 hole championship golf course, kid's club and authentic Fijian hospitality.
The suite: Lagoon View Suite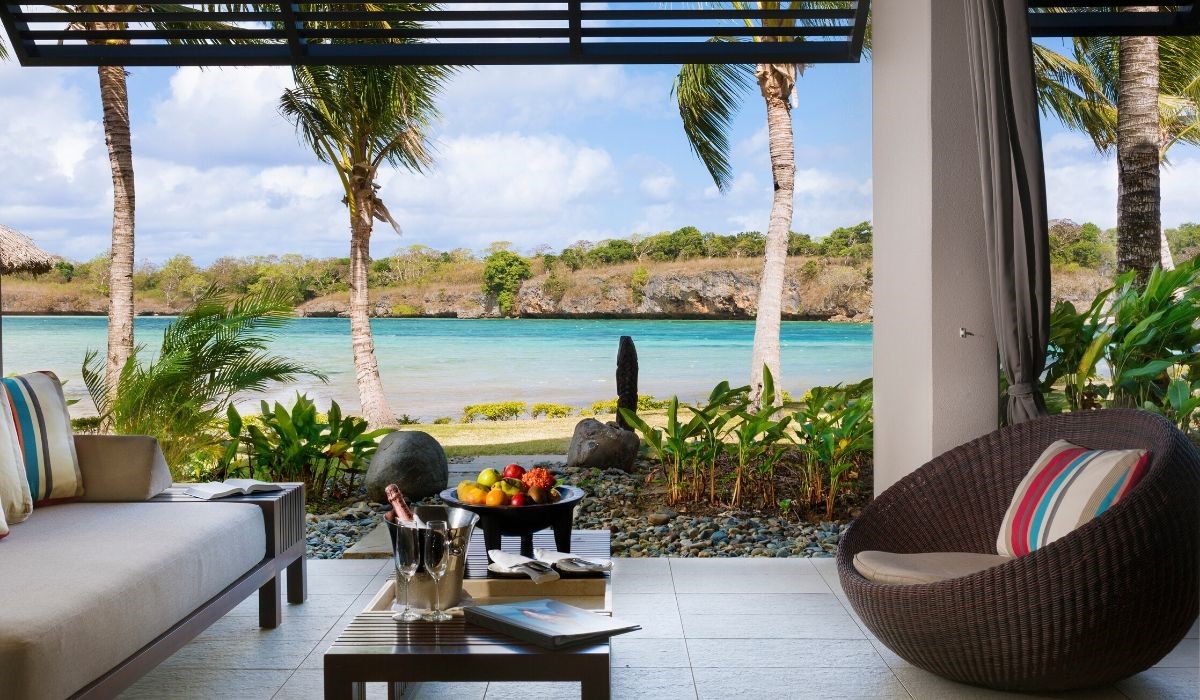 What you get: InterContinental Fiji's prime Lagoon View Suites offer an elevated seclusion experience, perched at the edge of Navo Lagoon. Fresh ocean breezes envelope these spacious 85 square metre suites. Guests can relax with outdoor daybeds and a signature Cleopatra bath.
InterContinental Melbourne The Rialto
Located in the heart of Melbourne CBD, InterContinental Melbourne The Rialto features a bar, day spa, fitness centre and an indoor heated pool. In my opinion, it also boasts a club lounge experience so good, you'll never want to leave. Keen to know more? You can check out my InterContinental Melbourne suite review, with everything you need to know about the Club lounge here.
The Suite: Club InterContinental Suite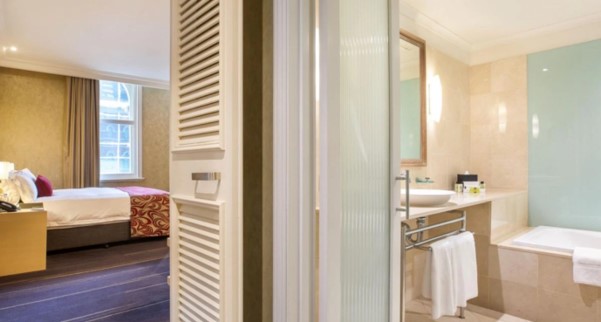 What you get: A spacious 42 to 65 square metre junior suite with separate living and bedroom areas, plus a spacious bathroom. Guests enjoy complimentary Wi-Fi and access to Club InterContinental, which offers an impressive breakfast, afternoon tea, evening drinks and canapes.
Crowne Plaza Queenstown
The Crowne Plaza Queenstown is centrally located, just a short walk to Queenstown's main streets and a 4-minute walk to the beach. With views overlooking Lake Wakatipu and Queenstown's Remarkable mountain range, you can enjoy the Queenstown's beautiful scenery right from the doorstep of the hotel (or indeed, your very own private balcony, if you book a suite).
The Suite: King Bed Suite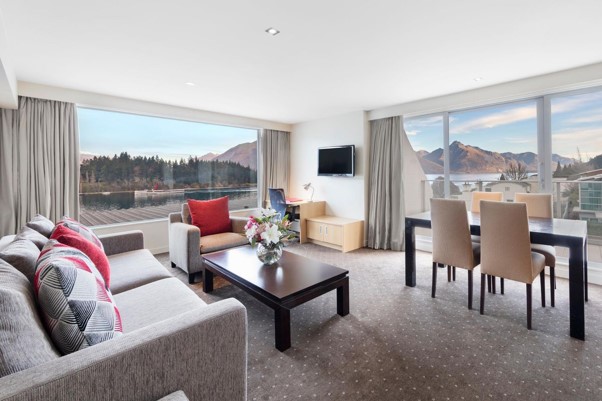 What you get: A spacious suite featuring a King bed and a separate living area with stunning views. This suite is ideal for entertaining, for couples or small families looking for extra space. Guests can relax on a balcony with views overlooking Lake Wakatipu and the surrounding mountains. There's free Wi-Fi provided throughout the hotel.
In Conclusion
Booking a suite can offer incredible value. In fact, as we've highlighted, there are many scenarios where booking suite could offer a more compelling and cost-effective value proposition than a standard room.
And, with hotel chains often running sales, there are many opportunities to splash out on luxurious digs for your next trip away – for less.
This post has been prepared with the support of IHG
While you're here: Subscribe to our newsletter for the latest tips, deals and news. It only takes a few seconds and we respect your privacy: