After much anticipation, Virgin Australia has today launched fresh new menus onboard business and economy flights.
The menus include a Business Class offering focused on quality and simplicity. For economy guests, a buy onboard menu of snacks and drinks replaces complimentary food and beverage offerings, though thankfully, free coffee, tea and water will remain.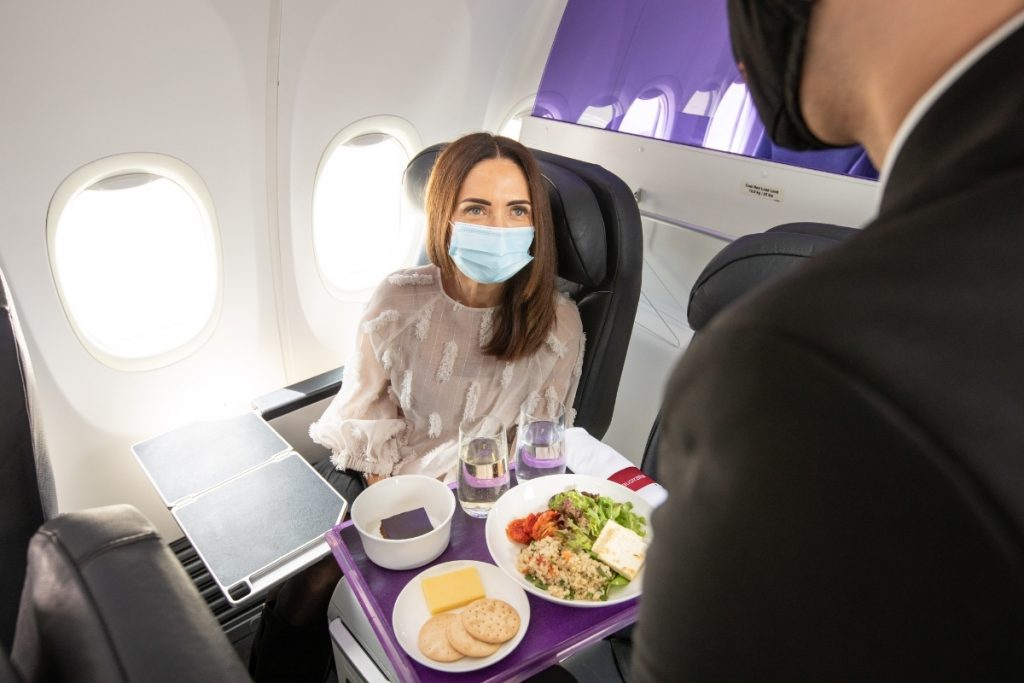 A look at Virgin Australia's new Business Class menu
At first glance, the new Business Class menu gives Qantas a run for its money. It's a world away from the two-minute noodles served in late 2020, with a focus on simple, modern, fresh and contemporary dishes, made using locally sourced Australian produce, now being served at 38,000ft.
Dishes include a range of hot meals, healthy salads and Australian classics, served on tableware, including crockery, glassware and cutlery, providing a quality in-flight experience and further reducing single-use packaging as part of the airline's continued commitment to sustainability.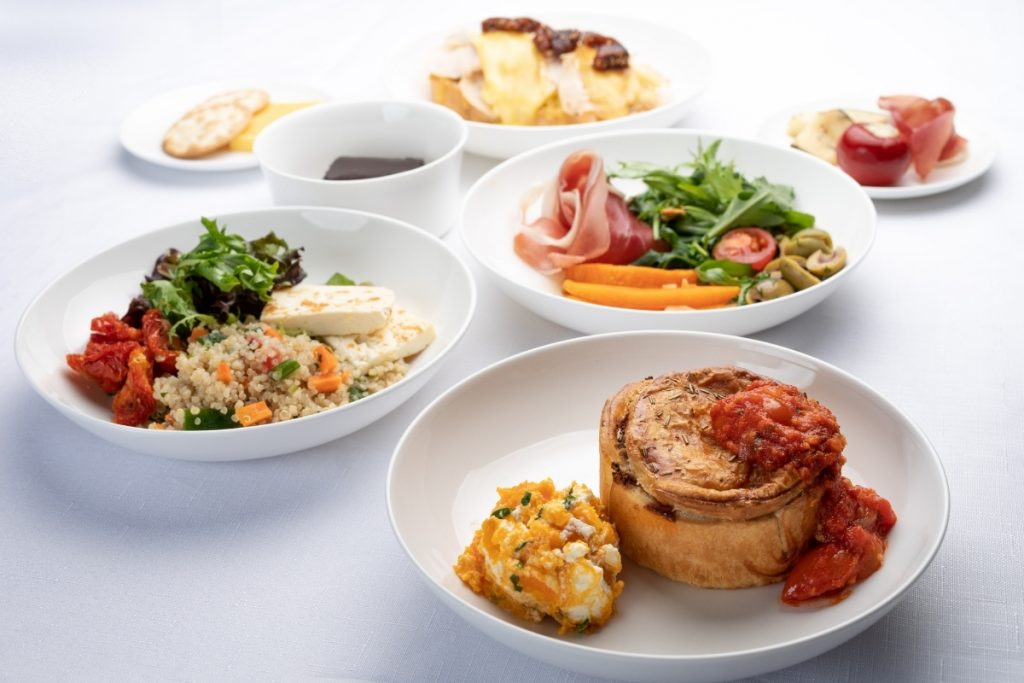 Breakfast offerings include a ham and scrambled egg brioche roll with tomato relish, served alongside Greek yoghurt with mango coulis and seasonal fresh fruit.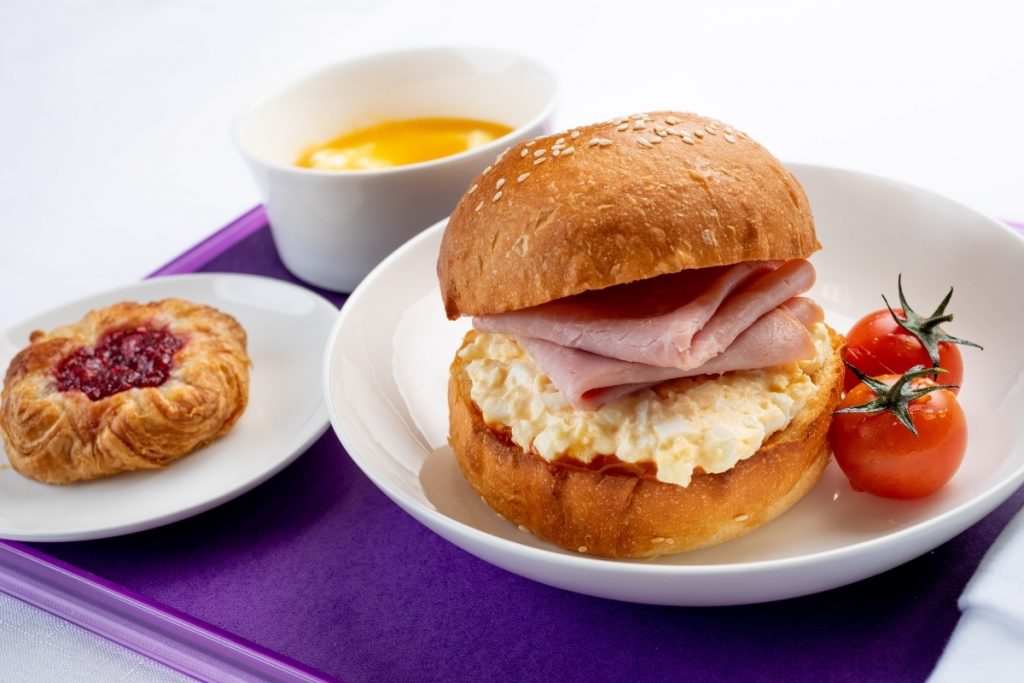 Lunchtime offerings include a range of salads, sourdough melts and rolls, while dinner service will see guests treated to dishes such as Haloumi and quinoa salad served alongside an antipasto plate with marinated vegetables, cheese and crackers and a chocolate delight cake.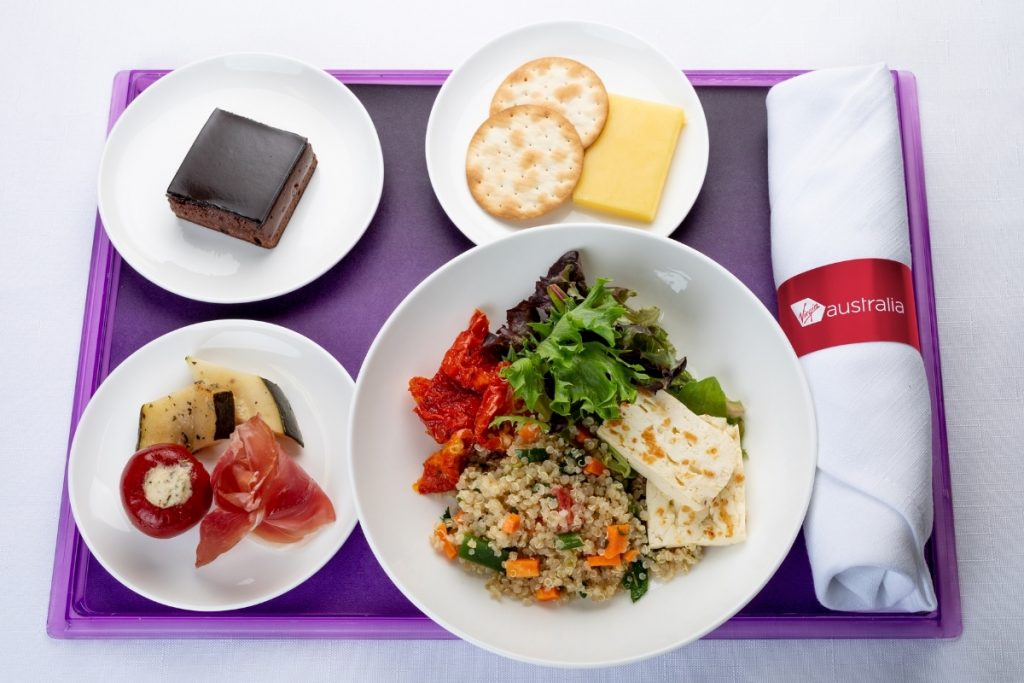 The new menu will rotate on a bi-monthly basis and comes with all-inclusive premium Australian wine and beer, plus soft beverages and spirits.
The new Business class experience also triggered a training refresh for the airline's cabin crew, with new hospitality standards that focus on customer engagement allowing more time in the cabin with guests.
Economy buy onboard menu
Virgin Australia's new Economy buy onboard menu replaces the previously included complimentary snack, which Virgin says will help them provide sharper pricing on fares every day.
Initially, the menu will feature limited snack and beverage items, before a greater range of menu items are introduced later in the year when travel demand is expected to resume to near pre-COVID levels.
Snacks currently on offer include Mainland cheese and crackers, Kettle chips, Mr Lee's noodles and chocolate muffins. For beverages, Virgin Australia is serving up a range of beers, Grant Burge wines, spirits, soft drinks, sparkling water and fruit juice
Economy guests will have the option to bundle up food and beverage purchases to save. The full Virgin Australia economy class menu can be viewed here.
Virgin Australia will continue to serve Economy guests complimentary tea, coffee and water on every flight.
While you're here: Subscribe to our newsletter for the latest tips, deals and news. It only takes a few seconds and we respect your privacy: