From time to time, Qantas runs double status credits offers which are open to the public. A Qantas double status credit offer could be your key to unlocking perks like lounge access, extra baggage allowance, priority upgrades and more.
Want more Qantas Points? Get up to 120,000 Qantas Points and a first year reduced annual fee. Browse top Qantas credit card offers now.
Read on to find out more about these popular offers, and discover how you can leverage status credits to earn elite Qantas Frequent Flyer status in 2020.
First things first. When will we see the next Qantas double status credits offer?
The simple answer is, we can't be sure.
Qantas double status credits (DSC) promotions have been incredibly popular in recent years, and readers are often asking us when we can expect to see one launched.
Sadly, however, the days of multiple public double status credit offers might be over, or the promotions may be restricted. Qantas offered just one public promotion in 2019, and appears to have moved to a more targeted approach in recent times.
To be notified if a public Qantas double status credits offer drops, and to get tips on high-yielding status runs, why not subscribe to our mailing list? It only takes a few seconds and we respect your privacy:
History of Qantas Double Status credits offers
In 2019, Qantas ran just one double status credits promotion. This compares with three in 2018. In 2016 and 2017, Qantas released just one public double status credit offer, early in the year.
Time will tell whether any public double status credit offers will be launched in 2020.
How to earn Qantas double status credits
Participating in a double status credits offer usually requires travellers to:
Log in and register for the promotion in a set period time period (normally, all passengers in each booking need to register separately)
Make a new booking and travel over a set time period on any Qantas operated flight with a QF flight number.
Travel, then wait for your double status credits to be credited
Once registered, you will usually receive a confirmation email to confirm you have registered for this double Status Credits offer.
You are able to make multiple bookings to earn double Status Credits during the promotion. A range of restrictions apply, however, so be sure to check out the terms and conditions on the offer page before you book.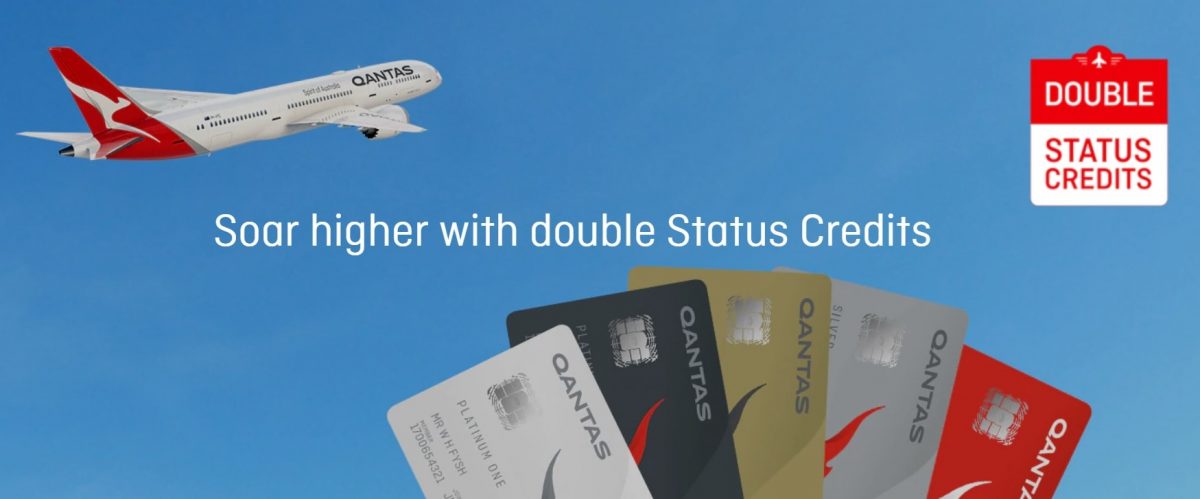 When do Qantas double status credits post?
Qantas states that bonus status credits should be credited within six weeks after travel. However, while Qantas double status credits are incredibly popular, unfortunately, we have received reports from readers who've needed to chase missing double status credits that have not appeared in their account for previous similar offers.
In order to safeguard against this occurring, we'd encourage you to ensure you retain email confirmation of your registration for a double status credits offer. If you're sure your flight sector is eligible, you should then contact Qantas Frequent Flyer if the status credits have not appeared in your account after six weeks.
We've previously written an article about chasing up missing Qantas double status credits here.
Routes to consider for a Qantas double status credit promotion
While there's no double status credit offer in play, we've crunched the numbers on selected Qantas operated routes which typically offer the lowest cost per status credit when booked as part of a bonus status credit promotion. Depending on the pricing you are able to access, the routes below could offer good value for a Qantas status run:
| | | | | |
| --- | --- | --- | --- | --- |
| Route | SC (normal) | SC (double) | Price guide (19 Feb 2019)* | Cost per SC (DSC)* |
| Wellington – Melbourne (via Sydney) | 240 | 480 | $1,199 | $2.49 |
| Canberra – Denpasar (Bali) via Melbourne | 400 | 800 | $2,285 | $2.85 |
| Port Lincoln – Christchurch (via Adelaide and Sydney) | 280 | 560 | $1,659 | $2.96 |
| Darwin – Auckland (via Sydney) | 320 | 640 | $2,078 | $3.24 |
| Townsville – Christchurch (via Brisbane) | 240 | 480 | $1,590 | $3.31 |
| Hobart – Noumea (via Sydney and Melbourne) | 280 | 560 | $2,094 | $3.74 |
*Pricing sourced on 18 February 2019 and may be subject to change.
If you're looking to travel on a partner airline, note that double status credits offers usually only apply to Qantas operated flights with a QF flight number.
Outside a Qantas double status credits offer, there are a number of routes, operated by partner airlines, which can boost your status credit haul quickly year-round, even without a promotion to leverage.
If you're after more information on how a Qantas status run works, and on additional routes, check out our comprehensive post on Qantas status runs here. The post features a number of currently bookable itineraries and outlines how I achieved Qantas Gold Frequent Flyer status several years back, simply by completing one round trip from Adelaide to Noumea, while leveraging a 50% status credit offer.
What are Qantas status credits?
Before looking to leverage a double status credits offer, it's important to understand the concept of status credits.
RELATED: Read the TCM Guide to Qantas Status Credits and membership tiers
Qantas status credits are a completely separate currency to points. Essentially, they are a vehicle for moving up the membership ranks of the Qantas Frequent Flyer program.
Status credits are used to measure flying activity on Qantas and partner airlines. When you complete an eligible flight, you earn a certain number of status credits. The number of Qantas status credits earned varies by the distance of the route flown. A discount economy flight between Sydney and Melbourne, for example, earns just 10 status credits, so you'd need to fly seventy sectors just to achieve Qantas Gold.
Fortunately, however, there are easier ways to earn status credits, and a Qantas double status credit offer can boost the usual haul by double!
Qantas double status credit offer: Important things to know
While Qantas double status credits offers present a unique opportunity to fast track to a higher membership level, there are typically a number of restrictions levied to the promotion. Travellers should be aware that the following terms and conditions usually apply:
Qantas operated flights only. The current double status credits promotion applies to flights operated by Qantas only (with a QF flight number). This means that Qantas-ticketed flights on Jetstar or partner airlines like Emirates are off the table.
A specific booking and travel period. The current Qantas double status credits promotion requires travellers to register within the specified time period, and then travel in a second specified time period. Registration and/or travel outside the eligible time periods will render your journey as non-qualifying.
Restrictions on status credit usage. If you're planning a Qantas status run with a view to completing a status challenge, or achieving a membership bonus reward – think again. Qantas has recently tightened up the usage of status credits earned through double status credit promotions. They now don't typically count towards Loyalty Bonus, Membership Bonus Reward or status challenge requirements.
Requalification period. Qantas states that double status credits should be credited to your account up to six weeks after your travel is completed. It's important to keep this in mind if you have a restricted period of time to travel and obtain double status credits in order to retain or attain a new status tier.
Before you look to book in your Qantas double status credits flight, be sure to carefully check the terms and conditions of the promotion.
Will you look to take advantage of a Qantas double status credit promotion if given the opportunity in 2020?
Subscribe to The Champagne Mile newsletter for the latest deals, tips and news. It only takes a few seconds, and we respect your privacy.