The long-awaited Amex Lounge Melbourne at Tullamarine Airport's international terminal has opened.
Melbourne-based flyers rejoice! The Amex Lounge Melbourne is open daily from Tuesday, March 27 2018, providing eligible cardmembers with a convenient haven to relax and refresh ahead of their journey.
The Amex Lounge Melbourne Airport is the second AMEX lounge in Australia, following the Amex Lounge Sydney, continuing the brand's commitment to expanding its lounge network in Australia and across the globe.
The design for the Lounge was conceptualised in Hong Kong and created by Australian Architects, Mitchel Squires & Associates and Marsden Collectives. The AMEX Lounge Melbourne is operated by Plaza Premium Group, who has also opened a new proprietary Melbourne lounge in an adjacent space. There are also Plaza Premium lounges in Sydney and Brisbane.
Open daily between 6 am and 11 pm, the Amex Lounge Melbourne Airport offers complimentary food and beverage featuring Australian producers and barista service. Travellers will also enjoy high-speed Wi-Fi, computer and copy facilities, flight information screens, and a selection of local and international magazines and newspapers.
With seating for 65 people, it's slightly larger than its sister lounge in SYD Airport. An overflow arrangement has been reached with the adjacent Plaza Premium Lounge.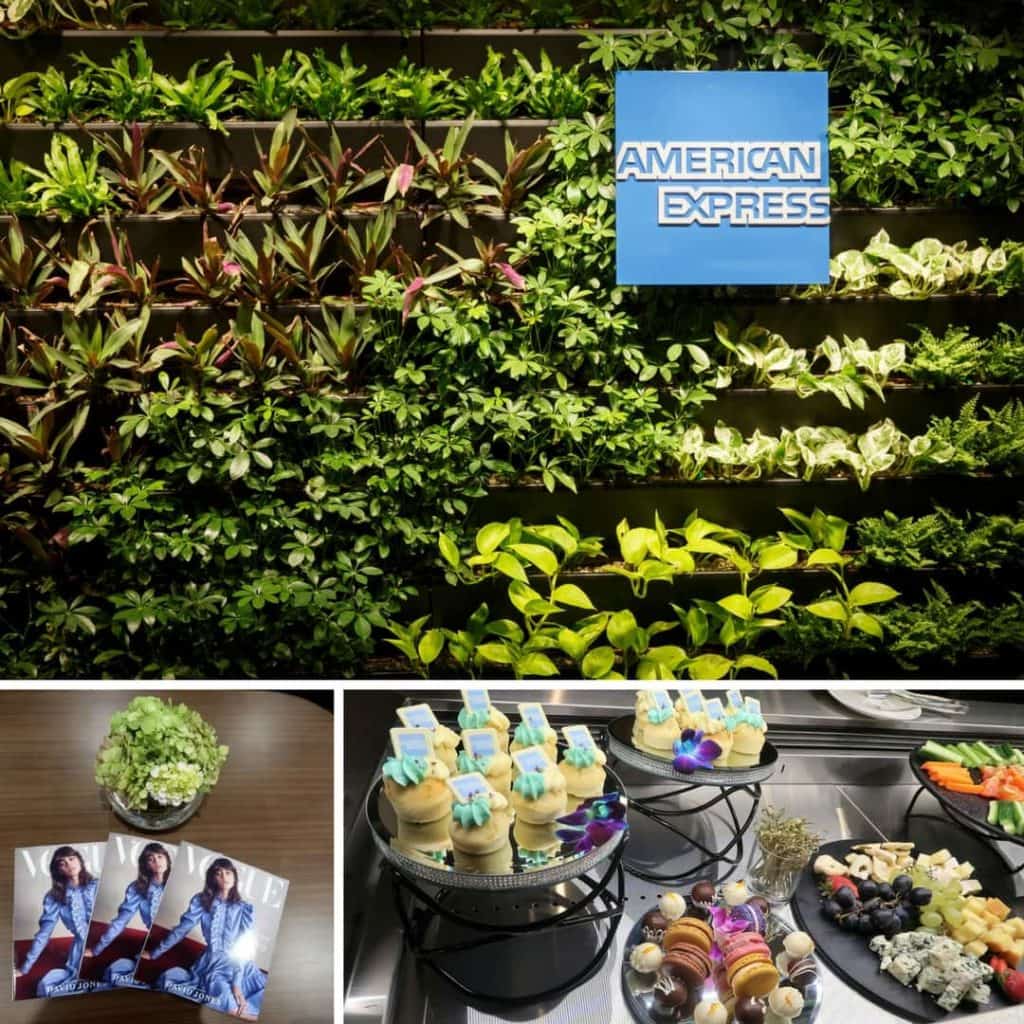 Visiting the lounge opening as a guest of American Express and Plaza Premium group, we were very impressed with the stylish, spacious and comfortable facilities on offer.
With comfortable seating and cleverly designed work pods, a spacious mixed-use lounge area caters for travellers who need to work, as well as those who are more intent on relaxation.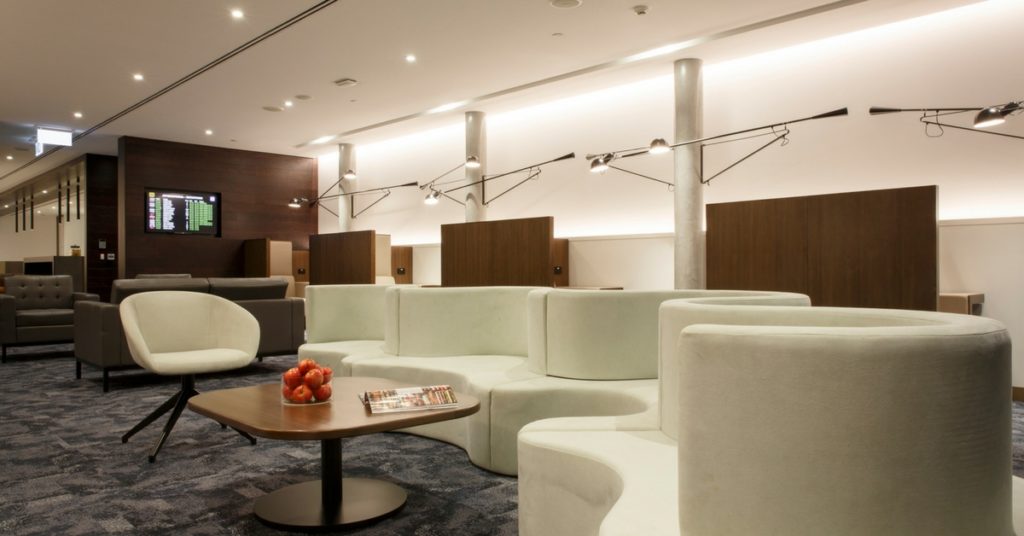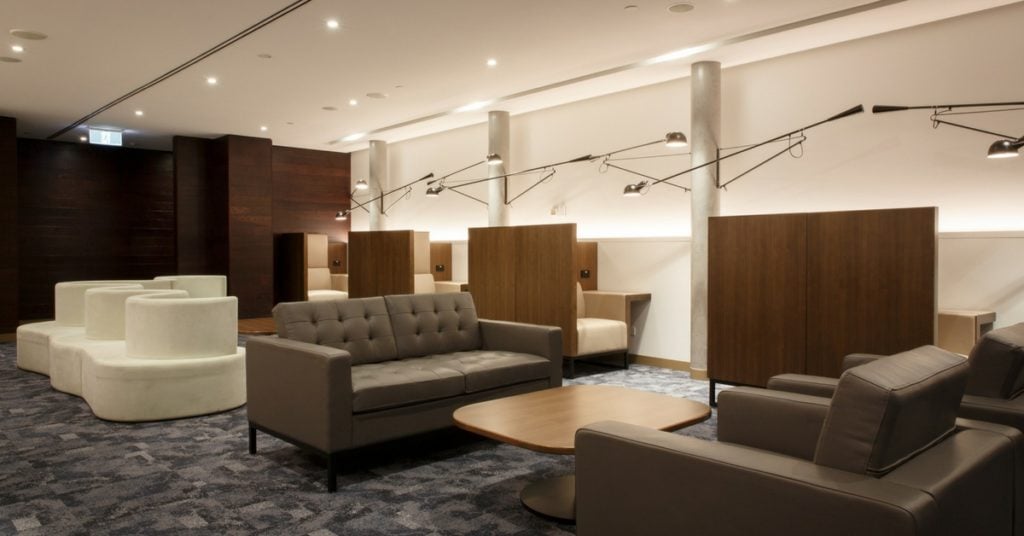 The modern aesthetic design carries through to the separate dining area. A mix of larger communal seating options is located in the middle of the space, with tables for small groups and families positioned by the wall underneath industrial style lamps.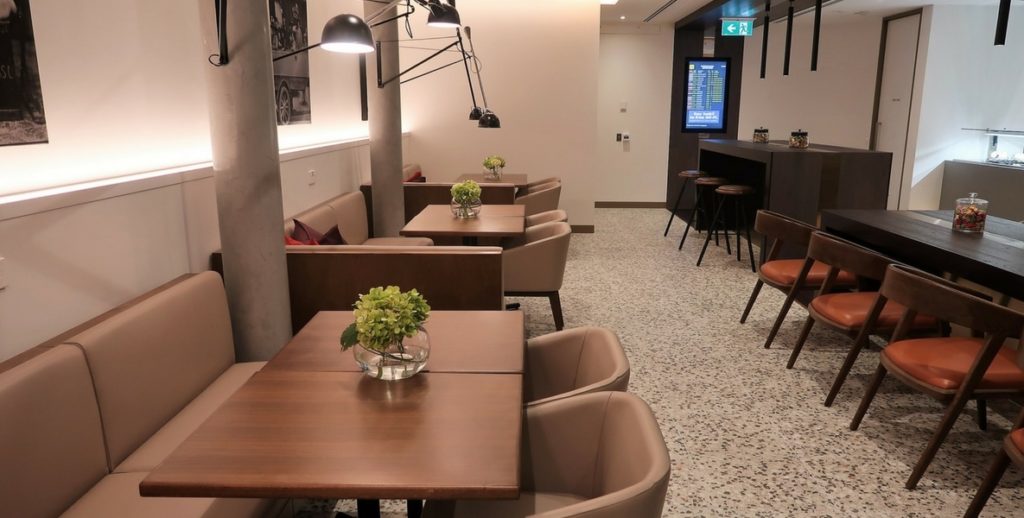 Travellers can choose from a variety of refreshments, with cold and hot buffet areas, a chef station, bar area and a barista service located across one wall on the other side of the dining space.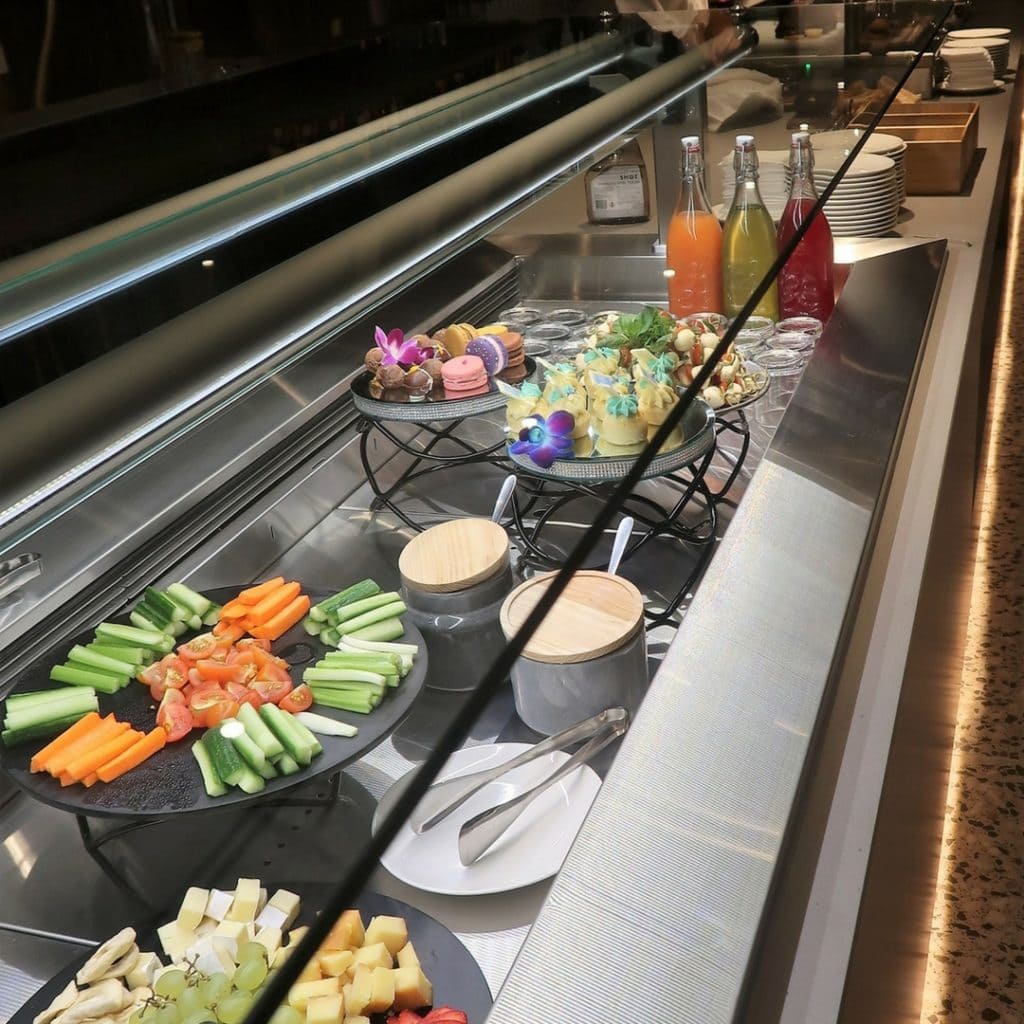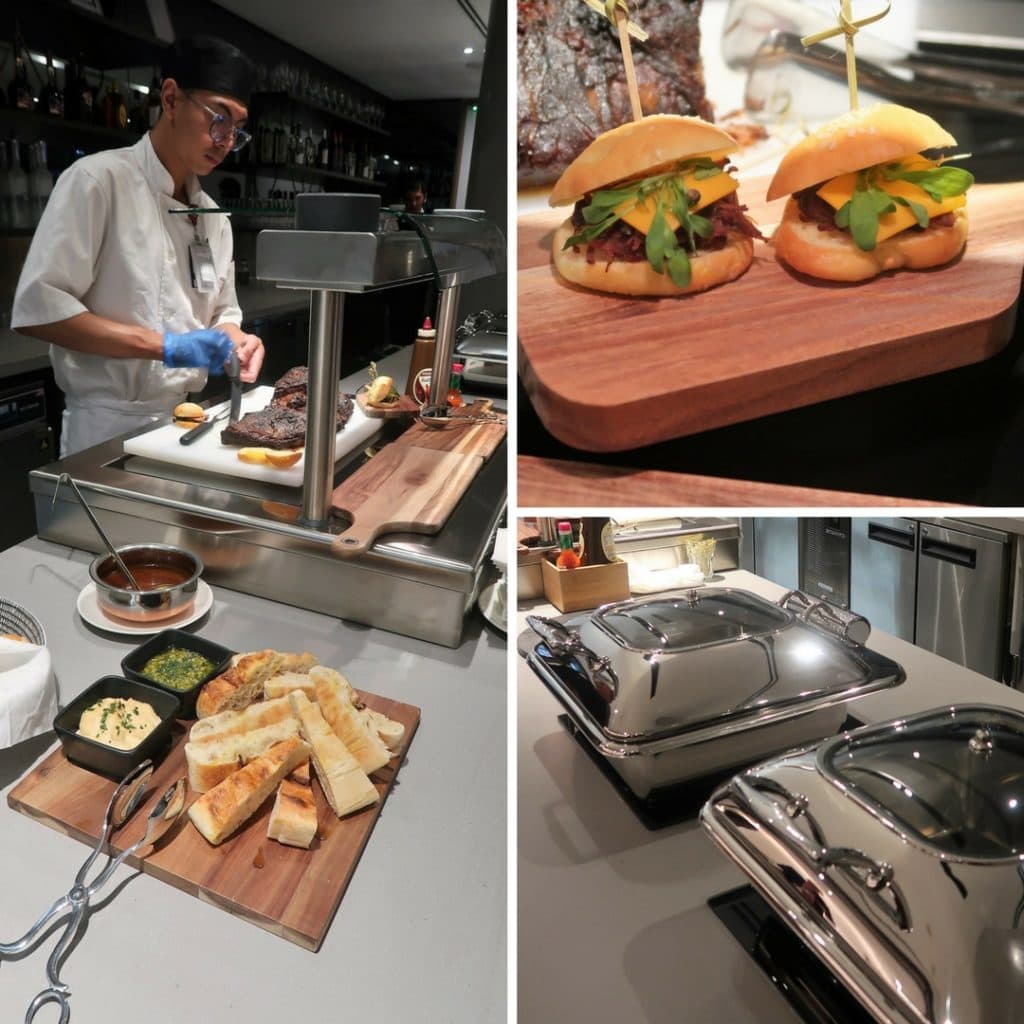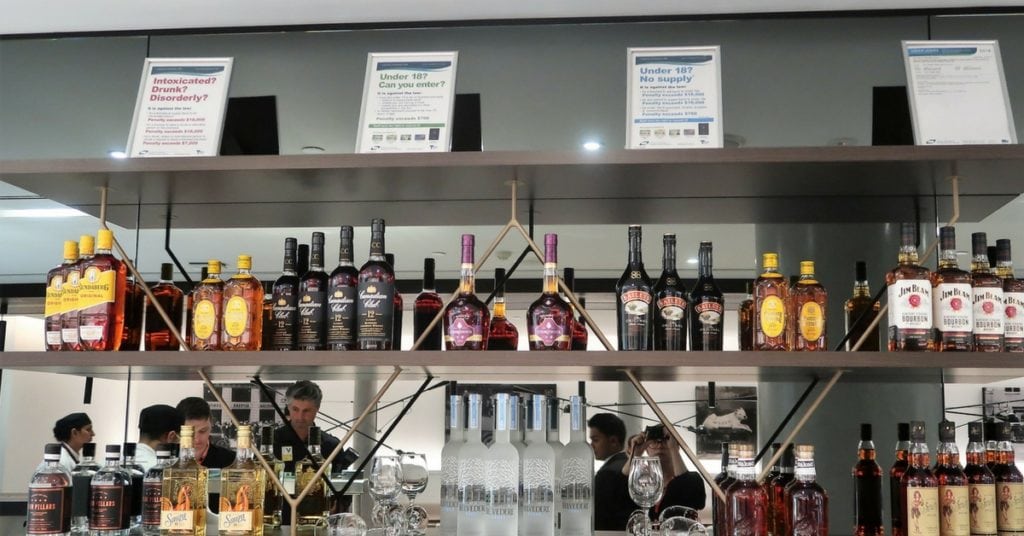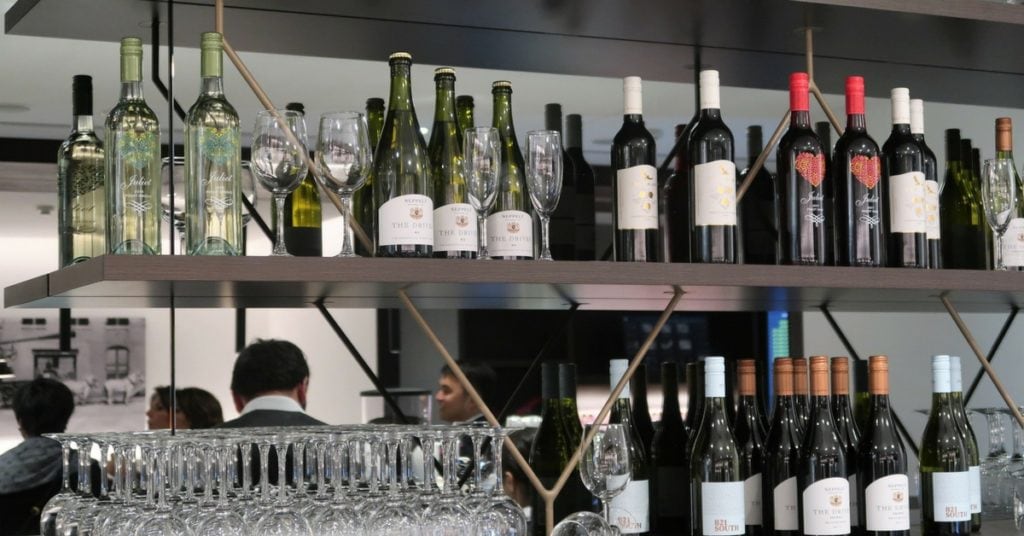 Bathroom facilities are shared with the adjacent Plaza Premium Lounge. While showers are not as yet available, we're reliably informed that they are expected to be installed within the next six months.
How to access the American Express lounge
American Express Centurion Card, Platinum Card, Business Centurion Card and Platinum Business Card members have unlimited complimentary access to the American Express Lounge and are entitled to bring their children between the ages of 0-17 and up to 2 guests into the lounge.
In addition, a number of American Express cards offer two complimentary entries per calendar year to the American Express Lounge, located at Sydney International Airport or Melbourne International Airport, for each card account (inclusive of supplementary cards associated with the basic card member). These include:
The entry allocation may be used by the basic card member, supplementary card member or a guest travelling with a card member. Additional Lounge visits are allowed but charges will apply. Complimentary access is available for the card member's children between the ages of 2-17. Children under 2 enter free of charge. Full lounge access terms and conditions can be found here.
Other Lounges to visit at Melbourne Airport
Melbourne Airport's international terminal boasts a range of other lounges. These include separate Qantas Business and First Class lounges, an Emirates Business Class Lounge and a Singapore Airlines Lounge.
In addition, eligible travellers may opt to visit a Priority Pass Lounge, with several dedicated Lounges and restaurants available to members. Priority Pass operates an extensive network of Lounges across the world, boasting locations across the Asia Pacific, Middle East, Europe and within North America.
The Champagne Mile visited the Amex Lounge Melbourne Airport as a guest of American Express and the Plaza Premium Group.
While you're here: Subscribe to our newsletter for the latest tips, deals and news. It only takes a few seconds and we respect your privacy: