The American Express Explorer Credit Card is one of the most popular Amex products in market.
The American Express Explorer delivers a serious range of perks. This includes $400 to spend with American Express Travel – a lucrative benefit that's awarded to cardholders each and every year.
But what use is this perk if you don't know how to redeem it? We've put together this post to explain how the $400 Travel Credit works, and to showcase some of the very best ways to maximise value.
$400 American Express Travel Credit: How it works
The annual $400 Travel Credit is a key benefit of the American Express Explorer Credit Card.
It's awarded to the primary card member each annual anniversary, and it's valid for 12 months from the date of issue. The credit can be spent online at American Express Travel, for travel in Australia or overseas.
The best bit? Since the $400 Amex Travel Credit is provided each year, it effectively offsets the $395 annual card fee.
What can you use the American Express Travel Credit for?
As a flexible credit, the Amex Travel Credit can be redeemed across different categories. You can put it towards eligible flights (in our experience, this includes most Qantas and Virgin Australia sale fares) hotels, or even car hire at American Express Travel Online.
Of course, like all good things, there are a few considerations that come with using it. In this article, we'll cover the ins and outs of the Travel Credit and share tips for helping you to put it to good use.
Who can use the American Express Travel Credit?
One of the standout features of the Travel Credit is that it isn't tied to the primary card member.
You can use it for yourself or choose to book travel for another person, such as a family member or friend – it's up to you.
And, if you choose to book travel for someone else, you don't need to be travelling them.
How to redeem for flights
When it comes to using my personal Travel Credit, I typically find domestic flights offer maximum value.
That's because the price of airfares booked via the Amex Travel website usually mirrors the cost when booking direct.
The American Express Travel online booking system is easy to navigate, and it has access to an extensive network of domestic and international flights. Here in Australia, it covers key Australian airlines (Virgin Australia, Qantas, Jetstar and even Rex). In my experience, most sale fares are available.
Status-chasers will also be pleased to know that eligible domestic flight bookings using the travel credit earn points and status credits with Velocity Frequent Flyer and Qantas Frequent Flyer – just as you would when booking direct.
Here's an example to illustrate pricing parity between Amex Travel and booking direct with a Virgin Australia Economy Elevate fare from Brisbane to Cairns, departing 30 September 2021.
American Express Travel website
On the American Express Travel website, a return economy flight booking for one person on this date comes in at $235:
Virgin Australia website
Plugging in the same parameters for a flight booking on the Virgin Australia website brings up exactly the same pricing: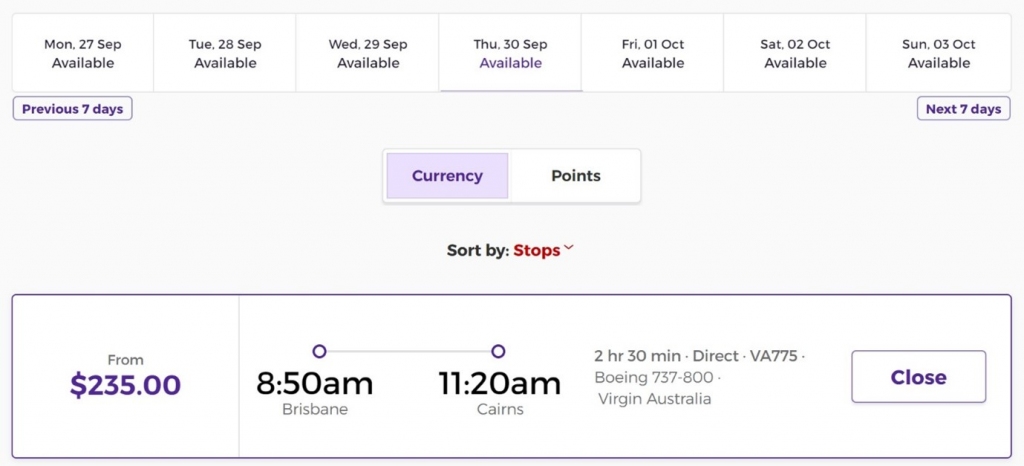 Note that the airfares we've priced up are standard fares. However, Virgin Australia, Qantas, Rex, and Jetstar sale fares are routinely also reflected on the American Express Travel online booking system.
In some circumstances, sale fares that aren't available to travel agents might not display. However, in most cases, you can book domestic flights via American Express Travel and pay the same as if you'd purchased your airfare direct.
Note that there's no refund on the travel credit if you decide to cancel a booking. However, most Australian airlines are offering fee-free change and cancellation policies in response to Covid.
What about international flights?
If you'd rather save up your travel credit for jaunts overseas, there's a full network of global airlines available to book via Amex Travel. When searching several high-traffic routes into Europe, I was presented with itineraries for a comprehensive list of international airlines.
This included: Aer Lingus, Air France, American Airlines, Austrian Airlines, British Airways, Cathay Pacific, Delta Air Lines, Etihad Airways, Emirates, KLM Royal Dutch Airlines, Lufthansa, Qatar Airways, Singapore Airlines, Swiss International Air Lines, United Airlines and Virgin Atlantic Airways. Note that some lower-cost airlines may be unavailable to book.
Tip: While the Travel Credit is only valid for 12 months, in reality, you can still book for travel significantly later. This is done by waiting until the final month of Travel Credit expiry and then booking an international flight 10 to 11 months out.
Using the Amex Travel Credit for hotels and other accommodation
When it comes to accommodation, American Express Travel boasts tens of thousands of properties across Australia and overseas. This includes major chains such as Hilton, Accor, Hyatt, and Marriott. It also extends to many boutiques and family-run hotels and lodgings.
In many cases, the hotel booking rates available through Amex Travel are identical to booking direct.
Here's an example. For the night of 18 August 2021, American Express Travel is offering a Deluxe King Room at The Star Grand, Gold Coast for the price of $189 AUD:

A search with the same booking parameters on the direct hotel website brings up a non-refundable direct booking rate of $189 – the same cost:

From time to time, Amex Travel runs promotional sales which can make booking via Amex Travel even cheaper than locking in a room direct. On the flipside, pricing via Amex Travel can sometimes be more expensive. So, be sure to research pricing to lock in the best deal.
Book via The Hotel Collection for even more value
The Travel Credit can also be used to book a stay at more than 600 properties participating in The Hotel Collection using Pay with Points.
The Hotel Collection unlocks lucrative benefits for a stay of two consecutive nights at participating properties using the Amex Explorer Card.
The benefits on offer include $100 hotel credit to spend on dining and other activities, plus a complimentary room upgrade (subject to availability) and as with airfares, there's no refund on the travel credit if you decide to cancel an accommodation booking. However, many hotels are offering flexible change and cancellation policies in response to Covid.
Health and safety, plus hotel cancellation policies are visible for individual properties on the Amex search screen, as shown below:

If you're a hotel loyalist, note that when using the travel credit for accommodation, you typically won't get access to the member benefits you'd earn when booking direct.
Note that the Travel Credit can be used for pre-paid bookings, but not when you reserve a room and pay the accommodation provider direct when you check in.
Using the Amex Travel Credit for car hire
As Australians continue to holiday at home, car hire is continuing to experience high demand.
With the $400 Amex Travel Credit, it's possible to book across a range of car rental companies. In Australia, a recent search brought up options including Avis, Enterprise, Europcar, Hertz and Thrifty Car Rental.
In the past, car rental booked with the Travel Credit was restricted to Airport locations. However, that's no longer the case, with pick-up and drop-off locations available across cities and regional centres in Australia and overseas.
Like with hotels, the Travel Credit can be used for pre-paid car hire bookings, but not for reservations that are paid at a later date.
As with all travel bookings, pricing for car hire can vary. So, before you look to lock in a rental with your Travel Credit, it pays to check pricing across multiple platforms to lock in the best deal.
How to use the American Express Travel Credit: Step by step
Your American Express Travel Credit is available to use once you've paid the annual fee and made a minimum payment on your first month's statement.
Once you have your Travel Credit, it's a simple process to redeem it. Simply follow the steps below:
Visit the American Express Travel Online site.
Log in to your American Express account using your American Express user ID and password.
Your valid Travel Credit will display in the top right corner of the page.
Search for flights, hotels, "things to do" or car hire. Your available payment options will be displayed in the results.
Select your itinerary and continue to checkout. Make sure the total value of your travel booking is the same or higher value than the Travel Credit.
Redeem your Travel Credit against your booking by selecting the Travel Credit.
Note that you can only use the Travel Credit in one single transaction and the remaining (unused) balance will be forfeited. To get around this, consider a higher room category with an accommodation booking, or including a second passenger on an airfare booking.
Payment can be made as a combination of the Travel Credit, American Express Membership Rewards points, and your American Express Card.
When does the Amex Travel Credit expire?
The Travel Credit is issued each anniversary year, from the first month your account is opened. The validity is for 12 months, and it must be redeemed within the same anniversary year. It's important to plan ahead, as it cannot be carried forward to any subsequent year.
That said, you can use the credit to book flights, accommodation, or car hire anytime into the future – so there's nothing to stop you from redeeming it in the last month before expiry, for travel many months into the future.
Summing up
The American Express Travel credit is a lucrative benefit. While you do need to plan ahead to use it, flights, accommodation and car hire pricing is often comparable with booking direct. Simply by using the Travel Credit each year, it's possible to extract enough value to fully offset the $395 annual fee on the American Express Explorer Credit Card.
The redemption options we've highlighted in this article are current as of 20 July 2021 and may be subject to change. Travel Credit is subject to T&Cs and availability.
While you're here: Subscribe to our newsletter for the latest tips, deals and news. It only takes a few seconds and we respect your privacy: