The Qantas Store – tempting, but not always a great use of hard-earned points. Dyson, KitchenAid, and Bose products jostle alongside gift vouchers to compete for your Qantas points, all enticingly displayed and cheerfully offered at (usually) terrible redemption rates.
I must confess, I'd never actually surfed the Qantas Store website until last week. For me, the idea of a stylish KitchenAid toaster or kettle pales in comparison to, say, using my Qantas points for an around the world business class trip or blinging it out in Emirates A380 first class.
But recently, I received a promotional email for the Qantas Store. And in a moment of madness, I decided to click on the link and take a look.
As expected, I was suitably horrified to find a myriad of products from desirable brands inflated to sky high (points) prices. Let's take, for example, a KitchenAid Proline blender. While currently an in-demand product, the Qantas Store is currently flogging them at 195,400 points. Compare this with a cash price of $959.00 when found competitively on sale, so you're getting around 0.5 cents value for each Qantas point. Even with free delivery thrown in, it's a terrible value proposition.
Gift cards provide more or less the same questionable return. A $25 Dan Murphy's gift card for 4,950 points, and a $100 Woolworths gift card for 19,000 points, again representing a Qantas point value of around 0.5 cents in the dollar.
But the Qantas Store offers sales on products, and also a 'Points Plus Pay' calculator, and this is where things get interesting.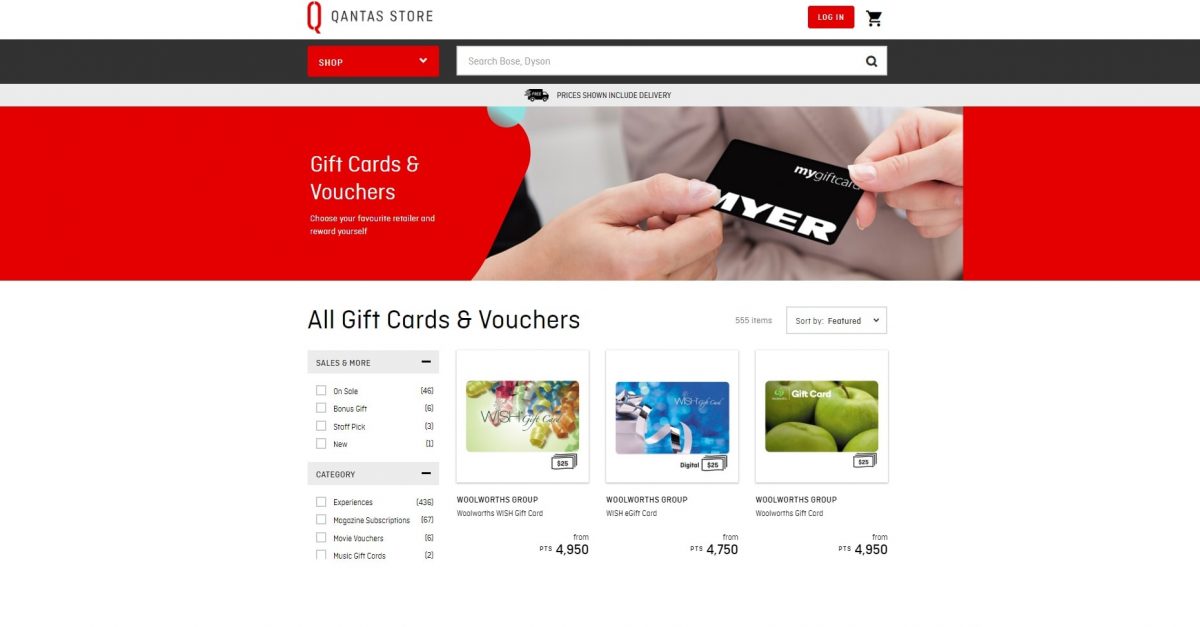 Using 'Points Plus Pay' can get you a bargain.
The Qantas Store offers a Points Plus Pay option, enabling shoppers to pay a 2,000 point minimum for a product or voucher while electing to pay the rest in cash. For most products, this still results in a poor return for your hard-earned Qantas points, however, there are some exceptions that can get you ahead.
For example, the Qantas Store sometimes offers sales, where you can nab up to 70% off items. In the past, for example, I've found 50% off various items of luggage, including a highly desirable Samsonite Cosmolite 55 cm suitcase. As part of this sale, you could have chosen to outright pay 50,800 points to purchase it (down from a ridiculous original price of 101,760 points):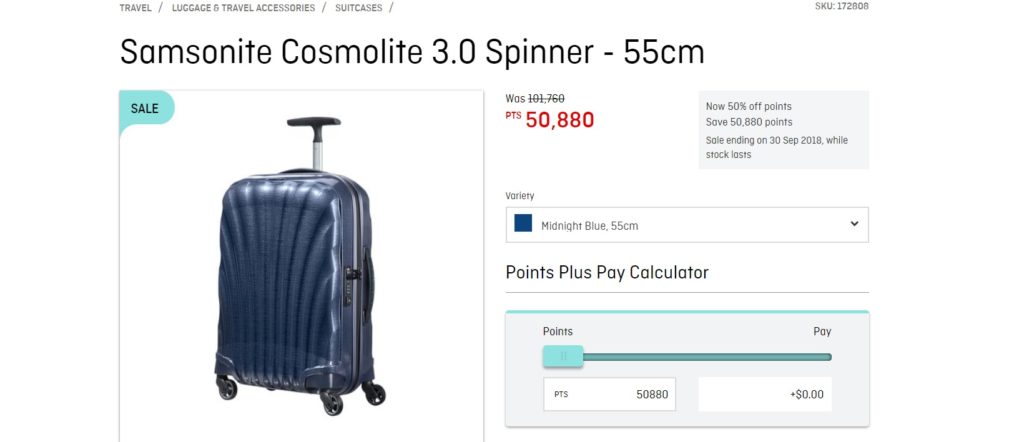 Given a similar number of points can get you a one-way flight in Emirates first class, this isn't a use of Qantas points we'd recommend. Instead, simply moving the 'Points Plus Pay' slider all the way to the right could have allowed you to pay just 2,000 points plus $321.53: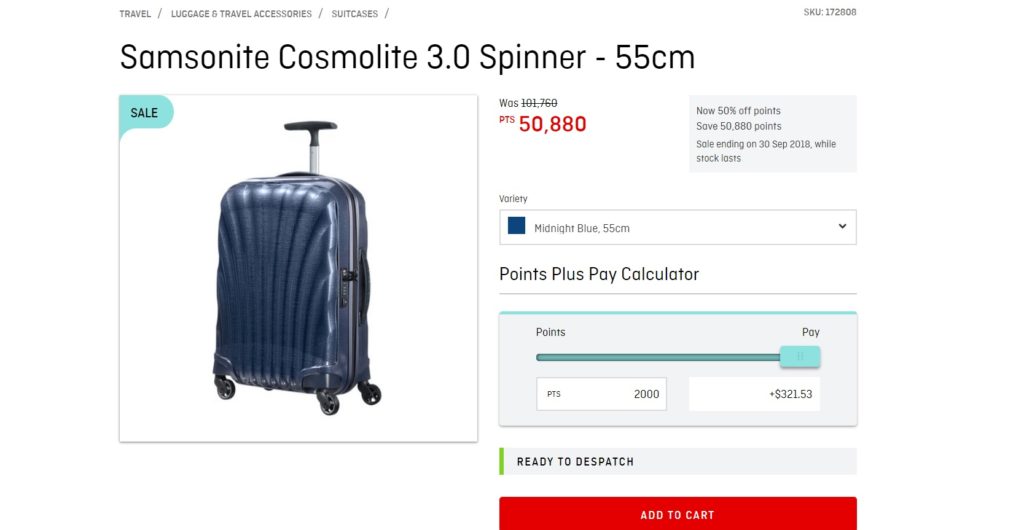 This works out to be a very competitive sale price for the Samsonite Cosmolite 55 cm suitcase, and it's important to remember that free shipping is thrown in. Not a bad use of just 2,000 Qantas Frequent Flyer points!
If you don't use Qantas points often, it's also worth pointing out that purchasing something at the Qantas Store can prevent your Qantas points from expiring.
Groundbreaking? Hardly. But it does show that you can find value in the Qantas Store via the 'Points Plus Pay' option, particularly when you keep an eye on sales. While we always recommend using Qantas Frequent Flyer points for aspirational travel experiences, if you're in the market for a new electronic item, piece of luggage or even homewares, it's worth checking the Qantas Store pricing regularly.
Getting value from shopping, above and beyond the Qantas Store
While the Qantas Store is worth checking out when you want to burn points, consider checking out the Qantas Online Mall when you want to earn points.
The Qantas online mall allows you to earn Qantas points, simply through shopping online. There are a number of popular brands you can shop from, including Woolworths, eBay, Freedom, Apple, Lorna Jane, Mecca Cosmetica and Trenery.
It's easy to earn points. Simply log in to your Qantas Mall account and select your preferred retailer. By tracking your cookies, Qantas records your purchase and awards you points for each $1 you spend. It doesn't cost you anything more, and you likely would have shopped online anyway – so why not earn additional points, just by shopping via the Qantas Mall?
While you're here: Subscribe to our newsletter for the latest tips, deals and news. It only takes a few seconds and we respect your privacy: