Hilton Honors is running a status challenge for Visa cardholders, which could see you soar to the lofty heights of Gold membership with very little effort.
For a limited time, cardholders can fast track to Hilton Honors Gold status simply by consuming four nights or two stays over a 90 day period. That's an exceedingly generous offer when you consider that Gold membership usually requires 20 stays or 40 nights.
Once the qualification criteria have been reached, your Hilton Honors Gold status is valid through March 2021 – that's almost two years to enjoy elite membership perks!
Is Hilton Honors Gold membership worth chasing?
If you see yourself staying at Hilton properties in the next year or two, even infrequently, then a fast track to Hilton Honors Gold could be well worth your while.
Hilton is one of the only hotel loyalty programs to offer a complimentary (continental) breakfast to Gold members. This is a generous perk that can lead to significant savings over time.
Other valuable benefits include a space-available room upgrade (depending on the room tier of your existing booking, you could aim for an upgrade to an Executive Club room) and unlimited Milestone Bonuses.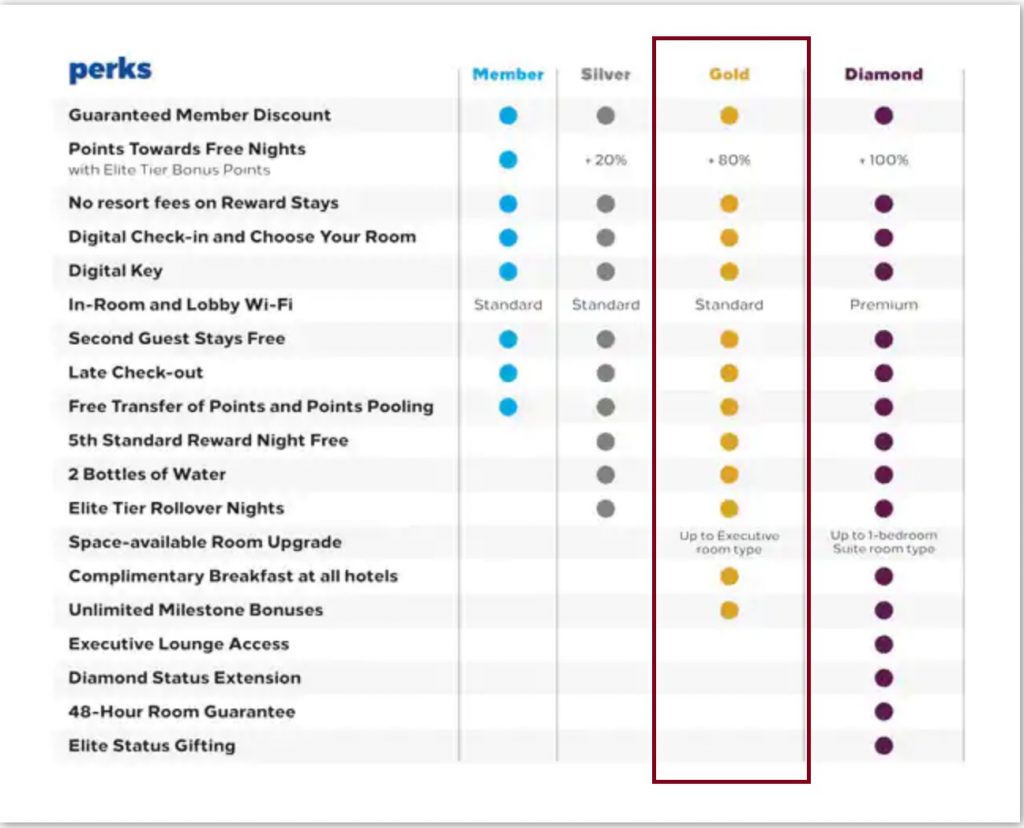 You can learn more about Hilton Honors member benefits here.
How to qualify for the Visa Signature Hilton Honors Gold Fast Track
In Australia, Visa Signature credit cards are issued through selected card issuers including NAB, St George and Citibank.
Receive 120,000 bonus Qantas Points when you spend $3,000 on everyday purchases within 60 days of account opening and keep your card open for over 12 months. Enjoy a reduced annual card fee (from $395 to $295) for the first year. NAB may vary or end this offer at any time.
The offer is valid for Visa Infinite and Signature cardholders located within the Asia Pacific (excluding Japan). A full list of participating countries is available on the offer page here.
Note that you must have a Hilton Honors account number prior to registering for the fast track to Gold offer and you need to sign up by July 31, 2019.
Case study: How to qualify for less than $250
Depending on where and when you choose to stay, it should be possible to meet the offer qualification criteria for very little cost outlay.
Don't have international travel planned? Why not choose to indulge in a few one-night 'staycations' at Hilton properties close to home to meet the offer criteria?
As an example, right now, the Hilton Adelaide is advertising member sale rates from just $124 (excluding card merchant service fee) for selected nights in July: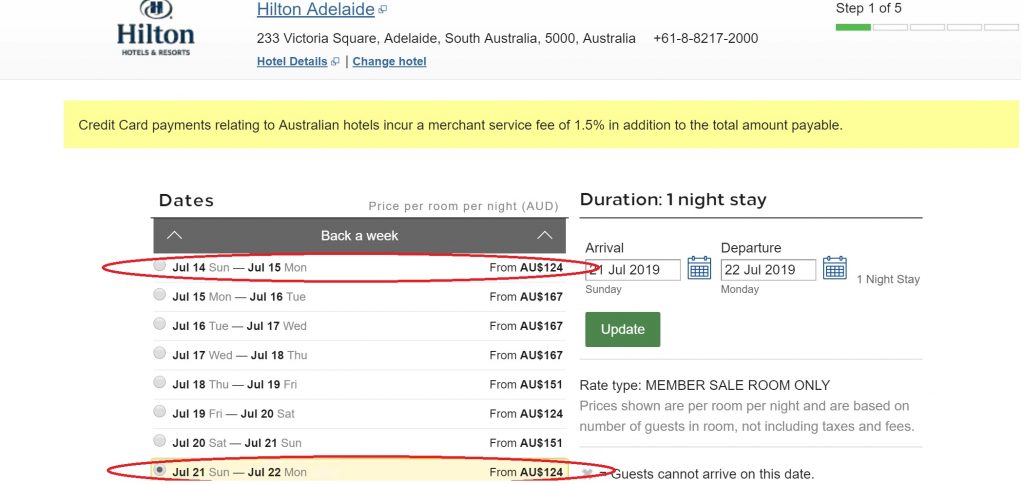 By consuming just two $124 one night stays, one week apart, you could qualify for your fast track Gold offer for less than $250! You'll find very competitive rates in other properties across Australia, too.
Other ways to fast track to Hilton Honors Gold
If you don't hold a Visa Signature credit card, there are other ways you can fast track to elite Hilton Honors status without posting 20 stays or 40 nights. Complimentary Hilton Honors Gold status is provided to American Express Platinum cardholders.
Hilton Honors also has a long-running public Gold and Diamond status challenge offer which offers a reciprocal status challenge to members of selected other hotel loyalty programs. You can find out more here.
Will you be taking advantage of this generous fast track offer?