For a limited time, you can pick up free top-tier Hertz Gold Plus Rewards President's Circle Status. This elite status is usually only obtainable through 20 qualifying Hertz Gold Plus Rewards rentals in a 12-month period, or a minimum $4,000 USD spend. It's also a valuable perk of the American Express Platinum Card.
However, the status can be yours instantly for a year when you sign up or upgrade directly from your profile and enter the following CDP code: 501032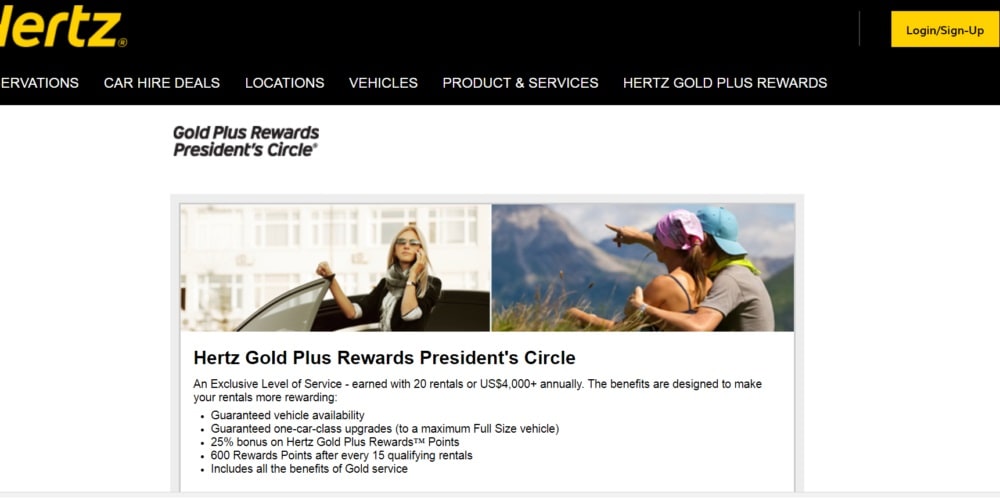 Gaining status unlocks a host of perks with your next car rental. Source: Hertz
Hertz Gold Plus Rewards President's Circle Status is more than just car hire
Acquiring gold status is handy – even if you rent vehicles infrequently. Members of Hertz' top tier status enjoy:
Guaranteed vehicle availability
Guaranteed one-car-class upgrades (to a maximum Full-Size vehicle)
25% bonus on Hertz Gold Plus Rewards™ Points
600 Rewards Points after every 15 qualifying rentals
Plus, you'll pick up all the benefits of Gold service
A full list of Hertz Gold Plus Rewards – President's Circle terms and conditions can be found here
And once you've obtained Hertz' top tier status, you might be able to match it to other programs, including the Avis equivalent scheme.
If you're interested in a road trip adventure, don't forget to check out our post on relocation car hire – the simple way to hire a vehicle for as little as $1 per day.
While you're here: Subscribe to our newsletter for the latest tips, deals and news. It only takes a few seconds and we respect your privacy: