A care pack of Qantas PJs, a business class amenity kit and snacks can be sent to friends or family for just $25
Missing Qantas business class pyjamas and some of the other little luxuries you'd find onboard Qantas in a premium cabin?
In a savvy move, Qantas is turning excess stocks of pyjamas, amenity kits and snacks in to care packs that can be sent directly to the doors of people doing it tough in lockdown during the COVID-19 crisis.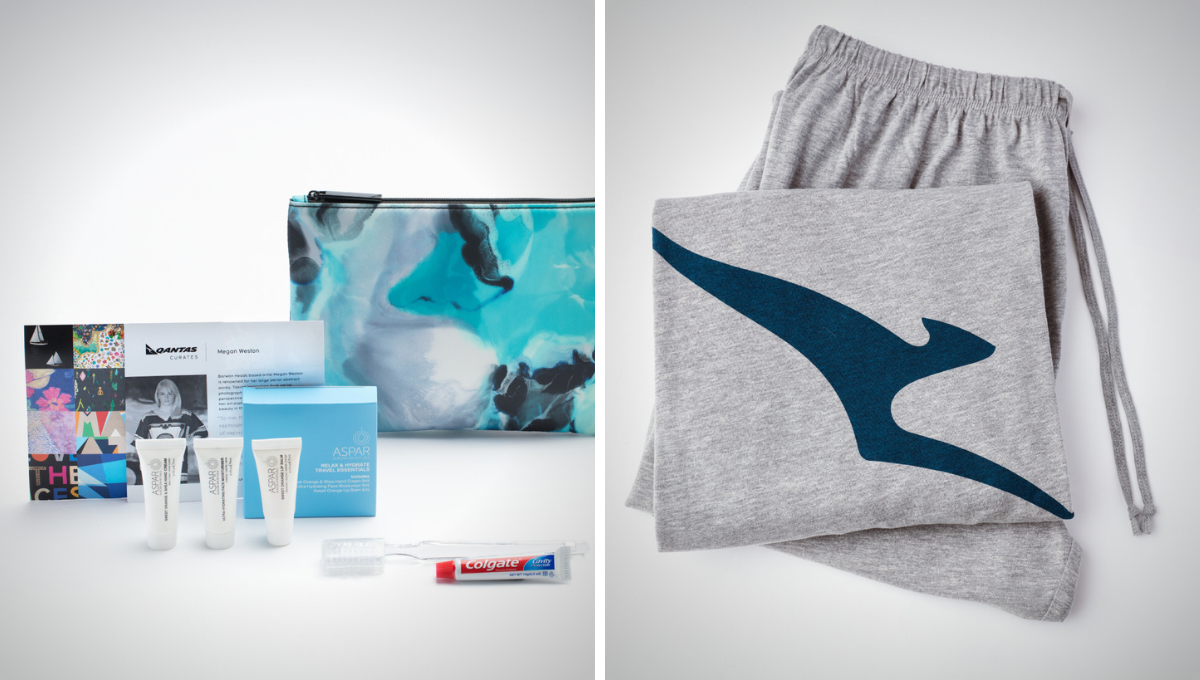 With all Qantas international flights and the majority of domestic flights currently suspended, the airline has an oversupply of items. This includes the iconic Business Class pyjamas, Business Class amenity kits featuring lovely ASPAR skin products, as well as Tim Tams and snacks that would normally be offered to passengers travelling in premium cabins.
Qantas has put these items together in a care package that can be sent anonymously as a surprise 'random act of kindness' to a friend, family member, anyone that might be doing it tough or as a "treat yourself" gift.
An individual can send up to 10 packs anywhere in Australia via Qantas.com. The cost is very reasonable – just $25 per pack or 4,350 Qantas Points, including delivery.
Qantas Executive Manager of Product and Service, Phil Capps, said the airline orders bulk stock in advance and with minimal flights, has items sitting in storage that could be better used to cheer people up.
"We already provide goods to some of our charity partners including Oz Harvest and Neil Perry's Hope Delivery initiative but these packs offer Australians the opportunity to reach out to those they're separated from due to border restrictions and lockdowns.
"Qantas PJs are always popular, and with people spending a lot more time at home and wishing they were travelling somewhere, we think receiving a surprise pair in the mail will be very well received. And probably very well-worn by the end of all this."
What's inside each Qantas care pack?
Each care pack includes the following goodies:
1 Qantas Business Class sleeper suit L/XL (suitable for most shapes and sizes)
1 Qantas Curates Business Class amenity kit featuring ASPAR Travel Essentials (Sweet Orange & Shea Hand Cream, Ultra Hydrating Face Moisturiser & Sweet Orange Lip Balm)
12 individually wrapped Tim Tams
200gram pack of smoked almonds (served in Qantas First Class)
Packet of 10 T2 Lemongrass and Ginger tea bags
The Qantas care packs are now on sale via the Qantas Rewards Store
While you're here: Subscribe to our newsletter for the latest tips, deals and news. It only takes a few seconds and we respect your privacy: