With Amex Shop Small, earn 3 bonus points per dollar, up to 40,000 extra points in total until 31 March 2022.
American Express has switched up its popular 'Shop Small' promotion this year, trading out a traditional cashback model for bonus points, with a generous offer period that spans a full 12 months.
Amex Shop Small: How it works
From 1 April 2021, American Express Card Members who first save the Shop Small offer to their eligible card, will get three extra points per dollar spent with participating small businesses until 31 March 2022, in-store or online, up to 40,000 extra points in total (T&Cs apply).
A 12-month promotional period means that there's more time and more scope for cardholders to support small businesses when spending in-store and online.
The offer is available to primary cardholders only. Additional card holders cannot register for the promotion.
Step by step guide to register for Amex Shop Small
Registrations for Amex Shop Small are now open. If you're an eligible cardholder, you can log in to the American Express App or to your Amex online account to save the offer.
To claim the offer, simply follow the steps below:
Step 1: Login to your American Express account and Save the offer to your eligible card.
Step 2: Spend at any participating Shop Small business by 31 March 2022.
Step 3: Get 3 extra points per $1 in eligible spend, up to 40,000 points in total. The points can take up to 90 days to be credited to your account.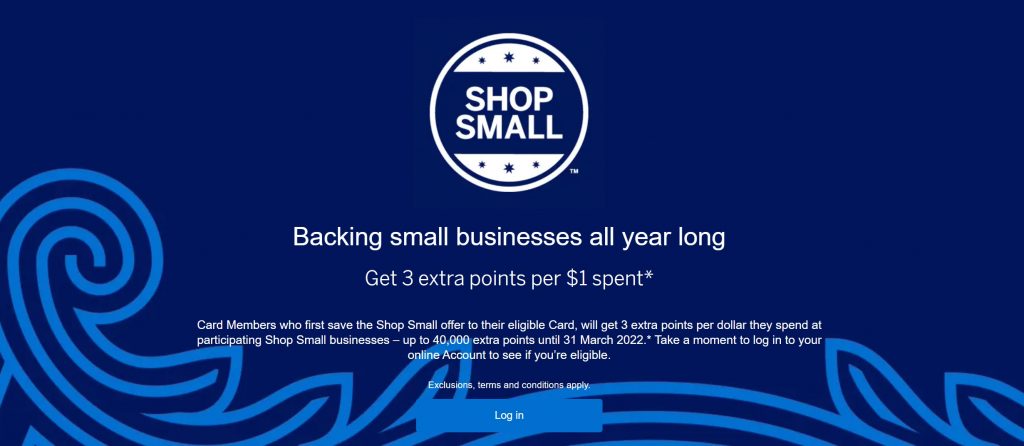 There's no cap on the number of primary cardholders who can participate this year. However, the earlier you save the offer, the more time you'll have to use it. The full offer T&Cs are available on the Shop Small website here.
Not yet an Amex card member?
When it comes to card benefits, American Express is ahead of the pack. You can discover the latest Amex card offers here.
Learning more about American Express Shop Small
Looking for more information about the 2021 Shop Small promotion? We've put together a full guide below.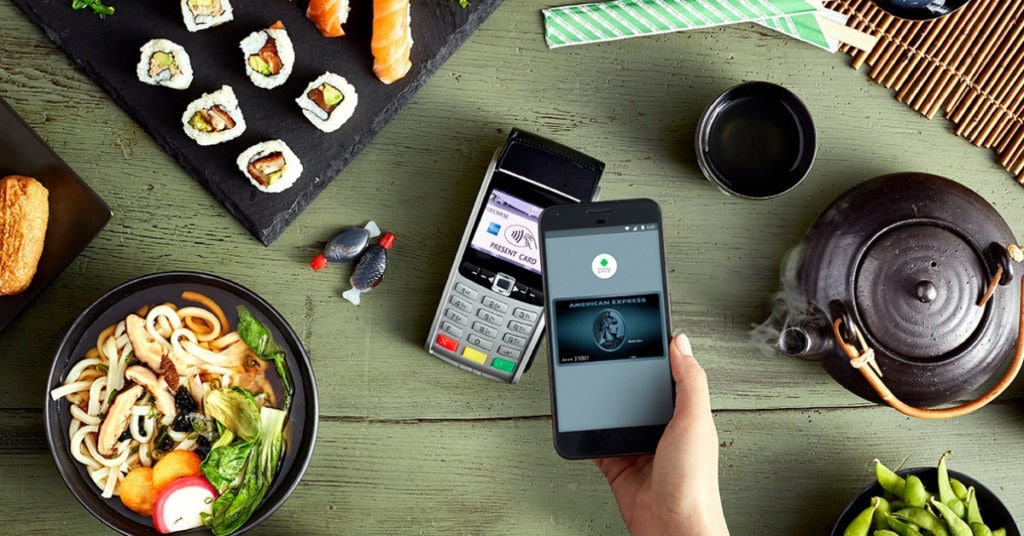 Amex Shop Small: What's to love
While American Express offers plenty of cardholder perks, Amex Shop Small is hard to beat. The promotion is designed to encourage American Express cardholders to spend at small businesses while highlighting the wide acceptance of Amex locally. This year's promotion is being run a little differently, with extra points replacing cashback.
While some people may be disappointed by the change in focus to points over credit, earning the full 40,000 extra points through this promotion could offer significant value.
Shop Small launched in Australia in 2013. Since then, the promotion has been hugely successful in raising awareness of the importance of supporting small businesses. In fact, American Express Card Members have contributed more than $6 billion to the Australian small business sector through Shop Small in the past 8 years.
As an American Express Card Member, it helps me to support small businesses in the local community, while offering an incentive on the everyday purchases I'd usually make.

Which businesses are participating in Amex Shop Small?
The network of businesses participating in Amex Shop Small is larger than ever. Thousands of additional businesses are taking part in this year's Shop Small, including the many micro-businesses that use Square payment terminals.
Personally speaking, I'm able to Shop Small at many local businesses near my home in Adelaide – from my favourite butcher to the chemist, the florist and even at my local coffee shop.
But how can you quickly identify which small businesses you can support?
Using the Shop Small Map
The American Express Shop Small Map is a handy, searchable tool that will help you identify participating Amex Shop Small merchants. When you search the Shop Small Map, eligible merchants will be highlighted with the Shop Small logo.
Whether you're in Sydney, NSW or Salisbury, SA, the Shop Small Map is an easy way to find small businesses in your local area that are participating in the offer. The Amex Shop Small Map is updated regularly and can be found here.

The number of online businesses participating in American Express Shop Small is also growing each year. You can find a full list of participating online merchants here.
What is the Amex Shop Small spend period?
The Amex Shop Small campaign period is from 1 April 2021 and 31 March 2022. During this time, cardholders need to make an eligible spend on a registered card during this time to receive 3 bonus points.
When will extra Amex Shop Small points appear in my account?
Provided you meet the offer qualification criteria, the bonus points should appear on your billing statement within five business days from qualifying spend. However, Amex advises that it could take up to 90 days from the offer end date.
Bonus points won't be applied to your card account if your card has been suspended or cancelled, and you must remain enrolled in the loyalty program linked to your Amex card. The bonus points may be reversed if your qualifying purchase is refunded or cancelled.
Are any purchases excluded from Amex Shop Small?
Gift card purchases are ineligible for the Shop Small offer. More information about exclusions is available on the Shop Small website.
Which cards are eligible to participate in Amex Shop Small?
All primary American Express cards are eligible to participate in Shop Small. Unfortunately, additional cards, Corporate Cards, David Jones Storecards, Government Cards, American Express Business Travel Accounts, Global Travel Cards and Business Cards are not eligible.
Full exclusions and offer terms and conditions are available on the Amex Shop Small page.
Amex Shop Small: Conclusion
Now in its ninth year, Shop Small celebrates the valuable contributions small businesses make to their communities.
By transforming Shop Small into a year-round movement, it's great to see American Express incentivise card members to spend where it is needed most. While some cardholders may be disappointed by the change in focus to points over credit, earning the full 40,000 extra points through this promotion could offer higher value than previous Shop Small promotions.
Add in a generously long promotional period of 12 months, and it's clear that more card members than ever before will be able to participate. Here's to earning a swag of extra points in 2021, whilst supporting small businesses on the road to recovery.
While you're here: Subscribe to our newsletter for the latest tips, deals and news. It only takes a few seconds and we respect your privacy: