AMEX Shop Small 2017 has now concluded. This popular promotion rewards existing AMEX card members with $10 back each time you spend $20 on your card at a 'Shop Small' retailer. The 2017 promotion allowed card members to access the rebate up to five times during the month of November, enabling a rebate of up to $50 for each AMEX card held.
Shop Small is my favourite AMEX card member perk. It offers up to 50% discount on everyday purchases I'd likely make anyway and I love that it helps to support small businesses in the local community. The promotion is designed to encourage American Express card members to spend at everyday retailers, while highlighting the wide acceptance of AMEX locally.
How did AMEX Shop Small 2017 work?
AMEX Shop Small 2017 ran from 1 November 2017 through to 30 November 2017, with the promotion now closed. During this time, American Express card members who spent $20 or more in a single eligible transaction at participating small businesses were eligible to receive a $10 credit on their account. The offer was able to be redeemed once per participating small business at up to five different participating small businesses – $50 back in total. The offer was only eligible for the first 100,000 cards registered.
How can I find out which retailers are participating?
With so many merchants accepting AMEX these days, you're bound to find a number of local retailers you can use the offer with. Last year, for example, I used my offers at my local butcher, pharmacy, bookshop, florist, and splashed out on some spectacular meals at local eateries!
Whilst the promotion runs, you'll find a handy, searchable map for participating AMEX Shop Small Merchants here.

Which cards are eligible to participate in AMEX Shop Small?
Primary American Express cards (including bank-issued American Express cards and David Jones co-brand AMEX cards) are eligible. Supplementary Cards are also eligible – but note that they must be registered for the offer separately from the primary card.
Unfortunately, the following cards are not eligible to participate: Corporate Cards, American Express Business Travel Accounts, Government Cards, Global Travel Cards, Business Cards that are affiliated with a wholesaler partner, Corporate Purchasing Cards, Corporate Meeting Cards and David Jones Storecards.
When will the $10 credit(s) appear?
In the past, I've often found that credits from AMEX Shop Small hit my account quite quickly, however, AMEX advise that the credits can take up to 90 days to appear.
Need a new card for AMEX Shop Small?
If you don't yet hold an American Express Card, you're missing out! A new AMEX card will allow you to take advantage of the Shop Small promotion, along with numerous other generous card member benefits that are offered throughout the year. Cards such as the AMEX Explorer , AMEX Qantas Ultimate  and AMEX Velocity Platinum Card  are packed with rewarding travel benefits.
Note that the Shop Small promotion has now concluded for 2017. Subscribe to our newsletter to stay in the know with upcoming AMEX promotions.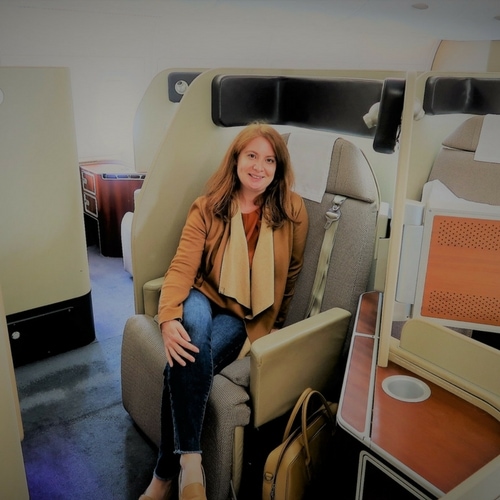 I love to travel the world in comfort and style. In fact, there's really nothing I love more than sitting in a plane at 36,000 feet, a glass of Krug in hand, watching the clouds go by.