Discover how to maximise cashback savings with American Express Shop Small.
As an American Express cardholder perk, it's fair to say that Shop Small is unrivalled as far as 'spend and save' promotions go. It's not hard to see why this generous cashback offer is eagerly awaited by American Express cardholders each and every year.
The premise is quite simple. For a specified time period (usually one month), eligible American Express cardholders can get credited with cashback, simply by registering and then shopping with local merchants that accept Amex.
We've put together a guide to help you maximise value from this lucrative 'Spend and Save' promotion.
Can I register for American Express Shop Small 2020 yet?
No. The most recent promotion ran in November 2019. The American Express Shop Small 2020 registration link is expected to be made available later this year. We'll update this post as soon as we find out more.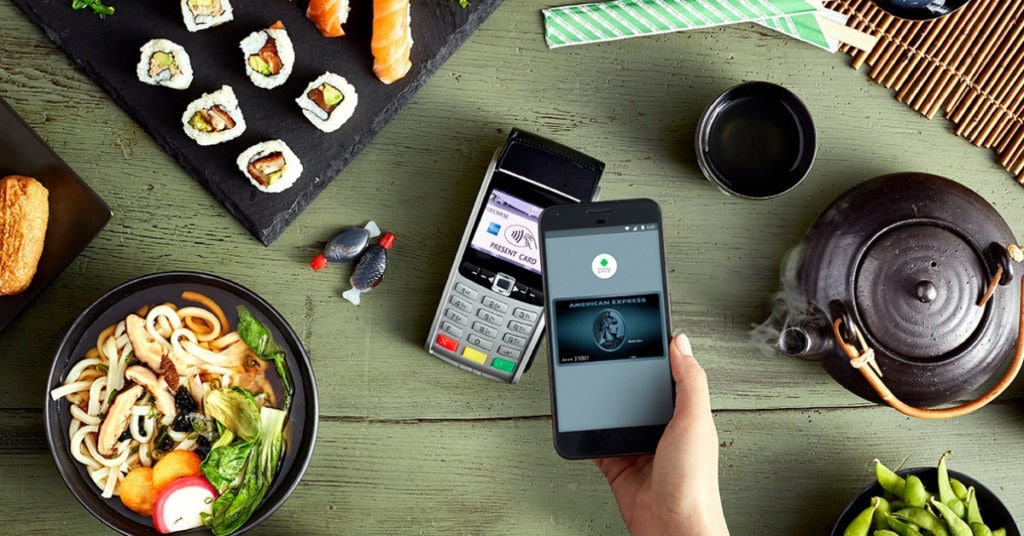 Amex Shop Small: What's to love
Amex Shop Small is my favourite American Express membership perk. It offers a discount on everyday purchases I'd likely make anyway and it helps to support small businesses in the local community.
Don't yet hold an Amex card? Browse the latest American Express Credit card offers here
The promotion is designed to encourage American Express card members to spend at small businesses while highlighting the wide acceptance of Amex locally.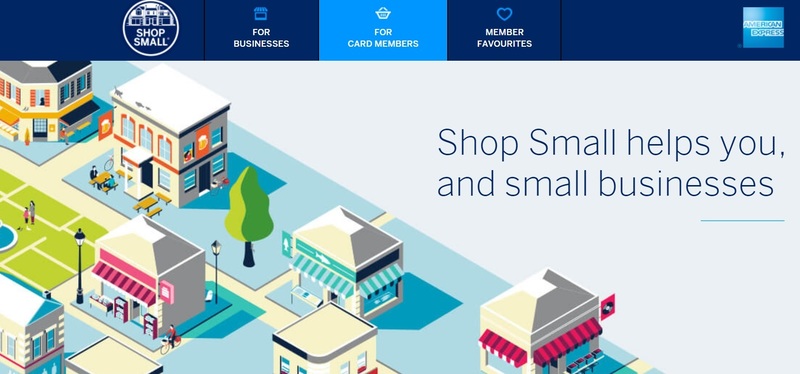 Amex Shop Small: Pro tips to maximise value
American Express Shop Small is an incredibly generous promotion. Here are our pro tips to help you maximise value.
Check each eligible Amex card for the offer: The American Express Shop Small registration link appears in Amex Offers. If you have more than one Amex card, check each card individually for the chance to register multiple cards and save more.
Arrange supplementary Amex cards for family members: Many American Express Cards offer a limited number of $0 fee supplementary cards for family members. Provided they are linked to an eligible product, supplementary cardholders can also participate in Shop Small. So, share the love.
Plan before you shop: With so many local merchants accepting Amex these days, it can be overwhelming to decide where to redeem the Shop Small cashback offer. Head to the Shop Small map to locate your favourite retailers and strategically plan your shop!
How do I register for Shop Small?
The most recent promotion was simple to access. Cardholders simply needed to login to their American Express account between 1 November 2019 and 30 November 2019 and head to Amex Offers. From there, the cardholder simply needed to click "Save to Card" on the Shop Small Amex Offer.
Is offer participation capped?
Yes. The Shop Small promotion is eagerly awaited by cardholders. This means that there is usually a hard capped registration limit in place. What's more, that the cap can be reached very quickly, so it pays to register as soon as you can.
The 2019 Shop Small offer was restricted to the first 118,000 cards to register.
Which businesses participate in Amex Shop Small?
With so many merchants accepting American Express these days, the network of businesses participating in this promotion grows larger each year, and we'd only expect the reach to get larger for Amex Shop Small 2020.
During Shop Small, many card members should be able to find a range of participating merchants close by. But how do you identify which small businesses you can shop with?
Enter the Amex Shop Small Map.
The Amex Shop Small map a handy, searchable tool that will help you identify participating Amex Shop Small merchants. When you search the Shop Small Map, eligible merchants will be highlighted with the Shop Small logo.
The Amex Shop Small Map is updated regularly and can be found on the Amex website.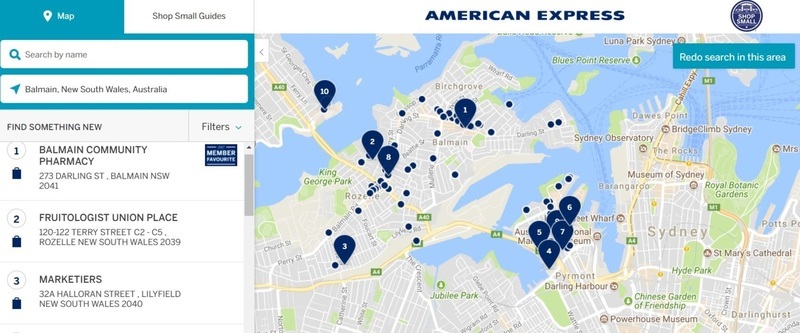 The most recent Amex Shop Small also saw a small number of online businesses participating for the first time. You can find out more about these businesses here.
Do I need to register each Amex card separately for Shop Small?
Yes. In previous promotions, only eligible spend on the card number you register has counted towards the offer. This means that each eligible Amex card typically must be registered separately. This includes supplementary cards.
Further down this post, you can find information about which Amex cards have been eligible for previous promotions.
What was the 2019 Amex Shop Small spend period?
The 2019 Amex Shop Small spend period was between 1 November 2019 and 30 November 2019. Card Members needed to make eligible spend on a registered card during this time period to receive a $10 credit.
When do Amex Shop Small credits appear in my account?
Provided you meet the offer qualification criteria, Amex advises that the Shop Small credit should appear on your billing statement within five business days from qualifying spend. However, it could take up to 90 days from the offer end date.
Credit won't be applied to your card account if your card has been suspended or cancelled. Credit may be reversed if your qualifying purchase is refunded or cancelled.
Which cards were eligible to participate in Amex Shop Small 2019?
All primary American Express cards (including David Jones co-brand Amex cards) were eligible to participate in Shop Small. Supplementary cards were also eligible, but they needed to be registered for the offer separately from the primary card.
Corporate, business travel, government and store cards were not eligible. Full offer terms and conditions for the most recent 2019 Amex Shop Small are available here.
American Express Shop Small verdict
Amex runs many lucrative cashback offers throughout the year, but Shop Small is by far my favourite. Not only do I get rewarded when I shop at my favourite local merchants, but there's a chance to support small business too.
It goes without saying that I'll eagerly be awaiting the launch of Amex Shop Small 2020. Will you be participating?
While you're here: Subscribe to our newsletter for the latest tips, deals and news. It only takes a few seconds and we respect your privacy: