Discover how to travel Positano in style
Positano is an enchanting village along the Amalfi Coast. The pastel-colored buildings, blue waters, and stunning views make it one of the most lusted after travel destinations in Italy.
The stunning little village has long been regarded as a playground for the rich and famous. As one of Italy's top holiday destinations for the affluent, there are a plethora of glamorous hotels, beach clubs, and restaurants designed to cater to the elite.
Despite the affluent crowd, Positano also attracts a wide range of other travellers. Due to this, the village is packed during the summer months. Realistically, one of the only ways to get away from the huge crowds and enjoy your stay with some privacy is splurging on extra amenities to be alone.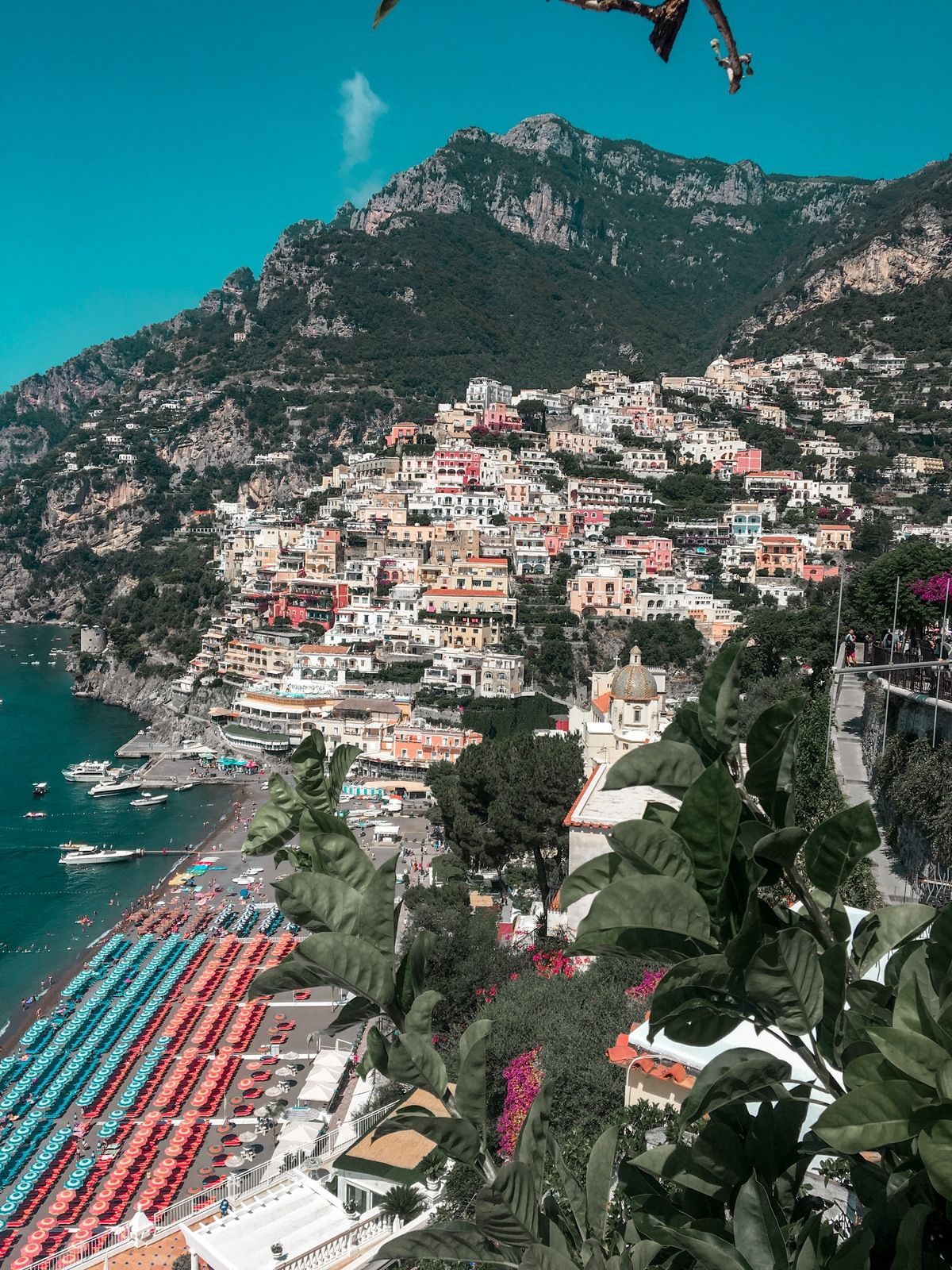 As the village of Positano is quite small, there are only a few luxurious hotels and world-renowned restaurants. This means that prices can get quite high. But you do get what you pay for in Positano!
Visiting Positano on a budget is doable but will not give you the best experience. Travellers seeking a visit to a popular Italian coastal area with less money to spend could instead consider the Cinque Terre, which offers a more moderately priced mix of accommodation and activity options. However, for those who can afford to splurge, travelling Positano with fewer limitations will enable you to have a very enjoyable visit that will leave you awestruck. Travelling luxuriously in Positano extends to accommodation, things to do, beaches, and food.
Discover everything you need to know about this stunning village with a luxury travel guide to visiting Positano.
Luxury Positano accommodation
Positano is known for an affluent crowd. This means that there are quite a few fabulous, luxurious hotels available to cater to their desires. Below are some of the best luxury hotels in Positano. Choosing the right accommodation could make your stay truly magical.
Il San Pietro di Positano
Il San Pietro di Positano is a luxury resort built into the Positano mountainside. It has its own private beach, tennis court, outdoor pool, spa, and waterfront restaurant. The rooms are absolutely stunning and all offer balconies with breathtaking sea views. This resort even has a hotel-owned yacht that is used for day charters.
Le Sirenuse
Le Sirenuse is arguably the most famous hotel in Positano. It is located in the heart of Positano, high up in the cliffs, and is named after the island of Sirens. The interior is charming and elegant while simultaneously giving off classic Italian vibes. Most rooms have balconies that offer sea views and views of the stunning village. There is also a private swimming pool and terrace to enjoy. This hotel is the source of many famous Instagram photos of luxurious-looking resorts in Positano.
Hotel Marincanto
Hotel Marincanto offers breathtaking, panoramic views of the Positano village buildings and the beautiful blue sea. The rooms are spacious and beautifully decorated. More so, every room comes with a balcony and water view, equipped with a little table and chairs. This is the perfect spot for a private morning coffee, or to watch the romantic sunset. Evidently, the views from this hotel are unparallel. In addition to all the other amenities, Hotel Marincanto also offers a picturesque infinity pool facing the sea.
Hotel Palazzo Murat
This Positano hotel has an excellent position right in the village near many shops and restaurants. If you want to be able to conveniently roam around the village of Positano this hotel is in a great location. This hotel was built in the 18th century and is filled with charm and history. The whole interior is decked out with ceramics that create a lovely classic, Italian atmosphere. Moreover, all rooms have either a city, sea, or garden view!
Hotel Poseidon
Hotel Poseidon is a villa styled hotel built into the Positano mountainside. Its hilltop position offers some of the best and most stunning views of the coast. This upscale villa is charmed with Italian elegance and décor, making it one of the best places for an Italian getaway. There is also a private pool and terrace which offers unbelievable views of Positano and it is the most magical place to lay out in the sun. In addition, the staff is extremely hospitable and will go above and beyond to make your stay amazing.
Where to hit the beach in Positano
Positano gets very hot in the summer months, so it's no surprise that people flock to the water. Therefore the Positano beaches are insanely busy! However, there's no need to worry if you're a luxury traveller, as there are many spaces that cost some extra money but offer a more private beach experience. Our top picks of Positano beach resorts are:
La Scogliera
This is a luxury beach area located right beside Spiaggia Grande. It is quite secluded and requires you to rent a sunbed. Sunbed rentals are more expensive here than Spiaggia Grande in order to keep it exclusive. This beach offers a private beach day right in the city. As well as, comfortable loungers, a bar and restaurant, hot showers, and free Wi-Fi.
Treville Beach Club
Treville Beach Club is an exclusive and private beach club a short distance from Positano. It is located in a small corner of the coast right against the stunning mountains. Boat shuttles run from the Positano pier every hour to bring you here. The staff at this beach are very attentive and everyone is aiming to make your stay as enjoyable as possible. There is also a restaurant on the beach with local fish dishes for you to try. To get the full Italian experience, drink a glass of one of the various types of wine they offer or enjoy a nice cold cocktail.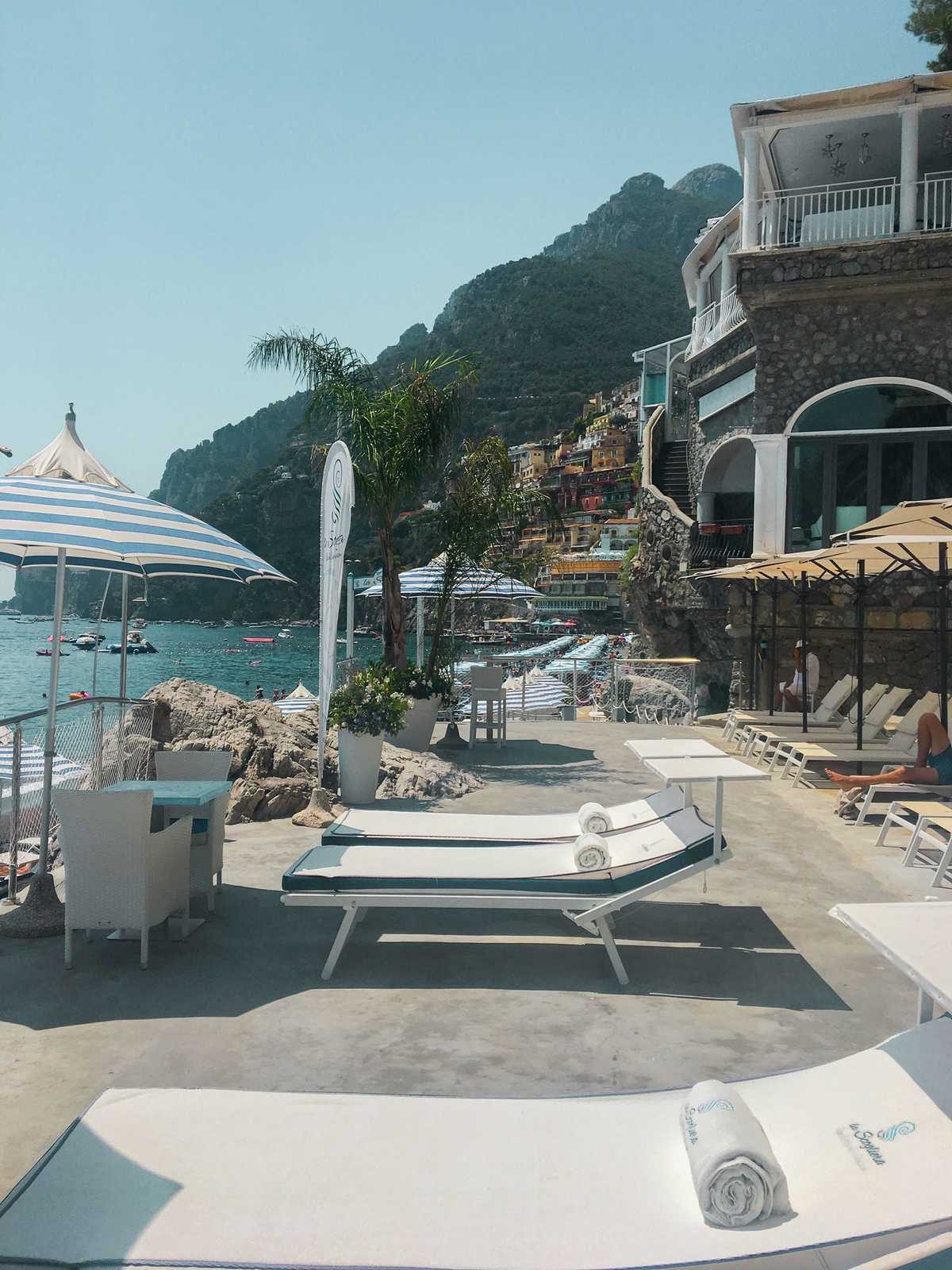 What to do in Positano
Positano is full of exciting activities that will make your stay enjoyable. In addition to going to the beach, there are numerous delights in Positano to indulge in.
Shopping in Positano
Most shops in Positano are for ceramics, souvenirs, and tourist t-shirts but there are a few trendy boutiques on hidden back streets. Exploring these hidden shops for handmade Italian items is a nice way to spend an afternoon. You can even wander into some art galleries and purchase local artists paintings as a meaningful souvenir from the visit.
Sailing and boating around Positano
Sailing or motorboating around Positano and the Amalfi Coast is one of the most popular Positano activities. You'll be awestruck by the stunning mountain and coastal views that can be seen along the ride.
A number of boat companies offer private tours of the coast. The private tours are more intimate, and you have more control of the day. You can just sit in your boat outside of Positano to look at the stunning view with some drinks and food.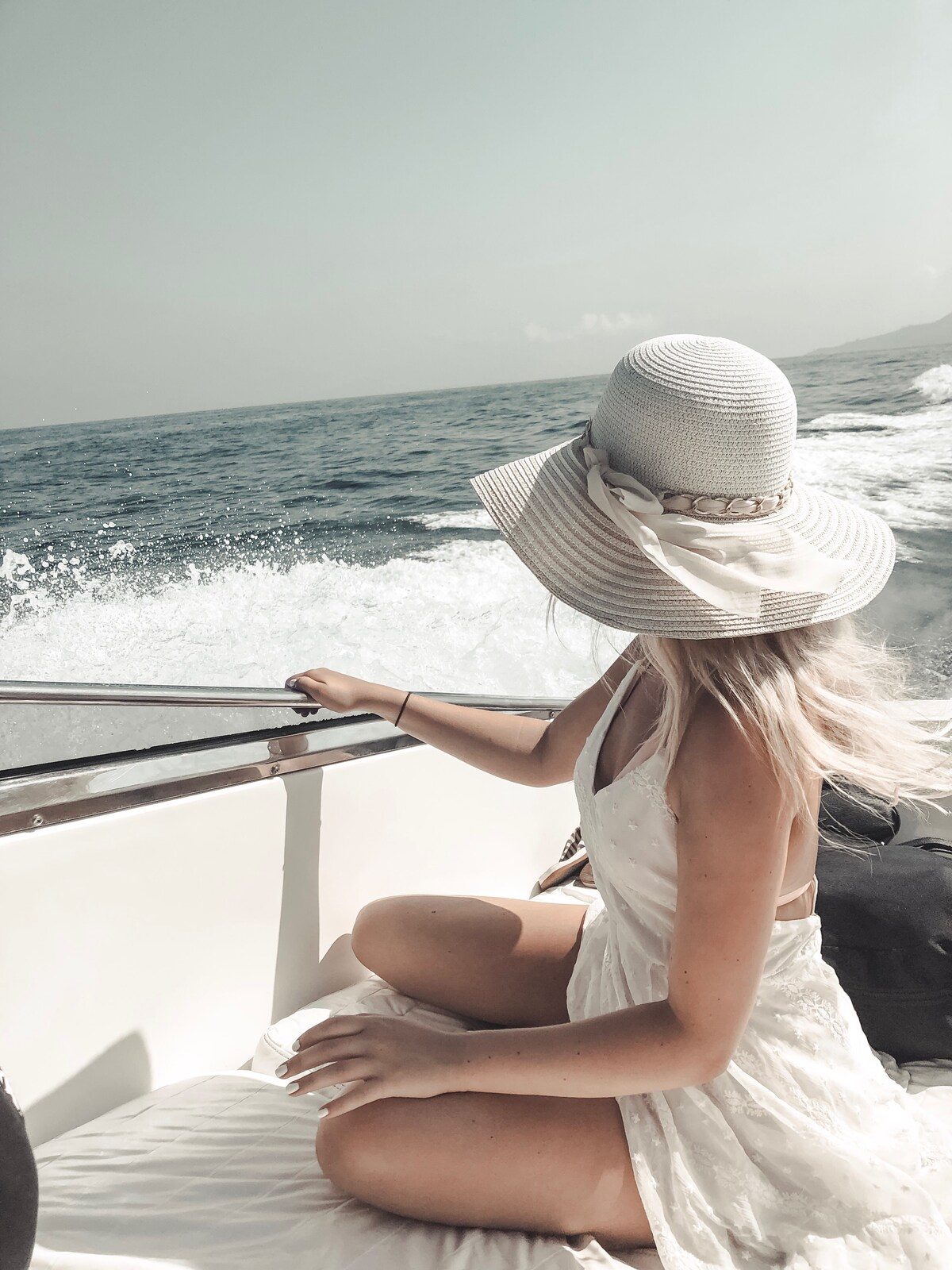 Visit Another Amalfi Coast Village
The Amalfi Coast has quite a few different towns along with it that are great for day trips. As a luxury traveller, the most suitable option would be Capri. Capri is extremely affluent and the place to be for celebrities and the very rich. It has a street lined with high-end, designer shops and the surrounding waters are full of awe-inducing yachts. This is a great village to spend the day in, and enjoy tasty food and drinks while overlooking the sea.
Luxury eating in Positano
Next2
Next2 is one of the best restaurants in Positano, boasting delicious foods and a beautiful atmosphere. The restaurant is decorated all in white, which adds a classy elegant feel. The food is amazing and comes with a chef's favor, appetiser, entrée, and dessert. Along with exceptional food, Next2 has an exceptional view of the city. The food here is Michelin star level.
Ristorante Terrazza Celè
At Ristorante Terrazza Celè you get fabulous food and spectacular views. This Positano restaurant is located on a terrace overlooking the city and is decorated with orange and lemon trees! The tables near the edge of the balcony get the best views of the city so make sure you reserve in advance. The best time to head here is during sunset, as the terrace is in the perfect location for watching the sun disappear behind the mountains.
Da Vincenzo
Da Vincenzo is a classic Italian restaurant that has been run by an Italian family for three generations. It is located up the mountain near the centre of Positano. They offer a wide assortment of pasta, seafood, and meat dishes all prepared meticulously. Some great options here are the fried dough appetizer and gnocchi. The location, service, and food are all impeccable at this restaurant. This restaurant is Michelin recognised, but no stars (yet).
Ristorante al Palazzo
Ristorante al Palazzo is a luxurious restaurant that boasts refined culinary creations. Dining here is a multi-sensory journey through both the wines and food. There is a very large selection of authentic Italian wines that are all amazing, you might even take one home to add to your wine collection. The food is unreal, and I recommend you try the fresh Caprese salad. In addition to the food, the restaurant is located inside an enchanting botanical garden making the whole experience even more magical.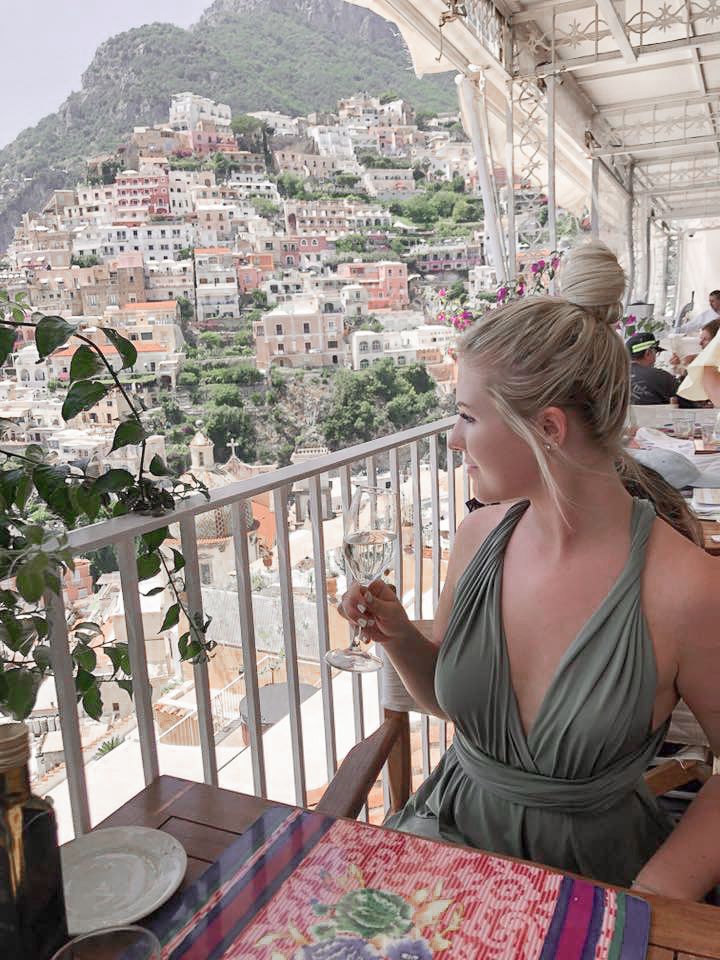 How to get to Positano
Positano is not the easiest village to get to. If you are flying in the nearest airport is in Naples which is a 1.5-hour drive away from Positano. Listed below are all the options for transportation to the coast.
Take a taxi from Naples to Positano – around 200 Euro
Take a train from Naples to Salerno – tickets cost 10-15 Euro/person
Take a taxi from Salerno to Positano – costs around 120-150 Euro
Take the ferry from Salerno to Amalfi – tickets cost around 10-15 Euro/person
Take the ferry from Amalfi to Positano – costs 8 Euro/person
Take a taxi from Amalfi to Positano – costs around about 50-70 Euro
The prices for a direct drive to Positano can get quite expensive, but it is the easiest and most efficient way of getting there. Consider renting a car or purchasing a driver to bring you there so you don't have to look for a taxi at the airport/train station.
Follow Samantha Karen's adventures on her travel blog Sam Sees World. You can also find her on Pinterest and Instagram.
While you're here: Subscribe to our newsletter for the latest tips, deals and news. It only takes a few seconds and we respect your privacy: