Waiheke Island is on the top of every visitor's list of must-see places to visit near Auckland. It's only a 40-minute ferry ride from downtown Auckland across the sparkling Waitemata Harbour, but a world away from big city living.
When it is frequently heralded as one of the "Best Islands Escapes" in the world by international publications such as Lonely Planet and Travel & Leisure Magazine, you just know it has to be worth a visit.
There is 40 km of beach coastline with uncrowded sandy, pristine, tree-fringed beaches along with international award-winning boutique vineyards with their tasting rooms and amazing restaurants set in stunning locations and featuring local produce.
You'll find olive groves dotted around the island, an interesting bohemian art scene, a large network of walking tracks showcasing the New Zealand flora and fauna and birdlife, and for the energetic an endless choice of adrenalin pumping things to do. Take your pick from kayaking, sailing, boating, surfing, snorkeling, mountain biking, or ziplining over the vineyards and through the trees.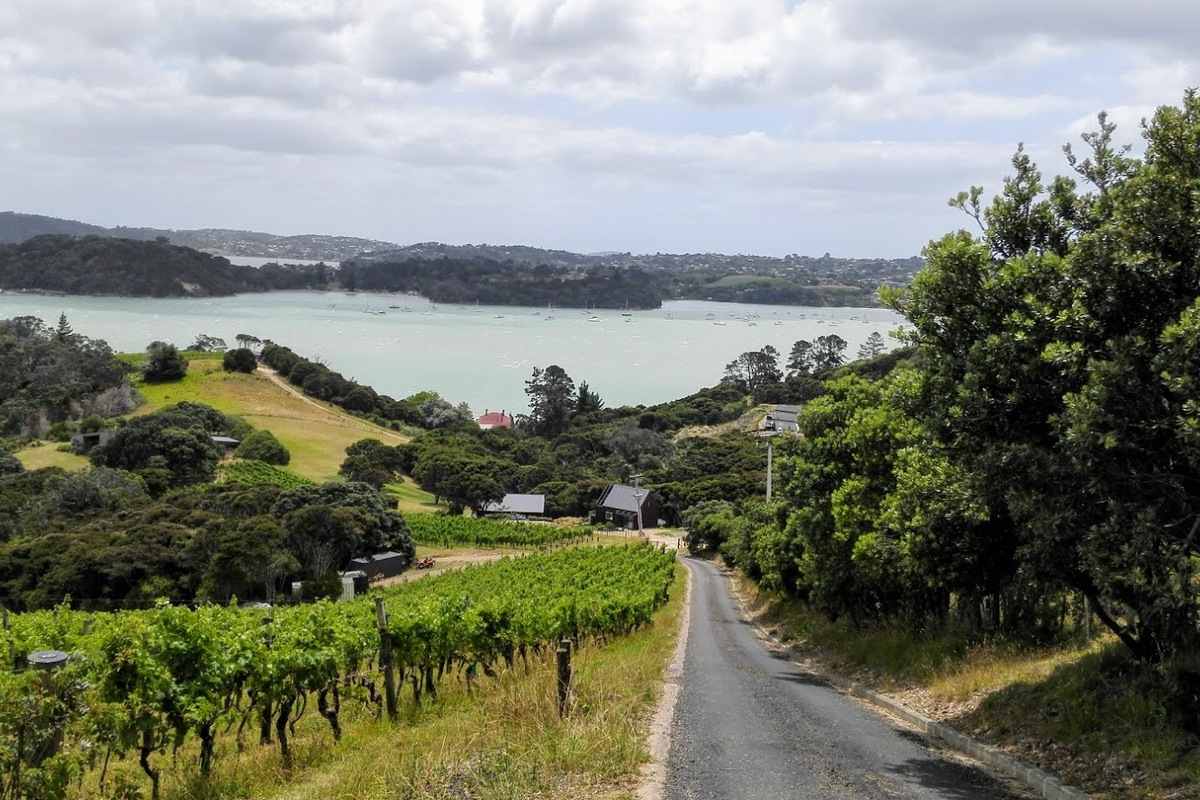 How to get to Waiheke Island
The most popular option for getting to Waiheke Island is to catch the Fullers Ferry from the Ferry Building in downtown Auckland and sit back and enjoy the trip out past the charming village of Devonport and through the Hauraki Gulf. You'll pass a number of interesting islands. including the iconic dormant volcano island that is Rangitoto Island.
If you wish to take your car to the island there are Sealink car ferries that leave from Wynyard Wharf in downtown Auckland, or Half Moon Bay in the eastern suburbs, about 30 minutes from the city. Half Moon Bay is the more convenient option if you are flying into Auckland airport, picking up a rental car, and heading straight over to Waiheke Island or vice versa.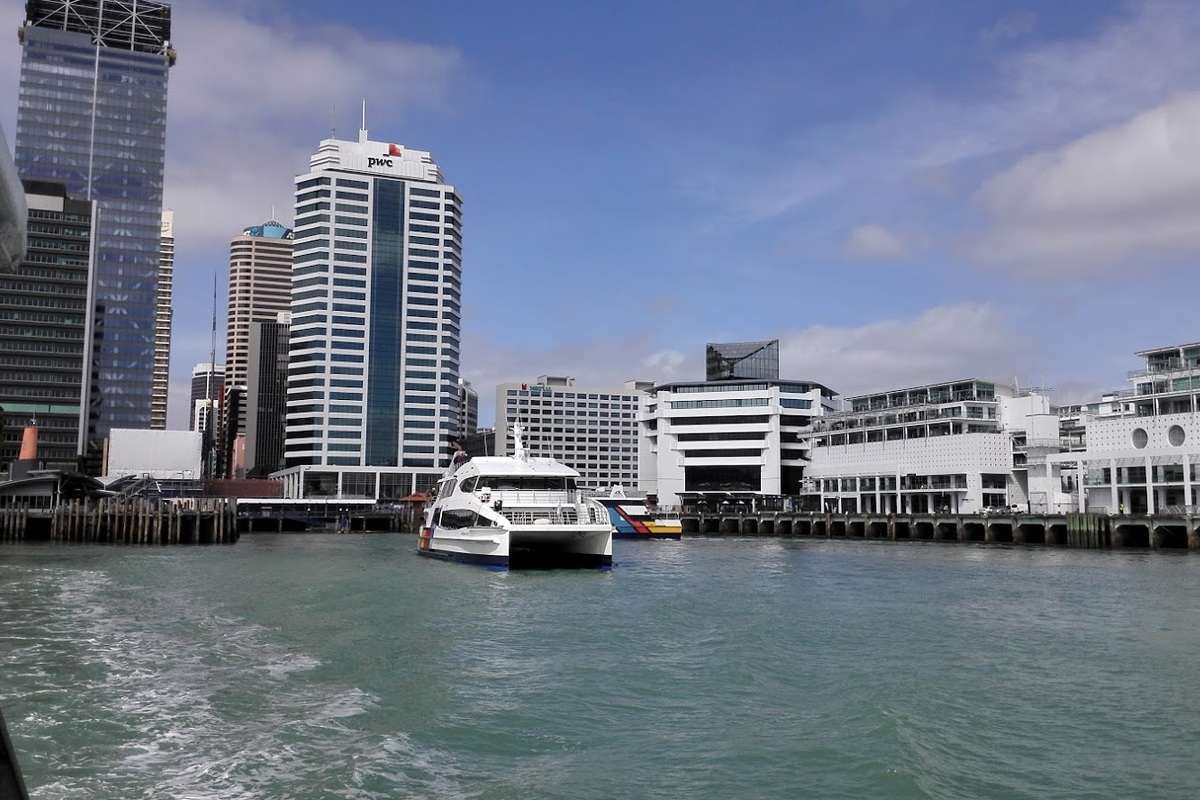 Or, you might like to take a very scenic flight to Waiheke Island by a small plane, seaplane or helicopter. It's only a twelve to twenty-minute short flight from the city but a truly magnificent one. There are several small seaplanes, airline, and helicopter companies that can whisk you over to Waiheke from downtown in the city or the airport.
If it's a special occasion, maybe you'd like to charter your own yacht or launch trip with the opportunity to stop and picnic at some of the beautiful islands en route.
How long to stay? Day trip, weekend, or longer?
Waiheke Island is a popular destination all year round. Obviously, during the summer months, the sea and beach activities are a high priority, but there is also plenty to see and do during the winter months too.
The Waiheke Island locals assure us that Waiheke Island has its own microclimate and is warmer and drier all year round than the closest city- Auckland. The temperatures average about 29 degrees Celsius (84 Fahrenheit) in summer and 18 degrees Celsius (64 Fahrenheit) in winter dropping to about 8 or 9 degrees Celsius (46 Fahrenheit) at night in winter.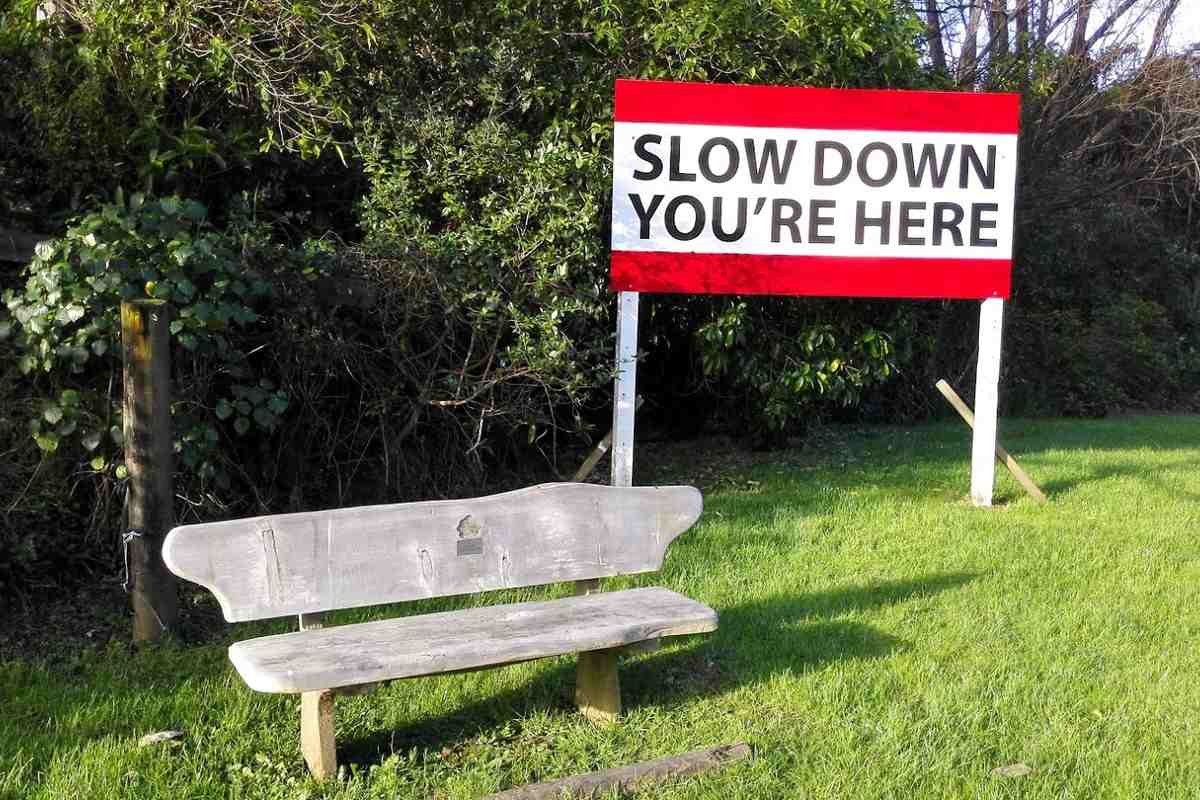 Day trips and weekend trips are very popular with Aucklanders who love to take the ferry across to escape the city and do a hiking or bike trail, swim at the beach, and enjoy a meal at one of the award-winning vineyards. To really enjoy everything the island has to offer, a minimum stay of four or five days is recommended.
Getting Around: Take your own vehicle or rent a car?
You may wish to take your own car to Waiheke Island. (see instructions for the Sealink Car Ferry above) but there are plenty of transport options available on the island. You can rent a pushbike, e-bike, motor scooter, or car. Not only are there are taxi and shuttle services, but also public buses that meet the ferries and will take you to the main centres. There are also kayaks for hire. and there are many tour companies providing private tours, group tours, and walking or boating tours.
The hop-on, hop-off bus operates some really interesting itinerary options. For example, they have an itinerary called "The Sampler" which covers wineries, food, and views, and one called "The Boutique Winery Experience"- sip your way through the island. Another itinerary is called "VistaPoints, Beaches and Walks"- perfect for the outdoor enthusiast and a "Foodie Adventure" itinerary to sample local delicacies.
Where to stay?
You won't find any large international hotel or resort chains dominating the beaches and views on Waiheke Island. The accommodation options here have a much more personal and boutique flavor.
If you're looking for absolute luxury, there are several excellent holiday homes and lodges to choose from. The top-rated "Delamore Lodge" features its Instagram famous infinity pool with absolutely stunning views and 5-star service. Rumour has it that many celebrities have stayed here including Madonna and Justin Beiber.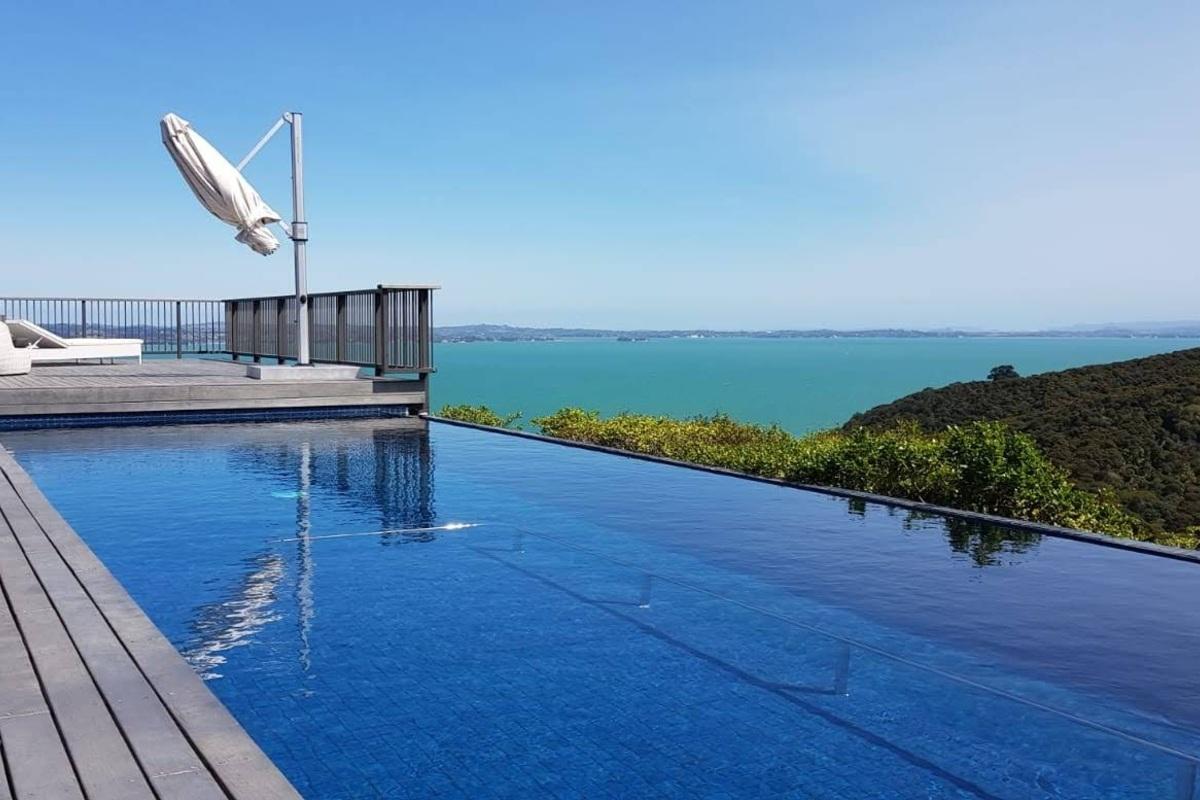 One of the unique places to stay on Waiheke Island is Wild Thyme. Some of the vineyards also have accommodation on site. The Mudbrick Vineyard and Restaurant has an on-site luxury lodge and several cottages, again with amazing views, and the convenience of being able to stroll to and from their restaurant.
There are plenty of self-catering, family-friendly baches (cottages) in beach and bush locations and small motels, holiday apartments, and bed and breakfast accommodation scattered throughout the island. There are a few popular backpacker lodges and some camping and glamping options too. The campground at Whakanewha Regional Park on the southern side of the island has a beautiful bay and a child-friendly beach.
What to do?
Sample the wine
The vineyards are one of the most popular drawcards that bring visitors over to Waiheke Island. Winemaking started commercially in the 1980s and grew rapidly. While there's obviously no Champagne here, the island's hilly landscape, microclimate, and soil are ideal for growing a variety of grapes for Cabernet Sauvignon, Merlot, Syrah, and Chardonnay.
Today there are over thirty boutique wineries each with their own tasting rooms, cafes, and restaurants and usually offering stunning views! They are often family-run businesses and many have achieved overseas awards and they all offer something different and unique.
Your biggest problem will be deciding which ones to visit. We suggest visiting no more than three or four per day so that you get the opportunity to really enjoy what each one has to offer. Many companies offer wine tours or you can visit their tasting rooms and restaurants independently.
Mudbrick Vineyard is a well-established winery with magnificent views across the harbor and back to Auckland. It is popular as a wedding destination and has many award-winning wines available from their Cellar Door. It features two restaurants and offers luxury accommodation.
If you will be traveling independently there are four wineries next to each other on Onetangi Road, each with its own cellar doors and restaurants. Begin your wine tasting experience at Wild Estate, then stroll over to Stonyridge Vineyard. Take a walk over to their neighbors at Te Motu with its great wine and food and end your tour with a visit to the newish Tantalus Estate, where they have an amazing beer brewers lounge called The Alibi.
At the time of writing the only winery on the Island with a female winemaker (Chloe Somerset) is the well-established Cable Bay with its award-winning wines. It also has spectacular views, two restaurants, and offers accommodation. The Bistro restaurant showcases its seasonal produce from its own organic garden. They showcase an impressive private art collection from New Zealand artists throughout the building.
The winery with the highest elevation is Batch Winery and has stunning 360-degree views. They are renowned for their high teas, bubbles, and sunset vistas. Kennedy Point is Waiheke Island's only certified organic vineyard, set among 300-year-old Potukawa trees overlooking Kennedy Bay with accommodation.
Wild Estate Vineyards or Wild on Waiheke offers a huge range of activities along with their wine and beer tasting. They have archery, clay bird shooting, petanque, giant chess, and a great kids' playground area. There are so many other great vineyards too.
So many beaches
What is your favorite kind of beach? Waiheke has 133 km of coastline and 40 km of beaches so you are bound to find whatever style of beach you're after, for whatever kind of water activity you like to take part in.
Onetangi is the longest beach at 2 km and is popular for swimming, paddle boarding, fishing, and beach walking. When the north wind blows the surf gets up and the surfers come out.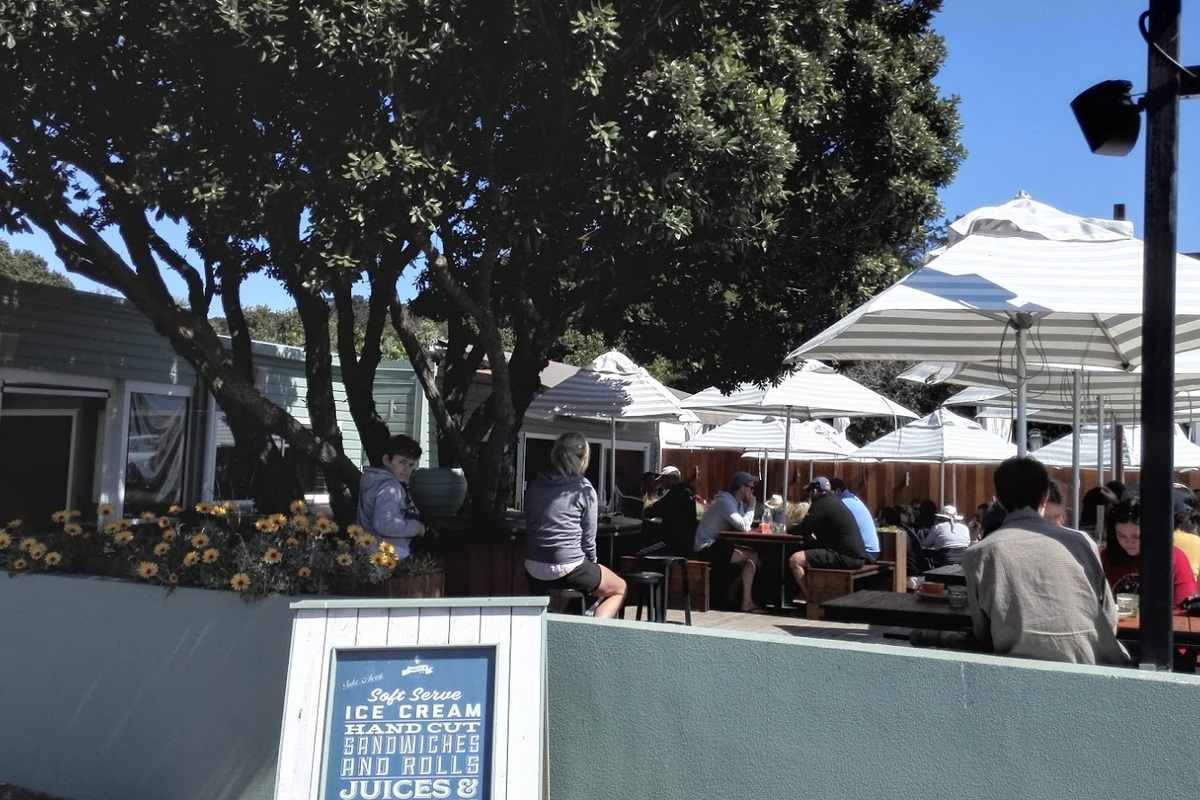 Oneroa Beach with its white sand and calm water is situated in the most populated area of Waiheke Island next to the township of Oneroa. Around the rocks at the eastern end of the beach is the very picturesque Little Oneroa Beach. Other popular sandy beaches on the ocean side of the island are Palm Beach and Sandy Bay.
On the 'land side' of the island are the more tidal beaches, ideal for young families and paddleboarders of Surfdale, Rocky Bay, and Blackpool. If you have your own transport you can travel further out to the beautiful beaches like Man O War Bay and Enclosure Bay.
If it's surfing, kayaking, canoeing, yachting, boating, jet-skiing, snorkeling, scuba diving, or fishing, you'll be able to find someone to rent you the equipment and off you go!
Hiking, biking or zip Lining
With over 100 km of walking tracks ranging from simple strolls to much more challenging hikes, you're sure to find one or two to suit your level of interest. Waiheke Island is a hilly place so you can be sure that some uphill and downhill walking will be involved but the views and vistas of the flora, fauna, birdlife and stunning sea views will certainly make it all worthwhile. You can also hire pushbikes, e-bikes, or scooters if you want an easier way to go sightseeing.
If it's more of a thrill you're after take off on one of three 200-meter flying fox ziplines and whiz over a vineyard and some scenic native bush.
Art
Waiheke Island is well known as a haven for artists and sculptors. There are plenty of local art galleries and the Waiheke Community Gallery is a good place to start.
Where to eat?
Waiheke has an excellent reputation for its food and wine. It is a favorite pastime of the local Aucklanders to come over to Waiheke Island on a Saturday or Sunday and enjoy a long lunch at one of the many cafes and restaurants in the vineyards or by the beach. Most of the restaurants feature fresh and locally sourced food.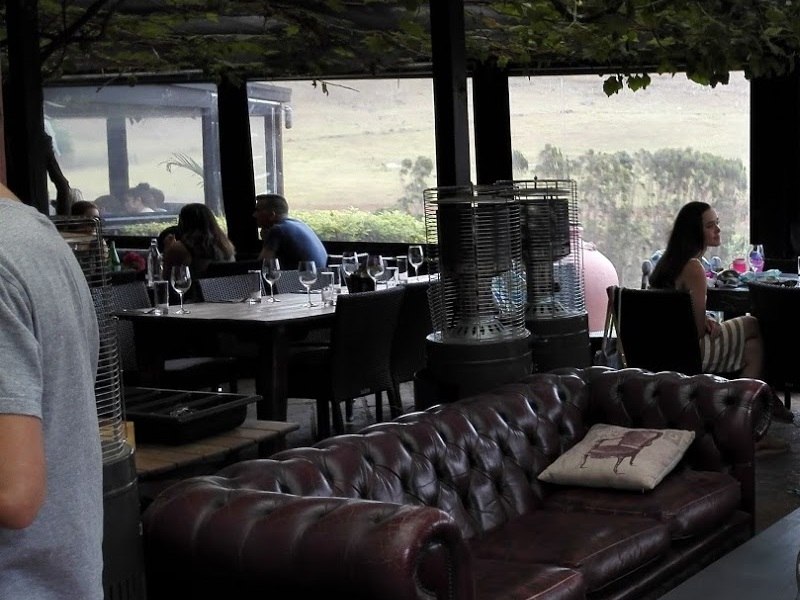 Poderi Crisci is famous for its long slow lunches in its Italian restaurant that starts at 12.30 pm and progresses through various courses until 4.30 pm. Casita Miro with its interesting glasshouse architecture and Spanish cuisine with a delicious tapas menu is another popular vineyard eatery. There is an endless choice of excellent cafes and restaurants.
Before you leave the island you have to queue up at Island Gelato's container-type building in Oneroa and try one of their delicious indulgent ice creams or sorbets in a wide variety of irresistible flavors. Why not try the blueberry, mascarpone, and ginger crumble? Or how about burnt fig, honey, and sherry or Pics' peanut butter, and caramel. Scrumptious!
Special events
There are always interesting events happening on Waiheke Island. Check to see if there are any special events of interest to you on Waiheke Island before you book to make sure you don't miss them.
Back in the 60s and 70s Waiheke was best known as a hippie /alternative living enclave and there is still a very strong art and craft influence on the island. One of the most popular events is the "Sculpture On The Gulf" festival which is usually held every two years in the Matiatia / Oneroa area. It is set on a 2km coastal walkway sculpture path and features about 25 amazing outdoor sculptures of all shapes and sizes by Waiheke, national and international artists.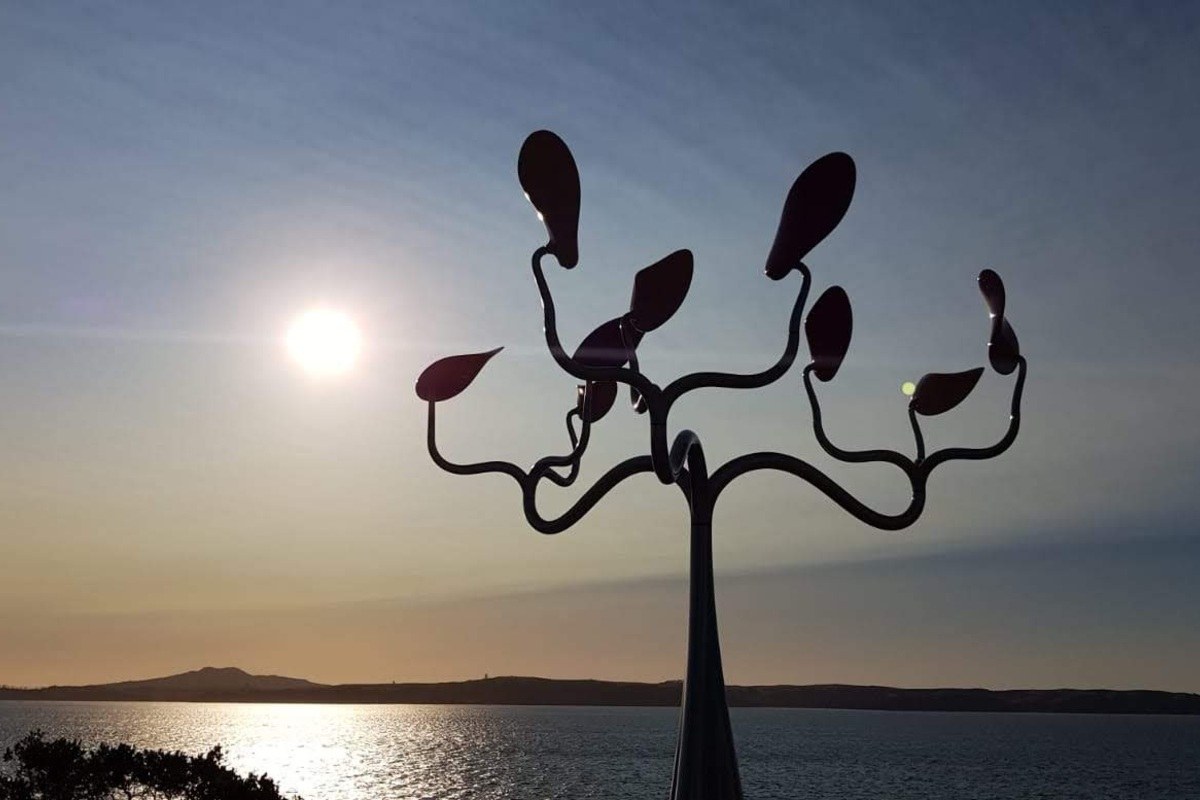 Onetangi Beach Races are a not-to-be-missed, uniquely Waiheke Island event which has been going on for over a hundred years. It's a great family day out with beach horse races, tractor races, fashion events, and is simply a whole lot of fun!
If you love music there is the very popular Waiheke Jazz, Art and Music Festival at Easter each year. This festival incorporates not only Jazz concerts but a wide range of music including bands, DJs, and solo performances at different venues and art and painting workshops.
Popular sporting events are the Waiheke Wharf to Wharf Run which takes place in January each year and is over a steep hilly 25 km course and in May the Waiheke Half Marathon. For walkers, in November the Waiheke Walking Festival offers 46 free guided walks over a nine-day period.
If you're a wine lover and foodie the Waiheke Wine and Food Festival which is usually held over the Easter break will be a top destination pick for you. Sample the boutique Waiheke wines and enjoy the artisan food as well as enjoying some great live music.
However, one of the very best options of things to do on Waiheke Island is to pour yourself a glass of one of the local award-winning wines, put your feet up, enjoy the view, and simply chill out!
Another amazing island you may want to visit while you're in the area is Great Barrier Island, especially for its Dark Sky Sanctuary.
While you're here: Subscribe to our newsletter for the latest tips, deals and news. It only takes a few seconds and we respect your privacy: