Virgin is upping the ante with a Gold fast track for Qantas Frequent Flyer members and a travelling companion.
Velocity Frequent Flyer has unveiled plans to reward Gold and Platinum members with a range of lucrative perks. And in a move to rival Qantas, the airline will also gift eligible Qantas Frequent Flyer members a trial Velocity Gold membership for three months. Thereafter, it's an easy fast track to full Gold membership for 12 months – for the member and a travelling companion.
Discover Gold status match offer: How it works
Qantas Gold status and above members will receive a three month Velocity Discover Gold Status trial membership, unlocking complimentary Lounge access, priority boarding, preferential seating, higher checked baggage allowances and bonus point earning opportunities.
To retain Velocity Gold status for 12-months and receive an additional benefit of Velocity Gold membership for their companion, Discover Gold members will simply need to take one eligible flight and earn 80 status credits during their three month trial period.
Additionally, Status Credits can be maximised through Velocity's family pooling benefit, making it easier for members to quickly climb the status ranks and start using their Gold card at Virgin Australia lounges.
To take advantage of this offer, eligible travellers simply need to join Velocity Frequent Flyer and fill in an expression of interest form by 21 December 2020. More information is available here [OFFER EXPIRED].
Status extensions
Velocity Frequent Flyer will also offer eligible Gold and Platinum members a status extension of up to one year (or until 31 March 2022), as long as they take one eligible flight with Virgin Australia before 28 March 2021.
Incentives to fly
Velocity will reward Gold and Platinum members with 5,000 bonus points when they take two eligible flights with Virgin Australia by 28 March 2021. Economy X upgrades will also be offered to Velocity Gold members, with Business Class upgrades available to Velocity Platinum members, when they take three or more eligible flights in the same period: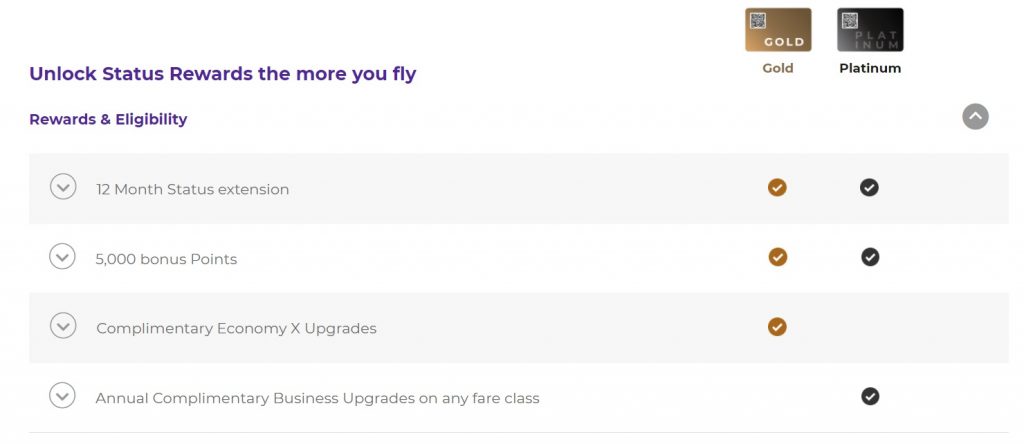 Can Velocity successfully snatch elite travellers from Qantas?
Today's announcement is a direct challenge to rival recent moves by Qantas to court elite Velocity members with a fast track to Qantas Frequent Flyer Gold status. But while Virgin Australia's offer appears lucrative on the surface, can Velocity do enough to permanently snatch elite travellers from Qantas?
As we reported last month, Virgin Australia plans to reinvent itself as a 'mid-market' carrier, and this may be to Qantas' benefit.
While lounge access remains one of the most important elite status perks, Virgin Australia's footprint is shrinking. There are immediate plans to shutter lounges in Darwin, Cairns and Mackay. Additionally, the Canberra lounge remains 'under review'. If it closes, Virgin Australia will struggle to entice the large pool of well-heeled business and Government travellers who travel to and from the ACT.
And when it comes to business class catering, the two-minute noodles may be gone, but reports suggest that Qantas offerings in the post-Covid travel era are of a superior standard.
All in all, however, these initiatives announced today by Virgin Australia are very positive, and are likely to be well received by elite leisure and business travellers.
Will you be taking advantage of this offer?
While you're here: Subscribe to our newsletter for the latest tips, deals and news. It only takes a few seconds and we respect your privacy: