Qantas is launching a reward campaign for COVID-19 vaccinated Australians to recognise their role in helping the country get out of lockdown.
From 8am (AEST) tomorrow, Tuesday 24 August 2021, fully vaccinated Australian-based Frequent Flyers who are 18 and over will be able to claim one of three chosen rewards through the Qantas App.
What rewards are on offer?
There are four rewards on offer. These are:
1,000 Qantas Points
15 Status Credits
$20 off Qantas flight (promo code)
$20 off Jetstar flight (voucher).
Members will also be automatically entered into a mega prize draw to win a year's worth of flights, accommodation and fuel.
Winners of ten mega prizes will receive a year's worth of flights to take off to more than 60 destinations around Australia, with free accommodation across 345 Accor properties and top up their cars with free fuel from any of bp's 1,400 service stations across the country.
Winners will also be able to take off to any Qantas and Jetstar international destination when borders start to open.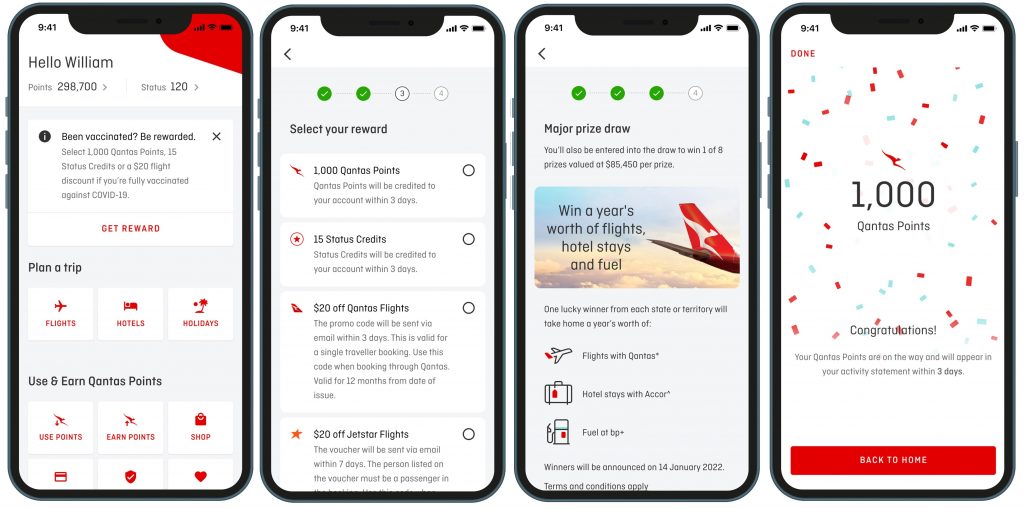 How to claim your reward
To claim your reward, you'll need to have the latest version of the Qantas App installed. Then, you simply need to:
Download your 'COVID-19 Digital Certificate' which is available from Medicare or myGovOpens external site in a new window.
Upload your 'COVID-19 Digital Certificate' to the Qantas App. (PDF only – no screenshots will be accepted).
Select your reward (you will be automatically entered into the major prize draw)
The offer and competition end 11.59pm (AEDT) 31 December 2021.
For more information visit: qantas.com/berewarded
While you're here: Subscribe to our newsletter for the latest tips, deals and news. It only takes a few seconds and we respect your privacy: