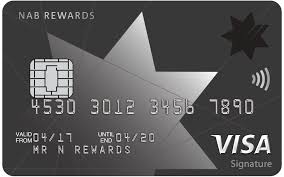 The NAB Rewards Signature Card is the highest points-earning card in the NAB Rewards line up and is designed for those who appreciate a flexible rewards scheme.
Right now, new cardholders receive 90,000 NAB Rewards points when they spend $2,500 on everyday purchases in the first 60 days of account opening. T&Cs, eligibility criteria, fees and charges apply.
NAB Rewards points transfer to some of our favourite leading airline schemes. These include Velocity Frequent Flyer, Cathay Pacific Asia Miles and Singapore Airlines KrisFlyer.
In addition to the bonus points, cardholders enjoy a supercharged points earning rate at major department stores, at hardware stores and on overseas spend. There's also an added benefit of seven complimentary insurances and other exclusive rewards.
Or, read on for our review.
NAB Rewards Signature Card: Our Review
The NAB Rewards Signature Card delivers a solid ongoing earn rate on everyday spend, with an increased earn rate on offer at selected retailers and on overseas spend. The card delivers a range of benefits including insurances. However, it does lack some other perks that you might expect from a platinum-grade card, such as lounge access or a travel credit.
Enjoy the flexibility of the NAB Rewards program
The standout feature of NAB Rewards points is that they are extremely flexible. You're not locked into a specific airline frequent flyer program. Rather you can save up NAB Rewards points until you're ready to transfer them to an airline partner or redeem them for merchandise.
The NAB Rewards program counts Velocity, KrisFlyer, Asia Miles, and Air NZ Airpoints as transfer partners. The points transfer rates are as follows:
1 NAB Rewards point equals 0.5 Velocity Points
1 NAB Rewards point equals 0.33 Singapore Airlines KrisFlyer Miles
1 NAB Rewards point equals 0.33 Cathay Pacific Asia Miles
1 NAB Rewards point equals 0.005 Air New Zealand Airpoints.
As such, the sign on bonus of 90,000 NAB Rewards points is equivalent to 45,000 Velocity points or 29,700 Singapore Airlines KrisFlyer/Cathay Pacific Asia Miles.
When transferred to Velocity Frequent Flyer, the sign on bonus is enough to get you return economy flights from Sydney/Melbourne to Nadi (or one way in business class).
Here are some other ideas:
Return economy flights from Sydney/Melbourne/Brisbane/Gold Coast to Auckland (35,500 Velocity points)
One way flight in Virgin Australia's 'The business' between Sydney/Melbourne and Perth (35,500 Velocity points), and
Five one way 'zone one' economy flights, covering routes like Sydney to Melbourne, and Melbourne to Adelaide (39,000 Velocity points).
Fees and charges are payable in addition to the points redeemed. Point redemption is subject to airline T&Cs and availability.
Earn 1.25 NAB Rewards point for each $1 spent on every day purchases
Cardholders earn 1.25 NAB Rewards points for each $1 spent on everyday purchases everywhere Visa is accepted (excluding government charges). As a bonus, there is no cap to the number of points you can earn each month or year. Exclusions apply.
Supercharge your points earn at major department stores and hardware stores
The NAB Rewards Signature Card offers cardholders the ability to earn uncapped double points (2.5 points per $1) for spend at selected major department and hardware stores. The specific retailers where you'll earn extra points are:
Kmart
Target
Big W
Myer
David Jones
Bunnings
Mitre 10
Total Tools
Stratco
Home, Timber & Hardware
If you spend regularly at one or more of the retailers listed above, you could boost your NAB Rewards points earn significantly.
Plus, earn a whopping 3.75 NAB Rewards point per $1 spent overseas
Those who shop internationally online or overseas will enjoy triple points (the equivalent of 1.87 Velocity points or per dollar – on overseas spend). Note that a 3% foreign transaction fee applies to international spend.
Access a range of complimentary insurances
Get peace of mind, at home or when travelling overseas, with access to a range of range of insurances. These include:
Overseas travel insurance cover
Interstate flight insurance cover
Domestic hotel burglary insurance cover
Transport accident insurance cover
Extended warranty insurance cover
Purchase protection insurance cover
Price protection insurance cover
You'll need to read to the NAB Card Insurance Policy Information booklet and the NAB Purchase Protection Insurance Policy Information booklet for further information to ensure this fits your needs.
Save money and enjoy a range of lifestyle benefits
The NAB Rewards Signature Credit Card delivers a range of additional benefits. These include:
NAB Concierge Service – 24 hour, 7 day access to the NAB Concierge Service to assist you with travel and lifestyle services
Visa Premium Access – enjoy deals, discounts and access to experiences like reserved concert tickets and luxury hotel offers, and
A free additional cardholder – add an additional cardholder to your account at no extra cost
NAB Rewards Signature Card eligibility
To take advantage of the 90,000 NAB Rewards points sign on offer, new customers need to apply for the NAB Rewards Signature Card, gain approval and spend $2,500 within 60 days of approval. The card has a minimum credit limit of $15,000.
This bonus points offer is not available to existing customers who have received or are entitled to receive bonus points from a personal NAB Rewards credit card in the last 12 months or those transferring from another NAB credit card account.
NAB Rewards Signature Card annual fee
The NAB Rewards Signature Card comes with an annual card fee of $295.
The secure, mobile friendly application form takes less than 15 minutes to complete and you'll receive a response in 60 seconds.
The Champagne Mile receives a commission when you click on one of the outbound links on this page to apply for the NAB Rewards Signature Card on the NAB website. We thank you for your support.