Author's note: this promotion has expired.
Eligible members get A$200 towards their next international escape.
Online travel company Luxury Escapes has launched a generous incentive, designed to encourage Australians to vaccinate against Covid-19. Up to 1 million Aussies can score a $200 international travel voucher, with a total pool of $200 million up for grabs.
Here's how it works:
Get your Covid-19 vaccination: Visit a vaccine clinic and receive your vaccination.
Enter your proof of vaccination: Login to Luxury Escapes and enter your contact and vaccine details.
Receive your $200 promo code: Enter your code at checkout and save A$200 on your next international Lux Exclusive offer.
The promotion commences at 12:01 am (AEST) on 20 June 2021 and ends at 11:59 pm (AEST) on 30 September 2021. Eligible participants are those who have received a 1st or 2nd dose Covid vaccine, including vaccinations completed prior to the promotion.
Which Luxury Escapes purchases are covered?
The vouchers are valid for international 'Limited Time Lux Escapes' only, with no domestic stays covered. Of course, with overseas travel off the cards to anywhere but New Zealand right now, that does limit current options.
Fortunately, Luxury Escapes boasts a large inventory of 'Limited Time Lux Escapes' experiences in New Zealand. Here's an example: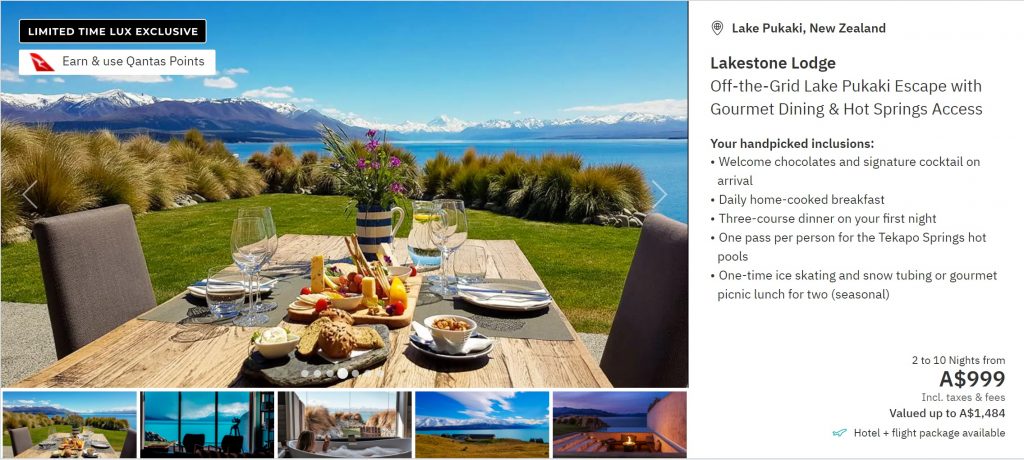 That said you could also book a destination further afield with dates as far out as the promotion allows, and cross your fingers! Just be sure to carefully check individual cancellation policies before you proceed. Luxury Escapes is a third-party online travel agent, and some readers have reported significant issues with receiving credits and refunds.
Note that promo codes are not valid for 'Lux Premium Collection', 'Lux Partner Property', 'Last Minute Escapes', insurance, flights, or experiences. Promo codes expire on 30 June 2022, with bookings required to be made by this date. There'll be no credit in the event of cancellation.
To register for the promotion, or to view all terms and conditions, head to the Luxury Escapes website here.
While you're here: Subscribe to our newsletter for the latest tips, deals and news. It only takes a few seconds and we respect your privacy: