Back your business and score 140,000 bonus Qantas Points with the American Express Qantas Business Rewards Card.
Business owner or ABN holder? For a limited time, receive a huge 140,000 Qantas Points when you apply by 1 July 2020 and spend $3k in the first six months after approval (new Card Members only).
When it comes to designing business cards, Amex is ahead of the pack. Above and beyond the incredible sign-on bonus, this card could help extend your cash flow and give you up to 51 days to pay for purchases.
You'll also enjoy a very high earn rate of up to 2 Qantas Points per $1 spent and plenty of other perks to save your business time and money.
Plus, when it's time to get travelling again, earn triple points on Qantas flights, score two domestic Qantas Club passes each year and gain access to a range of travel insurances.
Don't miss a lucrative opportunity to receive a swag of bonus Qantas Points for your business.
Have any burning questions before you apply? For a quick answer, get in touch with us via our website contact form or by sending a message on our Facebook page. We'll respond to you as soon as we can.
Pocket 140,000 bonus Qantas Points
140,000 Qantas Points could get you travelling in style or redeeming for a range of different vouchers or goods at the Qantas Store.
While immediate travel is off the cards for most businesses right now, it's well worth saving your points for future opportunities. 140,000 Qantas Points could get you travelling almost anywhere on the Qantas and partner airline network (excluding applicable taxes/fees).
Get up to $320 back when you spend with popular merchants
Amidst the rapidly evolving COVID-19 situation, it can be hard to take full advantage of travel and lifestyle benefits on premium cards. In order to add tangible value to their customer base, Amex has launched a generous cashback promotion that's open to new cardholders.
With the American Express Qantas Business Rewards Card, you can register to get up to $320 back on business purchases made by 31 December through six popular merchants: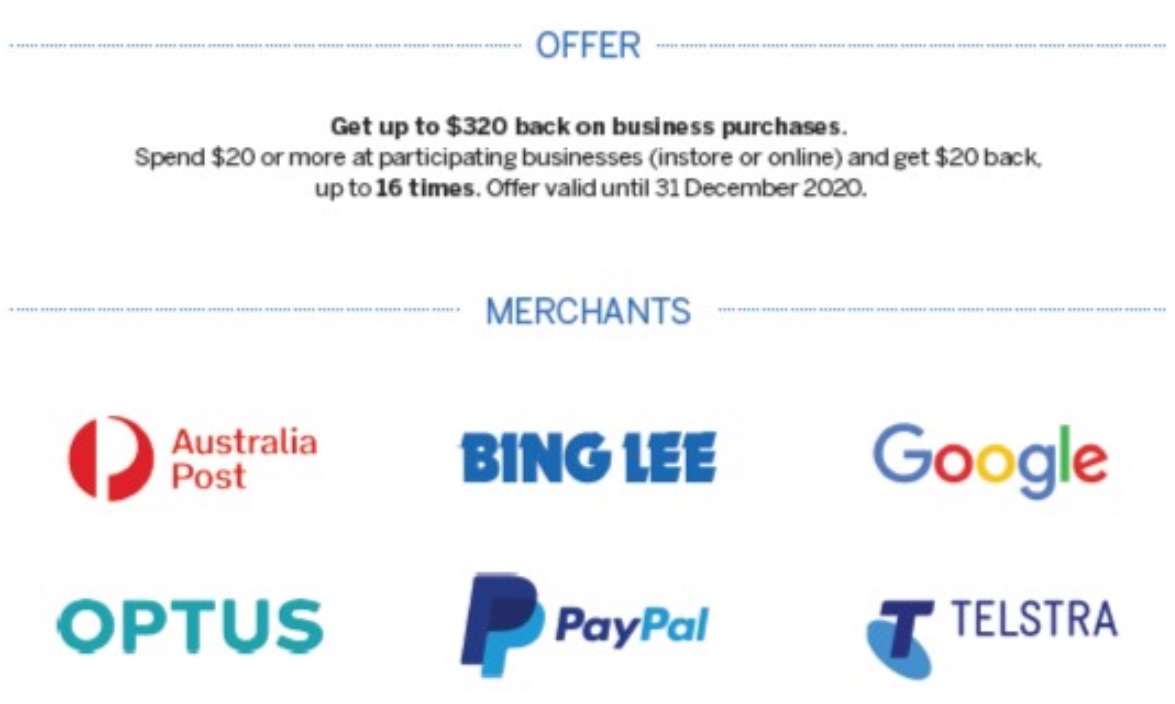 Businesses simply need to spend $20 or more on eligible purchases at participating businesses by 31 December 2020 to get $20 back, up to 16 times. With featured merchants including PayPal, Australia Post and Google, this represents an easy opportunity for most businesses to receive $320 back on eligible spend.
By taking full advantage of this offer, you'll offset a substantial portion of the $450 annual card fee.
Relax with two domestic Qantas Club lounge entries each year
Each year, you'll receive two invites for domestic Qantas Club lounges (excluding Qantas Business lounges).
Once your Qantas Club lounge passes have been activated, you'll receive an email from Qantas and your two digital lounge passes will be attached to your Qantas Frequent Flyer account.
Note that each Qantas Club lounge pass admits one person only. However, you could use your two passes for two people.

Get up to 2 Qantas points per $1
Earn 2 Qantas Points per $1 spent on Qantas products and services with your Card – that's Qantas flights (with a QF flight number), Qantas Holidays, Qantas Branded non-airfare products, and Qantas Frequent Flyer and Qantas Club membership joining and annual fees.
You'll enjoy a generous earn rate of 1.25 Qantas Points per $1 spent everywhere else, except for utilities, insurance (with the exception of American Express) and government bodies.
Spend with utilities, government bodies and non-Amex issued insurance earns at a rate of 0.5 Qantas Points per $1 spent.
1.25 Qantas Points per $1 is one of the highest earn rates for everyday spend in Australia, and it makes this Card an attractive one to keep for the long term.
Best of all, there's no cap on how many points you can earn – regardless of how much you spend per month or each year.
Enjoy complimentary Qantas Business Rewards membership (worth $89.50)
Qantas' loyalty program is designed to help small and medium-sized Australian businesses save on flights and earn more Qantas Points through everyday business purchases.
As a member, you can save up to 8% on the base fare of eligible Qantas flights, enjoy up to 10% off the cost of Qantas Club memberships and lots more.
Joining Qantas Business Rewards normally costs $89.50, however you can obtain membership for free when you hold the American Express Qantas Business Rewards Card.
If you're not yet a member, you'll need to join up, as the points from this Card are credited to your Qantas Business Rewards account.
Once you've amassed points within your Qantas Business Rewards account, you can transfer them out at a 1:1 rate to any Qantas Frequent Flyer account of your choice. You have the flexibility to send them to yourself, to an employee or a family member – it's up to you.
Earn TRIPLE Qantas Points for business on eligible flights
You'll earn triple Qantas Points when your Card is used to make an eligible Qantas flight booking. You can earn up to 4 million points per membership year in this way, and that's in addition to the Qantas Points and Status Credits you'd normally earn.
The triple points can also be earned on eligible Qantas flights for others, provided they are booked using your Card.
Enjoy Domestic and Overseas Travel Insurances
You, your partner, and any employees holding additional Cards will receive access to a range of complimentary Domestic and Overseas Travel Insurances when your Card is used to pay for business travel. The cover includes:
Flight delays and cancellations, luggage delays
Medical expenses
Damaged, destroyed, lost, or stolen baggage
Trip cancellation costs
Transport accidents
If you are currently paying for travel insurance, you could save money by using these covers, provided they meet your needs. More information is available via the application form on the Amex website.
Save your business time and money with loads of benefits
Obtain even more value with a range of valuable benefits that could save you a significant amount of money. These include:
The ability to obtain up to 99 additional Cards free of charge (the points earned are credited to the primary account)
Make secure payments to virtually anyone: When you apply for American Express AccessLine, you can make fast, secure payments, even to merchants who don't accept Card payments, while earning points at the same time.
Easy bank feed integration with MYOB
Peace of mind with Emergency Card Replacement and Online Fraud Guarantee
The convenience of mobile payments with Apple Pay and Android Pay
Access a range of exclusive Card Member perks, including Amex Invites and Amex Offers
Access mentoring, business grant opportunities and more with Amex Ideas Exchange
Amex Idea Exchange is an initiative designed to help Australian business owners reach full potential. An Amex Business or Corporate Card unlocks the opportunity to win mentoring advice, facilitated by Rare Birds. Plus, until 11 June 2020, there's also a chance to win one of five $10,000 Business Grants to help you give your business what it needs to go further.
Throughout the year, Amex Idea Exchange offers virtual masterclasses, mentoring events, informative resources and podcasts.
Eligibility
The American Express Qantas Business Rewards Card is designed for ABN holders with an annual business turn over of at least $75,000.
To be eligible to apply, you'll also need to be over 18 years old and an Australian citizen or permanent resident.
The generous sign-on bonus of 140,000 Qantas Points is not available to Card Members who currently hold or who have previously held any other Card product issued by American Express Australia Limited in the preceding 18 month period. Previous and existing bank-issued American Express companion Card Members are eligible for this offer.
Apply now via secure Amex website
Annual fee and credit limit
The annual card fee for the Amex Qantas Business Rewards Card is $450. This may be tax-deductible if you are using your card solely for business purposes. You should speak with your accountant or tax advisor to fully understand the tax implications.
The American Express Qantas Business Rewards Card is a 'charge' card, which means there is no fixed credit limit. While charge cards have no pre-set spending limit, you'll need to pay off the full balance each month. More information about this is available via the secure application form.
The chance to score 140,000 bonus Qantas Points ends soon.
The 140k bonus Qantas Points are awarded when you apply online by 1 July 2020 and spend $3k on your new Card within 6 months of approval.
The secure, mobile-friendly application form takes less than 10 minutes to complete and AMEX may be able to give you a response in less than 60 seconds.
Have any questions you'd like to ask before you submit your application? Get in touch via our contact form or by sending a message via our Facebook page and we'll get back to you as quickly as we can.