With AccessLine, your business could unlock rewards for each and every dollar spent.
Is your business making regular payments to government bodies which impose high Amex, Visa and Mastercard surcharges, or suppliers who accept bank transfer only? Perhaps you're regularly transferring large sums out the door, with no points to sweeten the deal?
While American Express offers some of the richest rewards available to business, the fact is, not all suppliers accept Amex card payments.
However, you might be surprised to know that there's a way your business can reach full rewards earning potential with Amex – regardless of the payment method your supplier prefers.
Enter AccessLine, a payment facility that allows you to access all of the benefits of your American Express Card, every time you pay a business expense.
How does AccessLine work?
With AccessLine, eligible American Express Business and Corporate Card Members can make fast, secure payments to suppliers within Australia and overseas – even if they don't accept cards. It's a similar service to other payment portals like B2BPay, RewardPay and Frequent Pay.
Setting up your business to make payments with AccessLine
Once the application and approval process has been completed, your business can start using AccessLine by following the steps below:
Pre-register the supplier with American Express FX International Payments before placing your order with the supplier.
When it's time to pay, select your Card as the settlement method and choose when you want the payment to arrive.
American Express sends the payment to the supplier's bank account in the currency of your choice.
Your Card is charged the transaction cost and a 2.15% Trade Service Fee. Depending on when your statement is issued, you may have up to 51 days to pay off the purchase.
The supplier will then deliver the goods or services to your business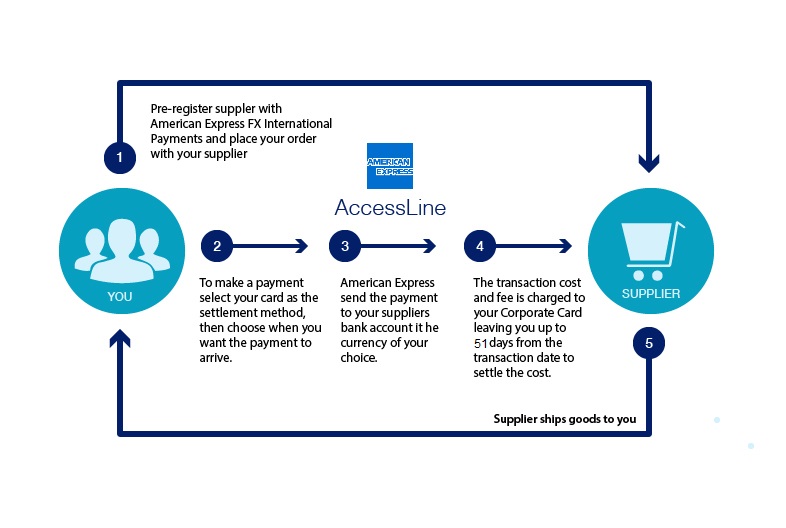 Breaking down the benefits of American Express AccessLine
Earn points for each dollar your business spends
When your business uses AccessLine, you'll earn the same number of points you normally would when using your Card for eligible, everyday expenses. The exact number of points earned is based on the type of card your business holds.
Case Study:
Business owner Jessica pays a AU$20,000 business expense to a supplier via AccessLine using her American Express Platinum Business Card. Incurring a 2.15% Trade Service Fee, Jessica pays a total of AU$20,430.
Jessica's Card boasts an earn rate of 2.25 American Express Membership Rewards points for every AU$1 of eligible spend. So, she'll earn 45,968 Membership Rewards points for her payment.
By managing cashflow efficiently, Jessica's business is also able to negotiate a purchase discount of 1% with the supplier. This helps to offset some of the cost of the Trade Service Fee.
Take advantage of other Card benefits
While points are the main benefit for many AccessLine customers, there are other benefits too. Using AccessLine allows a business to utilise Card benefits that could usually only be accessed when paying a supplier directly. The specific benefits available depend on the card you hold. An AccessLine payment could also help you meet the minimum spend threshold for a new Card.
Efficiency and visibility
With AccessLine, domestic and international payments can be streamlined. Comprehensive reporting is also provided for improved visibility.
Manage cashflow
Paying a supplier through AccessLine allows you to manage your cash flow more efficiently. Depending upon when you make a purchase and when your statement is issued, you could have up to 55 days to pay You might even be able to negotiate early payment discounts on domestic and international payments, helping to offset the cost of the Trade Service Fee.
Which American Express Cards are eligible for AccessLine?
If you're a business Card Member holding one of the American Express credit or charge Cards below, you're eligible to use AccessLine:
You're also eligible to use AccessLine if you hold one of the following Cards:
American Express® Corporate Platinum Card
American Express® Corporate Gold Card
American Express® Corporate Card
American Express® Qantas Corporate Platinum Card
American Express® Qantas Corporate Gold Card
American Express® Qantas Corporate Card
The American Express® Business Card
The American Express® Business Accelerator Credit Card
American Express AccessLine: conclusion
AccessLine allows you to pay virtually any supplier in Australia or across the globe while still taking advantage of all of the benefits of your business card.
Simply put, when you use AccessLine for your business, you could unlock rewards – regardless of the payment preferences of your supplier.
And, while you'll be charged a fee per transaction to use the service, your business could come out ahead by reaping rich rewards and managing cash flow to negotiate early payment discounts on domestic and international payments.
No pre-set spending limit does not mean unlimited spending. Your purchases are approved based on a variety of factors, including current spending patterns, your payment history, credit records, and financial resources known to us.
Fees, charges and Terms and Conditions apply. All information is correct as at 10 January 2020 and is subject to change. Cards are offered, issued and administered by American Express Australia Limited (ABN 92 108 952 085).
While you're here: Subscribe to our newsletter for the latest tips, deals and news. It only takes a few seconds and we respect your privacy: