Is Uber starting to grate on your nerves? Long wait times, surge pricing and cancellation fees are prompting many to look for alternatives.
Fortunately, Uber is far from the only rideshare service operating in the market. And some operators are offering attractive promotions to encourage users to make the switch.
Right now, leading rideshare service, Ola, is partnering with Velocity Frequent Flyer to offer 1,000 bonus points when you take your first ride by August 30th. And if that wasn't enough, you can score $20 off your very first journey, too.
Read on to find out how.
Signing up to Ola for 1,000 Velocity points plus $20 off
To take advantage of these generous offers for your first trip, follow the steps below:
Step 1 – Locate and download the Ola (Android or iPhone) app from the App Store
Step 2 – Open the app. You'll be prompted to verify your mobile number, enter your name and enter a referral code. Note: You must enter a referral code here to receive $20 off your first ride. If you'd like to use it, our referral code is: AJT3CTU (Full disclosure: we'll receive $20 credit when you take your first ride). Once you've signed up, you'll be able to invite friends and family using your own code.
Step 3 – Link your Velocity and Ola accounts. Navigate to the top left-hand menu, tap on your name and then select "Velocity Frequent Flyer account". Enter your name and Velocity number, then tap "Link Account"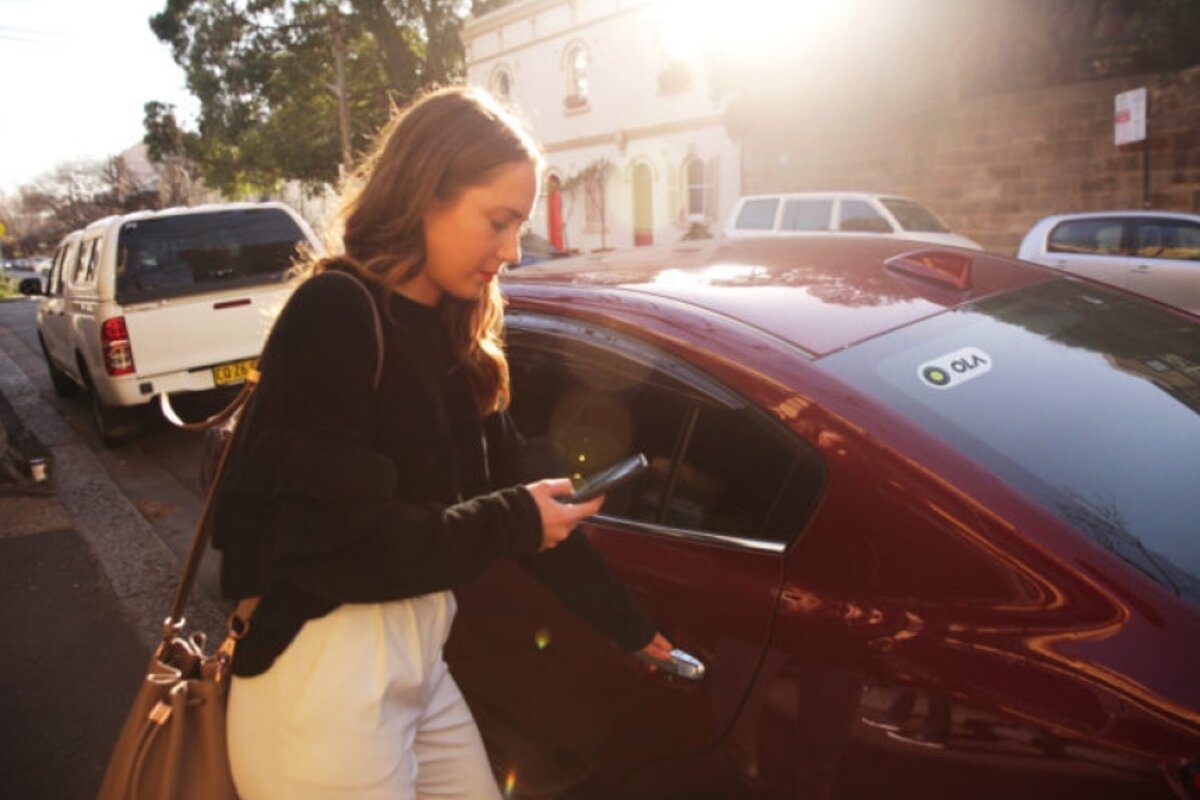 Once you've completed the steps above, you're good to go. Book your very first ride to receive $20 off and earn 1,000 Velocity points.
RELATED: How to earn Qantas points with Ingogo
RELATED: Top Velocity Frequent Flyer Credit Cards
Ongoing Velocity Points earn with Ola
You can earn Velocity Points on an ongoing basis with Ola, above and beyond the initial 1,000 bonus Velocity points for your first trip. The earn rates are as follows:
Earn 2 Velocity Points per $1 spent on eligible rides to and from selected airports (Sydney, Melbourne, Brisbane, Gold Coast, Adelaide, Canberra and Perth, plus Auckland, Wellington and Christchurch in New Zealand)
Earn 1 Velocity Point per $1 spent on all other Ola rides
Points will be credited to your Velocity account within 48 hours of making payment for your ride.
Enjoy flat $25 fares to and from Australian airports
If you travel as much as I do, chances are you're spending serious cash on travel to and from the airport. For a limited time, Ola is offering major savings here.
Ola users can enjoy $25 flat fares to and from Sydney, Melbourne, Brisbane, Gold Coast, Adelaide, Canberra and Perth airports for journeys of 20 kilometres or less. You'll need to enter a coupon code to access the discount. The codes are:
OLADROP (for your ride to the airport)
OLAPICK (for your ride home)

The flat $25 airport fare offer is valid until 30th June 2019, and you can use it up to a maximum of 100 times per calendar month. You'll be charged regular rates beyond the 20 kilometres, and the fare doesn't include any tolls or third-party charges.
For more information about the Ola and Velocity partnership, including T&Cs for the 1,000 bonus point offer, head here.
Subscribe to The Champagne Mile newsletter for the latest deals, tips and news. It only takes a few seconds, and we respect your privacy.