Online booking platform Dimmi has recently re-branded as TheFork. For a limited time, they've teamed up with American Express to launch a generous 'Spend and Save' promotion.
Amex Card Members can get a $20 credit back on their card account when they spend $50 or more at any of the participating restaurants from 12 February to 12 March 2019.
Registering for TheFork and Amex offer
Follow the steps below to score $20 off your next bill of $50 or more at a participating restaurant:
Sync your AMEX Card to your TheFork account. Don't yet hold an account? You can sign up for a free TheFork account here
Book a participating restaurant. Participating restaurants will display 'Amex Spend $50 get $20'.
Once you've finished your meal, pay with your synced AMEX card. Provided you spend at least $50, you'll get a $20 credit on your Card. Too easy!
The offer is valid for meals booked and consumed between 12 February and 12 March 2019.
Which restaurants are participating?
Numerous restaurants in many cities are participating in this offer, including a number of very well known eateries.
At the time of writing, participating restaurants offering dinner bookings in Sydney include Fratelli Fresh, Kingsleys Steakhouse, Cruise Bar, Pony Dining and more. If located in Melbourne, you could look to dine with your offer at institutions such as Rosetta, Lee Ho Fook and Byblos. There are many options to choose from in other cities also.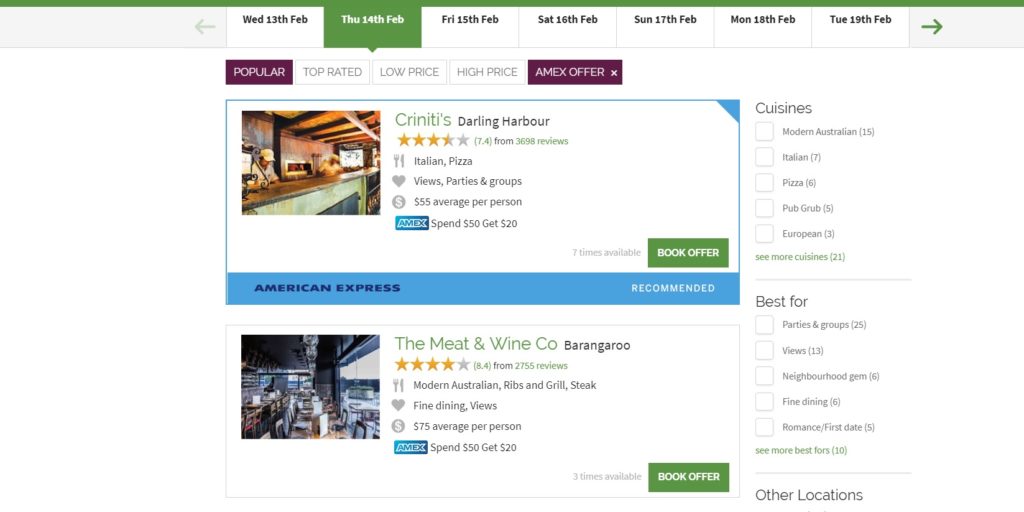 Important things to note
The promotion is limited to the first 10,000 allocated bookings, and it is not available for bookings made via TheFork iPhone app.
If you're interested in taking advantage of this offer for when you next dine out, we'd encourage you to move quickly. Last a similar promotion was offered, and the registration cap was reached quickly.
Happy dining!
While you're here: Subscribe to our newsletter for the latest tips, deals and news. It only takes a few seconds and we respect your privacy: