Right now, you can pick up an amazing bonus points with either a new Qantas American Express Ultimate Card or new American Express Explorer Card . But the benefits don't stop there – AMEX offers a number of rewarding benefits for existing card members, and their popular AMEX Refer a Friend program is by far my favourite!
Card members can earn up to 30,000 points per referral, to a cap of 200,000 points each calendar year, simply by recommending a new AMEX card to friends. Depending on your point scheme, that could be enough for a return business class airfare to the USA, or a first class one way ticket to Europe! Ready to refer? If you're an existing card member, you can generate your unique link for friends and family here
If you're not yet an AMEX card member, consider applying for a new Qantas American Express Ultimate Card or a new American Express Explorer Card which both come with generous sign on bonus offers. Once you've received your card, you'll be able to generate your own link and participate in the AMEX Refer a Friend program.
For a quick rundown on the AMEX Refer a Friend program, check out the video from our friends at AMEX below:
One of the best features of the AMEX Refer A Friend program is that it allows you to refer others to different cards that are part of the same referral program.
Let's take the American Express Explorer card as an example. As well as referring a friend to that card, you can also refer them to the Essential, Platinum Edge and Platinum cards as these products are considered part of the same card 'family'. You can find the list of cards that are part of the same referral 'family' at the bottom of your personal referral page (available by logging into the AMEX referral hub ):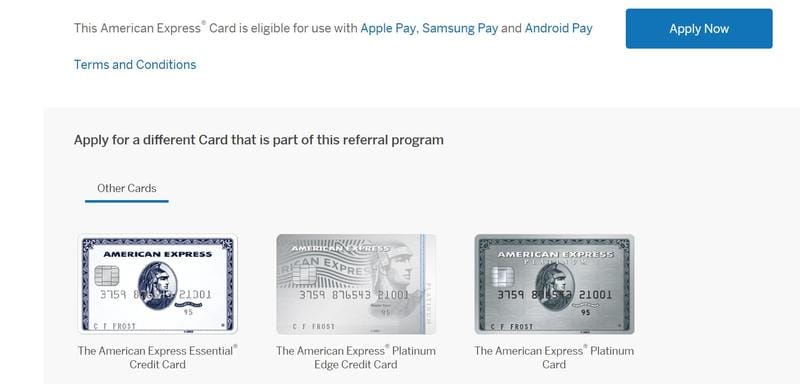 Clicking on one of these cards will allow your friend to apply for the product using your exclusive referral link. AMEX has confirmed with us that the card product you hold dictates the number of bonus points you can earn for referring another card in the same 'family'. So if you hold an Explorer Card and successfully refer someone to a Platinum Edge Card or a Platinum Card, you'll always receive the Explorer Card referrer bonus (currently 30,000 points). Whereas, the new 'applicant' receives the bonus points attached to the card product they are approved for.
We've put together a comparison of the 'standard' vs 'exclusive' sign up offers currently available for some of the most popular American Express cards below, along with the points haul awarded to eligible card members referring friends:
Sign up offers – selected American Express cards
Card
'Standard' sign
up offer
'Refer a Friend'
sign up offer
Points awarded to
referring card member
(*holding this specific
card product)
David Jones Card
20000
30000
20000
Qantas Premium Card
30000
40000
20000
David Jones Platinum
40000
50000
30000
Explorer Card
50000
60000
30000
Velocity Platinum Card
50000
60000
30000
Qantas Ultimate Card
55000
65000
30000
Platinum Card
80000
90000
30000
Platinum Edge Card
–
10000
15000
As you can see, the 'Refer a Friend' program rewards eligible card members generously, with up to 30,000 points on offer for each new card sign up. Depending on the card you hold, just one referral could be enough for a return domestic flight on Qantas or Virgin, or it could help get you well on your way to your next international premium class flight redemption!
Eligibility for AMEX Refer a Friend
In order for both the referrer and the applicant to qualify for the referral bonus, your friend must apply through your unique link. If they apply through the standard link on the website, no Amex Refer a Friend bonus points will be awarded. Secondly, you cannot refer someone who already holds a direct-issued AMEX card, or someone who has held one in the past 18 months (bank issued and supplementary card holders are excluded). And finally, it's important to note that referral points are awarded to the referrer upon approval of the applicant, and to the applicant upon meeting the specified terms of the minimum spend.
How does the AMEX Refer a Friend referral cap work?
AMEX rewards eligible card members with a generous referral cap of 200,000 points per calendar year. This means that you can refer multiple people. If you're lucky enough to reach 200,000 points, you'll be ineligible to receive any further 'Refer a Friend' bonus points until the referral cap resets on 1 January of the following year.
How to use AMEX Refer a Friend
It's a really easy process to refer friends. To access your 'Refer a Friend' link, simply go to the AMEX referral hub and login.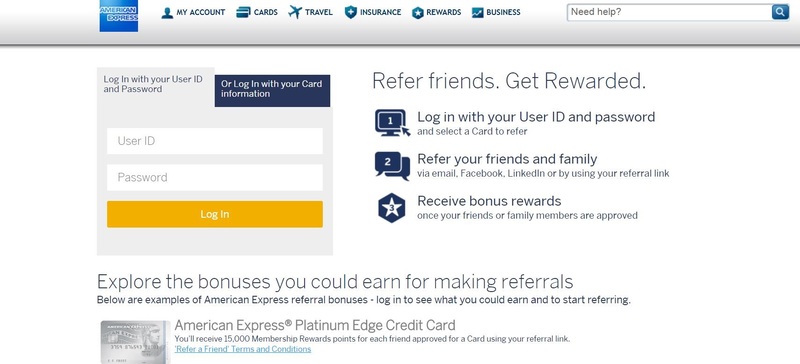 Upon logging in, you'll be taken to a screen which outlines the referral offer for the card you hold (for me, it's the Explorer Card). You'll need to indicate your acceptance of important terms and conditions before you can access your unique link: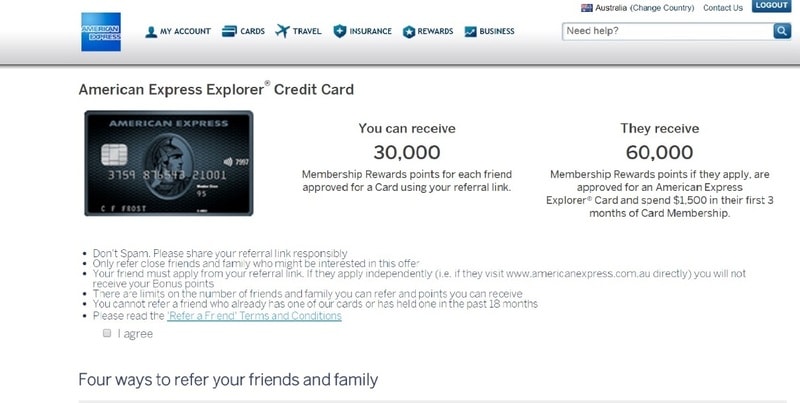 Once you've ticked the 'I agree' option, you'll be able to distribute your referral link via your preferred method:

Now is the perfect time to introduce friends to the benefits of a new AMEX card. You could both pick up thousands of bonus points. Start referring right away – click here
Readers may also be interested in:
Earn Bonus Points with AMEX Local Champion
Disclaimer: The Champagne Mile partners with the American Express affiliate program. This post has been prepared with the support of American Express.