Right now, you can receive 50,000 bonus Membership Rewards points with a new AMEX Explorer Credit Card. The points transfer at a rate of 4:3 to eight leading airline partners, so your sign on bonus provides many flexible travel options.
The AMEX Explorer Card is my personal card of choice for day to day expenses, and with good reason. In addition to the sign on bonus, this card is packed with useful perks like a $400 travel credit, airport lounge passes, smartphone screen insurance and more.
Find out more or apply via our (mobile-friendly) AMEX Partner link now.
To receive the 50,000 bonus points, you need to apply for the AMEX Explorer Credit Card online, be approved and spend $3,000 within the first 3 months of card membership.
One of the biggest advantages of the AMEX Explorer card is the flexibility it provides. Your 50,000 points convert to 37,500 frequent flyer points with a number of leading airline schemes. While you can't transfer directly to Qantas, you can still fly Qantas by converting your points to the Cathay Pacific Asia Miles scheme (I explain how to do this here).
You can also transfer your points to Starwood Preferred Guest at a rate of 1 to 0.5 points – see my post about how I booked an amazing $15,000 trip by converting my American Express Membership Rewards points to Starwood.
Ready to apply? You'll find the secure (mobile friendly) application form here .
Here are the main reasons I love the AMEX Explorer Card:
50,000 Membership Rewards 'Gateway'' Points when new card members apply online, are approved and spend $3,000 within the first 3 months.
$400 Travel Credit, available each membership year. Use your Travel Credit online to redeem for a flights, accommodation or car hire when you book and pay online at American Express Travel. You'll fully offset the card annual fee, simply by using the travel credit!
Two invites to the American Express Lounge per year, located at Sydney International Airport and Melbourne International Airport. Kick back and enjoy premium food and beverages before your next international flight.
A suite of comprehensive insurances, including domestic and international travel insurance.
The ability to obtain free supplementary cards for family members – v handy for maximising benefits from popular promotions like 'AMEX Connect' and 'Shop Small', and
You'll also enjoy a generous earn rate when you spend on your card, with a flat 2 points per $1 awarded for everyday spending. Government charges earn 0.5 points per $1. And best of all, there's no cap on how many points you can earn – regardless of how much you spend per month!
AMEX Explorer Credit Card annual fee and eligibility
The Card comes with an annual fee of $395, which is easily be offset by using just some of the generous card benefits we've listed out above.
To apply for the card, you'll need to be able to report a minimum income of $65,000.
To be credited with the bonus points, you must not have held a credit card issued directly by American Express Australia in the last 18 months. Previous and existing bank-issued AMEX card holders (cards issued by: Australia New Zealand Banking Group Limited, Commonwealth Bank of Australia, National Australia Bank, Westpac Banking Corporation) and those holding a supplementary AMEX card are eligible.
The secure, mobile friendly application form takes less than 10 minutes to complete and AMEX may be able to give you a response in less than 60 seconds.
If you're looking to travel in style in 2018, apply now via our (mobile-friendly) AMEX partner link.
Disclaimer: The Champagne Mile receives a small commission when you apply for the AMEX Explorer Credit Card via our unique link. We appreciate your support.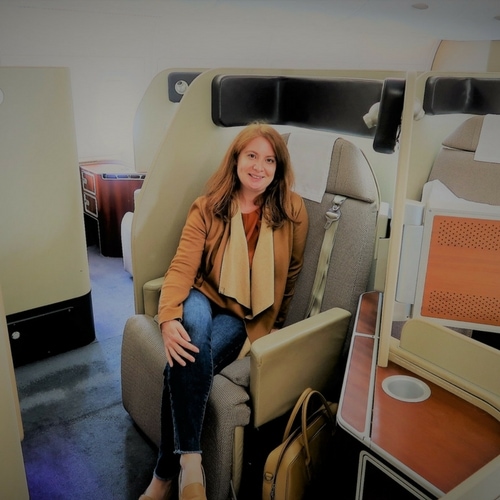 I love to travel the world in comfort and style. In fact, there's really nothing I love more than sitting in a plane at 36,000 feet, a glass of Krug in hand, watching the clouds go by.