Velocity points enthusiasts love the AMEX Velocity Platinum Credit Card.  In addition to a sign on bonus of 50,000 points, this credit card is packed with a number of card holder benefits that more than offset the $375 annual fee. These include a complimentary return domestic flight and four lounge invites each anniversary year, comprehensive domestic and international travel insurances and the ability to earn 100 Velocity Status Credits annually.
A new AMEX Velocity Platinum Credit Card can get you flying in 2018. You could use your points for a one way Virgin Australia flight from Australian cities to the USA in economy, or a return business class airfare from Sydney to Melbourne. If you're after some inspiration on where Velocity points could take you, check out our recent post here.
Apply now via our (mobile friendly) AMEX Partner link
We've listed out the main AMEX Velocity Platinum Credit Card benefits below:
50,000 bonus Velocity points when new AMEX card members apply, are approved and spend $3,000 within the first 3 months.
A complimentary Virgin Australia domestic economy return flight between selected Australian capital cities each membership year. Your AMEX Velocity Platinum Credit Card entitles you to your free flight each year after your first Card spend. A full list of eligible travel routes can be found here. You can partially or fully offset the card annual fee, simply by using the free flight!
A generous four airport lounge invites each year – two complimentary passes to Virgin Australia's domestic lounges when flying with the airline (single entry lounge passes are sold by Virgin Australia for $65 each) and two invites to the exclusive American Express Lounge at Sydney International Airport or Melbourne International Airport.
100 Velocity Frequent Flyer Status Credits applied to your Velocity Frequent Flyer account when you spend a minimum of $50,000 within your card membership year.
A suite of comprehensive insurances, including domestic and international travel insurance. Note that trips booked with your Card using Velocity Points are covered and this can save you significant money when travelling.
The ability to obtain free supplementary cards for family members – very handy for maximising benefits from popular promotions like 'AMEX Connect' and 'Shop Small'.
In addition to the benefits listed above, you'll access the best earn rate on a AMEX Velocity card in Australia, with 1.5 Velocity points earned per $1 for everyday spending and 2.5 Velocity Points per $1 on purchases with Virgin Australia. Government charges earn 0.5 points per $1. And best of all, there's no cap on how many points you can earn – regardless of how much you spend per month!
AMEX Velocity Platinum Credit Card fee and eligibility
The AMEX Velocity Platinum Credit Card comes with an annual fee of $375 each year, which can easily be offset by using just some of the generous card benefits we've listed out above. The perks available with this card far outweigh the benefits of a number of more expensive cards in the market.
You'll need to report a minimum income of $65,000.
To be credited with the bonus points, you must not have held a credit card issued directly by American Express Australia in the last 18 months. Previous and existing bank-issued AMEX card holders (cards issued by: Australia New Zealand Banking Group Limited, Commonwealth Bank of Australia, National Australia Bank, Westpac Banking Corporation) and those holding a supplementary AMEX card are eligible.
The secure, mobile friendly application form takes less than 10 minutes to complete and AMEX may be able to give you a response in less than 60 seconds – so if you're looking to boost your Velocity points balance for 2018, apply now
Disclaimer: The Champagne Mile receives a small commission when you apply for the AMEX Velocity Platinum Card via our unique link. We appreciate your support.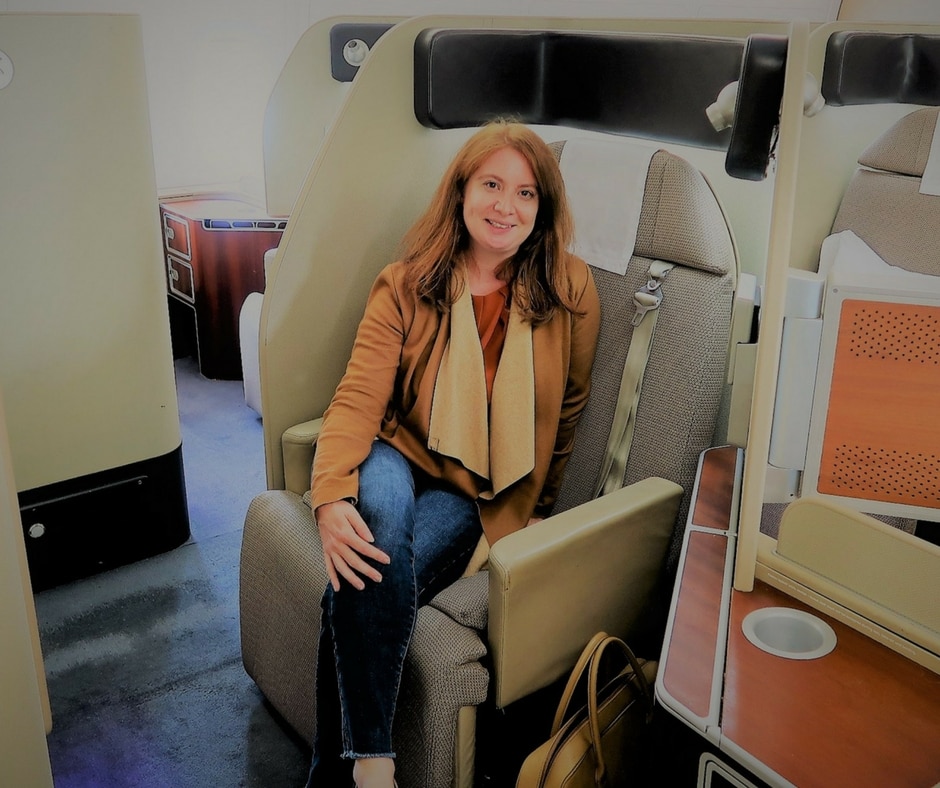 I love to travel the world in comfort and style. In fact, there's really nothing I love more than sitting in a plane at 36,000 feet, a glass of Krug in hand, watching the clouds go by.