If you are thinking about investing in crypto, then you may have heard about CoinSpot – a trusted cryptocurrency exchange based in Australia. It is used by more than 2 million people in Australia to buy, sell, and swap cryptocurrencies.
Join CoinSpot now and you'll receive AU$10 in FREE Bitcoin with our unique code 6G2U7M (T&Cs apply).
Disclaimer: We may receive a commission when you sign up using a link in this article. Cryptocurrency trading has potential risks involved and it may not be suitable for all people. This article constitutes general information only. Before deciding to invest, you should seek independent financial or professional advice to ensure that CoinSpot is right for you.
Are you interested in learning more? Read on to discover our deep dive CoinSpot review.
What is CoinSpot?
CoinSpot is an Australian-owned cryptocurrency exchange. It allows users to buy and sell a variety of cryptocurrencies in AUD, with fees starting at just 0.1%.
The platform has been in operation since 2013 and it boasts more than one million users. CoinSpot offers a user-friendly platform with a wide range of features, making it a reliable choice for those looking to buy Bitcoin or other cryptocurrencies.
Who is CoinSpot designed for?
CoinSpot is designed for Australians who want to invest in Bitcoin and other cryptocurrencies, and who want the assurances and safety of using a local, fully regulated platform.
If you are new to the world of cryptocurrency, CoinSpot makes it easy to buy your first coins. You can use Australian dollars to purchase coins, with the most popular option being Bitcoin.
More experienced traders will also benefit from using CoinSpot, although the functionality may not be considered as advanced as some other platforms.
Is CoinSpot safe and trustworthy?
CoinSpot is widely considered to be a safe and trustworthy cryptocurrency exchange. Let's take a look at the key reasons why:
Established, legitimate and local: The CoinSpot website and mobile app for IOS and Android is owned by Casey Block Services Pty Ltd, trading as CoinSpot. The company has been operating in Australia since 2013 and it is headquartered in Melbourne.
Regulatory requirements: CoinSpot is registered with the Australian Securities and Investments Commission (ASIC) along with AUSTRAC. It is required to work within the framework of Australian AML/CTF laws to prevent money laundering and terrorism financing.
QA and industry codes: CoinSpot was the first Australian-based crypto exchange to achieve accreditation with an ISO 27001 certification. The ISO 27001 certification is highly sought after and difficult to achieve. By meeting this certification, CoinSpot demonstrates that information security management systems meet the highest global standards.
CoinSpot is also certified with Blockchain Australia and Sci Qual, binding the company to industry codes of conduct.
Verification: CoinSpot offers a rigorous verification process at sign-up, and when users wish to increase deposit limits above $2,000 AUD per day. This includes initial verification of a Passport or Drivers Licence and 'Know Your Customer' (KYC) procedures to collect and verify a customer's identity.
Account security: CoinSpot offers a variety of sophisticated account security settings. This includes Two-Factor Authentication, customer withdrawal limitations, and session time limit restrictions.
How to start trading on CoinSpot
To get started with CoinSpot, be sure to use our referral code: 6G2U7M. This will give you AUD$10 worth of free Bitcoin when you make your first deposit.
Thereafter, it's very easy to get started with trading on CoinSpot. Here's what you need to do:
Step 1 – Create an account: Enter your email address on the sign-up page. You should receive a verification email from CoinSpot immediately. To verify your address, follow the instructions in the email sent to you by CoinSpot.
Step 2 – Get verified: Complete the registration form and undertake an easy verification process. Ensure you have a driver's license or passport on hand, as you will need this information for the signup process.
Step 3 – Deposit funds: After you've completed the verification process, you'll be able to deposit AUD or supported cryptocurrencies to your wallet. CoinSpot offers many AUD deposit options. This includes PayID, POLi payments, BPAY, and direct deposit from your bank account.
Step 4 – Buy or Sell your cryptocurrency: Once funds have hit your account, it's time to start trading. Select from 320+ cryptocurrencies. Withdraw funds straight to your CoinSpot wallet after selecting your preferred currency.
CoinSpot Wallet
When you first create a CoinSpot account, you will be required to set up a Wallet. This is where you will store your cryptocurrencies.
The CoinSpot wallet is a secure, multi-currency online platform that allows you to store, send and receive supported cryptocurrencies. It's very simple to use and offers a variety of features to enhance your user experience.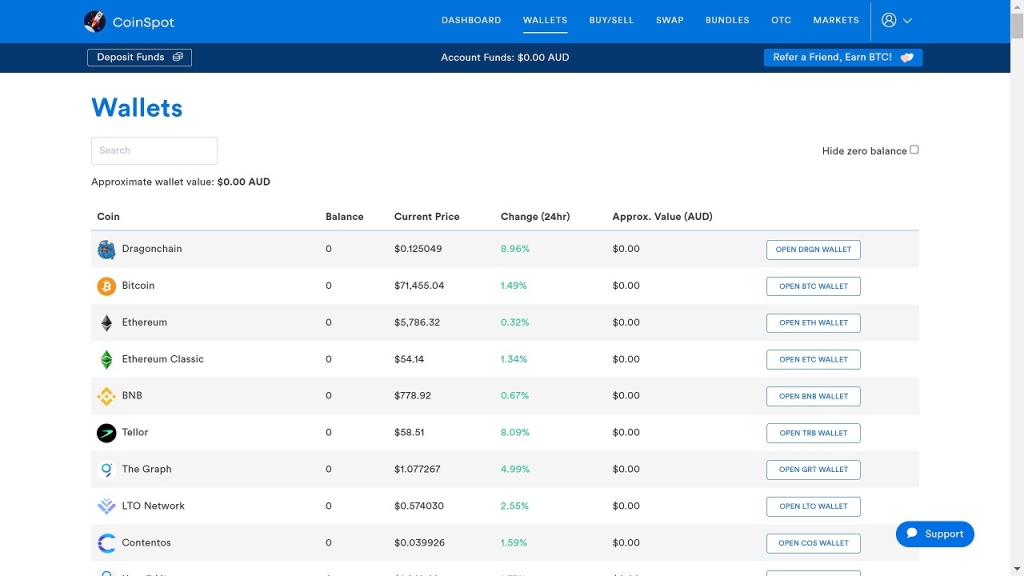 Track your wallet balances, make purchases, exchange into other coins or tokens on the platform and get a history of your most recent transactions all from one place.
For assistance with the CoinSpot Wallet, you can contact the CoinSpot customer service team 24 hours a day, seven days a week.
CoinSpot mobile app
The CoinSpot mobile app is available on the iPhone App Store and Google Play. Whether you're a beginner or a trading pro, it's a quick, easy way to trade cryptocurrencies on the go.
The CoinSpot mobile app also offers many of the same features as the online platform, including:
• view your account balance and transactions
• buy or sell cryptocurrencies
• send and receive supported cryptocurrencies
• access real-time market data
• view your holdings and their value in AUD or BTC (Bitcoin). You can find out the latest price of any supported cryptocurrency on CoinSpot
The CoinSpot app also offers unique functions not available elsewhere, such as push notifications about account activity.
CoinSpot fees and charges
When you sell or buy Bitcoin on CoinSpot, you will be charged a fee.
Trading fees
CoinSpot offers some of the lowest fees for Australian traders, with costs starting at 0.1 percent and no hidden charges. A 1% charge applies to instant purchases and sales. Take profit, stop loss, and recurring transactions all have a 1% price tag attached. We've summarised CoinSpot trading fees in the table below:
| Trading Activity | Fee |
| --- | --- |
| Market Orders | 0.10% |
| OTC | 0.10% |
| Instant Buy, Sell & Swap | 1% |
| Take Profit, Stop & Limit Orders | 1% |
| Recurring Buy | 1% |
The fee is based on the Australian dollar value of the transaction and can vary depending on how much you are buying/selling.
Deposit and withdrawal fees
CoinSpot offers a range of free and instant AUD deposit methods, including PayID, Direct Deposit & POLi payments. BPAY and cash deposits are also possible via the blueshyft network of 1,500+ sites, however, these methods do attract a fee:
| Deposit and withdrawal activity | Fee |
| --- | --- |
| POLi, PayID, Direct Deposits | Free |
| BPAY | 0.90% |
| Cash | 2.5% |
| Withdraw AUD | Free |
When sending funds to an external wallet outside CoinSpot, you will be charged a transaction fee on CoinSpot. The cost varies per coin depending on network demand and activity. The current fee is always displayed on the CoinSpot website.
CoinSpot fees and charges set out in this article are current as at 17 December 2021, and are subject to change at any time.
Join CoinSpot now and you'll receive AU$10 in FREE Bitcoin with our unique code 6G2U7M (T&Cs apply).
Key CoinSpot features
With a growing number of cryptos exchanges to choose from, it can be difficult to know which to use.
If you're looking for a no-hassle, low-cost, and efficient service that is reliable and stable, CoinSpot might suit your needs. Here are some of the features that stand out:
Regulatory adherence: CoinSpot works with AUSTRAC and ASIC to counter money laundering, along with adhering to Blockchain Australia industry guidelines
A wide range of cryptocurrencies: CoinSpot offers 320 + cryptocurrencies, so you can buy the coins you want without being limited to just one or two options.
Fast transactions: Because CoinSpot is based in Australia, it offers quick transaction times and instant buy for Australian users. This makes it ideal for those who want to buy or sell cryptocurrencies quickly and easily.
Helpful customer service: CoinSpot's customer service is known to be helpful and quick to respond, making it easy to get help when you need it.
Security features: CoinSpot has a variety of security features in place, including a two-factor authentication code and advanced KYC processes to verify accounts
No hidden charges or fees: All fees and charges are set out clearly on the CoinSpot website
User-friendly interface: The CoinSpot website is easy to navigate, so beginners can quickly find the information they need about each cryptocurrency listed on the platform. The site also makes it simple for new users to begin trading with just a few clicks of their mouse. It has a clean and modern look that is easy to navigate, making it a good choice for those who are new to crypto and digital currency trading.
Easy verification process: The signup process for CoinSpot only takes a few minutes and then you can start trading immediately once your account has been approved and verified. Additional verifications apply to trade past the $2000 AUD daily cap.
Positive CoinSpot reviews: CoinSpot boasts a 4.5 + out of 5 rating on both Product Review and TrustPilot, making it one of the highest-ranked cryptocurrency platforms in Australia. CoinSpot user reviews on Reddit and around the web are generally very positive.
How does the CoinSpot Referral Program work?
CoinSpot offers a lucrative, uncapped referral program for Australian users.
After a friend signs up with CoinSpot using your CoinSpot referral code, you'll both get AUD $10 in Bitcoin. The amount of Bitcoin (BTC) paid out to both parties will be the same as AUD $10 at the time the referred person makes their first AUD deposit.
To claim the referral reward, your friend must first open a CoinSpot account using your invitation link or code at the time of signing up. Within 90 days of creating their account, both the referrer and referee must also make at least one AUD deposit on the CoinSpot platform.
Users can refer unlimited people using their CoinSpot referral code – there's no cap and no limit.
What coins can I buy on CoinSpot?
The CoinSpot exchange offers a wide variety of coins, so you can find one that suits your needs without having to worry about hidden fees or scammy exchanges.
Users can trade more than 300 cryptocurrencies including Bitcoin, Bitcoin Cash, Ethereum, Neo, EOS, and Ripple to name a few. More recently, CoinSpot added NFTs and DeFi to their list of tradable assets.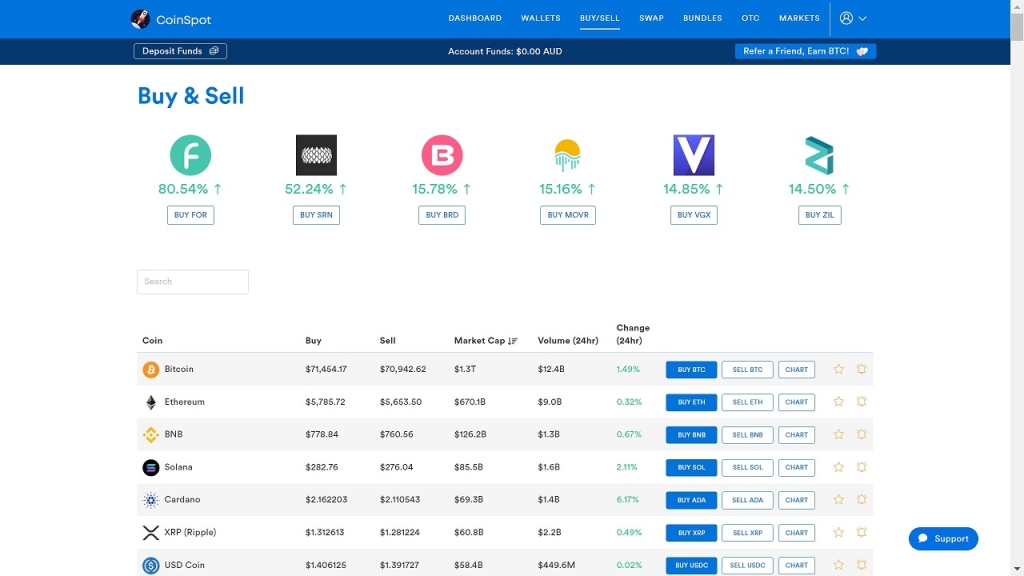 Bitcoin and Ethereum are popular options that can be traded on CoinSpot. These coins tend to have high values and are considered by some to be easy to sell when you want to make a profit.
The following section is not intended as financial advice. Before trading cryptocurrencies, it's important to carry out your own research before jumping in:
Bitcoin (BTC) is the largest and most well-known cryptocurrency. This coin is easy to buy on CoinSpot, making it a popular choice for new users who want an option that has high liquidity and trade volume.
Ethereum (ETH) can be used as both a currency and a platform for creating smart contracts. While Bitcoin is generally considered more stable, Ethereum is growing in popularity. It is often considered to be faster than Bitcoin in terms of transaction times and fees.
Litecoin (LTC) is known as the silver to Bitcoin's gold due to its lower value but faster transaction times. On the Litecoin network, new blocks are produced every 2.5 minutes on average, which is four times faster than Bitcoin's blocks, which are mined every 10 minutes. As a result, Litecoin's transaction speeds are also roughly four times quicker than those of Bitcoin.
This coin tends to be used for smaller transactions that may not justify using a more valuable option like Ethereum or Bitcoin, making it an easy choice for new users who want something simple and straightforward without any hidden fees.
CoinSpot also offers a wide range of other cryptocurrencies that you can buy, including Ripple (XRP) and Dash (DASH). These coins aren't as popular as Bitcoin or Ethereum, but they still offer the same benefits in terms of easy trading on the platform.
How do CoinSpot bundles work?
For users who don't wish to trade cryptocurrencies individually, CoinSpot offers a range of pre-made bundles for purchase. There are 12 bundles to choose from on the website, including Top 3 Market Cap, Bitcoin bundle, and DeFi.
How does a bundle work? Essentially, it is a package of cryptocurrencies that can be bought in one single transaction.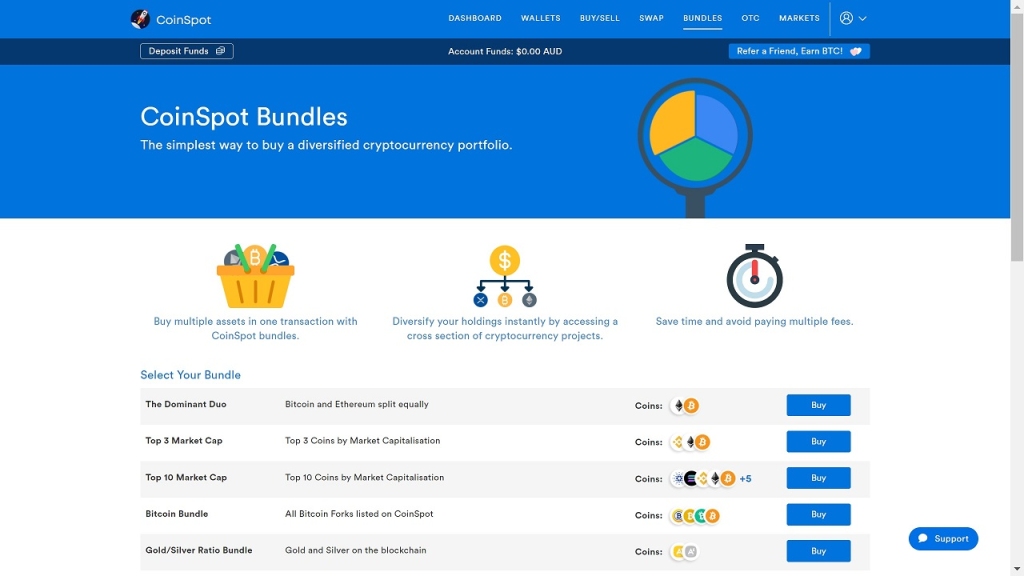 A bundle might suit users looking for an easy way to diversify a portfolio. And, because multiple cryptocurrencies are being traded at once, it's possible to save time and avoid paying multiple fees.
When you buy a bundle, each coin is instantly split and added to the balance of your account's associated wallet. This provides convenience for users to sell or swap each asset as they choose.
CoinSpot pros and cons
Like with any crypto trading platform, there are pros and cons to using the CoinSpot exchange. Let's take a look at some of the key benefits and drawbacks:
Pros
Easy verification process. The signup process for CoinSpot only takes a few minutes and then you can start trading immediately once your account has been approved
Good customer support. CoinSpot has a responsive customer support team that is available 24/11 to help with any issues or questions you may have about the site or your account
Trusted and legitimate. CoinSpot is an established Australian company that meets a range of regulatory requirements and industry codes. This includes an internationally acknowledged ISO 27001 certification and full compliance with AML/CTF laws
Buy and sell in AUD. Unlike some other platforms, CoinSpot offers Australian users the ability to trade in AUD. This can help to minimize foreign transaction fees and charges.
Supports Self Managed Super Funds (SMSF). SMSF funds are handled by CoinSpot, providing a convenient way to manage and build your crypto and digital currency portfolio. The CoinSpot SMSF solution offers industry-leading compliance, security, and customer service.
A wide range of coins is available for trading with many payment methods. With over 320 cryptocurrencies listed on the site, users can find something that suits their needs without having to worry about hidden fees or scammy exchanges.
Cons
Only in Australia. Usage of the CoinSpot platform is restricted to Australians only. The platform currently only allows users to send money to Australian bank accounts.
Limited range of cryptocurrencies. While CoinSpot boasts over 300 cryptocurrencies, this represents just a small number of the 9,000 + coins available globally.
CoinSpot Customer support
CoinSpot's experienced and knowledgeable support team is available to users. Live Chat is available to speak to real people every day and our Helpdesk Support is 24/7.
You can contact CoinSpot customer support via the methods below:
CoinSpot alternatives
If you're not happy with CoinSpot, or if you'd like to explore other cryptocurrency platforms, then there are a few other good options available to you. Let's take a look at three of the best:
Binance: A large global exchange that offers a wide range of coins and has low fees compared to other exchanges. Binance is the most popular cryptocurrency exchange in the world, by daily trading volume of cryptocurrencies. It was established in 2017 and is registered in the Cayman Islands. Changpeng Zhao, a software developer who previously designed high-frequency trading systems, created Binance.
Sign up to Binance and earn 10% commission rebate on every trade across Binance Spot, Futures, and Pool. (T&Cs apply)
Coinbase: Coinbase is an American company that operates a cryptocurrency exchange platform. It is a well-known and user-friendly exchange that allows you to buy cryptocurrencies with fiat currency (USD, EUR, etc.).
Bitfinex: Bitfinex is a cryptocurrency exchange owned and operated by iFinex Inc registered in the British Virgin Islands. It is a large global exchange that offers a wide range of coins. It is also one of the few exchanges that offer margin trading. Bitfinex has been the victim of a number of safety breaches.
CoinSpot review: Conclusion
For Australians looking to get started with cryptocurrency investments, CoinSpot could be a worthwhile place to start.
CoinSpot is Australia's biggest and most trusted crypto exchange, having been founded in 2013. CoinSpot provides a very large number of digital assets in Australia, with over 320 different coins available for purchase, trade, and swapping at the lowest rates starting at 0.1 percent. With full confidence in CoinSpot's high level of globally accepted security certification, you can transact with ease and store your cryptocurrencies with the knowledge that they're in safe hands.
Join CoinSpot now and you'll receive AU$10 in FREE Bitcoin with our unique code 6G2U7M (T&Cs apply).
With a user-friendly platform, CoinSpot makes buying and selling cryptocurrencies easy – whether you're new to crypto or an established and seasoned trader.
You can earn AUD$10 in Bitcoin when you sign up with our CoinSpot referral code here. The CoinSpot verification process and safety features offer account security, and the platform offers fast withdrawal times for when you need your funds urgently.
Most importantly, CoinSpot is a legitimate, long-standing, and trusted Australian company holding an internationally acknowledged ISO 27001 certification. This allows users to buy cryptocurrencies without worrying about the platform being illegitimate or unsafe to use.
Disclaimer: Cryptocurrency trading has potential risks involved. Trading may not be suitable for all people. This article constitutes general information only. Before deciding to invest, you should seek independent financial or professional advice.
CoinSpot Frequently Asked Questions (FAQ)
Read our CoinSpot FAQ to find out more information about this leading Australian cryptocurrency exchange:
Who owns CoinSpot Australia?
Casey Block Services Pty Ltd is the owner of CoinSpot. The company has been in operation in Australia since 2013 and it is based in Melbourne.
What customer support does CoinSpot offer?
CoinSpot provides a range of customer support options. You can reach CoinSpot through Live Chat, Email and 24/7 helpdesk support.
Which countries are supported by CoinSpot?
Currently, CoinSpot only supports users in Australia.
Does CoinSpot offer an app?
Yes, CoinSpot offers a user-friendly app for both IOS and Android.
While you're here: Subscribe to our newsletter for the latest tips, deals and news. It only takes a few seconds and we respect your privacy: