The cryptocurrency market in Australia is expanding rapidly, and the number of exchanges available is increasing.
Coinbase is one of the world's most popular cryptocurrency exchanges, and also one of the easiest to use, with instant bank transfers and an intuitive user interface.
Sign up to Coinbase now to get USD$10 free Bitcoin with our unique code FFYZRV (T&Cs apply) 
Disclaimer: We may receive a commission when you sign up using a link in this article. Cryptocurrency trading has potential risks involved and it may not be suitable for all people. This article constitutes general information only. Before deciding to invest, you should seek independent financial or professional advice to ensure that Coinbase is right for you.
Founded in 2012, the service has since grown to serve over 20 million customers across 32 countries. Coinbase Australia was launched in 2018 and offers Australian users a new way to buy crypto with AUD. The service is intended for Australians who are looking for a simple way to purchase Bitcoin, Litecoin, or Ethereum without having to deal with complex trading platforms or difficult ID verification procedures.
In this Coinbase Australia review for investors, we'll examine how the exchange works, cover its pros and cons and demonstrate how to avoid common pitfalls when using it.
Is Coinbase safe to use?
When it comes to choosing a cryptocurrency exchange, safety and security should be at the top of your list. Fortunately, Coinbase has a reputation as a trusted platform.
Alongside CoinSpot, Coinbase is one of the most popular crypto exchanges in Australia. The service boasts over 11 million users and it claims to have helped customers transact more than $40 billion worth of cryptocurrency since 2012.
In Australia, Coinbase operates in compliance with laws such as KYC (Know Your Customer) and AUSTRAC Anti Money Laundering regulations. This means it should provide a safer trading experience when compared to some other global exchanges that aren't regulated in Australia.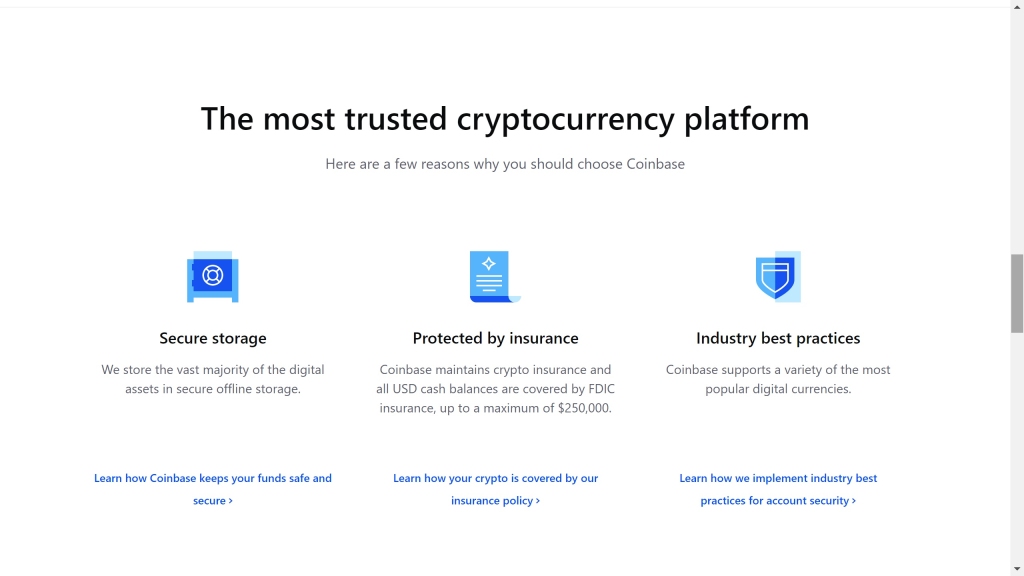 In the world of cryptocurrency trading, another feature that makes the best crypto exchanges stand out is how safe user assets are even in the case of a hack. Coinbase is no exception. They hold 98% of their assets in offline cold storage, minimizing access to fraudsters. What is cold storage? Cold storage is offline cryptocurrency storage; a crypto wallet that is not connected to the internet. The 2% assets left in the Coinbase wallet online are insured in case of any loss.
As with other similar crypto exchanges, another important security measure put in place is the verification of ID. To use the 'Buy' and 'Sell' features, customers are required to submit an Australian government-issued ID. This provides a robust ID check and makes it difficult for shady individuals to thrive on the platform.
However, there have been complaints about Coinbase from its customers around slow ID verification times (up to weeks), an unclear fee structure, and issues withdrawing funds – all things that can cause a headache if you need to access your money quickly or trade often on an exchange like this one!
It's also important to note that while we've seen some very positive reviews about Coinbase, there have also been some negative ones. So overall – is Coinbase safe to use? In short, it's a regulated platform that has been around for a long time. Whether you choose to use it will depend on your individual circumstances and what you're looking for in an exchange.
If you want a global exchange with a regulated, secure, and relatively user-friendly experience then Coinbase might be right for you. But if you're after cheaper fees or faster withdrawals, you might want to look at an alternative crypto exchange such as CoinSpot or Binance.
Sign up to Binance and earn 10% commission rebate on every trade across Binance Spot, Futures, and Pool. (T&Cs apply)
How to join Coinbase
Signing up for Coinbase is quick and easy, although the process varies depending on whether you live in Australia or another country.
In Australia, the basic signup process involves entering your first name and email address as well as creating a password to secure your account on the website (coinbase.com). Here is a list of requirements that Coinbase will require for new users to complete the sign-up process:
• Be at least 18 years old
• Supply an Australian government-issued photo ID
• A computer or smartphone connected to the internet
• A phone number connected to your smartphone
• The latest version of your browser (Chrome is recommended), or the latest Coinbase App version. If you're using the Coinbase mobile app, make sure your phone's operating system is up-to-date.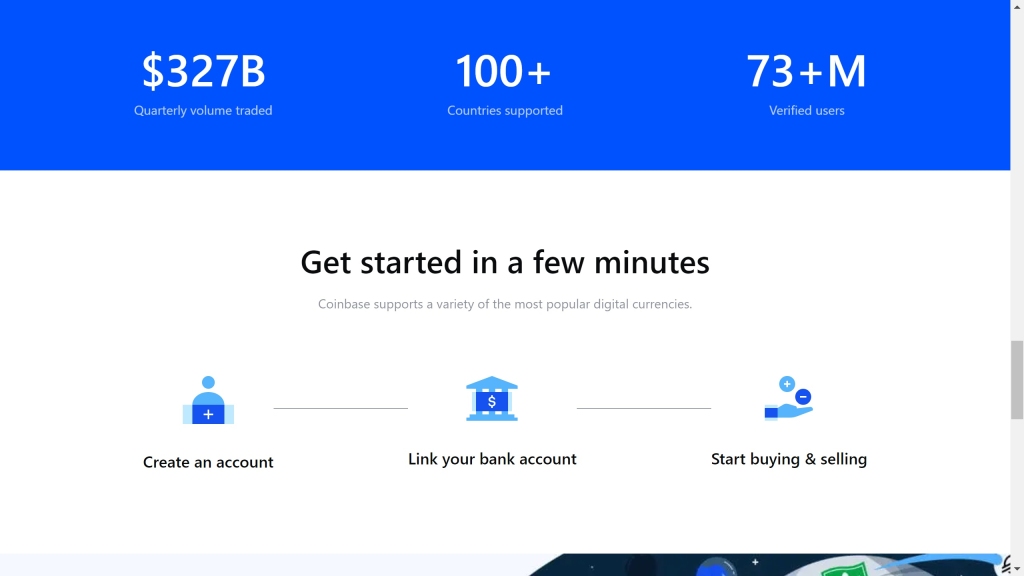 Once you have registered and verified your account, you will need to link to a payment account. Customers in Australia can use a debit card as the payment method, which will not necessitate a pre-authorization before placing an order. Customers in other countries can use other payment methods as well, including PayPal, 3D secure credit card, UK bank account in Great Britain Pounds (GBP), etc.
Thereafter, you will be able to start trading by depositing funds into your Coinbase wallet. You can then use these funds to buy various cryptocurrencies, such as Bitcoin, Ethereum, and Litecoin.
What are the key features of Coinbase?
Coinbase is a digital asset exchange platform that supports over 18 fiat currencies and over 70 coins. As simple as getting stock through an online brokerage, Coinbase makes it even easier to buy cryptocurrencies.
The key features of Coinbase are:
User-friendly interface: The Coinbase website and app are both easy to use, with a simple layout and clear instructions.
Buy cryptocurrencies: Coinbase lets you buy Bitcoin (BTC), Ethereum (ETH), Litecoin (LTC), and Bitcoin Cash (BCH).
Store currencies offline: You can choose to store your chosen cryptocurrency offline on Coinbase's hardware wallets.
Instant purchase: Coinbase offers instant buy and sell options, meaning you can deposit money from your bank account or credit card into the platform to start buying crypto straight away.
Solid security features: All data is encrypted with SSL technology when it's in transit across the web. You also have to verify your email address and phone number before being able to use Coinbase for all levels of access – a two-step authentication process adds an extra layer of protection on top of this.
Two-factor authentication: Coinbase's two-factor authentication (2FA) adds an extra layer of protection to your account, requiring you to verify a code sent via SMS before each login.
Cryptocurrency prices and market news available in the mobile app: You can monitor the price movements of all cryptocurrencies on offer with Coinbase – both historical graphs are provided as well as real-time updates when major changes occur. You can also read the latest news and updates on Coinbase's blog directly in the app.
24/hr customer support: If you need any help with your account or have any questions, Coinbase's customer support team is available to assist you 24 hours a day, seven days a week.
It's worth noting that Coinbase is suitable for beginners, offering a simple way of trading. However, seasoned traders can use Coinbase Pro, a more advanced platform with additional features.
What is the Coinbase referral program?
Many cryptocurrency exchanges offer incentives for the introduction of new users, and Coinbase is no exception.
The Coinbase referral program is a way for users to earn rewards for introducing friends and family to the Coinbase platform. For every person that you refer who buys or sells $100 worth of digital currency on Coinbase, you will receive $10 in Bitcoin (BTC). You can invite as many people as you want and there is no limit to how much money you can earn.
To participate in this incentive program, all you need is a valid Coinbase account and your friend's email address. If they sign up using your link and complete a qualifying transaction, both of you will receive the bonus. The process is simple and it takes just a few minutes to get started.
To invite a friend, log into your Coinbase account and go to the Referrals page. Here, you will find your unique referral link which you can share with your friends via email, social media, or any other means. When they sign up using this link, they will be automatically added to your referrals list. If they buy or sell $100 worth of digital currency on Coinbase, both of you will receive the bonus.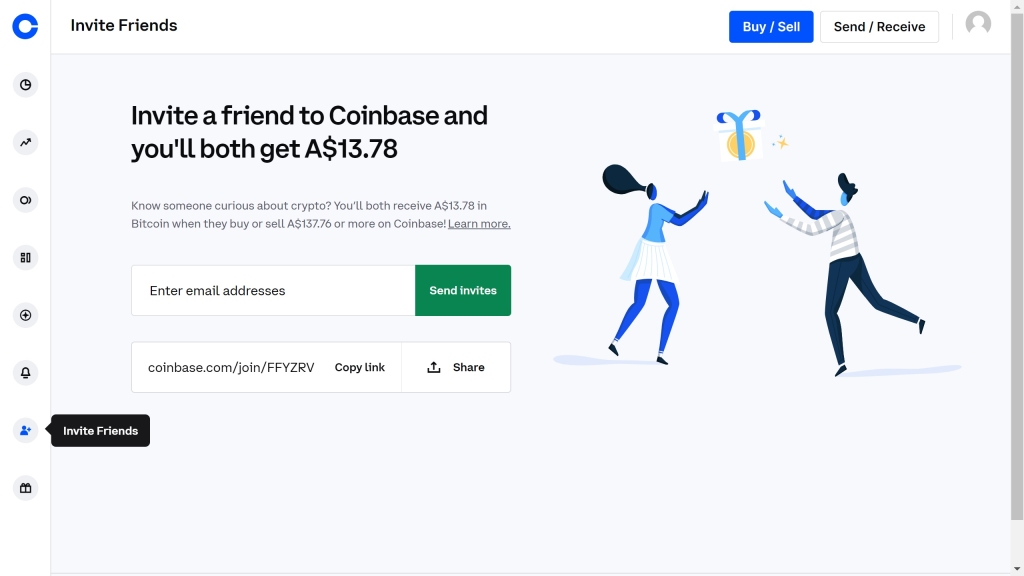 The Coinbase incentivization program is a great way to earn rewards for promoting a service that you believe in. Not only do you get paid for every person that you refer, but you also help them get started with crypto trading. If you are looking for a way to make some extra money, the Coinbase referral program could be a great option.
Another Coinbase program that rewards customers is the Coinbase Earn program. This program rewards you for watching educational content on a particular cryptocurrency. You get a reward for that crypto after taking a short quiz to test your knowledge.
DISCLAIMER: Although customers in Australia are eligible for this program, not all countries are eligible. However, there are plans to expand the eligibility to other countries as soon as possible.
Coinbase fees and charges
While Coinbase is one of the most popular crypto exchanges in Australia, it's unfortunately not one of the cheapest.
It has a user-friendly interface and allows you to buy and sell Bitcoin, Ethereum and Litecoin. However, Coinbase does charge hefty fees for its services. These transaction fees vary depending on the type of transaction you are making. For example, buying or selling Bitcoin will incur a different fee than depositing or withdrawing funds into your Coinbase account.
According to Coinbase, trade fees are calculated at the time you place your order and may be determined by a combination of factors including the selected payment method, the size of the order, and market conditions such as volatility and liquidity.
The flat fees Coinbase charges its users range from $0.99 on a transaction not more than $10 to $2.99 on every transaction between $50 and $200. Finally, Coinbase also charges a withdrawal fee when you remove cryptocurrencies from your account. The amount of this fee varies depending on the currency you are withdrawing.
Coinbase fees and charges are significantly higher than alternative crypto platforms like Binance and CoinSpot.
Sign up to Binance and earn 10% commission rebate on every trade across Binance Spot, Futures, and Pool. (T&Cs apply)
How to trade on Coinbase
Coinbase is a crypto broker that allows users to buy and sell three of the biggest cryptocurrencies: Bitcoin, Ethereum, and Litecoin. It has been operating in Australia since 2015 but only launched its exchange platform later. Coinbase charges fees on every transaction made through its service.
Prices are listed as "Buy" or "Sell" next to each cryptocurrency you wish to purchase or sell; these prices can vary depending on market fluctuations (which might be daily). A beginner might find it difficult to make trades straight away if they don't have any experience with trading cryptocurrencies. For this reason, we recommend reading up about how exchanges work before using Coinbase's services. You should also learn more about safe wallet practices such as backing up your wallets.
Tradeable currencies on Coinbase
The following currencies are tradeable on Coinbase:
• Bitcoin (BTC)
• Ethereum (ETH)
• Litecoin (LTC)
Coinbase also offers a limited range of altcoins that can be traded against BTC, ETH, and LTC. These are:
• Bitcoin Cash (BCH)
• Ethereum Classic (ETC)
• Litecoin Cash (LCC)
• Cardano (ADA)
• Solana (SOL)
• Polkadot (DOT)
• USD Coin (USDC)
• Dogecoin (DOGE)
• Uniswap (UNI)
• Shiba Inu (SHIB)
• Algorand (ALGO)
• Stellar Lumens (XLM)
• Polygon (MATIC)
• DAI (DAI)
• SushiSwap (SUSHI)
How to fund your account
Locally, Coinbase offers somewhat limited options for depositing into accounts. In Australia, you can fund your account by using a debit card after verifying the card. Credit cards are no longer accepted from Australian users.
How to trade on Coinbase
Once you have deposited funds into your Coinbase account, you can start trading. Firstly, find the currency that you want to buy or sell in the "Markets" tab. You will then see two prices next to it: the current Buy price and the Sell price.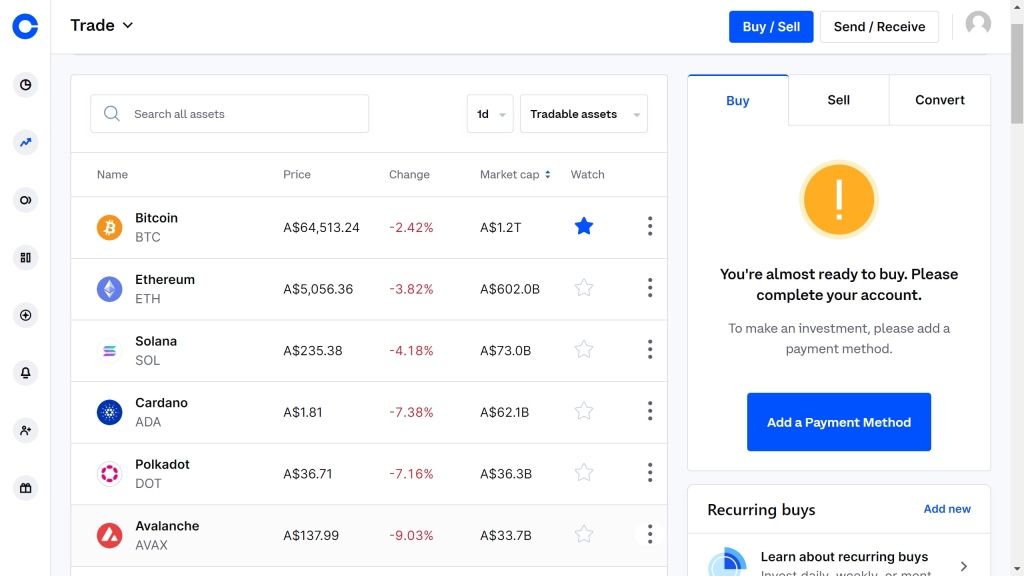 If you want to buy, enter the number of coins you want to purchase and click on the "Buy" button. The order will be placed at the best available price automatically. To sell, enter the number of coins you want to sell and click on the "Sell" button – your order will then be filled immediately (or as soon as possible).
What are the pros and cons of Coinbase?
Like any exchange, there are pros and cons to using Coinbase. In this section of our Coinbase review, we'll outline the appealing – and not so appealing – aspects of this platform.
Pros
Stability. Coinbase is one of the most established and respected platforms in the world. It has been operating since 2011, which means that it's had plenty of time to iron out its bugs and develop a system for dealing with user queries and complaints. Any crypto reviewer will tell you how important this can be when investing in a currency.
Security. Coinbase is one of the most secure platforms in operation, and it backs up this claim by offering users two-factor authentication to add an extra layer of security at the point of login or when users are making transactions online. In addition, all crypto funds are stored offline which reduces the risk of them being hacked.
Variety. Coinbase offers a huge variety of fiat currencies like AUD, USD, EUR, GBP, CAD, MXN, HRK, CZK etc. This is an advantage it has over other platforms like CoinSpot, which only offers AUD as the tradable fiat currency.
Ease of Use. Coinbase is very user-friendly and easy to use, which makes it perfect for beginners who are just getting started with crypto trading. It has all the same functions as other platforms, including buying/selling coins or tokens, transferring them between users within different wallets, and even checking the price of your assets.
Customer Support. Coinbase offers excellent customer support, with a team of experts who are available 24 hours a day to help users with any queries or problems they may have. In addition, the platform has an extensive online knowledge base that can be searched for solutions to common issues.
Cons
Limited deposit options. Coinbase Australia allows users to deposit only with a debit card or cryptocurrency.
High fees. Coinbase charges very high transaction fees, particularly when compared with exchanges like CoinSpot and Binance. Coinbase slugs users with fees when making transactions with any fiat currency whether buying crypto tokens or selling them again which can be expensive over time. The fees can add up over time, especially if you're regularly making transactions. For example, if you buy $100 worth of BTC on Coinbase and then sell it for $105, you will have to pay a fee of $0.50. This may not seem like much, but it can quickly eat into your profits if you're trading frequently.
Slow customer service. Customer support can sometimes be slow to respond or unhelpful when users are struggling with more complex issues. However, this is not always the case so it's worth checking out Coinbase's support page for more information.
Limited trading options. Coinbase offers a limited number of coins to buy/sell on its platform. This means that if you want access to less popular currencies then you will have to use another service or go elsewhere entirely.
Residents in Australia can purchase Bitcoin using a debit card, however, there is no option to sell Bitcoin back to AUD. Coinbase BTC owners will need to transfer the asset to a local exchange that supports withdrawals to an Australian bank account.
Best Coinbase alternatives
Not convinced that Coinbase is the right fit, after reading this review? There are a number of alternative crypto exchange platforms available to Australians. Options include:
Swyftx
Digital Surge
CoinJar
Independent Reserve
Coinmama
eToro
Kraken
Coinbase vs CoinSpot
In this section of our review, we'll compare and contrast the features of Coinbase and CoinSpot in order to help you decide which one is best for your needs.
Coinbase has a strong focus on being an easy-to-use platform for both new and experienced crypto traders. Coinbase is also well known in the US, UK, and Europe as a reputable exchange that offers safe storage of funds through its FDIC-insured online bank account.
The interface of Coinbase isn't particularly user-friendly but it does provide buying/selling orders at multiple price points along with detailed charts showing volume fluctuations over time.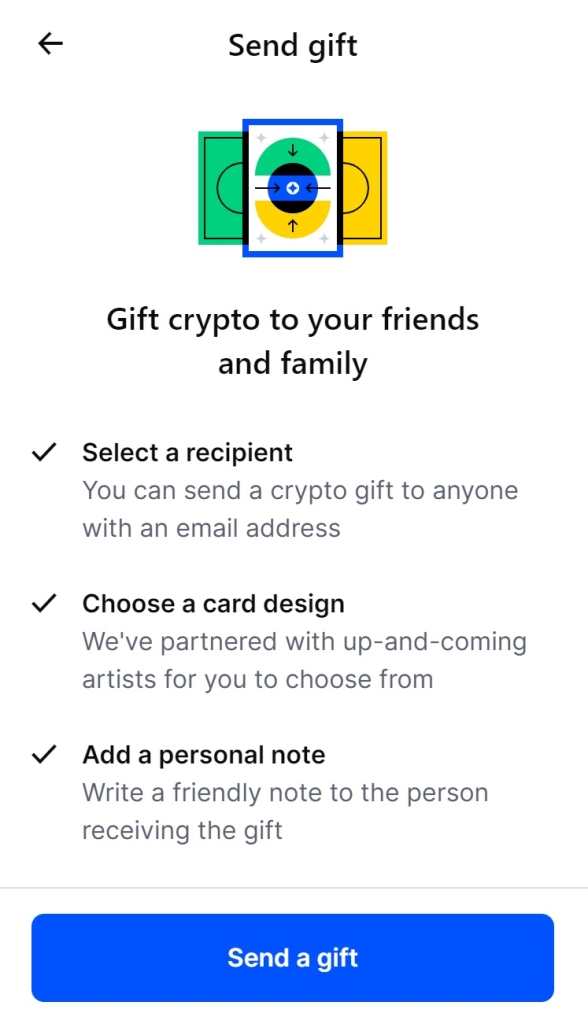 On the other hand, CoinSpot's primary aim is to provide Australians access to buy or sell various cryptocurrencies quickly – something that may appeal to users who are looking purely for quick exchanges rather than long-term investments like you would find when purchasing Bitcoin (BTC).
CoinSpot also offers a more diverse range of coins to purchase than Coinbase, including Bitcoin Cash (BCH), Ethereum Classic (ETC), and Ripple (XRP). In fact, CoinSpot offers over 200 more coins than Coinbase.
When it comes to funding an account, CoinSpot offers a greater number of payment methods than Coinbase Australia. This includes using POLi, PayID, or Direct Deposit (via OSKO). Conversely, Coinbase Australia only allows debit card or cryptocurrency funding.
In terms of trading fees, CoinSpot charges considerably lower fees when compared with Coinbase. CoinSpot charges 1.0% when you buy or sell a cryptocurrency. Although Coinbase charges 0.5%, when you add the 3.99% charges on each debit card transaction, you will arrive at 4.49%.
One of the early advantages Coinbase had on CoinSpot was its iOS and Android mobile apps, however, that's no longer the case. CoinSpot has since released its own user app.
When it comes to withdrawal fees, CoinSpot charges nothing for AUD withdrawals to Australian bank accounts. Since you cannot sell cryptocurrencies on Coinbase Australia, you cannot withdraw fiat currencies in Australia.
Although Coinbase's customer support service is adequate, the live chat feature on CoinSpot allows you to talk to a real person as the customer care rep and get a better response fast, unlike the programmed answer bots used by Coinbase.
Coinbase reviews across the web
Coinbase has received relatively positive reviews in Australia for being easy-to-use, safe, and reliable. On the other hand, some negative Coinbase reviews complain about long wait times when verifying new accounts – something that turns away many potential customers who are looking for faster transactions.
Some Australian users also complain about receiving poorer rates than expected on exchanges with high fees charged per transaction which can be a problem during periods of heavy trading activity or volatility in crypto markets. Furthermore, some users report difficulties contacting customer service over the phone due to limited hours made available throughout the working week (Monday through Friday).
Although, Coinbase has also been commended by its users in the past over their prompt response times when dealing with complaints and issues. For example, during periods of high traffic or website downtime during December 2017, Coinbase was quick to resolve these problems which were reported across Reddit and other social media platforms at the time.
From time to time, Coinbase has also been known to block users from withdrawing their funds without any explanation or warning. This can be a huge inconvenience for those who rely on Coinbase as their main platform for trading cryptocurrencies.
In terms of security, Coinbase Australia is known to have a strong focus on protecting customer funds with industry-standard encryption along with an internal bug bounty program that rewards researchers for finding vulnerabilities as well as having insurance coverage for any losses due to theft.
Conclusion
When it comes to trading cryptocurrencies, not all exchanges are created equal, and it's important to carry out research to determine whether any service meets your needs.
Factors such as costs, ease of use, safety, and customer service are all important considerations when determining whether a certain service is worthwhile.
Overall, Coinbase is a reliable and user-friendly option for Australians looking to invest in cryptocurrencies. Although it may have some downsides when compared to other exchanges available in the Australian market like high transaction fees, Coinbase still remains one of the most popular and safe options for buying and selling digital currencies.
Disclaimer: Cryptocurrency trading has potential risks involved. Trading may not be suitable for all people. This article constitutes general information only. Before deciding to invest, you should seek independent financial or professional advice.
Coinbase Frequently Asked Questions (FAQ)
How to join Coinbase?
To join Coinbase, download the app or head to the Coinbase website here.
Is Coinbase safe and legit?
Yes. Coinbase is a safe and trusted site. It offers a range of safety and security features for Australian users.
Is there a Coinbase app?
Yes. The Coinbase App can be downloaded for iOS and Android.
While you're here: Subscribe to our newsletter for the latest tips, deals and news. It only takes a few seconds and we respect your privacy: