Find a travel bargain with an Aunt Betty promo code, deal, or discount.
You can search the Aunt Betty website to find discounts on flights, hotels, travel packages, rental cars, and more. Aunt Betty allows you to easily compare results, helping you to locate and select cheaper prices. Of course, you'll save even more when you use a current Aunt Betty promo code or coupon.
AUTHOR NOTE: Aunt Betty program will be temporarily paused, effective immediately, due to Covid-19 and the strict travel bans put into place around the world – Subscribe to The Champagne Mile to be updated when this changes.
Aunt Betty is one of Australia's leading online travel booking agencies. With a simple, user-friendly interface and the ability to use promo codes, it's the site to visit when you're looking for cheaper travel deals.
Launched in 2016, Aunt Betty is backed by Flight Centre for peace of mind and offers 24/7 customer support when you need it. Best of all? There are no additional booking fees!
Aunt Betty promo code and discount code list:
We've rounded up the latest Aunt Betty promo code list below. Access coupons, vouchers, and discounts that will get you travelling cheaper.
To access a discount code, all you need to do is click on it, and you'll be taken to the secure Aunt Betty website to complete your booking. These Aunt Betty coupon codes are current:
We remove discount codes when they expire, so you won't be wasting your time with promo codes that don't work. If you find a coupon code that isn't working, please contact us to let us know.
Why choose Aunt Betty?
Aunt Betty compares options from almost all the major airlines, hotels, and car hire companies, meaning you get a wide view of product offerings and access to the cheapest prices (especially when using an Aunt Betty promo code). There's a dedicated support team in place to deal with any queries you might have.
Trust factor: Aunt Betty is an Australian-owned company backed by Flight Centre and it operates under Australian consumer law. Aunt Betty boasts an excellent 4.5 rating on Trust Pilot, with over 2,000 reviews submitted by customers to date.
No booking fees: When you use an Aunt Betty promo code there are no additional booking fees to pay, which means your travel dollar goes further.
Earlybird savings: Save with Aunt Betty deals, promo codes, and discount codes when you plan your trip early
Local call-back support: You'll get peace of mind with access to Aunt Betty's dedicated support team. They'll provide you with assistance when you need it.
Book on the go: Access the Aunty Betty website anywhere, at any time. Book your travel online via desktop, mobile, and tablet when and where you like.
Regular deals and coupons: Aunt Betty regularly releases deals, coupons, and vouchers, helping you to travel for even less.
In addition, we absolutely love the Aunt Betty website. A user-friendly interface makes for a simple, fuss-free booking experience.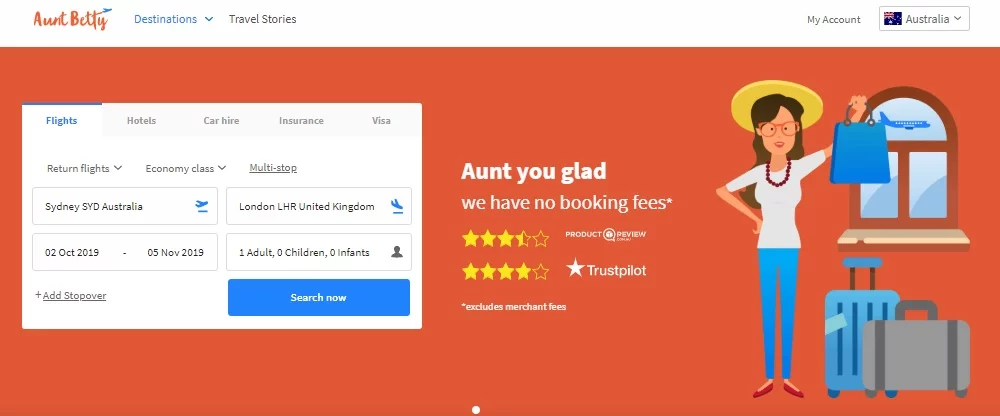 It's very easy to apply a promo code or coupon and locate all the latest deals and discounts.
How to apply an Aunt Betty promo code
Follow our steps below to learn how to apply your Aunt Betty promo code or discount.
Some deals and discounts will be applied automatically, simply by clicking through to the Aunt Betty website. Other offers may require you to enter the actual discount code.
Step 1: Enter your search request
Search for your flights, hotels, packages, or car-hire as normal. You won't need to enter your Aunt Betty discount code at this stage.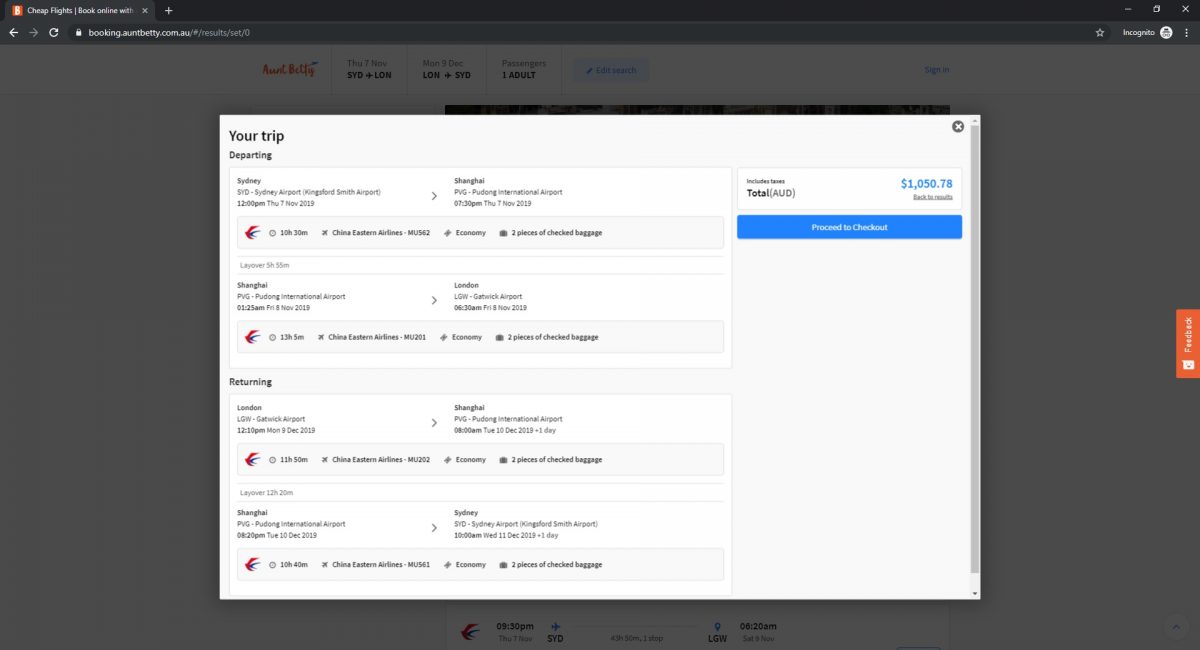 Step 2: Confirm traveller details
Here, you'll need to enter the personal details of each traveller. Take care to ensure the information is correct and matches your passport.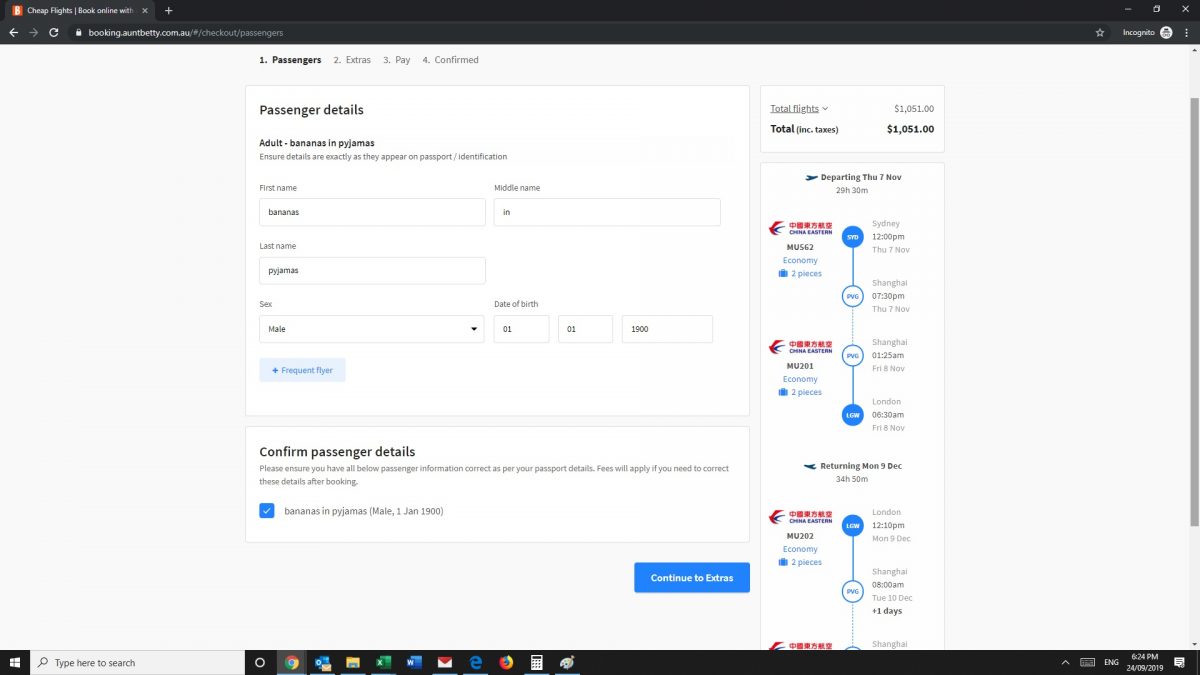 Step 3: Navigate through the booking process
You'll need to navigate through a few more screens before arriving at the payment page. You'll be offered supplementary products to purchase. You can decide whether to add or skip past these.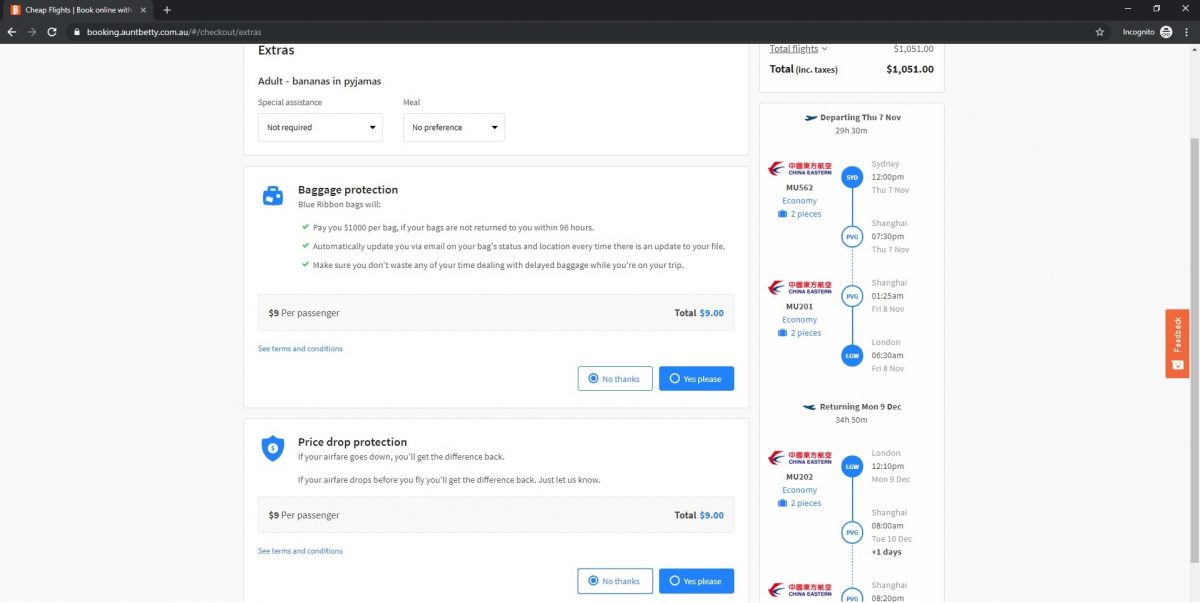 Step 4: Enter your Aunt Betty promo code at the payment page
Finally, you'll arrive at the payment section. Here, you can enter your Aunt Betty coupon code. Hit the 'Apply Code' button and your discount will be applied!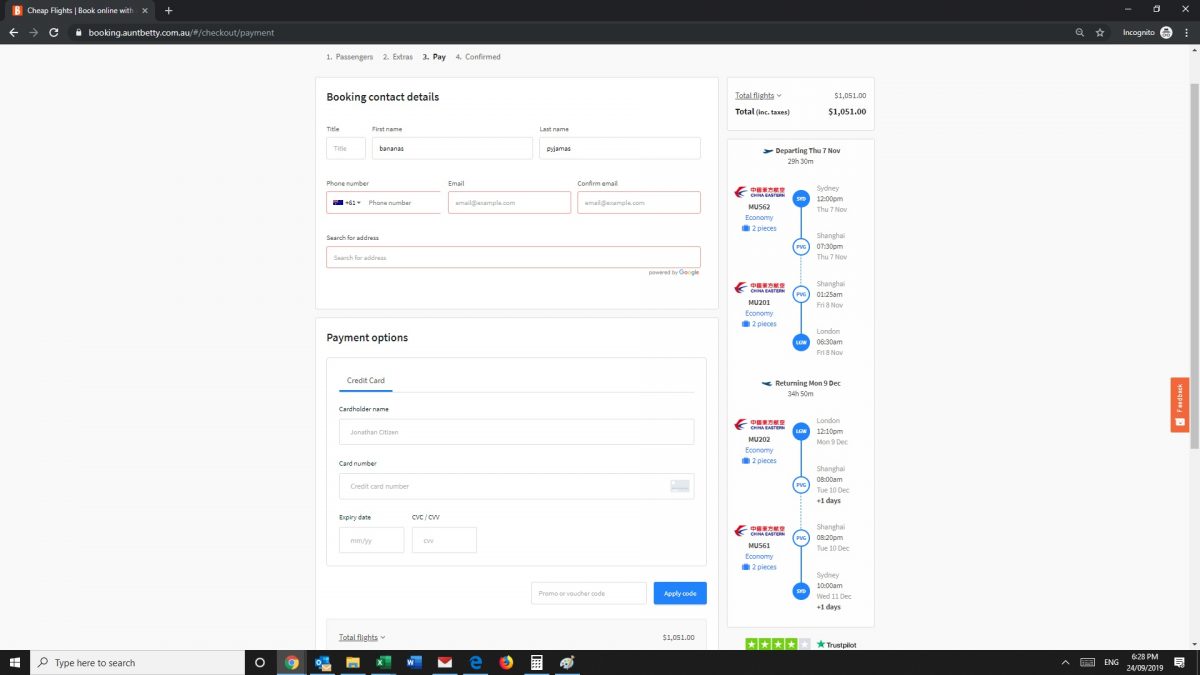 Aunt Betty Change and Cancellation fees
Depending on where you're travelling, changes and cancellations to bookings may incur additional fees. We've listed them out in the table below:
| Action | Domestic booking | International booking |
| --- | --- | --- |
| Change | $55 | $140 |
| Cancellation | $55 | $250 |
| Name correction | $70 | $70 |
If you've discovered an error with your booking on the same day you made it, phone the Customer Care team immediately. The Aunt Betty Customer Care team is available 24/7.
Aunt Betty promo code verdict
Aunt Betty has positioned itself as a virtual travel agent of choice for Australian travellers in a crowded market. Backing from Flight Centre provides consumer peace of mind, and we love that there's customer service support close at hand.
By using an Aunt Betty promo code or discount code, you can save more on your booking, allowing you to travel better for less. So, make sure you check back for current deals and discounts.
Frequently Asked Questions (FAQ) – Aunt Betty
Is Aunt Betty Australian-owned?
Yes. Aunt Betty is owned by Flight Centre, the largest retail travel agency in Australia. Described as the quirkiest brand in the Flight Centre stable, this virtual travel agency is developed around the story of Aunt Betty, a 46-year-old enthusiastic traveller hailing from Woomera, South Australia. Launched in 2016, Aunt Betty is designed to provide recommendations and assistance to customers booking their travel online.
How do I pay for my Aunt Betty's booking?
Aunt Betty offers several different payment options. This includes credit cards (Visa, Mastercard, or American Express), debit cards,s or PayPal.  It is not possible to pay with bank direct deposit, cash, or EFT and bookings cannot be paid in installments. If you are using an Aunt Betty Promo code, the amount saved will be deducted from the final amount due.
Does Aunt Betty charge credit card fees?
No, Aunt Betty does not charge additional fees for using credit cards. However,  selected credit cards and banks may charge customers merchant fees when cards are used for payments Aunt Betty passes these charges onto customers in line with current Australian law.
What currency does Aunt Betty display for pricing?
All pricing is displayed in Australian dollars (AUD).
Can I make changes to my Aunt Betty's booking?
Depending on the airline and the fare class purchased, it may be possible to make date or routing changes to your Aunt Betty booking.
To request a change, contact the Aunt Betty Customer Care Team via the online change request form on the Aunt Betty website. Aunt Betty will then provide a change quote or further options that are available to you.
For bookings made on the same day where an error has occurred, customers should immediately phone the 24/7 Customer Care team immediately.
Can I cancel my Aunt Betty booking free of charge?
Any cancellation penalties are dependent on the fare rules of the ticket purchased. Purchasing separate travel insurance may cover fare cancellation penalties. Customers should contact the Aunt Betty Customer Care Team to find out more.
Can I add my frequent flyer number to my booking?
Yes, it's possible to add a Frequent Flyer number as part of the online booking process. To add a Frequent Flyer number after a finalized booking, contact the Aunt Betty Customer Care Team.
Does Aunt Betty allow 'round the world' bookings?
Yes. To book a 'round the world' trip, search for your flights using the multi-stop option on the search panel. Here, you can enter your preferred destinations and search for different combinations and routings.
When will I receive my e-ticket?
Once your travel has been booked online, an e-ticket will be emailed to you. following making your booking. If you misplace your e-ticket, please send a request through to Aunt Betty Customer Care for this to be resent.
While you're here: Subscribe to our newsletter for the latest tips, deals and news. It only takes a few seconds and we respect your privacy: