Forget flying. Discover the best ways to redeem a stash of Qantas Frequent Flyer points on the ground.
Right now, there are a range of competitive Qantas Frequent Flyer card offers available. But if you're worried about how to go about redeeming a large serve of points at the moment, you're not alone.
When it comes to spending Qantas Points, most frequent flyers traditionally opt for Classic Flight Rewards and flight upgrades. Now, ongoing restrictions on air travel mean that an increasing number of us are looking to redeem points on the ground. But how much value can you expect to extract?
From goods at the Qantas Rewards Store to Qantas Hotels and even – dare we say it – gift cards, we've compiled a list of the very best ways you could look to redeem 150,000 Qantas Points from the couch.
Read on to discover more.
Book accommodation worth $1,171.54 with Qantas Hotels
When it comes to redeeming frequent flyer points, I frequently opt for nights over flights.
Qantas Hotels provides frequent flyer members with the opportunity to redeem from over 200,000 hotel and accommodation options worldwide. Whether planning a staycation or a domestic holiday, there are plenty of properties to choose from
Whatever the accommodation goal you have in mind, there's a tempting sweetener: Qantas has recently announced a 20 percent reduction in the number of points required for Points Plus Pay Qantas Hotels bookings made by 31 December 2020.

Calling all Business Owners & ABN Holders
Discover how to earn rewards points and perks for your business.
At current Qantas Hotels redemption rates, it's possible to extract 0.785 cents value per Qantas Point. Therefore, with a stash of 150,000 Qantas Points, you could obtain exactly $1171.54 in value, which is pretty decent.
And, when you consider that many properties are offering bargain rates as a result of Covid, choosing to redeem Qantas Points in this way could be even more attractive.
Below, we've listed out a range of redemption options on offer for around 150,000 Qantas Points:
First up, the Sofitel Sydney Darling Harbour, one of the finest Accor Hotels properties in Australia. At the time of writing, Qantas Hotels is offering a four-night stay in late September for $1,097 or 140,456 Qantas Points:

It's a similar story for The Darling at The Star, Pyrmont, which commands a slightly higher price of $1,187 or 151,064 Qantas Points for a four-night stay around the same time period:

For a weekend splurge, South Australians could opt for a two-night stay at arguably the finest property in the Barossa Valley, The Louise. At the time of writing, we've spotted various Friday and Saturday night combinations in November for just $1,190 or 151,478 Qantas Points:

Alternatively, Western Australians might consider a two-night stay at Como, The Treasury. This option comes in at just $1,190 or 151,478 Qantas Points for two nights:

It's worth noting that when using Qantas Hotels Points Plus Pay, you'll also earn Qantas Points back to your account for making the booking. The exact number of points you'll earn depends on the property you choose, along with your Qantas Frequent Flyer and Points Club status.
Score up to $825 in gift cards at the Qantas Rewards Store
With a swag of 150,000 bonus Qantas Points, business owners could extract up to $850 in value from gift cards purchased the Qantas Rewards Store.
We don't often cover gift cards on this website, simply because the value that can be extracted here is typically much lower than Qantas Classic Reward Flights or upgrades.
However, in the midst of the current pandemic, an increasing number of Qantas Frequent Flyers are opting to exchange Qantas Points for gift cards, and with good reason.
The fact is, gift cards are a practical and convenient redemption option for those who might not otherwise be able to use points for travel right now.
Qantas offers gift cards from a number of retailers at different price points. We've listed out the most generous gift card redemption opportunities that come in just under 150,000 Qantas Points in the table below:
| Retailer | Format | Value | Qantas Points needed |
| --- | --- | --- | --- |
| David Jones | Digital | $825 | 149,410 |
| Priceline | Digital | $825 | 149,610 |
| Myer | Digital | $800 | 149,960 |
| The Good Guys | Digital | $800 | 149,910 |
| JB Hi-Fi | Digital | $800 | 149,960 |
| The Iconic | Digital | $800 | 146,310 |
| Woolworths Group Digital Gift Card | Digital | $750 | 148,050 |
| BP | Physical | $650 | 144,650 |
As we've highlighted above, digital gift cards for David Jones unlock the best value. When choosing gift cards for these retailers, it's possible to extract a value of 0.55 cents per point.
Other popular retailers such as Woolworths Group and BP offer a slightly lower value proposition. However, these retailers might still be appealing for those who have a specific purchase in mind. Of course, you could also choose to mix and match.
It's worth noting that gift cards on offer via the Qantas Rewards Store come in limited denominations (usually $25, $50, $100, $250 and $500). So, in order to redeem for the combined dollar values we've listed out above, it's necessary to purchase multiple gift cards.
Unlock $750 in value with Luxury Escapes
Luxury Escapes offers a range of enticing holiday packages here in Australia and overseas. Qantas Frequent Flyer members can search and book high-end hotel packages, multi-day experiences and sharply priced cheap stays on the Luxury Escapes website, before opting to pay part or all of the booking with Qantas Points.
Qantas Frequent Flyer offers a transfer value of $20 per 4,000 points for bookings with Luxury Escapes. This equates to just 0.5 cents value per Qantas Point – somewhat lower than the redemption rate we've highlighted above with Qantas Hotels. However, with Luxury Escapes offering a range of heavily discounted deals (many with VIP inclusions thrown in), it's still possible to find a good deal.
In the current uncertain travel climate, it's also reassuring to note that Luxury Escapes offers the ability to 'Buy Now, Choose Dates Later'. This initiative enables travellers to secure a package now, with the flexibility to choose travel dates at a later time.
Two of the most popular Luxury Escapes packages on offer at the time of writing are as follows:
A three-night stay for two adults (plus one child) at the Pullman Reef Hotel, Cairns for just $699 or 139,800 Qantas Points, with a range of benefits thrown in:

A three night stay for four at the Ramada Suites by Wyndham Zen Quarter, Darwin for $729 or 145800 Qantas Points. This includes daily breakfast, a bottle of wine and a sunset cruise:

Purchase goods at the Qantas Rewards Store (redemption values vary)
Lastly, it's possible to exchange Qantas Points for goods at the Rewards Store. Redemption options and values vary. As you'd expect, there are plenty of high-end products from popular brands on offer, and free shipping is included.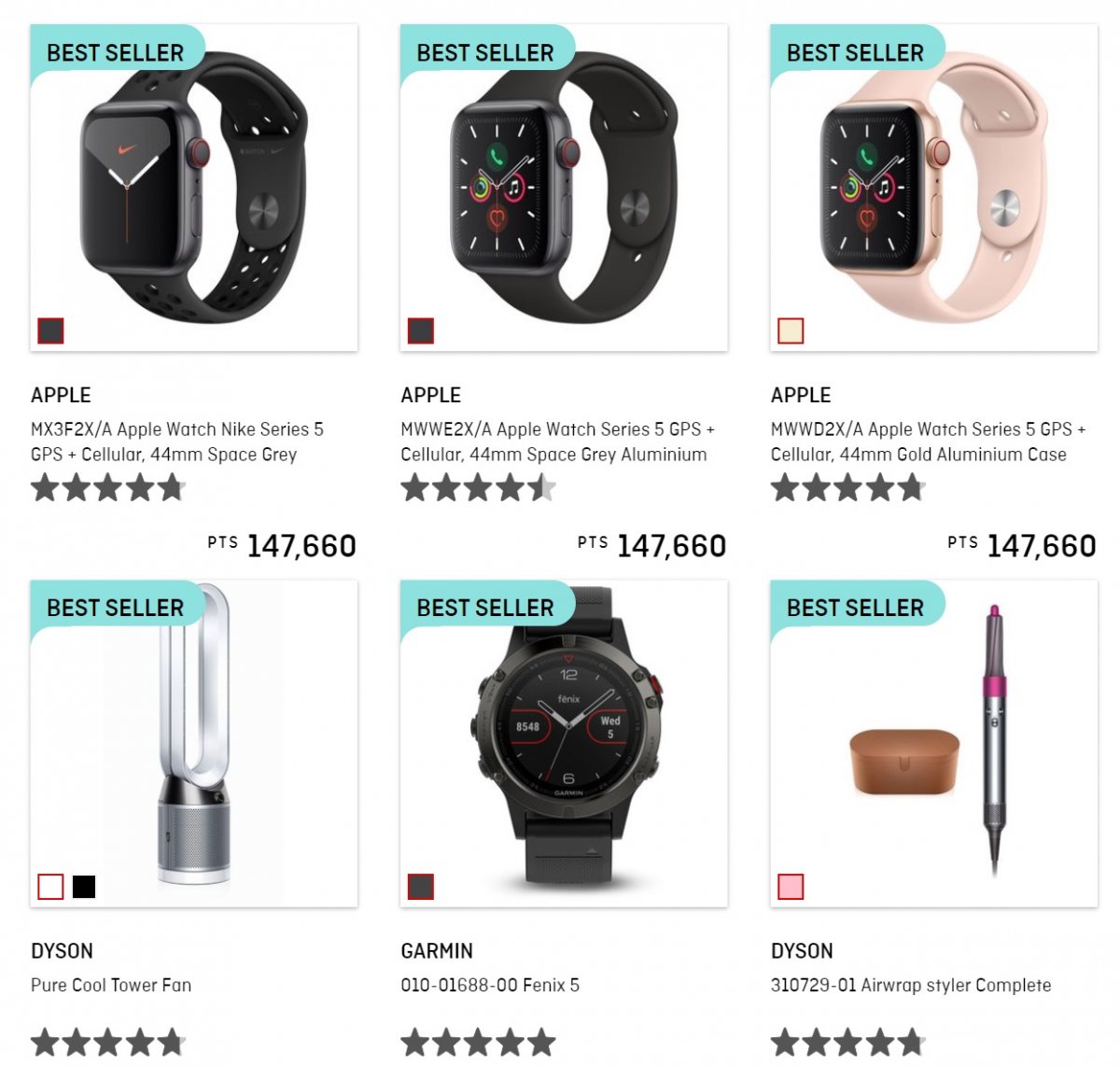 The Rewards Store offers a range of bestselling items available for outright redemption at around 150,000 Qantas Points, with our top picks as follows:
• Weber 56067224 Family Q Titanium Q3100 (152,000 Qantas Points)
• Apple Watch Series 5 GPS + Cellular (priced at 147,660 Qantas Points)
• Dyson Pure Cool Tower fan (priced at 141,570 Qantas Points)
• Garmin Fenix-5 (priced at 141,220 Qantas Points)
Note that the Rewards Store also offers a 'Points Plus Pay' option from 2,000 points.
From time to time, the Qantas Rewards Store offers sales on products. By taking advantage of these offers, it's possible to increase the value of a goods redemption using Qantas Points.
Bear in mind that the goods on offer at the Qantas Rewards Store might be on sale elsewhere, so it pays to shop around. Qantas also advises that due to the current Victorian lockdown restrictions and an associated increase in online orders, there may be some delivery delays across all Australian States and Territories.
While you're here: Subscribe to our newsletter for the latest tips, deals and news. It only takes a few seconds and we respect your privacy: